Buying a violin is a serious decision that a beginner or advanced violinist can make because it is an expensive investment. And to an untrained eye, violins may look alike but in reality, there are various types of violin in terms of size, quality, make, and sizes.
As someone who is at the early stage of violin playing, it will be beneficial to read about student violin reviews.
Here, we have created a guide to help you, whether you are a beginner violinist or an intermediate one, taking into consideration the affordability and quality of violins.
This is how we evaluate and select products
We choose our products by comparing a number of reputable products and brands. We have partnerships with many major retailers, and although this may have an impact on the selection of products for the article, our recommendations depend on the editorial staff's professional assessment of the best products.
Our research team evaluates the products on parameters such as:
1

Product tests from expert sources and consumer magazines

2

Customer reviews of the product

3

Product features and specifications

4

Product dealer's warranties, service and reputation

5

Knowledge and data on what our readers prefer
The above is kept up against price and quality. It is important to mention that the order does not represent a ranking of products, but rather a review of some of the best products for different needs.
How to choose Violins for Beginners and Intermediate Students
If you or your kid just recently started playing the violin, or are interested in trying it out, it might be a bit difficult to pick the right instrument. Advanced players already know what to look for and what their preferences are, but if you are just starting out it's a lot more difficult.
Luckily, your first violin does not need to be perfect, nor does your second. Until you master the violin to a certain degree, none of them will produce the perfect sound, since that is dependent on your skills. There are, however, certain factors that you should consider when getting a new beginner/intermediate level violin because the right instrument will impact your learning curve quite a bit.
Price Range
For a violin for a beginner, you will of course try to stay in the lower price range, but you still shouldn't get the cheapest one available. The violin is one of the hardest instruments to learn, so the last thing you need is a badly constructed one that will make playing it even harder.
Look for something at around 200 dollars, and preferably from a brand that specializes in beginner and student violins as they will know where to cut production costs without compromising the comfort level of the musician.
If you have been playing the violin for a while now and are looking for an upgrade, then you will want to spend a bit more. The price range here is also a bit wider – an intermediate-level violin can cost you anywhere from 300 to 1000 dollars. If the violin is for an adult, then investing a bit more might be good. If the musician is still a growing child, then you'll want to stick to the lower price range again – we'll explain why in the next section.
Violin Size
If you are an adult you'll need a full-size violin – also called a 4/4. For children, it isn't quite as simple. You'll need to find a violin that is small enough to be comfortable to play, but also not so small that your kid will outgrow it in a few months, as that can get quite expensive over the years.
These are the standard violin sizes: 3 /4 (22"), 1 /2 (20"), 1 /4 (18,5"), 1/8 (16,5"), 1/10 (15"), 1/16 (14"), 1/32 (13"). If you measure the length between your kid's chin and the middle of its left-hand palm, you'll get the size of the largest violin it could play. If you measure the length from the kid's neck to its wrist, you'll get the size of the violin that would be most comfortable to play.
The best way to go would probably be to get something in between or check with your kid's teacher. They should be able to provide you with more insight.
Violin Brands
Sticking with an instrument from a reputable brand is usually the best way to go, especially if you are a beginner and still not sure what to look for. There are dozens of brands that specialize in beginner, student, and intermediate level violins, that will provide you with the best value for your money. If you want to learn more about them, then keep reading.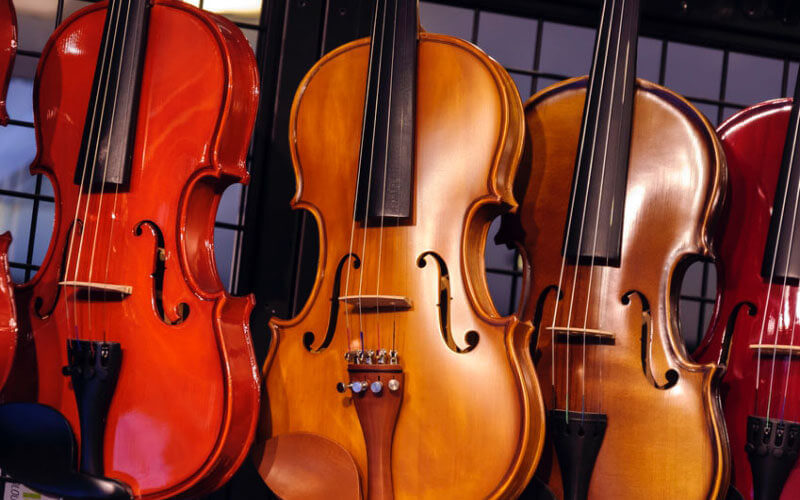 This article includes fifteen best violin brands for beginner, intermediate or advanced players, as well as violin reviews of some of the best student models on the market.
And to assist you fully in picking the best violin, we have scoured the internet, asked violin professionals, and browsed dozens of books to answer the following questions:
We've also answered questions like:
So, before you spend a hundred bucks or more, be sure to read this violin buying guide so you can make an informed decision on how to buy a violin.
Austin's Favorite Violin
Cremona SV-500 Violin
Great for Most Beginners
D Z Strad Violin Model 101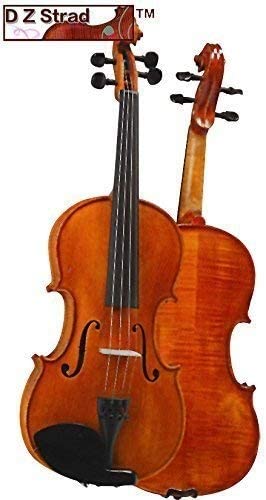 Best Budget Violin
Cecilio CVN-300 Violin

15 Best Violin Brands for Beginner and Intermediate Students
Looking at the cost, durability, and sound quality, we've gathered and listed some of the best violin brands for beginners and intermediate students to help you out in your search for the best starter violins.
Here are the best violin brands that you can find in stores and online:
Stentor
Stentor is one of the most popular violin brands on the market, providing a range of long-lasting, and high-quality instruments.
It is a Chinese violin brand that is proud to offer handcrafted violins that are not out of reach for those that need to be careful with their budget.
Stentor is often suggested by violinists and violin instructors as one of the best acoustic violin brands.
Mendini
If you are still asking "what is the best violin to buy?", you may want to consider this brand. Mendini is another low to mid budget violin brand, that is one of the best beginner violin brands.
They might be factory made, but the instruments offer good value for money and produce tones of a medium quality.
Mendini violins were created out of the company's desire to provide good cheap stringed instruments for budding musicians and performers.
Cecilio
We would not leave out Cecilio in our list for beginner's best violin to start with, as they are one of the best violin companies that keep on producing good budget violins for sale.
Cecilio violins win affection from violinist of all levels, with their handcrafted violins and best quality bows.
Fiddlerman
Fiddlerman instruments are blowing away its competitors because the makers produce only the best violins in the market.
Fiddlerman – Pierre Holstein, himself curates and tests the violins they produce. He is a professional orchestra player with 40 years of experience. This can be categorized as "best brand of violin", even though everything is relavtive.
Franz Hoffmann
Made in China, Franz Hoffmann violins are beautifully crafted, with a brilliant, dependable, and consistent tone. You will stand heads above other beginner violinists in orchestra with one of these reliable instruments. Their superior violins are guaranteed as the best quality instruments for their price range.
Beloved by many, the Franz Hoffmann beginner violin line is the exclusive line promoted at SHAR. Based out of North America, SHAR Music is a trusted violin dealer, so you can have confidence in their expert advice.
They work hard to ensure that you are never coerced into buying what they call a "VSO" or "violin shaped object", but a properly functioning beginner violin.
Carlo Lamberti
If you are willing to pay a bit more for your violin and looking for the best violin brands for advanced student, the Carlo Lamberti, also by SHAR music, is a great stepping-stone out of the beginner to advanced beginner violin category.
Many great violin teachers consider this Carlo Lamberti violins to be the best violins for intermediate and advanced students, and we have to agree.
Kennedy Violins
Kennedy Violins, founded by Mr. Joel Kennedy as a response to his observation that many new violin students are using Violin Shaped Object (VSO). He felt that these VSO's actually hinder learning instead of being a vehicle to learn violin playing.
D Z Strad
D Z Strad, also known as D Z America, is a leading American violin maker and music store for string instruments. They have a wide variety of classic and contemporary violins.
Cremona
This is one of the violin brands that we would not leave off the list for its remarkable playability at a price that will certainly not break the bank.
Cremona instruments are made in Asia. They are Chinese violins that are one of the first violin brands among major violin manufacturers to import in USA.
Cremona is an award-winning company that was founded in 1989, and is renowned for making high quality violins. It might be a little expensive for beginners but if you want to have a highest rated intermediate violin, you'll never go wrong with Cremona.
Scott Cao
If you are looking to purchase a violin with a maker's name attached, consider buying a Scott Cao violin.
Master maker, Scott Shu-Kun Cao has crafted top-quality instruments and that musicians love all around the world. He is rightly considered one of the best contemporary violin makers in the world.
With such a reputation, you can relax that any student model sold under his name will be of the highest quality.
Yamaha
As a maker of all sorts of musical instruments and one of the best contemporary violin makers, the Yamaha Corporation has become a household name for good reason.
Yamaha's corporate philosophy states that they are committed to creating worldwide excitement and cultural inspiration for making music.
Primavera
Primavera is another good violin brand for students who are just starting out on their violin journey. Primavera violins are suitable for children and beginners.
They are a class above other cheap beginner instruments and represent rightful value for money.
Primavera violins are very popular in schools and with music instructors, particularly as they come in a wide range of sizes that will suit different students.
Knilling
Knilling is a relatively good quality violin brand for a reasonable price, which is certainly great for families who are on a tight budget.
Made by various luthiers around the world, they sell different types of violins that are selected and integrated under one brand name.
Knilling violins are made predominantly in Germany, Czech Republic, and Romania with the highest quality woods. Knilling violins are known for their quality and tone.
Windsor
Windsor violins offer a reasonable quality instruments for those on a budget and are primarily aimed at the beginners and student market.
The majority of their violins are factory made, with just a small number of models handcrafted.

All Days Music (ADM)
All Days Music, otherwise known as ADM, is a professional musical instrument supplier with overseas factories that deliver beginner quality instruments for a low price.
Currently, they have one line of starter violin, which is perhaps the lowest priced beginner violin set available on the market.
Top 10 Best Beginner Violin Reviews
Looking at the cost, durability, sound quality, and best value for the money, we have gathered and listed some of the best violins for beginners to help you out in your search for good quality student violin brands, as well as best beginner violin for adults.
Here are the 10 best violins for beginners:
D Z Strad Model 101 – Best Beginner Violin for Suzuki Method
The D Z Strad Violin 101 is, as the name suggests, a perfect violin for total beginners. It comes in several different sizes in order to accommodate beginners of all ages and actually has a surprising sound quality considering the price. It's also astonishingly well built.
The Model 101 is handmade and crafted from aged tonewoods and a nice varnish finish. It will feel incredibly comfortable in your hands even though you paid less than 300 bucks for it. The tone it produces is also quite pleasant. It's a warm and resonating sound that will keep you, or your kid motivated to continue playing.
Top is made from carved select spruce.
Back and sides are figured using maple, with ebony fingerboard and fittings.
Tailpiece is set up using Wittner-style with 4 fine tuners.
Outfit includes violin case, brazilwood violin bow, rosin, and a shoulder rest.
Available in 4/4 (full size), 3/4, 1/2, 1/4, 1/8, 1/16, 1/32.

Questioned sound quality.
SPECS:
Available sizes: 4/4, 1/2, 1/4, 3/4, 7/8
Top Material: Varnish
Back Material: Maple
Considering the build, feel and tone of this violin, it certainly is one of the best choices for beginners, but also for intermediate students. It definitely delivers more than the price tag would lead you to believe and therefore it's also one of our top recommendations.
Cecilio CVN-300 – Affordable Beginner's Violin
The price of the Cecilio CVN-300 violin set is pretty reasonable considering that it includes all the necessary stuff in violin playing. Even though it's quite pocket-friendly, it will last you for years, due to its sturdy build. Made out of aged maple wood, ebony on the sides, and a spruce top, it will feel quite comfortable and will last you longer than you need it to.
It's very lightweight, which will come in handy during long rehearsals. It also comes with a hard shell carrier, that not only makes transporting the violin a lot easier but also protects it along the way. It also comes with strings, but those aren't the highest quality and should probably be replaced for an even better sound.
Crafted with solid maple back and sides, with carved spruce top.
Hand inlaid purfling with antique varnish finish.
Fingerboard and violin fittings are made from ebony.
D'Addario Prelude strings included.
Outfit includes a case, rosin cake, extra violin bridge, and two brazilwood bows with genuine unbleached horsehair.

Some violinists report that one or two pegs slip from time to time which may pose a challenge for beginner violinists.
The rosin and the bow included in the kit is not intended for professional use and may seem like of low quality.
SPECS:
Available sizes: 4/4, 1/2, 1/4, 3/4, 7/8
Top Material: Varnish
Back Material: Maple
Beginner violinists can benefit a lot with this Cecilio violin as it is affordable and can be played by starter violinists to intermediate players. The violin has quite a good build and if you invest a bit more in better strings, you'll be able to get a really nice sound out of it.
Cremona SV-175 – Best Violin for Students
For over 30 years, the SV-175 model has been Cremona's highest-rated beginner violin because of the value it offers – combining playability, tone quality, specification, and price! It has also been one of their bestselling violins for 35 years which speaks volumes by itself.
The Cremona SV 175 is a top of the line entry-level instrument that is one of the best choices for students simply because it's a durable instrument, that sounds great but won't cost you an arm and a leg. The back and sides of the violin are made of aged maple, while the front is crafted from aged spruce. Both are considered to be perfect tonewoods for violins, as they tend to create a beautiful sound. The woods are cured in an environmentally friendly way that ensures that they are aged to perfection, while also being gentle on mother nature.
It's available in 7 sizes, so each and every student can get a violin that's comfortable to play and due to its low price, upgrading to a larger size once needed will also not be a problem. That ensures that the student can continue their learning curve, as the right size of a violin impacts both the comfort level and technique of the musician.
Quality workmanship.
Strung with USA made D'Addario Prelude strings.
Ebony fingerboard and fittings.
Oiled neck for smooth and better playing.
Lightweight hard tailpiece with 4 fine tuners.
With comfortably-shaped chinrest.
Outfit comes with a violin case, violin bow, and rosin.

Requires tuning time to time.
The hygrometer in the case tend to not work properly.
SPECS:
Available sizes: 4/4, 1/2, 1/4, 3/4, 1/8, 1/10, 1/16
Top Material: Spruce
Back Material: Maple
This is definitely one of the most high-quality violins in its pricerange. It is perfect for beginners, but even more experienced players would enjoy it, as it is quite comfortable to play and produces a great sound. Some violinists say that this violin requires constant tuning due to pegs slipping. But with our in-depth violin tuning guide that's no issue anymore.
Stentor Student I – Strong and Solid Beginner Violin
The Student I by Stentor is probably the best violin to learn on. It offers consistent performance and a high-quality tone to enhance the learning experience of the student. It falls in the mid-range price category when it comes to beginner violins, but it feels like a much more expensive one, as the violin has an exceptionally strong and solid build.
This Stentor Student I violin is an instrument carved from solid tonewoods with good quality hardwood fittings. The quality material used is of course the reason why the violin feels so solid and also has quite a good sound, especially for that price.
Some of the accessories it comes with are sadly not of the same quality, so you might want to invest in a better bow and replace the strings once you move on to an intermediate level, but for a beginner, the set will do just fine.
Crafted with solid tonewoods.
Mid brown varnish – giving it a natural look.
Blackened hardwood fingerboard.
Comes with an oblong lightweight case.
With composite tailpiece, and integral adjusters.
Comes with a good student violin bow.
Includes a lightweight violin case with safety reflectors.

Available only in full size, which won't suit children.
Some of the accessories that come with it aren't the highest quality, like the rosin for example.
SPECS:
Available sizes: 4/4
Top Material: Rosewood, Maple, Spruce
Back Material: Maple
The package includes a reliable violin wood bow and perfectly-designed lightweight violin case with external pockets for music sheets, shoulder rest, and interior bow holders as well as backpack carrying straps.
In conclusion, it is one of the best Stentor violins on the market for students and definitely a top-rated beginner violin.
Cecilio CVN-500 Violin – Great for Beginners and Intermediate Students
The CVN-500 is one of the most popular Cecilio violins on the market. It might not be as affordable compared to other cheap violins, but for sound quality, it is really worth it. It is considered a premium quality violin and a step up from the CVN 300. Crafted from solid spruce on the top, and maple on the sides and back, it produces a warm and full sound and will also last for years.
It comes with a high-quality bow made from Brazilian wood and horsehair., and a hardshell case that makes transporting your instrument both easier and safer. It's available in three different sizes, so fewer than other models, but most students and beginners will be fine with one of those three.
This violin is actually considered to be a good choice for intermediate level musicians, but thanks to the relatively low price it's also a great option for beginners, especially considering that you won't need to be thinking about an upgrade for quite some time if you decide to go with this violin.
Hand carved one-piece flamed solid maple back and sides; solid spruce top (premium wood aged to perfection with a minimum of 7 years).
Ebony fittings (fingerboard, chin rest, pegs, and tailpiece with 4 gold plated fine tuners).
Hand-rubbed oil finish.
Strung with D'Addario Prelude strings.
Comes with a high quality case, brazilwood bow (with pearl inlaid frog), and extra violin bridge.
Violin case features velvet interior with padded neck restraint, hygrometers, storage compartments, rosin cake, and durable shoulder straps.

Not as low-priced compared to other budget violins.
SPECS:
Available sizes: 4/4, 1/2, 3/4
Top Material: Spruce
Back Material: Maple
Of course, not as great as some top student violins, but definitely an affordable chance to get your hands on a serious bit of kit. Considering the quality of the violin itself and the accessories it comes with, the price is more than fair and as mentioned before, you won't be needing to invest more money in an intermediate level violin later on as this one will be covering all your needs until you are a pro.
Mendini MV200 Violin – Modern looking Beginner's Violin
The Mendini MV200 is an all round good budget violin. It will not produce high-class, music-hall performances, but will allow students to transition easily into the world of violin playing, and is the perfect first violin for anyone who would like to try it out, but is not sure if they are going to stick with the hobby.
The price it retails at is a steal considering the accessories it comes with, but also the comfort level it provides. Sure, it does not sound as high-class as some others on our list, but it's more than good enough for a beginner. If you are considering getting a violin for your child, then this one might be the best option, because it also comes in lots of colors which give it a more modern look that children might prefer.
The violin is available in 5 sizes, which again is great if you are looking for a violin for a kid, as the size of the instrument will impact the player's experience quite a bit.
Made with spruce top and maple for the back and sides.
Finished with ebony fittings.
Bowhair is made from high quality Mongolian horsehair.
Produces a warm tone.
The kit has everything that you will need to start your lessons.
Comes with bow, case, rosin, chin rest and a shoulder rest.
Alloy tailpiece with 4 integrated fine tuners.

May last through the early stages of learning, perhaps to grade 4 or 5th level of learning, with an enhancement or two on the way.
SPECS:
Available sizes: 4/4, 1/2, 3/4, 1/4, 1/10
Top Material: Maple
Back Material: Maple
Although the violins are low in price, each violin is thoroughly inspected to ensure that all quality standards are met. That means that they are durable and will see students through mid-range grades when it will be time to invest in a higher-quality model.
Bunnel Pupil Violin – Perfect Violin for all Ages
The Bunnel Pupil is a good violin that is perfect for all ages, especially considering the wide range of sizes it comes in. It is a bit more expensive than other violins for beginners, but it's very pleasing to the eye and can hold a tune, so if you opt for this one you'll definitely be getting what you paid for.
At around 7 lbs, the violin is a bit heavier than other models, but still not as heavy as to make practice difficult and discourage young learners. The tone it produces is rich and loud, which will help engage new learners. Experienced ears might find it a bit thin, but a budget violin will simply never be able to produce the same sound like a premium one costing hundreds of dollars more than this one.
Produces mellow, warm, sweet sound.
Rich chocolate-brown with hints of red varnish in matte finish.
Includes Portland oblong case, Giuliani brazilwood bow and rosin, polishing cloth, classic shoulder rest.
Strung with Prelude strings.
One-year warranty included.

Some say that the shoulder rest included in the kit is prone to cracking or breaking.
Accessories such as straps of violin case is not of high quality.
SPECS:
Available sizes: 4/4, 1/2, 1/4, 1/8, 1/10, 1/16, 3/4
Top Material: Spruce
Back Material: Maple
With the Bunnel Pupil student violin outfit by Kennedy Violins, you get a top beginner violin at a price that will certainly not break the bank. It is stable, sturdy, easy to tune, and can hold its tune. It's a great choice for kids in particular, as it comes in lots of sizes.
Mendini MV300 Violin – Best Budget Violin
Mendini violins might be frowned upon by some professionals, due the quality of both the violin and bow. As the violins are not handcrafted, there will be minor fine tuning and adjustments to be made in order to get the best sound possible.
You are likely to have to replace the strings at some point as the quality is not as good as it could be, but the violin will also cost you a lot less than others, especially if you are getting the smaller-sized ones. Young learners will cycle through a number of violins just because they'll outgrow them, so you might want to stick with the cheaper ones during this phase.
For children learning the basics of the violin, the overall quality of the violin is not a big issue either way. The main concern for beginner children is how to get them to focus on learning and playing.
Antiquated satin look.
Maple fittings (fingerboard, chinrest, tuning pegs).
Alloy tailpiece with fine tuners.
Hand carved with solid maple back and spruce top.
Comes with extra violin bridge, hard case, brazilwood bow, and rosin.

Little quality control, but once you have settled into playing it, you will be able to develop a better sound for the amount you will pay.
Be warned that even if it's nice that it comes in variety of colors, the extra layers of varnish and paint can hinder the sound quality – making it muffled.
Mendini offer a range of funky colors and cases that may appeal to a reluctant learner. Mendini violins are fun and functional, but above all good value for money for what you get.
SPECS:
Available sizes: 4/4, 1/2, 1/4, 1/10, 1/16, 3/4
Top Material: Maple
Back Material: Maple
The MV300 is probably the best Mendini violin for families on a budget, who would otherwise be put off encouraging children to learn an instrument. It might not be the highest quality violin other, but it'll surely do for learning the basics.
Franz Hoffmann Amadeus – Hig-End Beginner's Violin
The Franz Hoffmann Amadeus violin is a great way to start playing the violin, as it is a violin for beginners, but a high-end one. It's not really suited for small children, as it only comes in full size, but teenagers or adults who opt for this violin will surely appreciate the premium feel of the instrument.
It also doesn't come with any accessories, which means you will have additional costs in order to be able to play it, but even so, it will still fall in the medium-priced category. The sound you will get out of this violin is definitely worth your money. Users praise it for its nice, clear sound and how responsive it is to changes in dynamics and bow techniques.
Considering both the quality and the price tag, this violin is definitely suited for beginner to higher intermediate level students, although you might want to replace the strings with better quality ones, once you get to a higher level, as that will definitely improve the sound of the violin even more.
Made from selected solid maple body and spruce top.
Fingerboard made from ebony.
Ebony wood Guarneri style chinrest, and pegs.
Nitro varnish finish.
Strung with Overture premium strings.
Tailpiece with built in fine tuners.
Outfit comes with a Toshira shaped case, SHAR mini rosin, and an A. Schmidt workshop bow.

Not available in funky colors if that is what you are looking for.
Some music stores sell this instrument without case, and other accessories.
SPECS:
Available sizes: 4/4
Top Material: Spruce
Back Material: Maple
We appreciate that each Franz Hoffman violin sold by SHAR is set up in their Ann Arbor, Michigan shop, so you can rest assured that your violin will be set up for highest playability with a 1-Year limited Warranty with a 30-Day No Hassle Return Policy.
ADM Acoustic Violin
This violin is made out of tonewoods with quality inlaid purfling that will help the instrument stand the test of time and regular day-to-day abuses. The quality of this instrument is exceptional considering its price range. It looks and feels great and you can really tell that a lot of work has gone into each of these violins.
If you want to try your hand at playing the violin and you don't have a lot to spare, consider this ADM acoustic violin. It is a very low-risk instrument. Let it be known, though, that many teachers and conductors would consider this instrument a VSO, or Violin Shaped Object. That means that it won't be producing the same sound as a more expensive violin, but again – for a beginner, it's good enough.
Made with rosewood pegs, fingerboard, and chin rest as well as maple wooden neck.
Back and sides handcrafted to strengthen the stability.
Hand carved with solid spruce top with alloy tailpiece with built in 4 fine tuners.
For its low price, it has a decently pure sound.
Commonly sold with accessories and everything to start to learn violin playing such as: lightweight carrying case, shoulder rest, music sheet stand, cute cartoon tuner.
Set also includes two ebony frog brazilwood violin bows, rosin, as well as an extra set of strings, cleaning/polishing cloth, violin mute, and violin bow collimator.
1-year warranty against defects.
Available in many sizes.

Tends to slip in and out of tune easily.
Suitable for beginners only.
SPECS:
Available sizes: 4/4
Top Material: Rosewood, Maple, Spruce, Ebony
Back Material: Rosewood, Maple
If you're beyond the years of struggling with a subpar instrument, we recommend skipping this one without further thought. If, however, you are looking for an affordable beginner's instrument and aren't even sure if you are going to stick to this hobby, then you might want to consider this violin.
Top 7 Best Intermediate Violin Reviews
After spending months or a couple of years of playing, you'll realize that at some point, you'll need a more advanced violin or intermediate violin.
While some beginner violins are beautifully manufactured, upgrades are sometimes necessary.
In this section, we've reviewed some of the top intermediate violins that you can find in stores and online so that you won't be held back by a sub-par sound.
Here are the 7 best violins for intermediate students:
Cremona SV-500 – Best for Advanced Beginners and Intermediate Students
If you want to transition from a beginner to an advanced violin, you should check this one! Cremona SV-500 is one of the best intermediate violins on the market. The solid body is crafted from premium tonewoods and features an elegant finish, as well as handcrafted points that give this violin the appearance of a violin suited for dedicated violinists.
It's available in four sizes, so if you are looking for a premium quality violin for your kid, this one is worth considering, especially given the price. It's not the cheapest intermediate level violin on our list, but it's honestly a steal for the price it retails at given the quality you get.
Hand crafted from well selected tone woods (solid maple and spruce), offering clean sound and smooth tones.
Ebony fittings (fingerboard, nut and saddle); Swiss-shaped pegs.
Bridge made from aged maple; tailpiece with 4 fine tuners.
Transparent varnish finish (shaded brown-red); inlaid wood purfling.
Provides a very open sound making it perfect for advanced players.
Strung with D'Addario Prelude steel strings.
Comes with a high-quality case, rosin cake, brazilwood bow (with pearl inlaid frog), and extra violin bridge.
Violin case features neck restraint, storage compartments, and shoulder straps.

Certainly, priced a bit higher than other intermediate student violins, but worth for the quality of sound it gives.
SPECS:
Available sizes: 4/4, 1/2, 1/4, 3/4
Top Material: Maple, Spruce, Ebony
Back Material: Maple
Though these violins are crafted for beginners and intermediate level playres, they can produce a surprisingly clear tone and are sturdy enough to be a dependable learning instrument. The Cremona SV-500 is the best violin for advanced beginners, as well as young student who have already mastered the basics and are now lookign for an upgrade.
Scott Cao STV017 Violin – Handmade Violin with Oil Finish
Scott Cao is one of the best violin companies you can find when considering the quality of the instrument. Unlike other intermediate violins available in this price range, the Scott Cao STV017 has hand-carved tops, scrolls, and backs, and the finish is intricately varnished by hand.
The oil finish is more durable than the standard high-gloss spray finishes, as those have the tendency to chip and splinter. It also gives the instrument a real high-end feel, as well as a better tone, since it allows the the wood to resonate better, creating a much fuller and warmer sound.
Completely hand-made with an oil finish.
Has rosewood fittings and an ebony fingerboard.
Setup with dominant strings.
The oil finish allows the violin to resonate freely, producing better tones.
Has rosewood tuning pegs, which ensures the notes sound correctly and in tune for extended years.

Other violin accessories are usually sold separately but can get a discount if bought together.
Expensive for beginners, but will allow advancing beginner students to make speedy progress with tone development, consistency, and fast passage.
SPECS:
Available sizes: 4/4, 1/32, 1/16, 1/10, 1/8, 1/4, 3/8, 1/2, 3/4, 7/8
Top Material: Maple, Spruce, Ebony
Back Material: Maple
The Scott Cao STV017 is one of the best violin outfits for intermediate players available in the under $600 price range. It's available in 10 sizes, which means every student can get the one that is the most comfortable for their built and the sound that this instrument produced will astonish you even if your are an advanced musician.
Cremona SV-800 Violin
Cremona SV-800 represents a fine workmanship with clean, and neat inlaid wood purfling. As with all top Cremona violins, it is crafted following the finest Italian tradition achieving an exceptional tone for frequent playing. It's an upgraded version of the SV 500, offering a richer tone at a reasonably higher price.
This amazing instrument is fit for any professional musician. It's crafted from high quality materials and with a lot attention to detail, all of which resulted in a premium instrument that still sells for a reasonable price. The only downside is that it only comes in one size, but then again – this is a serious instrument, and children might do better with more affordable choices anyway.
Hand crafted from selected solid maple back and spruce top producing rich tone.
Fingerboard made with genuine ebony.
Neck and scroll made from maple.
Trimmings are hill-styled from finest boxwood.
Golden orange varnish finish.
Strung with Thomastik Dominant Strings.
Comes with a high-quality case, rosin cake, resilient Pernambuco bow (with genuine horsehair), and extra violin bridge.
The violin case is a lightweight oblong-shaped case with plush interior.

Quite expensive for beginners, but provides a high quality and sonorous sympathetic tone.
SPECS:
Available sizes: 4/4
Top Material: Spruce
Back Material: Maple
We love the care that Cremona luthiers put into their work, as their violins feature quality spruce, maple, and ebony wood. German and Italian masters train all of their luthiers in the old tradition. Master Shang C. Guan, who is an award-winning bow maker in the French method, crafts the bows included in this outfit. Every violin and bow are a continuation of the traditions that produced the best and longest-lasting instruments.
Louis Carpini G2 Violin
Many violin instructors can attest to the fact that the Louis Carpini G2 is one of the best violins for advanced players. Made from spruce and maple, with an oil finish and ebony fittings, it looks like a work of art and will last you for years to come.
It's a very durable beginner's to intermediate level model that has a richer and more balanced sound than most in its price range. Even seasoned musicians claim that the sound this violin produces is comparable to high-end models that cost hundreds of dollars more.
Cool looking violin – one look and it would make you think that it is very expensive.
Offers sounds that is of highest quality.
Has 45-days return warranty.
Outfitted with D'Addario Prelude strings.
Comes ready to play, kit includes bridge, Brazilwood bow, rosin, hard case lined with velveteen cloth.

The Kennedy Violins' official webpage says that they charge an additional shipment fee for orders outside the US.
SPECS:
Available sizes: 4/4, 1/2
Top Material: Spruce
Back Material: Maple
The Louis Carpini G2 is no doubt a good intermediate violin. Offered by committed violin makers and luthiers, you can never go wrong with Kennedy Violins! It is also available in a smaller size, so perfect for younger students who are ready to upgrade to a solid quality violin.
Yamaha Model 5 Violin
The Model 5 by Yamaha is a great example of what makes a violin best for the student. This top rated violin outfit offers everything a student needs to easily travel with their violin, practice and perform.
Of course, it is nicely priced as well, and offers Yamaha's 5-year standard warranty!
The Yamaha Model 5 comes in a spectrum of sizes. Appropriate for beginners of all ages.
It has a durable top made of spruce.
This violin offers carved maple back.
The sides are from whole sheets of maple.
It also offers a premium fingerboard made of ebony as well as rosewood pegs and chin rest.
The outfit comes complete with bow and rosin.
This student model also comes with 4 fine tuners to facilitate ease of use as the student is learning how to tune their instrument properly.

This type of violin is not likely to be sufficient enough for those who are heading towards higher violin grades, but will certainly be sufficient for those who are showing an interest in learning.
SPECS:
Available sizes: 1/4
Top Material: Rosewood, Maple, Spruce
Back Material: Maple, Spruce Wood
If you are interested in a student brand with a tradition of finely crafted instruments, consider Yamaha in buying your first violin.
There is a reason that Yamaha has been vetted by teaches and conductors for many years – they belong to the list of good violin brands for beginners.
Cecilio CVN-600 – Premium Intermediate Violin
This Cecilio violin is the perfect choice for everyone who's looking for an affordable upgrade of his beginner violin, as it has both a premium feel and sound to it, while still being in the lower price range of intermediate level violins. The top of the violin is made from fine grain solid spruce, while the back and sides are made from one single piece of maple.
Both are well known tone woods that have been cured for at least 7 years. The fingerboard, pegs and chinrest are crafted from ebony, and even the tuners are gold-plated. The violin is topped with a hand rubbed oil finish, that just rounds up the amazing looks of this instrument.
Hand carved one-piece flamed solid maple back and sides, solid spruce top.
Ebony fittings (fingerboard, chin rest, pegs, and tailpiece with 4 gold plated fine tuners).
Hand-rubbed oil finish.
Strung with D'Addario Prelude strings.
Comes with a good quality case, rosin cake, brazilwood bow (with pearl inlaid frog), and extra violin bridge.
Violin case features velvet interior with padded neck restraint, hygrometers, storage compartments, and durable shoulder straps.

Certainly priced higher than other entry-level violins, but worth the price.
SPECS:
Available sizes: 4/4
Top Material: Spruce
Back Material: Maple
This top quality Cecilio violin will last many years and can be handed down through the family, making it a great sentimental buy as well as something that will provide years of great music.
Carlo Lamberti Sonata Violin
Hand-crafted by the SHAR Beijing Workshop and set-up at SHAR Ann Arbor Workshop, the Lamberti Sonata model has set the bar for intermediate level violins.

The Carlo Lamberti Sonata violin is indeed the best in class for those who have made a commitment to learn the violin. It allows new students to have a bright, clear-sounding violin that is very sweet to the ear.
Provides exactly what a violinist wants from a high quality violin: remarkable performance, an outstanding finish, and an exceptional value.
With premium fittings (pegs, fingerboard, chin rest) and strings.
Provides powerful and rich tone that will delight the student, especially those who has grown used to the limitations and deficiency of some beginner violin.

Expensive for beginners, but will allow advancing beginner students to make speedy progress with tone development, consistency, and fast passage.
SPECS:
Available sizes: 4/4
Top Material: Spruce
Back Material: Maple
For the serious student who wants to advance to a leadership position in youth orchestra, or score the top marks in their exams, the Carlo Lamberti Sonata violin is a great choice.
What's the Difference Between Beginner, Intermediate and Advanced Violins?
Like other instruments, violins are also classified according to quality level aside from size, or type (acoustic or electric). In general, the classifications are as follows:
Beginner
Many critics use the term 'beginner violin' as synonymous with low-grade quality violin. Some equate it to cheap price.
Indeed, in the past, beginner violins are just viewed as a Violin Shaped Object (VSO) because they are made with generally low-grade wood, built in a factory, and may be of low quality.
And while it doesn't sound something that you would buy, beginner violins are perfect for students who are not fully decided to go down the road of continued violin playing in the next couple of months/years.
In recent years, however, quality manufactured starter violins that can inspire and help encourage new student progress are made available in the market.
Intermediate
In response to a growing concern about the quality of mass manufactured beginner violins, some violin companies decided to create a new classification of violins for more dedicated students.
They realized that some cheap VSO don't last long, and that some students decide to pursue further violin studies, hence they called these set intermediate violins.
These are the kits that are made of average to high quality tone woods, as well as strings, and with playability that is not subpar.
Most intermediate violins feature maple or spruce wood finish with ebony fingerboards, and fittings, and are usually been checked out by a qualified violin master or luthier.
Advanced
Advance violins are a classification where some aspects of playing character start to show. They are sometimes considered as performance type violins that are used by graduate violin students to professional performers.
---
Depending on companies and countries, violin classifications may vary, in some areas, people tend to classify student violin as beginner and the rest are all professional (they consider advanced and intermediate as one).
While classification varies, there isn't any straight to the point accurate comparisons. It is generally subjective to a listener, viewer, or individual buying the violin.
How Much Money Should You Spend for a Beginner or Intermediate Violin?
In every choice we make, we should always strive to pick the best one. And getting a starter violin is something that you need to consider seriously, because buying on a whim may result to wasting a lot of money.
In general, there are different violin brands on the market that can suit all budgets, some beginner violin brands that start at around $35 (yes, believe it or not, there are affordable violins!), intermediate violin brands under $200 or under $500, to $8,000 (professional violins) and above (handcrafted violins with hefty price tags).
You may feel an insurmountable desire to buy the best sounding violin, or a coolest looking violin, however, we suggest that for starters, think about how realistic that would be for you, in terms of affordability and frequency of use.
Example, if you are just checking if violin playing is for you and you are not sure that you will do it in the long term, you might want to get an inexpensive one – ranging between $100 to $200.
For a more committed violinist, you can spend more on your first violin and at the same time get a best sounding violin.
Where to Buy a Violin? In-Store vs. Online
If you have picked a violin to buy, one of the things to keep in mind is choosing the best place to get a new one.
The secret to get the most of buying a violin either online or in-store, is knowing if a store is reputable, genuine, and authorized in selling violins.
That way, you can be rest assured that you can buy a good quality product. To help you, here are our tips in buying a violin, be it through a physical store or an online shop.
In-Store
The good thing with getting your new violin from physical store is that you can do a test sound – you can hold the violin firsthand and maybe ask some questions to the luthier or the company that sells the instrument.
In buying in-store, check not just the quality of the sound, but the finish as well. Also, don't forget to assess the bow, strings, violin case or rosin.
While seeing is not always believing, hearing might be. And sometimes, the perfect violin just chooses you – like, love at first sight.
Online
Buying or ordering stuff online is in fact, a convenient way to get products without having to travel to a physical store. You can even compare prices from one site to another and read violin reviews.
However, buying a violin online can be a challenge because you are getting a musical instrument for its sound qualities. While video sound samples can be requested to some online stores, it is best to be able to hold and personally test a violin. Fortunately, some violin companies offer home-trials and refunds.
Just be cautious though, that some bad eggs exist in the world, sometimes, you'll never know if it is just a scam or not. So, our advice, if you want to buy online, do your research first.
Although, reading this article is a step that will help you get the most out of your search for the one violin to start your journey with.
Final Thoughts
As much as I'd like to pick one of the best student violin brands from the list, I'd rather not to. Why? Because purchasing a violin is exciting and is a very personal experience, what one person may see as a must-have feature, others are not so keen.
This list serves as a guide to let you know about violin types and some of the basic features the brands offer. But, it is not limited to what is written here.
Use your ears to guide you as you make your choice. Oftentimes, you'll find that an instrument that has a lower price also has a more beautiful tone.
Furthermore, you can ask your friends about violin brands to avoid. You may also want to get advice from your violin teacher or somebody who is experienced in buying musical instruments. Ask them what is the best violin for beginners.
The most difficult decision often comes down to how far you want to stretch your budget and if you are willing to settle for a lower quality sound, for the sake of not splashing out too much.
Be careful, too, that you do not buy an instrument based only on its brand name. There are many instruments that are marked up because of the name of a company and they are made in a factory somewhere out of lower quality materials.
Ask yourself if it is a good idea to take time to think about where you would like to take your violin playing: are you just playing for a bit of fun, or are your serious about progressing through your grades?
Remember, you are not looking for best violin for professionals right now, instead, you are searching for the best beginner violin.
However, at the end of the day, you or your child will be the one using the violin so you need to trust your instincts about what is the best violin brand for you.
Thank you for reading our violin reviews and we will see you next time!