One of the most important decisions that a violinist needs to make is choosing the best violin case.
Like having a house or an apartment to live in, the violin needs a safe place that can serve as its home.
While every person is looking for something unique or something that is cool, there is a single factor that everyone should consider in getting the perfect violin case – that is, the quality of how it can protect the violin.
Violin cases come in different sizes, shapes, and materials.
There are hard violin cases, which can be made from wood or some strong plastic material, as well as cases that are made from carbon fiber.
There are also compact violin cases with pockets and compartments for violin accessories, or lightweight travel violin cases that are best for those who are always on the go.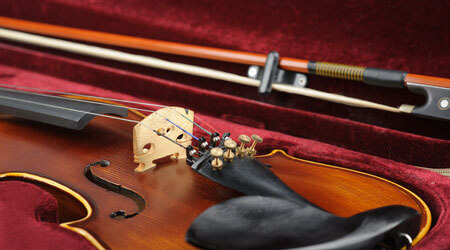 Though many beginner violin packages often include a standard case, you may want to choose a case better suited to your needs.
Some violin cases are relatively expensive and can be a pain in the ass but having one of these protective violin cases is essential, as they serve as investments to keep your instrument safe and secure.
Alternatively, if you already have a violin case and don't feel the need to upgrade, you can opt to getting a cushy violin case cover, or a waterproof violin case cover to get an added protection to your case and instrument.
Whatever the case, you can use this guide to help you be knowledgeable about violin cases before buying one, because like what I have previously mentioned, a violin case is significant investment for your violin.
Choosing the Best Violin Case: The Main Factors to Consider
There are important features that you should consider before choosing a case for your violin.
Please take a moment to read and learn more about choosing a great violin case.
Factors to consider:
1. Shapes, Sizes, and Fit
Cases come in several shapes and sizes:
There are violin cases that are shaped like a violin hence called 'shaped' or 'contoured', and some that are in a form of an oblong or rectangular box.
There are even dart-style violin cases or the one that is called "half-moon" shaped.
Here are images of some of the different shapes of violin case:

Oblong violin case

Contoured violin case

Rectangular violin case
However, many students choose model cases that are 'contoured' or 'dart-shaped' since they are lightweight.
They are compact, with a downside of less to no compartments for accessories.
Some can only accommodate few violin accessories such as rosin and spare strings.
The oblong and rectangular cases, on the other hand, can fit more things including your bow, rosin, spare strings, or even your shoulder rest.
Indeed, oblong or rectangular cases are usually slightly larger, which means that you can put more accessories than contoured ones.
And given their shape and larger size, they also tend to be heavier in weight.
Aside from the style or shape, don't forget to search for a violin case that is compatible for your violin.
Example, if your violin is 4/4 or full-size, your violin case should also be 4/4 or else, you'll have problems fitting your violin inside the case.
So, in choosing a good violin case, consider the size, shape, and fit because the weight and storage should be balanced.
2. Durability and protection
When it comes to durability and protection, a very important area to check on is 'what your violin case is made of'.
It is essential for you to know the details about the materials to help make you feel that you got the perfect violin case that you need.
Here are some of the materials that are used to build some violin cases:
Compacted Foam
The great majority of beginner cases are made from compacted foam – a lightweight and relatively cheap material.
The greatest thing about cases made out of this material is that they are often very well constructed on the interior and they cradle the violin well for traveling and are best suited for those who are always on the go.
Cases that are made of compacted foam are sometimes designed as "French" or "semi-French" fit.
Compacted foam is indeed a very common material for most of the beginner violin cases, although it is not very strong and durable.
Aside from that, if you are traveling outside of the country with your instrument and you live in a cold climate, you must be careful because it cannot guarantee you a 100% protection even if it has some thermal insulation.
Weatherproofing and climate proofing should be considered because these things are vital since violins are very sensitive to changes in temperature!
Wood
This is a tougher material than compacted foam, however, this material is quite a lot heavier.
Aside from that, violin cases that are made of wood have fewer insulation properties.
If you are not the type of musician who travels around with your violin a lot, this may be an economical option, as wood cases are often cheaper than other high-end materials.
Carbon Fibre
Cases that are made of carbon fibre are very lightweight, durable, and strong, which means that they can travel well and be brought anywhere.
Aside from portability, they are believed to be 'crush-resistant'.
They are thought to be the best type of materials for violin cases but still; they have even less insulating properties than other materials such as compacted foam and wood.
If you travel from gigs to gigs on different cities and countries a lot, and need a crush-resistant case, this may be a good choice; but you may want to buy an additional outer case to protect your violin from the weather.
3. Features
Each violin case has features that can vary greatly.
Every manufacturer has it's own style and mastery of the violin cases, creating unique characteristics that can suit the style of every musician.
Exterior
Most violin cases have an exterior accessory pocket and sling straps or backpack straps.
Oblong violin cases or rectangular cases quite often have a larger outside pocket for music sheets or notebooks and spare strings.
Sometimes, there are also end-handle strap on one end of the violin case for vertical carrying and removable shoulder strap.
Apart from the straps and handles, closure and mechanisms are also available to some cases.
Oblong cases usually have dual zippers and flaps against weather to protect the zipper from corrosion due to rain or snow.
Interior
And if the exterior of a violin case can differ from one violin case to another, their interior can be different from others too.
They can be very Spartan and utilitarian, or much more opulent than the others.
The most significant thing to consider, however, is how well your violin fits in the case.
If your violin has unique dimensions, this may be a difficult task.
With that said, the majority of cases have a Velcro neck restraint, which secures the violin during transit and prevent damage to the instrument.
Of course, every case is designed to fit a violin in some way, but the interior construction can vary greatly.
As mentioned above, a French or semi-French fit interior has the same contours as your violin.
This creates a tighter fit unlike the others and as a result, it can offer more insulation for both temperature and movement.
Furthermore, many cases come with a bag or blanket to further protect the instrument. Interior materials may include silk, cotton, velvet, suede, and nylon.
Other features you may consider are: how many bows you can store in the case; the size and amount of accessory compartments; instruments for measuring humidity and temperature; storage for extra strings; and in-case humidifiers.
If you have more than one violin that you need to store, or wish to travel with, you may consider purchasing a double or dual violin case.
With these cases, as the name suggests, you can safely and effectively store two violins.
These cases are often oblong/rectangular and made out of compacted foam.
4. Colors
I know, for some, this is the last thing that a violinist can worry about.
However, a violin case' appearance is also essential as it can help you love and care for your instrument more.
Many violin case makers these days sell models in different kinds of colors and finish options (example: Bam fiberglass violin cases are available in more than 10 different colors).
You can check out our top five picks for this year to find a violin case with all the features you are looking for, of course – with a design or color that suits your taste and reflects the music you want to share!
5 Top-Quality Violin Cases: Reviews
American Case Continental Violin Case Review
A notable violin case designer and a violin instructor spearheaded this violin case's design.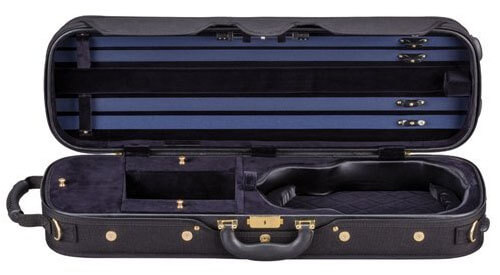 With his design team, he designs and manufactures violin cases from an educator's perspective to meet the needs of any violinist.
Interior color is offered in dark blue or red.
Pros
This is a lightweight case but has a high level of durability. Even if it is very light, it is still very tough and offers a lot of protection for your violin.

It has an archtop shell design with well-made neoprene shoulder strap.

The exterior is made of wood covered by a very durable back Cordura cover. The interior is made out of silk wherever your violin touches the case.

Its heavy duty fittings and materials are crafted for your peace of mind whenever you are traveling with your instrument.

Also, the case comes with a digital hygrometer to measure humidity, as well as a built-in humidifier.

It also has four bow spinners and three accessory pockets. It can come in either dart or oblong.
Cons
The interior is made out of 100% cotton velvet but are only available in 2 different colors: Claret Red or Midnight Blue.
If you are okay with an interior of Claret Red or Midnight Blue, and are looking for a violin case with lots of features such as accessory pockets, hygrometer and built in straps, this heavy duty, elegant violin case might be a good option for you.
With its design and deep cushioning silk embrace, it can provide protection to your instrument.
BAM Contoured Violin Case Review
This is perhaps the most resilient, lightweight, and compact of all violin cases available for purchase.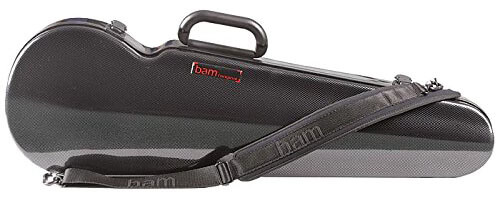 Colors are available in lazure black, tweed, black carbon, silver carbon, anise (yellow), and azure blue.
Pros
It has a carbon fibre exterior with an injected polyurethane foam interior for stronger instrument suspension.

These foam cradles that hugs your instrument to safety provides excellent resilience (the foam maintains its original strength and shape), longer lifetime, and a protective covering for the instrument.

Though it is light and durable, it does not have a lot of insulation or padding for your instrument.

And although it is light and compact, it also boasts of its removable accessory pouch and 2 violin bow holders. It also has a strap for keeping your 'Kun' style shoulder rest inside the case.

Its exterior is made from high performance materials with neoprene backpack straps.

Plus, if you want a violin case that doesn't topple over whenever you are getting your instrument from the case, this violin case' top always lie flat when opened!
Cons
This violin case is much more expensive than the American case continental model mentioned above.
If you don't worry about the violin case' price and are looking to buy a lightweight, resilient, and compact violin with screw hooks and security latches to provide outstanding protection for your violin, this is a perfect pick!
The best lightweight violin case with a sophisticated design.
BAM St. Germain Shaped Violin Case Review
This violin case uses the classic BAM technology with the same classic elegance of contoured violin cases, but it is a much more affordable for every violin enthusiasts.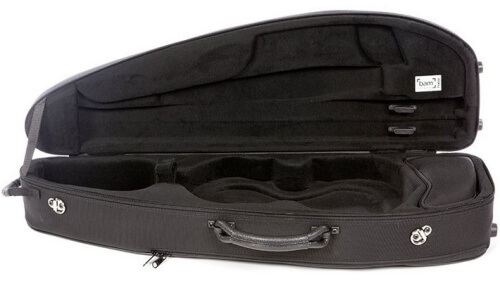 Pros
Features include a poly-thermoformed foam shell, two bow holders, backpack straps, a large external sheet music pocket, and a removable accessory pouch in the large pocket, a subway handle, a side handle, and a zipper with combination lock.
Cons
It only comes in 4 different earth colors, including chocolate brown, gray, black, and blue.
If you are searching a violin case offering pure classic elegance with an outstanding material for your violin's ultimate protection, you should check this out.
Aside from its high-grade production material, BAM offers two years warranty in case of a defect in workmanship.
Cushy Shaped Violin Case Cover Review
This isn't a case per-se but an outer shell that can protect your violin from the weather much better than a regular case alone.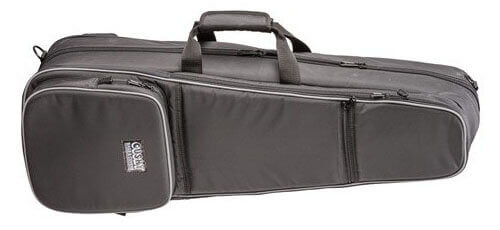 Pros
It is made out of a lightweight, durable black nylon with a large zipper and are expertly crafted with 1/2 fiberglass reinforced padding, making it resistant to water.

It also features large storage compartments for music and violin accessories and backpack carrying straps.

Aside from the non-slip carrying straps, it was created with a pair of reinforced handles.

This model is shaped, but Cushy also makes violin case covers in a oblong style.
Cons
This violin case cover isn't enough if you don't have the violin case per se!
If you can't afford a new high tech violin case and have the standard violin case when you bought your violin, you may want to have an extra all-weather protection to your case and instrument.
This violin case cover is durable, expertly crafted and shaped according to your case' dimension.
With this violin case cover, you won't ever worry about getting your instrument drenched whenever it rains!
Embassy Ambassador Oblong Violin Case Review
This is a beautifully finished violin case, which features many customizable colors for both the interior and the exterior.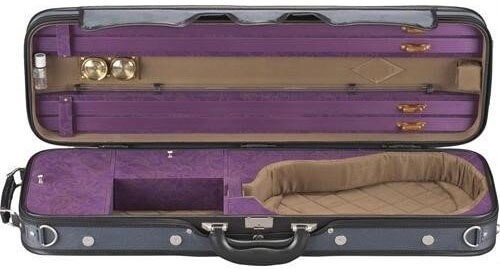 Pros
It has a wood case shell and weighs 7 pounds. The inside material is made with contrasting crème suede of your choice from olive green, deep blue, claret red, or onyx black lining, quilted in a pattern.
The exterior boasts of an elegant design with latches, screws, zipper pull, and tough carrying strap ring.
Other features of this case include: leather sides and handles, backpack straps, a hygrometer and built-in humidifier, as well as a string tube.
This is perhaps the best-value violin case on this list and is highly recommended.
Cons
Although this case offers five different colors for its interior, you only have two color options for the exterior: grey or black.
This violin case has reasonable price for its elegance and wonderful color accents.
It's arched top wood case shell and its overall impressive design is perfect for violinist who are irresistibly drawn to beautifully crafted, compact violin cases.
Final Thoughts
If you want to know more about violin cases, feel free to browse my site.
Also, I will be posting reviews about other violin cases and accessories so please be sure to bookmark my blog page and visit once or twice a month (or even more) and keep your cool in playing!
Hope you had a good time reading this! Good luck in choosing your best violin case!