Every musician loves his instrument. There can be nothing more traumatizing for a musician than damaging his precious instrument.
And, if you play the violin and you are going somewhere that requires you to travel by air, it's only normal that you want to continue creating music with your instrument.
However, a violin is an extremely delicate "music-making-machine" (just as how all the other stringed instruments are).
And, it is a grave risk that you are taking if you are planning to check it in with the very cold environment at the cargo section of the plane.
Also, you can never be sure that the baggage handlers won't break it.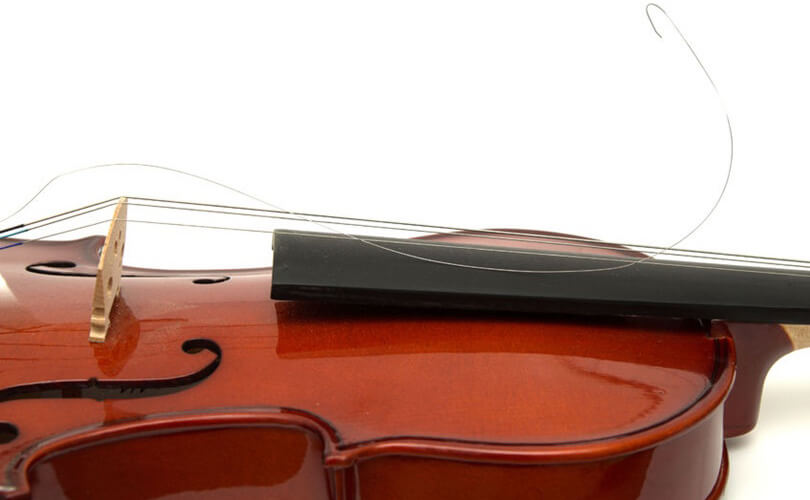 With this in mind, you'll have to learn how to keep your instrument safe during transit and avoid any damage.
10 Tips and Tricks to Pack your Violin
It probably isn't the greatest idea to just grab any box and stick a "fragile" note on it.
Keep in mind that in preparing to pack your most beloved violin, you must be equipped with the knowledge on how to do it:
1. Take a bow and wrap it
I am actually talking about your violin bow. It may be tempting to just let it stay inside the case with your violin, but to ensure added safety to your bow, an extra measure is needed. You have to:
Get a separate bow case or a small PVC pipe slightly longer than your bow.
Make sure to loosen the bow hair to prevent it from tightening during the travel period. If the bow hair becomes too tight, it might probably snap.
Once it is loosened, pad both sides of the bow, or wrap it with packing material to prevent the bow from moving.
Wrap the packed bow in PVC with bubble wrap.
Place your PVC pipe or bow case into your violin case (if it fits) or inside your checked-in baggage.
2. Loosen the violin strings
While it is true that your violin case is a good protection, your violin will still be exposed to temperature changes.
Excess tension on the violin string may occur due to decreased humidity and fluctuating weather/temperature conditions.
Loosening the strings prevent the bridge from warping, as they are vulnerable and sensitive to temperature changes.
It can also prevent the strings from snapping because of the effect on the tautness of the string as a result of temperature changes.
To loosen your string:
Turn your tuning pegs to loosen the strings (not too much). You can do it by lowering the string a little or even a whole step lower. From sounding G, D, A, E, your violin string should sound F, C, G, and D.
3. Pack your violin with a hygrometer and a humidifier
What is a hygrometer?
Hygrometers are devices used to measure the moisture content of the atmosphere.
Ideal conditions for violins and other stringed-musical instruments are at 50–55% with relative humidity at 20°C.
Dryness (below 40%) involves greater risk as well as excessive humidity (over 70%).
Most violin hard cases come with a standard humidity gauge, but these hygrometers are usually not very accurate.
If you travel a lot and humidity is a major concern for you, I will recommend for you to buy a good-quality hygrometer or digital gauge.
Humidifiers
Wild swings in humidity and temperature can have an enormous effect on your violin's performance – and sometimes on its structural integrity, most especially with antique instruments.
Prepping humidifiers and using it during your flight allows a controlled and continuous provision of moisture into your violin. This ensures optimum conditions to your violin.
As we have discussed, violins are vulnerable to the rapid changes in humidity and temperature fluctuations.
4. Turn the tuning pegs parallel to the scroll
Tuning pegs are extremely delicate and are easy to break. To decrease the risk of breaking, turn them parallel to the headstock or the scroll.
If you don't want to, you can remove them and store them in your case' inside pocket.
Just remember that by removing your pegs, the bridge gets less support so you can also remove it and keep it.
5. Use bubble wraps (and plenty of paddings!)
If you have bubble wraps or soft pads (or extra socks), you can ensure more protection for your violin.
You can put your paddings around the tuning pegs, under the fingerboard, and around the bridge, as they are your violin's weak spots.
If space on your case permits, you can even wrap your violin with it. If you don't like bubble wraps, you can get a small silk cloth or a silk bag to wrap your violin before placing it in the case.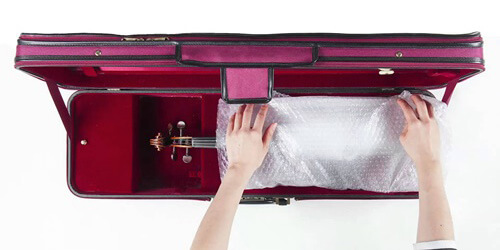 Don't use shredded paper or smaller packing materials for packing the violin. This stuff can fall through the f-holes of your violin and you'll have a hard time taking them out.
6. Place the violin in a hard carrying case
First of all, if your violin costs more than $500, it is best to consider investing on a hard case.
Even though the prices of hard cases are higher than the soft violin cases, hard cases merit the expense.
They guarantee you a safer place for your violin, rosin, mutes, tuners, and other violin accessories.
You can't deny it but there are obvious benefits to having a hard violin case.
So, it is better for you to have one. If you still want to know why, consider these information below:
Baggage handlers are always in a rush to pack the cargo, and sometimes they don't heed any notes or "fragile stickers" on the baggage.
Extreme humid environment and dry weather conditions are your violin's worst enemy.
Plane rides can be bumpy due to air turbulence.
Hard cases are like safety capsule that protects your violin while you are traveling.
7. Bring extra set of violin strings
Travelling on a plane is tricky. It poses real risks to your strings. Even if you followed all the safety tips in flying with your violin, strings still break.
It is best for you to bring an extra set of strings. There's no harm for being sure just in case your string snaps anyway.
8. Purchase an instrument insurance policy
If your instrument costs you a fortune, you can get an insurance policy to cover your travel with your violin.
Most (if not all) airlines don't pay for theft or damage to your instrument so being insured is essential.
If you have an existing insurance for your violin, be sure it is updated. You can contact your insurance provider about your policy for more details.
Remember, "Sometimes bad things just happen." Insure your instrument.
9. Depend your violin
Whatever they say and do (as long as you know your rights), resist from staff taking your violin and putting it in the cargo section. Horror stories abound. Sad news exists.
Depend (but don't argue), and ask mercy from the boarding team – beg and cry if necessary.
Weep heart-wrenching tears and don't ever let them take your violin away from you.
10. Know the rules
Pablo Picasso once said, "Learn the rules like a pro, so you can break them like an artist."
Understanding 'how things work' is really useful.
I am not advising you to just go ahead and break the rules for the sake of your violin but there could be techniques and tricks to help you get pass through the tight inspection and security checks.
After all, if you think about it, no matter how or when your instrument is born – it is far more valuable than any baggage you can think of (yes, if you are thinking of flying with your violin, I am sure it is pretty valuable).
Rules for Flying with your Violin
1. Verify your airlines' rules for musical instrument
While airlines are prohibited from asking you special fees for bringing your violin as a carry-on luggage, they can (and of course they will!) charge you with additional fees for exceeding the allowed number, or dimensions, and weight of your carry-ons.
To avoid any delays and problems like not being allowed to bring your violin as a carry-on baggage, be sure to read your airlines' rules and regulations.
One airline's rules sometimes differ from another airlines.
While it can be confusing due to these inconsistent policies that violinists face when flying with an instrument, as a passenger, you owe it to yourself to be knowledgeable of what your rights are.
2. Familiarize yourself with the Department of Transportation's general rule on carriage of musical instruments
If you find it hard to grok each and every airline that you will be flying with, you can familiarize yourself with the guidelines created by the Department of Transportation.
This guideline called "Federal Aviation Administration (FAA) Modernization and Reform Act of 2012" is issued by the DOT.
It requires airlines to follow certain rules in transporting instruments.
This guideline also lists how employees should be trained regarding the carriage of violins, and other musical instruments as checked baggage or as a hand-carry.
The guideline states that passengers must be allowed to carry a small musical instrument like a violin or guitar, and stow it in a suitable baggage compartment, which includes the overhead bin and under the seats in accordance with the Federal's safety regulations.
You can read more about the FAA's guideline on carrying musical instruments on a flight, here.
---
Wherever you're headed with your violin, enjoy your trip! Keep calm and carry on.