A bow is arguably the most important tool for producing a beautiful sound on the violin.
Whereas many professionals will often have multiple violins that they use, most will have just one bow, or a definite favourite bow that they use most often.
Some people even say that playing the violin is 90% bow (or right hand) and only 10% violin (or left hand). This is because many elements of playing like articulation, dynamics, rhythm, timbre, and tempo are controlled by the bow hand—and by extension—the bow itself!
That said, as a beginner, you should not get too hung up on bows before you know how to use them! The best violin bow in this case will be one that can help you get to the next level of playing.
Once you are more skilled then you may want to consider that advice to purchase a violin bow that is worth a higher fraction of the cost of your instrument.
This article has two parts. The first part contains six variables you should consider when buying a bow. The second part is a list of several of the top beginner violin bows for you to consider before you make a purchase.
Buying a Bow
There are a few important things you should consider before buying a bow:
1. Price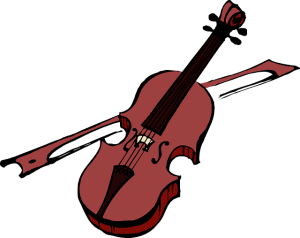 As with many things in life, a more expensive bow may not be better.
Since there are so many variables in a violin set up, if you have the opportunity make sure to try out several bows. You may find that a less expensive bow is a better fit for you.
Also, you may find that many people will suggest that you should spend a quarter to a half of your violin's value on a bow.
Of course, this all depends on the level of your playing. If you are a beginner, it is not so important to have a very valuable bow; you will only need something that will support your development.
2. Material
There are four main materials that are used for the stick of violin bows. These are brazilwood, pernambuco, carbon fibre, and synthetic materials.
Brazilwood is actually a name for several types of wood from tropical areas in Brazil. These types of wood are generally inexpensive and thus are used for student bows.
Pernambuco is the best wood for violin bows. It is both lightweight and strong, allowing for the wide rang of motions necessary to play the violin. It is from the Caesalpinia echinata tree in Brazil.
Unfortunately this spices is in danger due to extreme deforestation. Thankfully, there are several important efforts underway to save this tree for specialised use in violin family bows.
Carbon fibre is a material that has gained popularity in the past decade for use in violin family bows. These bows are typically sturdier than wood bows, and react very little to changes in temperature or humidity.
Many people swear by these bows and higher quality models have been said to be comparable to pernambuco bows. Carbon fibre has the added benefit of not warping like organic materials.
Synthetic materials used for bows are either fibreglass or composites. These are often of lower quality than carbon fibre and pernambuco bows, but they are very durable. This makes this type of bow well suited for students and beginners.
3. Flexibility
This is a measure of how the bow reacts when under tension. When you tighten your bow, it will ideally still have some give and bounce when used. This will make many different types of articulation more easily attainable by the player.
4. Weight and Balance
Every bow has a slightly different weight and balance, especially if it is made out of organic materials. A heavier bow can create a bigger sound, while a lighter bow can make different bow strokes more facile.
A bow is generally weighted more heavily at the frog than the tip, though there should still be some weight at the tip in order to draw out a bigger sound from your instrument.
Make sure that any bow you buy is not warped, as this can negatively affect the balance. You can check for this by holding the bow in front of one eye and looking down the stick from frog to tip.
Do not buy the bow if there is any bending or twisting near the tip!
5. Shape
There are two shapes for violin bows, round and octagonal. Traditionally, the great French bow makers would only produce round bows.
Round bows are less stiff than octagonal bows, allowing for greater control. However, this is all dependent on the player; some people prefer the stiffness of octagonal bows.
6. Size
This is, of course, a no-brainer. Make sure that the size of the violin bow you buy corresponds to the size of the instrument.
Best Violin Bows for Beginners
| Model | Price | Materials | Short description |
| --- | --- | --- | --- |
| Schmidt Brazilwood Violin Bow | | Brazilwood stick | These are typically very good bows for beginners for the price. |
| Glasser Fibreglass Violin Bow | | Fibreglass stick | Glasser patented the first fibreglass bow and they have developed a synthetic model that works very well for beginners. Their more expensive premium models come in a variety of colours. |
| Meinel Pernambuco Violin Bow | | Pernambuco stick | This is a very good beginner bow made out of pernambuco for a relatively low cost. |
| Presto Carbon Fiber Violin Bow | | Carbon fibre stick | This is a relatively good quality and value for a student model of a carbon fibre bow. It is also available in several colours. |
| Carbon Fiber Violin Bow | | Carbon Fibre | This is another relatively inexpensive student model carbon fibre bow. |
| G. Werner Violin Bows | | Brazilwood stick | Although more expensive then some bows on this list, the expert German craftsmanship of these bows and relatively low cost make them a good advanced-beginner model. |
| Howard Core Brazilwood Violin Bow | | Brazilwood stick | This is a great low-cost option for beginners, and is available in most sizes. |
| Glasser X-Series Carbon Fibre X-Bow | | Carbon fibre stick | The Glasser X-Series is part of their lower-end carbon fibre violin bows, but they still offer the same qualities of a carbon fibre bow at a fraction of the cost. |