Searching for the ideal student violin can be a hassle. This Cremona SV-175 should take some of the work out of trying to figure out what violin is best for your student.
There are a lot of violins out there that are marketed as entry level. Some are great, others are not so great. It is important that you find a violin that can help your student to get off to a great start.
Learning to play the violin can be a challenge so every advantage that you can take is imperative to a successful violin education. Novice violin students are greatly reliant upon the playability of the violin that they start out with.
The tone of the violin, the playability and the ability of the violin to stay in tune are all going to be relevant factors in the success of the novice.  Purchasing the right violin will help a student to build confidence and hopefully stick with the lessons.
The wrong violin will dash confidence and breed contempt for the instrument and discourage them from playing. Of course skill is an important factor but even the most skilled artist will find it difficult to make a poorly crafted violin sound like anything but a poorly crafted violin.
Saga and the Cremona SV-175
Saga has been crafting affordable student instruments for almost 40 years. The experience of this company has helped them to craft some of the most popular student violins. Each violin that is created by Saga is given a great amount of attention.
Each violin is graduated and made in the traditional design. Saga offers a 1-year warranty on all of their violins against craftsmanship defects.
When choosing a violin, the brand really does matter. The reputation of the company that is crafting the violin can be a telling sign of what you can expect from the violin.
Saga has built their reputation by providing high-quality violins that are surprisingly inexpensive. Even the Cremona SV 175 is nicely priced as a premier student violin.
Building a positive reputation in this industry is no easy task because the competition is stiff but Saga has managed to build a strong following because of their highly regarded instruments and because of their commitment to their clients.
What You Should Know
Why would you choose the Cremona SV 175 over other student models?  That is a good question! We asked the same thing. What makes this violin better than others?
This violin has been the bestselling model for Saga for over 35 years, so something must be pushing it out the door and into the arms of students everywhere.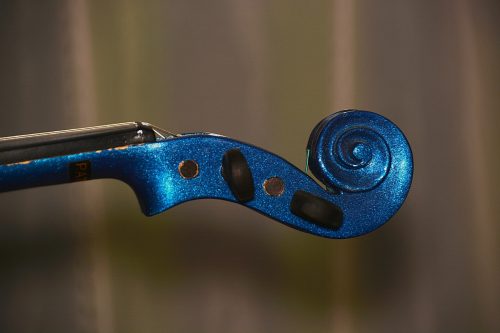 This model does go above and beyond and can easily carry any player from the very earliest days of instruction well into the intermediate days of play. That fact of course is a good indicator that this model is well-made and long lasting but it is also another indicator.
If a violin can be easily used by the novice and still satisfy the needs of the intermediate player that means that the violin is crafted to not only stand up to use but that it also offers a tone that satisfies many styles and skill levels.
The construction of this violin meets or exceeds the recommendations of several music education organizations. It is crafted from spruce, maple and ebony, three of the select woods that are traditionally used to create violins. Saga takes the time to ensure that the wood is seasoned properly which is a very important part of the process.
The back and sides of the violin are made from aged (5 plus years) maple. The front of the violin is made from aged (5 plus years) spruce. All of the fittings are made from ebony (except the tail piece).  How did Saga make these wood choices?
Simply put they are sticklers for tradition in addition to the largely accepted idea that these wood choices are best for the crafting of a fine violin.  They use an environmentally curing process that ensures that wood is aged to perfection while no harm is coming to the environment.
The ebony is used for the fingerboard, pegs and chinrest because these pieces are used the most and have to hold up to the most abuse. Consider that every time a finger comes down on a string to affect a note that string and finger come across the finger board.
Consider how many turns each peg will sustain over the lifetime of the violin and you can see how important it is to use ebony as the material because it is hard and can stand up to constant use.
Maple is used for its beauty and durability. Spruce is used for the tone that it can impart while still being durable.  These select woods help Saga to create a really beautiful instrument.

Click Here for Pricing, Pictures and Reviews on Amazon
The Details
Sometimes you will come across a violin that can meet all the rigors of the construction requirements yet something is still very much amiss. What is amiss is the absence of the attention to the details. Saga has paid attention to the details with the Cremona SV-175.
It is the little extras that really make a difference and warrant the second look at this violin. Details like the upgraded Strings-Prelude Strings by D'Addario or the upgraded bridge that really make a difference. The details like the inlaid purfling and the hand carving affects not only the beauty but the tone.
You can easily hear the difference that the details make! Saga has really out done themselves with this violin when it comes to how it sounds and how it looks.  Students both novice and intermediate will feel proud to play this beauty and to carry it around.
The Bow
How important is a good quality bow? The violin is composed of several major parts, while the bow seems separate it is still very much a part of the violin.  A high quality bow makes a difference and with this outfit you get a very high quality bow.
The bow that comes with the outfit is the J. LaSalle LB-13 high-quality octagonal Brazil wood bow with ebony frog and unbleached white horsehair it is a truly lovely bow that is built to last. The ebony frog adds durability to this bow and of course looks great!
 A lot of people will buy a cheaper violin than work on doing all the upgrades on their own. This can start to add up and turn that cheap violin into not such a cheap violin.
This bow will carry any student from the novice stage well into the intermediate stage without a problem. Of course starting off with a great bow also has the advantage of not having to retrain later on to a better bow.
The Case
The details really do matter as seen in the case that is offered with the Cremona SV-175. The case is an upgraded case:
Ultralight and extremely durable TL-33 oblong case with plush green velvet lining, accessory storage, built-in hygrometer, bow holders and convenient back pack straps
The case is a nice touch to this outfit. It can easily be considered an added value because of its high end features that you normally do not find with a student violin case.
Overall
Saga is a trusted name in student and performing circles because they have done exactly what they have set out to do. They have created durable, high quality instruments that offer an excellent sound and yet have managed to keep the pricing down.
One of the key reasons that you should be looking at this violin as a novice is so that you do not have to worry about upgrading down the line. Sure you can buy a cheaper violin to get started but you may find that it does not suit your needs or your skill level for very long and essentially will be a case of throwing good money down the drain.
The Cremona SV 175 is a top of the line entry level instrument that can satisfy even a skilled player. It is a great choice for any budget minded family.
It is not the least expensive on the market but it offers a great deal of value for the money. It would be very hard to find a violin of this caliber and with the items that are offered in this outfit for this price anywhere else.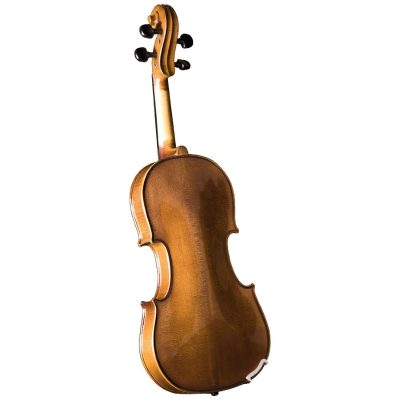 Click Here for Pricing, Pictures and Reviews on Amazon
This "entry level student outfit" can easily be appreciated by students of any skill level.  It can be an inexpensive upgrade for anyone that is at an intermediate skill level.
This is a great violin that offers a great opportunity for anyone that wants a reliable violin that sounds great and looks great.
Sometimes the value really comes down to not how much you are spending but what quality you are getting for the money. This violin offers a great deal of value for the money!