The violin is a magical stringed instrument that can be played by musicians and non-musicians of all ages to learn.
Along with dedication, right materials, quality practice, and qualified violin instructor, success in violin playing can be achieved.
However, following a decision on pursuing a career as a violinist, you will face the question:
"Where should you begin, as a beginner?"
Well, you can't start playing without an instrument. The most essential tool in violin playing is indeed – the violin. And you can't have an instrument without trying to get one.
There is a great variety of this instrument out there in the market. If you are new to this, you may feel a little confused or uneasy.
You might even turn your back on your 'violin-playing-goals' if you get overwhelmed by how expensive some violins are.
As a beginner violinist, a pricey one is probably not what you should save up for.
Mendini Violin (Mendini by Cecilio)
Mendini violins were created out of the company's desire to provide affordable, best-quality stringed instruments for aspiring musicians and performers.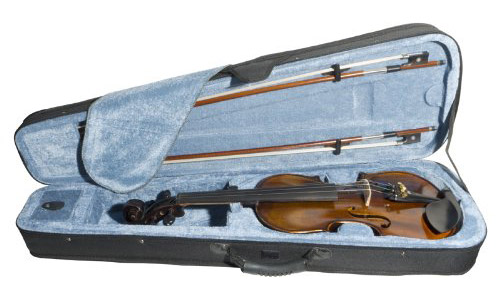 We know that it takes 'one step to start a journey of a thousand miles'… and in your journey of violin playing, the first crucial step is getting your own instrument.
To help you choose, let us take a look at the top 5 Mendini violins with corresponding reviews:
Mendini MV200 Review
The Mendini 4/4 MV200 is one of the best violins that the brand offers, which is why it is on our list of best violins for beginners.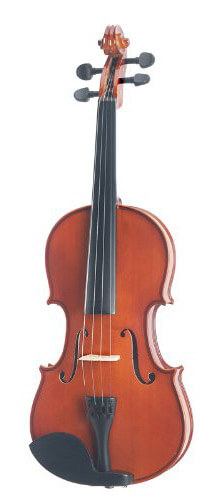 The violin is factory made but it does use good quality wood, with spruce used for the top of the violin and maple for the back and sides.
The ebony pegs and fittings are of good quality and the bow is made from high quality Mongolian horsehair.
The Mendini 4/4 MV200 produces good quality sound and has a warm tone that some student violins don't have.
We think that this model is excellent value for money, particularly as it comes with bow, case, rosin, chin rest and a shoulder rest.
The kit has everything that you will need to start your lessons and makes the purchase of a new violin less overwhelming for those new to the instrument.
Also, children will love the choice of colors that the Mendini MV200 comes in, including blue, pink, and white rather than just a standard wood-varnished finish.
In terms of durability, you should expect this model to last though the early stages of learning, perhaps to grade 4 or 5th level of learning, with an enhancement or two on the way.
This Mendini by Cecilio is the perfect, all round good budget violin.
It will not produce high-class, music-hall performances but will allow students to transition easily into the world of violin playing.
Mendini MV300 Review
The next model up from the MV200, this Mendini is still superb value for money and will suit those on a budget.
This Mendini by Cecilio violin is completely handcrafted, with a spruce top and maple sides and neck.
This violin is made with attention to details, especially in the fixtures and fittings. It has a good quality bridge, ebony fingerboard and pegs witha high genuine Mongolian horsehair strings.
Created for students, the MV300 comes with everything you need to get you started and to keep your violin in top shape.
Spare strings, a medium-strength bow; chin rest, and shoulder strap are included in the package, which will keep you comfortable as it enables you to produce the best tunes as possible.
There is only so much quality control that you can have over an instrument of this level but once you have settled into playing it, you will be able to develop a better sound than you would think for the amount you will pay.
Like the MV200, this model does come in a variety of colors, although be warned that sometimes the extra layers of varnish and paint can hinder the sound quality as it can become muffled.
Expect beginners to reach grades 4-5 with this model and although this is not a professional violin, teachers and violin instructors adore it.
Mendini MV400 Review
The MV400 is a full sized violin 4/4 with solid wood spruce top, maple back, neck and sides and a beautiful varnish finish & inlay.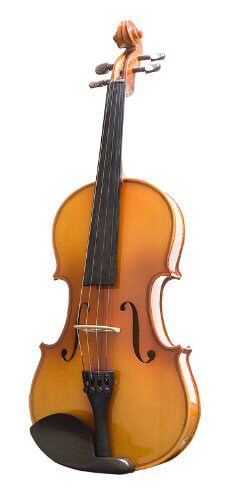 You can see the higher quality just by looking at this violin.
You still get all of the extras, including a smart case, chin rest, rosin and a quality horsehair bow.
You also get a spare set of strings, which will come in handy for beginner who are bound to snap a few along the way.
The better quality of wood means you will get a warmer tone from this violin, compared to lower priced models and other than fine tuning the strings, you are more or less ready to go once you receive your violin.
Again, this model is not a professional violin and is aimed at students, perhaps more advanced students who are achieving mid to high range grades.
A great choice for families wanting siblings to learn as this violin is likely to be able to be passed down, once the elder child moves on.
Mendini MV500 Review
The next step up from the Mendini series is the MV500, which is on a mid range budget that gives an overall better tone and pitch, as you would expect with higher priced models.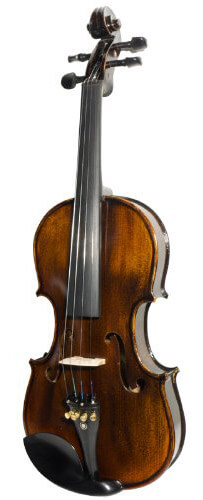 This model features ebony fingerboard, pegs chin rest, and tailpiece with 4 detachable fine tuners and is carved out of one piece of maple wood.
The fact that this model is handcrafted from one piece of wood, which means that there is extra precision in its construction and little room for error, as there is in factory made products.
The glossy finish adds class to this violin and it will not look out of place in an orchestra.
A lightweight case, high quality rosin, a comfortable chin rest and spare string will delight students and parents alike, as they will not have to run out to keep spending money.
Despite how good it looks, the proof of course is in the pudding and you certainly get some sweet notes from this well executed violin.
This violin is a little bit more expensive than some people would want to pay for a student violin but this will see your child through to higher levels and perhaps even beyond.
If you know that your child is in it for the long haul then you cannot go wrong with the MV500 in terms of durability and value for money.
Mendini MV650 Review
The Mendini MV650 is one of our favourite violins in the mid budget range.

The handcrafted instrument is made up of one piece of the best quality maple wood with a spruce top and ebony fittings all over.
This violin has wonderful mellow tones and is suitable for intermediate players, who are moving through violin grades with ease but are not quite at the stage where it is worth splashing out the extra bucks.
This model comes with a Cecilio 92-D chromatic tuner with metronome,along with the 4 original fine tuners that are attached. Also, violinists can experiment with sounds and begin to stamp their identity in to their music.
The MV650 is a little more expensive than the MV500, but you get what you pay for with violins and this will definitely not disappoint.
The Mendini MV650 is top of the line. Its design and the quality of the materials it is made of matters more than the price.
Why not get one and feel the fun playing one of the best Mendini violins?
Conclusion
Whichever Mendini you go for, you will be going away with a quality instrument that will create great music, in relation for the amount you paid for.
If you are a beginner, or are buying for a beginner, you cannot go far wrong with the lowest priced option. It will definitely suit you if you are also buying a violin on a tight budget.
But once you fall in love with this brand, you can upgrade through the newer models.
The more expensive violin models on the other hand, would not be out of place in a professional orchestra and are very durable, making them a good instrument to invest in and pass down to a family of learners.