The best in-ear monitors are a topic that is continued to be disputed by producers, audio engineers, and musicians everywhere, and today in 2023 there continues to be some awesome contenders worthy of this title.
In-ear monitors' and monitor systems' primary purpose is to allow performers to hear their monitor mix in earbuds instead of through stage wedges. In this article, we'll review the best in-ear monitor systems available for purchase in 2023.
Here are the best in-ear monitor systems 2023:
1. Shure P3TRA215CL
Most popular, best-sounding in-ear monitor system
The Shure P3TRA215CL is a very powerful, high-quality wireless in-ear monitor system that combines monitoring flexibility with detailed controls. The Shure P3TRA215CL comes with Shure SE215 in-ear monitors for monitoring. The P3TRA215CL is the perfect wireless system for advanced monitoring.
The SE215 in-ear monitors feature Shure's innovative MicroDriver which is an advanced driver that reproduces sound from 22 Hz all the way up to 17.5 kHz. They come with different-sized ear tips, so you can control how much noise isolation you get, up to 37 dB of outside sound.
You won't be getting the full spectrum of audio here, but you will get enough clarity and high frequencies that they will cut through stage noise with or without ambient noise isolation. They're very comfortable and fit tightly to the ear without being too snug.
The transmitter is very easy to use, with a one touch sync button to connect your in-ears' receiver to take the guesswork out of setting it up. Transmission is completely noiseless and is overall very dependable. On the receiver pack there are mix and volume level controls, EQ, and volume limiting that allow you to shape the sound of your mix until it is exactly how you want it.
There is also a MixMode button that allows you to set up a separate mix (along with the normal stereo one) to create two separate mixes for more options when you need them or blend two different mixes together. You are the one controlling your monitor mix with the P3TRA215CL instead of the sound engineer.
The wireless body pack receiver clips onto your belt buckle or the waistband of your pants. It has a one button setup and you can recharge the batteries in the unit.
Image credit: Shure Check Price on Sweetwater

Rugged, all metal construction for lasting durability.
MixMode for creating and personalizing mixes and blending them together.
Strong noise isolation protects your ears from hearing loss.

Sensitive to large objects in the way of the radio wave path.
Earbuds don't fit as well as ones from other brands.
The Shure P3TRA215CL is a perfect solution for your long-range performances up to 300 feet away. It's a reliable in-ear monitor system that would be great for musicians and singers and for live performances with a lot of movement involved. I recommend it to those who plan to use it for stage purposes.
2. Sennheiser EW IEM G4-TWIN
Handy twin system for dual performers
Sennheiser has some of the best wireless in-ear monitors on the market, and the Sennheiser EW IEM G4-TWIN is no exception. The G4-TWIN is a wireless in-ear monitor system with two body pack receivers.
The Sennheiser EW IEM G4-TWIN is a reliable transmitter that will fit nicely on a desk or you can mount it to a rack. Either way, it is very portable and well-built, so you can take it on the road without worrying about issues with it breaking. The IEM G4-TWIN is very flexible and operates over 61 radio frequency channels and has 1,680 selectable frequencies. It offers clear reception and has an infrared interface for faster syncing between receiver packs.
The transmitter features a screen with a user-friendly menu for fast setup and configuration. Featured on the transmitter are a multi-level limiter and a switchable Hi Boost. You can scan for open frequencies on the transmitter too, for an extra quick pairing between transmitter and receiver.
The receiver also has a simple layout with only a volume control and some arrow buttons on the front of the receiver to control the settings on the screen. It's still fairly easy to navigate through the screen, although not as easy as other IEMs.
It has a battery life of 8 hours and can extend up to 330 feet away from the transmitter. Two of Sennheiser's IE 4 straight-wire earbuds are included in the package with two receivers, but the system is compatible with any in-ear monitors.
Image credit: Sennheiser Check Price on Sweetwater

Increased protection against water and dirt.
1,680 selectable frequencies over 61 radio channels.
User friendly with very quick and easy pairing between transmitter and receiver.

Straight-wire earbuds are included rather than over ear in-ear monitors.
Navigation screen on receiver is a bit more tedious to scroll through vs other receivers.
The Sennheiser EW IEM G4-TWIN in-ear monitor system is a great wireless solution if you want a top-rated, professional in-ear monitor for vocalists, for guitarists, or for bass players. Although it is expensive, for a package with two high-end receivers, this one is quite a steal.
Sennheiser has many great products and this is a fantastic set of IEMs for the money. If you don't want to sacrifice any quality of sound or ease of use, absolutely get the EW IEM G4-TWIN.
3. Behringer Powerplay P1
A simple and reliable wired option
The Behringer Powerplay P1 is a wired in-ear monitor system that I have experience with from using it when I did some live audio engineering with a church. The Powerplay P1 does not come with a pair of in-ear monitors, so you'll need to buy a pair separately. If you can't afford a pair of in-ears, the Powerplay P1 has a built-in limiter to protect your hearing.
The Powerplay body pack is very simple, with a power button, stereo and mono button, volume control, and pan or balance knob. There are two XLR inputs on the unit, so you can blend two different signals if you so desire or just listen to one at a time.
The metal constructed P1 slips onto your belt buckle easily, so you'll be able to perform with ease. In the studio, the Powerplay works just as well with a 9-volt battery powering it.
From working with a Powerplay P1, I found that it was very easy to use and setting it up was fairly simple, just a quick plug in. The stationary members of the band that used them enjoyed the Powerplay P1 and they didn't find any issues with it disconnecting if they moved around a bit as long as their XLR inputs were long enough to give them a bit of room. Using the unit is pain-free and simple enough for those who are not tech-savvy.
The Powerplay P1 is quite durable and rugged; I've dropped one of the units before and it stayed intact, not even the battery door popped open.
Image credit: Behringer Check Price on Sweetwater

Durable, sturdily made with a metal chassis and thick plastic knobs.
Two XLR inputs for dual-channel monitoring.
A mix blend knob allows you to listen to one of the two inputs or blend both at the same time.

Wired system limits mobility of performers.
9-volt battery only lasts a few hours as there is no alternative way to power the Powerplay P1.
The Behringer Powerplay P1 is the ideal IEM for drummers, keyboard players, and any other performer who is mostly stationary while on stage. It's very beginner-friendly as well as affordable, so I'd also recommend it for those of you who are just starting out in the world of in-ear monitoring. The Powerplay P1 is the best budget in-ear monitor system if you're looking for something under $100.
4. Galaxy Audio AS-950
The best IEMs under $500
The Galaxy Audio AS-950 is yet another amazing in-ear monitoring system. The AS-950 is wireless and comes with one wireless receiver and a pair of earbuds. The setup is pretty simple here, with just the transmitter, a body pack receiver, and earbuds all for a pretty affordable price compared to other wireless monitor options.
The transmitter features a level display for left and right sides of the stereo field, stereo XLR and quarter inch instrument cable inputs, and a headphone output with volume control for listening to the audio being transmitted without a receiver pack.
Channel selection is done with up and down arrow buttons and can be done with a simple click. The same thing can be done on the wireless receiver. A cool feature of the transmitter is that it can be paired with several different in-ear receiver packs, so you don't need to spend extra money to get more transmitters, instead you can just buy more body packs.
As the AS-950 is an entry-level unit, it comes with more entry-level in-ears, a pair of straight-wired ones. The body pack receiver is quite lightweight and clips onto your belt or pants waistband, but it's also small enough to fit into your pocket, although you should keep in mind that this could cause interference with the receiver's antenna if it gets blocked.
The range of the receiver extends to 200 feet away, while with 2 AA batteries to power it, the receiver life should last quite a while.
Image credit: Galaxy Audio Check Price on Sweetwater

Cheap enough to buy multiple of if you need more than one of them.
Multiple receivers can be synced with just one transmitter.
Very simple channel selection and sync process.

Only 200 ft range compared to others (300+ ft).
Entry level quality earbuds included rather than a top-end model.
The Galaxy Audio AS-950 would be a great first in-ear monitor system for those of you just starting out with them. If you're not extremely familiar with monitoring solutions, the AS-950 would be a great piece of gear to learn on to get familiar with the transmitter system and how interference can arise during performances with wireless systems.
It is ideal for small venues like a church or school gym. I recommend it for beginners or those who don't need it for a very professional event (like a concert).
5. Xvive Audio U4
Updated and modern wireless monitoring
The Xvive Audio U4 system is not very well known in the audio world, but it is probably the smallest in-ear monitoring system being sold today and deserves to be known for being so portable and compact.
The Xvive Audio U4 is a tube-shaped transmitter that has an XLR input and a small square receiver. Both are small enough to fit in the palm of your hand, making them especially portable. The transmitter allows you to select certain radio channels to transmit the signal to and the receiver has a dial that can be switched to the corresponding channel.
You can connect a monitor mix from a return on your snake and to the transmitter and then connect your in-ears to the receiver and you're set. There's a volume knob and a channel selection knob.
The battery should last you around 5 hours and the distance you can go away from the transmitter is 90 feet. This makes the U4 great for small venues like school gymnasiums and small stages. Because of its compact size, the U4 is lightweight and can clip onto your belt or waistband, or fit in your pocket, although there it may cause interference issues with the signal.
Overall it is extremely easy to use, so much so that you don't even have to look at the knobs when you go to adjust the settings on it; everything is very tactile and you can tell that it was meant to be made with musicians and other performers in mind.
Image credit: Xvive Audio Check Price on Sweetwater

Extremely compact and lightweight.
Large dials make it easy to adjust without looking.
5 hours of battery life.

Range is only 90 feet with a clear line of sight.
Less than 5 ms of latency.
The Xvive Audio U4 wireless in-ear monitor system is a great option for beginner audio engineers and producers who are still learning how to use in-ear monitor systems. The U4 system would be good for DJs and other small venue performers who wear universal in-ear monitors. For a budget option around $200, the U4 is one of the systems with the best value.
Smaller in-ear monitor system transmitters and receivers are becoming more and more popular as technology improves, so the Xvive U4 is a great way to stay ahead of the game and have the latest and greatest in-ear system.
6. Shure P9TRA425CL
Shure's well-known quality reigns supreme
The Shure P9TRA425CL system is one of the in-ear systems that is closer to being an audiophile IEM. The P9TRA425CL is very flexible. It offers mid show monitor mix tweaking, solving a problem that many in-ear wireless systems had, allowing the mix engineer to check the monitor mix mid performance. This gives the audio engineer further control over the in-ear monitors should the performers need assistance with them.
The P9TRA425CL is extremely easy to install, with a quick and simple installation with Scan and Sync technology. It gets even smarter with a Group Sync mode for analyzing whether or not there will be interferences between receivers. To set up multiple receivers, it takes just a few clicks of a button and you're ready to go. The P9TRA425CL lets the monitoring engineer focus on keeping the show running rather than having to constantly be distracted by other things.
There are always clear signals thanks to the automatic scan communication between the receivers and the transmitter. The P9TRA425CL package includes the half rack wireless transmitter with front or rear mountable antennas and the in-ear body pack receiver.
It has an enhanced digital stereo encoder for monitoring a full frequency spectrum with quality and detail. It features Automatic Gain control for preventing RF dropouts and lets you use more channels at the same time. A high frequency boost button adds some brightness, but other than that, you get Shure's SE425 earbuds to use. Overall it's very durable for a high-tech setup and I am impressed with its lack of latency.
Image credit: Shure Check Price on Sweetwater

Little to no latency between transmitter and receiver.
Automatic setup through Sync and Scan technology.
Great for use during concerts or larger events.

Not the simplest to use on the fly.
Very expensive just for one transmitter and receiver.
The Shure P9TRA425CL is a great high-end in-ear monitor system for the times when you need audiophile-quality monitoring while performing. This system is ideal for audiophiles or those who want to hear the whole frequency spectrum while performing on stage without the ambient noise.
Although this system is one of the more expensive models on this list, it will be worth it to buy it for sure once you hear the audio quality, and it does include universal in-ears, so you're not stuck with low-quality earbuds.
7. Shure P3TR112GR
Mid-range price monitoring
The Shure P3TR112GR is a mid-range price in-ear monitor system. It's a wireless system with one receiver and one pair of in-ears. While this is no custom in-ear monitor system, the in-ears included in this package look to be a top-quality pair. It's very simple to set up, with just one touch you can assign each receiver to a channel once it scans for frequencies and syncs.
A feature on the receiver is something called MixMode. With MixMode you can create your own personal mix in addition to the one being sent to you from the soundboard so you don't have to rely on the mix engineer in the middle of the performance. You can go between the MixMode mix and the Stereo mix with ease.
The receiver has a super-long battery life, so it won't cut out on you in the middle of performances; it really is reliable and won't shatter if you drop it either.
The transmitter is completely noiseless, there's no high-pitched humming or any disturbances that could cause feedback issues. The transmission extends out to 300 feet away from the unit so you can walk quite a ways away without going out of range.
For a middle of the road priced system, the P3TR112GR definitely has some generous and advanced features that will make your life better when performing.
Image credit: Shure Check Price on Sweetwater

Long 300 foot transmission range great for large venue performances and outdoor concerts.
MixMode allows for going between dual monitor mixes on the same receiver.
Noiseless transmission.

Small screen that is impossible to see at extended distances away, very dim.
Non traditional blue indicator lights can get confusing compared to the standard red, orange, and green.
The Shure P3TR112GR is a great mid-priced top in-ear monitor system. It has a bit of flexibility that makes performances easier for both the mix engineer and the performer, and it is durable and reliable even in high-traffic wireless areas.
You won't have to worry about interferences with this monitoring system, you'll be able to have a stress-free performance and be able to hear the proper mix for you. I highly recommend it to anyone who uses in-ears for theater performances with wireless mics as well.
8. Behringer PM1
Wired for personal use yet portable
The Behringer PM1 is a portable wired in-ear monitoring system that is meant to be clipped to your belt or the waistband of your pants. If you're kept anchored to one spot while performing, the PM1 is the best wired in-ear system for you.
Drummers, keyboardists, and guitarists will be glad to know that finally there is an extremely lightweight wired monitoring system for them. The PM1 simply clips onto your belt or waistband and you plug your in-ears into the headphone jack and the monitor mix XLR into the input.
It's not much bigger than that other than having a volume knob to control the level of the mix. For those who need to use their hands constantly, it is very convenient to have a monitoring system that is pretty much set and go style. If tweaking the volume between songs is all that needs to be done, the PM1 is definitely the one to get here.
The PM1 is lightweight due to its very compact size, and it also doesn't require a battery as it gets all its power from the XLR plugged into the soundboard and is operational once the XLR is plugged into the system's input. Behringer claims that it is built like a tank, so you won't have to worry about the PM1 breaking if dropped. Definitely check this one out if you are in need of an extra durable personal monitor setup.
Image credit: Behringer Check Price on Sweetwater

Built like a tank, made to last and also be weather resistant yet lightweight.
Clips conveniently onto the belt or the waistband of pants.
Only control is a volume knob, making it easy for musicians to find the control without looking away from performing.

No wireless capabilities.
No pan left/right controls or a mono or stereo button.
Not suitable for you if you move around a lot.
The Behringer PM1 is a great wired personal monitoring solution. If you don't have a big setup, this would be great to use while rehearsing with a small soundboard or mixer. Those of you who are only performing in a garage or on a small concert stage, the PM1 will be suitable for you if your mixer is just off stage.
For a bigger stage performance, the PM1 is a viable choice for more stationary performers, but they'll want to make sure their mix is set up and leveled properly.
9. Galaxy Audio AS-1800-4
A big pack with a price to match
The Galaxy Audio AS-1800-4 is a pack of one transmitter and four receivers and in-ears for you to use at your next performance to get crystal clear audio when monitoring. The AS-1800 may seem unassuming at first, but the features are uncovered the longer you look at it.
First of all, this transmitter can transmit either stereo or mono which is not an ability that many transmitters have right now. Setting up the frequency channel to use is very easy, all you have to do is set the channel to the same number on the receiver and transmitter, press the Sync button, and it's synced to that channel with no problems occurring in the meantime.
There is a very wide frequency range with over 640 frequencies for you to choose from and once everything is paired you should be able to use the system just fine even in busy areas where many of the wireless frequencies are being used already.
The body pack of the AS-1800 is very lightweight and your band or group will love that since it's easy to forget that you're wearing the receiver. Even though the body pack is lightweight, it is made with hard, thicker plastic, so it's not going to break if it falls on the floor or gets crushed under the weight of heavier equipment.
You can be really flexible with this whole setup and even connect up to 10 receivers to a single transmitter. The LCD screen is also super handy for when you have to look across a dark room or stage to see the transmitter.
Image credit: Galaxy Audio Check Price on Sweetwater

Flexible, you can pair up to 10 receivers with one transmitter.
Can transmit audio in stereo or mono based on how your mix is set up.
Lightweight yet durable body pack.

Audio reproduction spectrum is smaller than many other systems' reproduction spectrum.
LCD screen could be a little brighter.
Many websites suggest that the Galaxy Audio AS-1800-4 be used for rehearsing and gigging, but I think it could easily be used for more, like podcasting or gaming in a group while streaming it.
I strongly suggest you check it out as it's a fantastic in-ear monitor system for a really good price. This one has some of the best value since elsewhere on this list we've witnessed a single transmitter and receiver cost over $1,000.
In-ear monitor system buying guide
This guide will provide you with some extra information on in-ear monitoring systems. What they do, how they work, what they are, and how to find the best one for your needs will be detailed here so you can apply this information yourself to elements in your life.
What is an in-ear monitor system and what does it do?
An in-ear monitor system is a system that allows you to listen to your stage monitors in earbuds instead of out of an amp or wedge monitor on stage.
In-ear monitors are a professional-grade earbud used specifically for monitoring solutions by performers. They keep audio isolated in your ear while simultaneously blocking out background noise to protect your hearing.
In-ear monitors and their systems eliminate the need to use stage wedge monitors or amps in order for performers to hear themselves or other performers, therefore greatly decreasing the stage volume and creating a way for performers to hear themselves and others better while performing.
Parts of an in-ear monitor system
There are usually two main components of an in-ear monitor system that you should care about:
The earbuds: worn by the performer(s),
The transmitter: transmits the monitor audio source from a soundboard/mixer.
Wired systems vs. wireless systems
There are in-ear monitor systems that use wired connections to receive the monitor's signal, and there are also wireless systems that allow the performer to be completely free from any cables that may hinder them from moving while performing.
There aren't many differences between the two types of systems but there are a couple advantages and disadvantages to each type.
Advantages of a wired system
No reception or interference issues due to the signal coming through a cable directly from the source or mixer.
Simple and easy to set up or reconfigure if needed.
Disadvantages of a wired system
Performer is restricted by cables around them that are plugged into the transmitter or mixing board.
Connectivity issues may arise if the performer is moving around too much and pulls out a cable.
Advantages of a wireless system
Performer is free to move on stage and not restricted by wires and cables.
Monitor mix stays intact no matter where you go.
Disadvantages of a wireless system
Battery life does not last as long as a wired system.
Reception and interference issues may occur and in some parts of the world it is illegal to take up radio waves for the purpose of performing in the event that the military or airplanes need to use them.
How is an in-ear monitor system put together?
I'll explain how an in-ear monitor system is set up, so you can understand how it works a little better.
Wireless system
The transmitter is plugged into the monitor bus of your mixing board with an XLR cable wherever you have that set up, so instead of the snake carrying that monitor's signal to the stage, the in-ear monitor system's transmitter transmits it over specific channels of radio waves. Some transmitters have the ability to go between several different radio channels. This is a more common feature of transmitters that are meant for multiple in-ear monitors.
The radio waves are then picked up by the receivers in the in-ear monitors in the performer's ears after they've been powered on, or by a separate wireless receiver pack connected to the in-ears.
Wired system
Depending on the specific system it is, a wired system may or may not come with a separate transmitter since you can easily connect the in-ear monitors to a mixer.
If it doesn't come with a transmitter, an XLR cable is plugged into the correct monitor output with a cable from the snake. The correct cable from the snake then connects to the receiver battery pack, which is what the in-ear monitors are connected to. The receiver pack usually has the battery compartment with a battery, a mono and stereo button, an on and off button, a battery level indicator light, a pan knob, and a volume knob.
Price range
In-ear monitor systems are usually very expensive regardless of whether they are wired or wireless, but there are some cheaper ones here and there. You can use the reviews above to compare price points, but if you want a quick run down, here it is.
Wired in-ear monitor systems are often cheaper than wireless systems and usually go from $25 to $500 for an individual system. If you are planning on purchasing a wired system for multiple in-ear monitors, that will easily take you to $1000 and over.
Wireless in-ear monitor systems are more expensive since they utilize radio waves. I've seen the cheapest selling for around $200 while multiple monitor systems can reach $2K to $3K very quickly.
Essentially, the larger the monitoring system is, the more it will cost. If you need to find something on a budget, wired systems will be your best bet, or older wireless systems that are no longer being made, although those could cause potential problems like any piece of old equipment or gear.
Factors to consider before buying
At the end of the day, the in-ear monitor system you choose will come down to what your needs are. Before you begin looking around for the perfect model, there are a few factors you need to consider that will control the outcome of what unit you go with.
Price: What is your budget? Is it closer to $500 or $5000?
Style of system: Will you need a wired system or a wireless system for your setup?
Straight or over the ear: Do you want in-ears that have a straight wire, more similar to normal consumer earbuds, or do you want the kind that has the wire going over the back of the ear and behind you?
Mobility: Do you want to be able to move freely while performing, will you be stationary, or a mix of both?
Crowd noise: Do you care about hearing the noise of the crowd during your performances or do you prefer to audio you hear to be very isolated?
Level of isolation: Different in-ears offer different levels of isolation. Do you want to be super isolated, be able to hear stage noise, or have a mix of both?
Construction: Do you care about only hearing mid and high frequencies or do you want in-ears with drivers that will give you a full frequency spectrum of audio?
Setup and reconfiguration: Do you want something that is extremely easy to set up or do you not care about setup and reconfiguration times?
Other features: Do you want other handy features of your in-ears, like having detachable wires or high shielding against wear and tear?
Now let's explore the answers and options of each of these factors.
Price: Normally something more expensive will be wireless, while wired systems are cheaper. The larger the system is, the more it will cost.
Style of system: Wired is good for stationary performers, wireless is good for frontmen and those who move around a lot.
Straight or over the ear: Straight-wired in-ears are usually only found on cheaper models so if you want something more expensive, you're going to get over the ear in-ears.
Mobility: Wireless systems offer way more mobility than wired systems do.
Crowd noise: The ear tips of the in-ears you choose may or may not let ambient noise in. If you like to hear the crowd you can set up crowd mics if your in-ears don't allow some ambient noise in.
Level of isolation: Higher isolation levels mean you'll be able to hear your monitor mix better while lower levels will let more stage and crowd noise in.
Construction: Entry-level in-ears are constructed with slightly less care and quality as more expensive in-ears, they tend to only capture high and mid frequencies, so if you want a full spectrum playback you'll need to buy more expensive in-ears.
Setup and reconfiguration: Wired systems are way easier to setup and reconfigure than wireless systems.
Other features: In-ears with detachable wires prevent you from having to buy a new set, you can just replace the wires if they get a short in them or other issues arise. From personal experience, it is better to get a kind that has these extra features just in case you might need them.
Buying a system
Once you've determined the features and components of the perfect in-ear system for your needs, now you can start your search for a product that matches your criteria. Typically, it is a good idea to go to a music and audio solutions store and test out a system in person, so you can see how it works and check out how the in-ear monitors sound. If you don't have that luxury of testing a system out before you buy it, you should be able to return it or send it back if you find that it isn't for you once you receive it.
Conclusion
Use these in-ear monitor reviews and the buying guide to make your own selection for your next in-ear monitor system. With so many options on the market, it can get overwhelming, so it is nice to have a starting point and some general information along with other options. While we can't pick one from the bunch, feel free to formulate an opinion as to which is the best in-ear monitor system.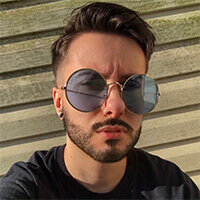 Jordan is not only a professional content creator and writer but also an audio engineer, music producer, and session musician himself. He is an experienced guitarist and enjoys listening to and playing many different genres of music. Apart from that he also (in his own words) loves to educate people in ways that are easy for everyone to understand.
Having a nose for music gear
His past work experience mainly focuses on sound engineering, music, and technology. He has over 4 years of experience as a live sound engineer. While mixing live audio, troubleshooting gear, and working with a team to produce the best possible sound for the given occasion, Jordan has come in contact with a variety of musical instruments and equipment and thus knows what differentiates the good from the bad.
The experience in that field is what got him into content writing. Combining these two great passions of his, he's been writing articles, reviews, tutorials, and guides on music production gear for over 3 years, helping beginners and experts alike to pick the right equipment for their specific needs.
Compelling content
The content Jordan writes is not only well-researched and compelling but also easy to read. He prides himself in providing content that is easy to understand, while still being highly informative and relevant in order to help everyone – even complete beginners – understand the given topic in-depth, thus enabling them to make informed decisions on their purchases.