With so many mandolin brands claiming to offer the best mandolin for beginners, it can be easy to find yourself overwhelmed.
But if you take a little time to think about what you want from your new instrument, you will find that answering just a few key questions will make it easy to narrow down your selection.
Our Top Picks For The Best Mandolins
This comprehensive guide gives an overview of how to buy a mandolin, a rundown of some of the best mandolin brands for beginners, and specific mandolin reviews to help you pick the perfect instrument for your needs.
Choosing The Best Beginner Mandolin In 2023
Before you ask yourself "What mandolin should I buy?" you'll first need to make some general choices about the style and quality that fits your goals and your budget.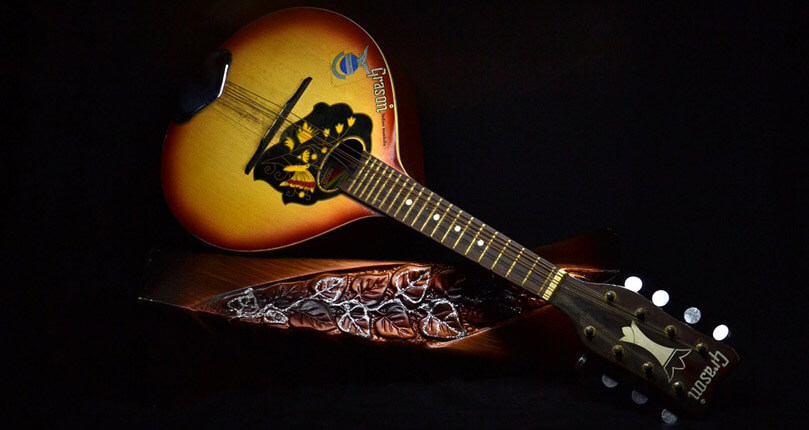 Maybe you're looking for the best inexpensive mandolin you can find, or maybe you're looking for a top-quality, handmade instrument. In either case you can narrow your decision down by considering a few major subjects.
Body Style
Modern mandolins typically have one of three body shapes: bowl-backed, A-style, and F-style.
The best shape for you will depend on the style of music you want to play, the appearance you prefer, and your budget.
The oldest of the three is the bowl-backed mandolin. With its distinctive round back and its roots in 18th-century Italy, the bowl-backed mandolin has a dark tone that is suitable for traditional folk music, mandolin orchestras, and classical music.
Choosing a bowl-backed mandolin can be challenging for a beginner. Though they may be inexpensive, many are of a very low quality.
This means that it can be much harder to find a good quality mandolin with a decent tone than it is for the other styles of mandolin.
Most beginners will therefore find an A or F-style mandolin better suited to their needs. Both of the styles were developed by the Gibson Company and its sound engineer Lloyd Loar in the 1920s.
Many of the differences between A and F-style mandolins are purely cosmetic. But you may also find differences between them in tone and style that make a big difference.
A-style mandolins have a tear or pear-shaped body. To differentiate them from bowl-backed mandolins, they are often called flat-backed mandolins, although they will typically still have a slightly rounded back.
A-style mandolins may have either one "O" hole in the middle of the soundboard or two "F" holes (these look like the holes in a violin), one on each side.
Generally speaking, they are easier to build than F-style mandolins and are typically less expensive than F-style mandolins of similar quality. Folk, Celtic, and classical musicians often prefer them over F-style mandolins.
The main difference between A-style and F-style mandolins is that F-style mandolins have a much more ornately carved body. Most current designs are based very closely on the original F-5 model developed by Gibson.
Typically they have two F holes rather than one O hole, and most have a points sticking out on the lower half of the instrument that make it more comfortable to rest the instrument on your lap when playing sitting down. The F-style mandolin is far and away the choice of the top bluegrass and country artists today.
Wood
The differences in the body shape of A-style and F-style mandolins does have a small effect on their tone, but the materials used to make the mandolin are far more crucial to finding a great instrument.
Different parts of the mandolin are put under different types of stress. This means that mandolins are generally made from a variety of types of wood.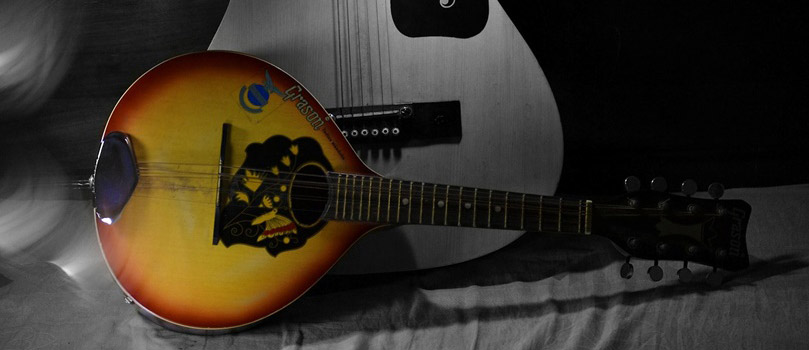 Each part of the instrument has more and less preferred types of wood, which can help you distinguish between higher and lower-quality instruments.
The top, or soundboard, of the instrument is the most important part when it comes to tone. The best mandolins generally have a soundboard made from solid spruce, a wood that is lightweight but strong.
Spruce is in high demand, not only for mandolins but also for the soundboards of guitars, pianos, and other instruments.
This means that many intermediate and budget level mandolins use mahogany or cedar instead, which give the instrument a deeper tone and may make it harder to cut through the sound of a full band.
The most inexpensive mandolins typically have a top made from laminate, in which several layers of wood are pressed together rather than carved into shape. The top layer may be spruce, but the inner layers will then be made from a lesser wood such as mahogany.
Laminate tops have the advantage of being strong, since each layer has a different grain and therefore different week points. The main downside is that you may notice a lesser sound quality from these instruments, particularly over time.
For many beginners, however, this may not be the case, and laminate tops can be an excellent option for beginners on a budget.
The sides and back of the best mandolins are typically made from solid maple, a stronger wood than spruce that violin makers have used for centuries. Other hardwoods such as mahogany and koa are also frequently found.
Many less expensive mandolins opt for a solid wood top but laminate sides and back. This compromise keeps the price down without harming the tone too significantly, since the sides and the back are much less critical to tone production than the soundboard.
For the fretboard, the best instruments use a hard wood with a smooth surface. Ebony fretboards are preferred by many makers, but rosewood is also quite common.
The wood used in making the mandolin's neck is critical to an instrument's quality. The mandolin's neck is susceptible to bending, which can cause major problems in playability and tuning. Maple and mahogany are the most preferred woods here, as the neck should be rigid.
Unlike in the body of the mandolin, having a laminate neck is actually preferred, since grain lines that run all the way down the neck will cause the wood to warp. Most necks are thus made from two or more pieces of wood laminated together.
Another key factor to consider when it comes to the neck is whether it has a truss rod inside. The truss rod allows you to make fine adjustments to the neck that can make a big difference in your tuning and your ability to get a good sound from the instrument.
A final wooden piece to consider when selecting a mandolin is the bridge. Mandolins, unlike guitars, have a movable bridge. The bridge is often made from ebony or rosewood, with rosewood being more common.
Most mandolins have a finish that serves to protect the wood from damage. While some finish is not a problem, it is worth noting that a heavy finish can impact the sound quality of the instrument.
Electric or Acoustic?
While electric mandolins are typically more expensive than purely acoustic models, your intended use of the instrument should determine your choice here.
Will you be playing mostly by yourself or with a loud group? Will you be playing in a mandolin orchestra, or will you be playing in a bluegrass band where you need to cut through the other instruments?
While you may not know the answer to these questions yet, they can get you thinking about how you'd like to use your new instrument.
If you need to amplify our mandolin, you have two options. One is to simply put a microphone in front of it and to run the sound through a loudspeaker or amplifier.
In many cases this option works well, and depending on the quality of the equipment you use it may even result in a better sound quality.
The problem arises when playing with a band: your instrument's body may cause the other sounds around you to echo and feed back into the microphone.
Acoustic-electric mandolins typically have the same basic specifications as acoustic mandolins, but they have what is known as a "piezo electric" pickup in the bridge.
This pickup converts the vibrations of the strings into electronic impulses that can then be transmitted to an amplifier.
If you will be plugging in nearly all the time, you might also look into semi-hollow electric mandolins. The concept is the same as semi-hollow body guitars – there is a wood center block inside the instrument, which reduces the amount of feedback but decreases the tone quality and production of the instrument.
If you buy an acoustic instrument and later decide you need to plug in, you do still have options. For one thing, you can always get your bridge replaced with a bridge containing a piezo electric pickup.
Another great option is to use a magnetic pickup like those used for violins and other string instruments.
Price
As you begin your search, you'll quickly find that you can pay as much or as little as you want for a mandolin.
With the least expensive models costing between $50 and $100, the mandolin can be an excellent instrument for anyone on a tight budget.
From there, you can choose to pay more for higher-quality materials, more attractive cosmetics, and better quality of construction.
The most expensive mandolin models could easily cost you $10,000 or more. But most first-time players will want to stick to a beginning or intermediate instrument as they learn to play.
Regardless of where you intend to purchase your mandolin, it is important to try out different instruments first and to see for yourself what the differences in quality and sound mean.
Even if you don't know how to play anything yet, you can listen to the instruments and see which one sounds better, feels better, and looks better.
After all, just paying more for an instrument doesn't mean it will be a good fit for you or that it will have a good sound.
The Best Mandolin Brands for Beginners
While more and more options are available all the time, these mandolin reviews will help you identify some of the good mandolin brands, the top rated mandolins for each brand, and what is the best mandolin for your needs.
Rogue
If you think of Gibson or Fender as a name brand instrument maker, you can think of Rogue as their store brand equivalent.
With ultra-low budget models of guitars, banjos, banjos, mandolins, ukuleles, and everything in between, Rogue specializes in taking tried and true designs and developing low cost means of manufacturing the instruments.
With some of the lowest prices available, Rogue is often the entry point for people hoping to try a new instrument on a budget.
While Rogue may not be the best brand of mandolin, they offer a surprising level of quality for the price.
Rogue RM-100A A-style Mandolin
The quintessential A-style mandolin for beginners, the RM-100A's price point of around $70 makes it an easy choice for many beginners.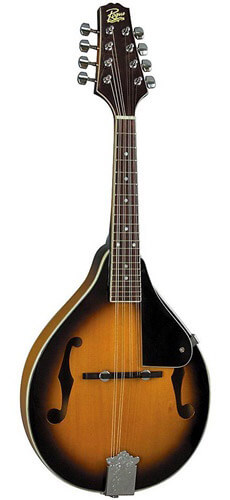 Available with a black or sunburst finish, it has all of the basics you need to get started on the mandolin.
Offers a surprising level of quality considering the extremely low cost
Allows you to try out the mandolin without investing too much money, and you can always upgrade late on
Perfect learning instrument
Sturdy construction
Challenging to tune accurately
Playability is harmed by inconsistency in the level of the frets and various other design details
Looks nice enough, but the design is bland if you want to stand out from the pack
Sports a laminate top, so its tone quality can be a bit tinny and does not match up with more finely developed instruments
The finish is thick, which makes it nice and shiny but detracts from the tone quality
Does not have a truss rod, so if the neck warps with time the instrument will eventually become unplayable
You get what you pay for – or, in this case, perhaps a bit more.
No one will write home about the beautiful tone quality of your RM-100A, but it offers an excellent entry point and a good mandolin for beginners.
Ibanez
Based out of Nagoya, Japan, Ibanez started out in 1957 and has since become one of the leading instrument manufacturers in the world.
With an astonishingly wide array of styles and models of guitars and other instruments, Ibanez is known for their low to mid-level price point and their innovative designs.
Ibanez M510 A-style Mandolin
A classic A-style mandolin with a unique dark violin sunburst color, the M510's eye-catching finish is far from its only attractive quality for beginning players.
With a price of around $150, Ibanez's entry-level model has much to offer.
Has a truss rod, so the neck is adjustable and will not bend out of shape easily
Big step up in overall quality of construction compared to ultra-budget alternatives such as the Rogue RM-100A
Beautiful finish
Projects sound well
Solid spruce top
Some materials may not be of the highest quality, including the pick guard and the tuning pegs
While the quality wood gives a nice tone, other corners have been cut to keep prices low
Like most mass-produced instruments, requires some professional setup to achieve a high level of playability
Dimensions are atypical, so the instrument might not fit in every hard shell case.
The M510 offers a solid balance between quality and affordability.
While some of its materials are better than others, its unique appearance and satisfactory sound make it a great option within a low budget.
Ibanez M522 F-style Mandolin
A classically designed F-style instrument inspired by the first run of Ibanez mandolins in the 70s and 80s, the M522 offers serious tone and volume, along with an elegant design straight out of history.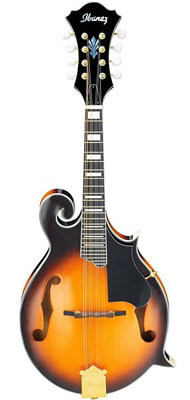 A solid spruce top, maple back and sides, and mahogany neck make for quite a nice tone
Projects sound well
Simple but classy design
Stays in tune
Wide neck means greater ease of playability
The variability in construction quality between different instruments is harder to forgive at this price point (around $300)
The tuners are still very low quality despite the price
Some players have had issues with the bridge, although most problems can be resolved by a good luthier
The M522 has a lot to recommend it. Due to the difficulty of constructing an F-style mandolin's body, it can be difficult to find a quality instrument anywhere below $500.
While the M522 doesn't offer the superb tone quality or consistent construction of more expensive models, it does provide a safe option for anyone who wants to play the best mandolin for the price when it comes to F-style instruments.
Kentucky
Recognized widely as one of the top rated brands for entry-level mandolins, Kentucky takes its name from the heart of Bluegrass Country.
Actually produced by Saga Music, based out of California with factories overseas, Kentucky's specialization in mandolins and other acoustic instruments makes them a go-to brand for beginning mandolin players.
Kentucky KM-150 A-style Mandolin
This no-frills, solid top A-style mandolin emphasizes quality first.
With a price of around $300, you'll be putting down a bit more of an investment, but the investment is justified by the reliable construction of this model.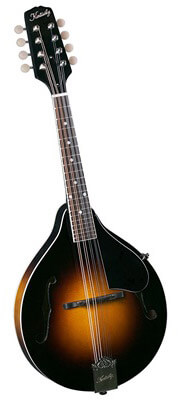 Solid spruce top, solid maple back and sides
Adjustable truss rod
Excellent quality for the price
Great tone in the higher register
Playable
Has a nice, tasteful finish, but the style is less creative or showy than some other mandolins in its price range
Plastic parts such as the strap button may be easily detached or loosened
The lower register can have a duller tone quality than similar models
If you are looking to get a great, conventional tone quality at a reasonable price point, the KM-150 is a classic entry point.
While it may not have a cutting-edge design or visuals, this solid top mandolin is nice on the ears and highly playable.
Kentucky KM-272 Artist A-Style Mandolin
With so many A-style mandolins opting for two F holes in the soundboard, the KM-272 returns to the roots of mandolin construction with a single, oval-shaped hole in the middle.
Its vintage style, unique tone, and more make this an intriguing option for many starting mandolinists who want to set themselves apart from the pack.
Vintage design combines visual beauty with a crisp, subtle tone quality not found in many modern instruments
Solid spruce top, solid maple back and sides
High level of quality on other parts of the instrument, including a bone nut
Great for Celtic/traditional music
Good balance between treble and bass
Custom feel, but at around $350 the price is quite reasonable
Not necessarily designed for raucous bluegrass playing – its finer tone may not always carry past the banjo, though it will be fine in many cases
With its unique, vintage design, the sizing and proportions are a little bit different than other A-style mandolins and may take some getting used to
Kentucky's focus on traditional American instrument design means that they are able to put out some interesting, classic models like the KM-272.
While it may not be a perfect fit for every beginning player, for others this beauty could be just right.
Gretsch
Founded all the way back in 1883 by a 27-year-old German immigrant, Gretsch is known today for its quality range of mid-level electric guitars and drums.
Back in the 1950s, however, Gretsch had a notable line of mandolins and other acoustic instruments that they have recently resurrected.
By applying their classic American design to modern production techniques, they have achieved a high-quality but affordable line of throwback mandolins.
Roots Collection G9310 New Yorker Supreme
The New Yorker Supreme is Gretsch's flagship mandolin, based on the 1950s classic.
Priced at around $250, this elegant throwback is also available in an acoustic/electric version.
High-quality construction
Classy design that resurrects an individual style different from most A-style mandolins today
Solid mahogany top, back, and sides
Warm, balanced tone
The pickguard is not particularly sturdy
Some players have noted greater than usual issues with the level of the frets and the consistency across the fretboard
May not be bright enough for some bluegrass players due to the mahogany top
Looks like it's from the 1950s – the design might be considered bare bones by some
This A-style mandolin, with a vintage mahogany finish, two F holes, and Gretsch's typical aesthetic quality, can stack up with any model in its price range.
While some hardcore bluegrass aficionados may want a sharper bite from its tone, the G9310 is an ideal instrument to learn on.
G9350 Park Avenue Acoustic/Electric
If you're looking to go further off the beaten path with your mandolin purchase, Gretsch's Park Avenue Acoustic/Electric offers unique design and sound in combination with quality construction.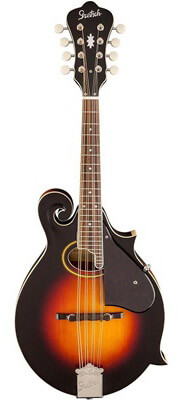 An F-style mandolin with, atypically, a single round sound hole, Gretsch's G9350 has great sound and packs quite a punch.
Solid spruce top, solid maple sides and back
Fishman M300 mandolin pickup offers excellent sound quality
Great acoustic sound projection
Clear high notes and solid low notes
Much more consistency in frets, other details of construction than less expensive brands discussed above
At nearly $600, some beginning players will want to start off with a smaller investment
Narrow fretboard can be challenging for a beginner or anyone with large fingers
While the G9350 may not fit into everyone's budget, if you are looking to dive in right away with the best intermediate mandolin that you can plug in, it will be hard to find a better instrument than this one.
So, What Is The Best Mandolin For Beginners?
If price is your primary criteria, then the Rogue RM-100A can serve as a perfectly acceptable beginner's instrument.
With a very small investment, you can get started playing right away with the best cheap mandolin available.
If you are looking for an instrument that you can stick with for a longer time, however, the Kentucky KM-150 is the best mandolin for the money for the average beginning player.
As you learn more about the mandolin and better understand the style you are looking for, you may find that a more specialized model suits your needs.
But, to get your new life as a mandolin player started in style, the KM-150 offers an excellent balance of quality, affordability, and versatility, with enough attack to hold its own in your first band.