Anyone that is a student of the violin knows that a metronome is a great learning tool. A metronome can help you to keep in time but more so it gives you added confidence knowing that you do not have to just count in your head and hope that you are keeping time accurately.
In the early days of the violin it was a given that students would be using a mechanical metronome to keep in time over the years it has sort of fallen to the wayside but largely depends on the choice of the instructor.
It is a very useful tool and should be used all the time especially with beginners to help give them a sense of time and to help them train their ear for the rhythm.
Playing the violin is more than simply training your fingers, your stance and how to use your bow. Even if you are posture is ideal and your technique is impressive you can still benefit from having a metronome handy to help you keep time.
Keeping time is one of the most difficult and crucial aspects of playing the violin. The metronome just makes it so much easier to stay in time.
The good news is they are coming very much back in vogue with instructors. Perhaps the time has come when what was once a thing of the past will soon be once again a necessity for all students to understand how to use.
Think of a metronome as an instructor that can go anywhere with you. Of course to get the most out of the instruction the metronome has to be of good quality so that it can keep your time accurately and with little stress.
There are plenty of metronomes to choose from. There are high tech models that are simply amazing when you consider the things they can do and of course there is the simple mechanical metronome that is favored by violin purists that believe they are the most valuable metronomes for learning!
We looked at different metronomes to come up with a list of the 10 best metronomes for violin to help you to make an informed decision.
We looked at things like added extras, price, size, portability and of course reliability to come up with a list of options that you can trust. As part of the process we also listened to what consumers had to say about the metronome that they purchased.
Here is the List
The metronomes on this list are not ordered in any particular order. They are all best. They are not listed in chronological order.
BOSS DB-90 Metronome
This metronome has all the bells and whistles that you could want in a metronome. It offers 50 different memory options, a human voice count to make it easier to relate to and 3 other click counters for more versatility.
The controls are easy to use and the majority of the programming is intuitive. This is a very versatile metronome that would be an asset to any musician. The cost is a bit steep but you pay for what you get!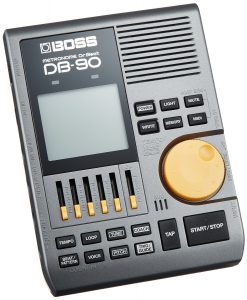 Click Here for Pricing, Pictures and Reviews on Amazon
Cherub Metronome WSM 330
This is metronome that many students will be familiar with. It is a standard easy to use metronome that many instructors use.
This model does not need batteries and has very high grade mechanics.  It offers a tempo tolerance of 1% and carries from 40-208 beats per minute.  It is a dependable metronome that is very inexpensive.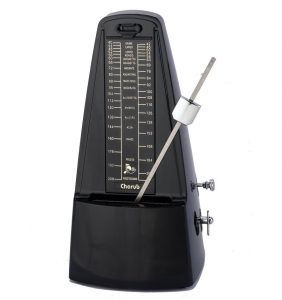 Click Here for Pricing, Pictures and Reviews on Amazon
Seiko SQ50-V Quartz Metronome
Seiko is a well – known name when it comes to precision instruments like watches. It is no surprise that we found this metronome to be seriously accurate and easy to use. It is simple but accurate.
It offers 2 types of tempos and beats and has a large LED indicator that keeps track of the tempo.  It is super affordable and dependable.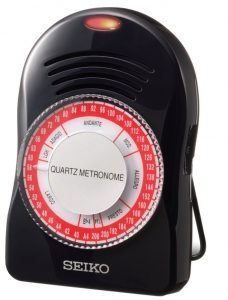 Click Here for Pricing, Pictures and Reviews on Amazon
Mechanical Metronome
This is a completely mechanical metronome that does not require batteries. This simple black metronome is a familiar sight to many students that are taught by purists that use this type of metronome during class. It is a good deal and a reliable metronome.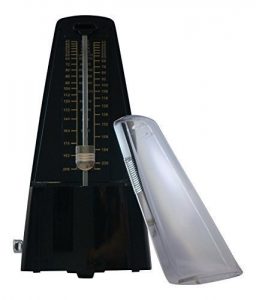 Click Here for Pricing, Pictures and Reviews on Amazon
Musiclily Universal Mechanical Metronome
This is another fine example of a reliable metronome that is mechanical.  It has high quality mechanical parts, is easy to use and is portable. This will work well at practice sessions no matter where they are.
Click Here for Pricing, Pictures and Reviews on Amazon
Korg TM50PW Instrument Tuner and Metronome, White
This is a high tech metronome. You can use both the tuner and the metronome at the same time.  It has needle style LED for ease of use. It is compact and easy to use. Most of the controls are intuitive.
This is a high tech metronome that you do not have to have high tech knowledge to use. It is a great option if you are a visual person that needs to be able to see the metronome to keep time.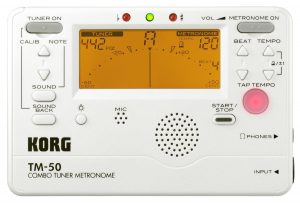 Click Here for Pricing, Pictures and Reviews on Amazon
Wittner 804K Metronome
This is a classic high end metronome that not only works well but is very beautiful to look at. It is a bit too large to be moved around too much so it is not really what you can consider portable but it is absolutely lovely and would look wonderful in any music room or on any instructors desk.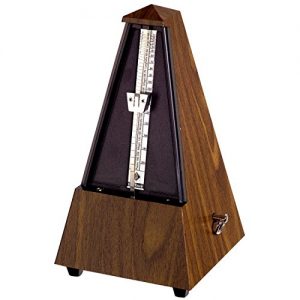 Click Here for Pricing, Pictures and Reviews on Amazon
Qwik Time QT3 Metronome
This is a very inexpensive metronome. It requires batteries. It has over 200 setting combinations. The tone is clear and easily cuts through the music so it is never missed.
It also has a low battery indicator that is easy to see. This is a great bargain priced metronome and well worth the small price to pay.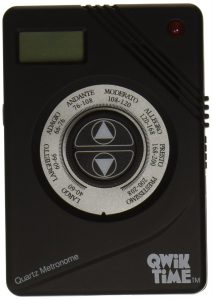 Click Here for Pricing, Pictures and Reviews on Amazon
KLIQ MetroPitch – Metronome Tuner
This is a 3 n 1 device that offers a great deal of versatility.  It offers a range of broad beats from 30-250 beats per minute and various taps.
It is a great option for someone that wants versatility and reliability. It is an affordable option that will easily keep you in time and keep your instrument tuned.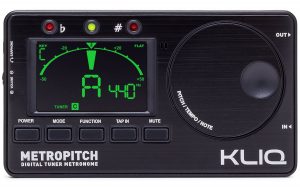 Click Here for Pricing, Pictures and Reviews on Amazon
Snark SM-1 Touch Screen Metronome
This is a unique type of metronome that offers several different sounds like a dog bark, clapping and the familiar tick of the traditional metronome. This set up offers a loud speaker or you can easily use a head set to keep the noise down.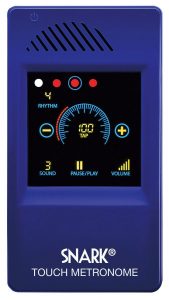 Click Here for Pricing, Pictures and Reviews on Amazon
Three Good Reasons to Invest in a Metronome
Any beginning student can benefit from a metronome but it can also be useful to intermediate players as well.  Here are 3 good reasons to make this very small investment:
Improve your rhythm
Improve your focus
Help with discipline
Keeping rhythm can be very difficult with a violin. A lot of students get frustrated and try to find ways to keep in time by tapping their feet but that in and of itself can be a distraction and besides your foot will eventually get tired of the tapping. It can also be a bother to other students as they are trying to keep their own rhythm.
Using a metronome can help you to keep your focus where it needs to be. Playing the violin requires complete focus to get the outcome that you hope for.
The metronome can actually help you to stay focused and help you to pay serious attention to the music and the instrument. The metronome has a hypnotic quality that allows you to really focus.
Paying attention to the metronome can help you to develop a discipline for practice by keeping you focused with the clicking.
There are a few things that you need to really make your violin practice sessions work out the way you hope and a metronome should absolutely be on the list.
As a beginner if you start out right away with the metronome it will be a normal part of your practice sessions as an intermediate student if you have not picked up too many bad habits along the way transitioning from not using a metronome to using a metronome is not as hard as you would think and it will really step up your skill level by leaps and bounds.
The biggest reason that a metronome is helpful is because it allows you to take your mind off keeping time by tapping your foot or devising another method of keeping time.
The metronome takes off the stress of the musician to keep time, all you have to do is pay attention to the clicks and you will easily keep time.
This is a very small investment to make to really up your skill level and take a break from the worry of trying to keep in time.