Just using a decent pair of earbuds isn't enough anymore. In a noisy world, drowning out the sound of public transport or crowds of people may be the only way to fully enjoy your music. In this article, we look at the best noise-canceling earbuds.
Noise-canceling earbuds are in-ear headphones which are designed to have high fidelity audio, but also to create a block between your ears and the rest of the world. This can help if you need to concentrate or if you just don't want the noise of other peoples' conversations interrupting your favorite album.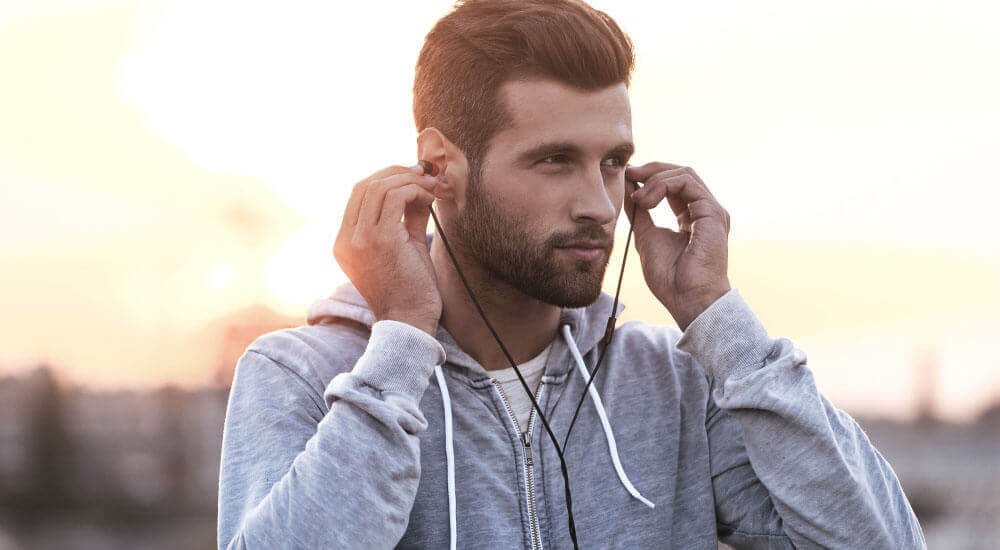 Our top-rated noise-canceling earbuds are presented as a top 10 list, and our products have been nominated with their own unique benefits. For instance, some are on the list due to being great value-for-money, others are the best wireless option, and so on. There is something for everyone's needs.
As well as our list of the top noise-canceling earphones, we've included a shot buying guide to allow you to learn more about the features needed to make a top-notch product in this field and what you should be looking out for when you make your purchase.
In fact, the two main questions answered in this article are:
Spending a little time doing some research is vitally important so that you aren't disappointed when you make your purchase.
Here are the best noise-canceling earbuds 2023:
Best Overall: Bose QuietComfort 20
Not many brands have made noise-canceling technology their USP quite like Bose. Their over-ear headphones are incredibly good at this, but the QuietComfort earbuds are fantastic, too.
Some really high-tech features are on offer and though this is one of the most costly models we reviewed, they're definitely worth considering if high fidelity audio and control over external noise is your priority.
Comes with a carrying case.
"Aware" mode, a very clever, button-controlled setting which means if you want to stop the noise-canceling function to be aware of what is happening around you, you can.
Available for apple devices or for android.
StayHear tips which are designed to be comfy and secure even for hours of use.

One of the most expensive models on the market.
Requires charging which can take two hours at a time.
Overall, if you are looking for excellent audio quality and the ability to immerse yourself and drown out the world with the press of a button, the QuietComfort 20s are one of the very best options.
Best for Battery Life: Bang & Olufsen Beoplay H3 ANC
Bang & Olufsen, sometimes referred to as just "B&O" are one of the highest quality audio brands out there, and this is reflected in the price of the H3 ANC model.
H3 models of these headphones have been on the market for some time and had some unbelievable reviews, and the ANC variation is simply to help with the noise-canceling capabilities.
The very intelligent active noise cancelation feature uses a microphone to detect noise and then use this as a sort of template to reject outside sounds that aren't wanted in your listening experience.
Incredible battery which requires charging but can give you 20 hours of audio listening before they need to be recharged.
A lightweight metal design which means they are easy to carry around but also not easily damaged.
High-quality B&O sound.
Soft tips included which can make for a more comfortable listening experience.

Another expensive set of earphones from an elite brand.
Cable design is somewhat stiff and not very flexible.
The Bang & Olufsen Beoplay H3 ANC earbuds are another option with exceptional audio quality and if you need a battery life which can last for long periods of listening such as flights then this could be the choice for you.
Best Wireless: Sony WI-SP600N
Sony is an absolute powerhouse brand when it comes to audio equipment, so it is inevitable that they offer some of the best active noise-canceling earbuds.
The WI-SP600N has had mixed reviews, but they've got some very good features making them an excellent choice for exercise or for those who love to boost the bass frequencies when they're wearing their headphones.
Ambient mode allows you to switch to a mode where you can hear what is going around you.
The best wireless noise-canceling earbuds available, with no annoying cables.
Sweat and moisture resistant meaning they're perfect for use in the gym or in light rain.
Boosted bass frequencies.
Can be used to make calls as there is a microphone built-in.

Battery life is not as high as some other alternative models.
Not the most reliable audio when making and receiving calls.
These earbuds aren't as highly rated for features as some of the alternatives and the audio fidelity could be a little clearer, but if you like boosted bass and to disappear into your own little world in the gym or when running then this could be the option for you.
Best Value: Audio-Technica ATH-ANC33iS
Audio-Technica is a very prolific brand which makes headphones, microphones and more audio gear. They are good value-for-money and the ATH-ANC33iS is one of the best options for earbuds if you're on a budget.
As well as being high quality, they are easy to control with an inline controller to allow you to make changes to the music you're listening to and even to answer phone calls.
QuietPoint technology creates a noise-canceling sound wave, used for reference to remove noise.
Great for taking calls.
Very small in-ears and compact design.
Comes with an airline adapter which lets you plug into plane headphone slots.
Noise-canceling performs well at low frequencies, great for public transport, for instance.

Noise-canceling is not as good for high frequencies.
Sound clarity and fidelity not as good as Bose options, for example.
Needs AAA batteries.
In a blind audio test against some of the very top rated noise-canceling earbuds, the ATH may not win the day. However, consider the price and suddenly these look like a great option.
They are the best noise-canceling earbuds under $50. The noise-canceling is decent, and the value-for-money on offer is excellent.
Best for Phone Calls: Sony WF-SP700N
To look at these earbuds you could easily confuse them for a hands-free kit for your phone. The Sony WF-SP700N are more expensive than the Sony WI-SP600N due to the fact they are far superior for making and receiving phone calls.
They share a lot of similarities with their sibling product, however, and the audio quality is pretty similar. This is truly one of the top options if you are looking for Bluetooth noise-canceling earbuds.
Easy wireless compatibility works with all mainstream smartphones.
Can connect to the Sony App to allow you full control over your audio, including EQ controls to set the sound to the music you are listening to and your personal preference.
Can be switched to ambient so you can still hear external noise.
Good for making calls with a high-quality microphone included.
Battery can last for up to 9 hours of playback.

These have quite a big, bulky and cumbersome design.
Noise-canceling function not quite as good as some competitors.
For control over EQ and phone calls, the Sony WF-SP700N headphones have a good range of features if you don't mind a little extra bulk being carried around with you. The battery life is good and though they're quite costly, these earbuds offer plenty of great features.
Bose QuietControl 30
This makes our list of the top 10 best noise-canceling earbuds. To tell the truth, these in-ear noise-canceling headphones are pretty much identical to the QuietComfort 20 model we've already reviewed above. However, these are created to be wireless.
Line the QC20, this comes with a carrying case.
"Aware" mode to allow in ambient noise if you wish.
Available for Apple devices or for Android.
StayHear tips, which are comfortable. There are multiple buds to choose the one that can fit you best.
Works wirelessly and reliably with up to 10 m of range.

A very expensive set of noise-canceling earbuds.
Due to their exceptional features and amazing noise-canceling functionality, Bose has a lot of fans of their products. If you want a Bose set of earbuds and don't mind paying for the quality, these are the wireless option to go for within their range.
BYGZB Noise-Canceling Earbuds
If you are looking for the best cheap noise-canceling earbuds then the BYGZB Earphones give an in-ear choice.
These are wired, and as you would expect from the best noise-canceling earbuds under $30 the sound quality is not quite as high as the choices from Bose or other top brands, but it is plenty good enough for day-to-day use and taking to the gym.
Wires designed to avoid tangling.
Compatible with a huge amount of devices.
Soft earbuds which give a huge amount of comfort. Made out of silicone.

Not as strong bass as many other options.
If the earbuds don't fit very well in your ears they can be very uncomfortable.
Generally speaking, if you are in the market for a cheap option of top noise-canceling earbuds and you're on a budget, then the BYGZB are fine for everyday use. You probably won't want to be mixing or composing music on these, but for listening, these are a good cheap option.
Plantronics BackBeat GO 410
Plantronics is another headphone brand you may not have heard of! The BackBeat GO 410 have been well-reviewed, and are recommended by many.
These earbuds have some very good features including the long-lasting battery which have made them a real rival for some of the bigger brands making noise-canceling headphones and earbuds.
Very small, discreet fit which is good for travel and means they aren't too bulky.
Can be used with an app to provide extra control of the earbuds and their settings including EQ.
8-12 hour battery and hibernation sensors which can turn off the noise-canceling when it isn't needed, this means longer between charges.
Can be connected to multiple devices at the same time.
Adapter for use on planes.
Reliable wireless usage.

Audio clarity and fidelity not as high as some other options including the cheaper Linner and Audio-Technica earbuds on the list.
More than you would normally pay for a brand which doesn't have a high reputation in the audio world.
Overall, the very clever features regarding customization and battery life give this its place on our list of best in-ear noise-canceling headphones.
How to Choose Noise-Canceling Earbuds?
To help better understand the features and help you to make a decision you are happy with, we've created a buying guide to discuss some of the features. This means you can decide which you need to prioritize.
Where You Use Your Earbuds
This is definitely something you will want to consider before making you choice. Some are better for use in the gym (think of all the noise going on around you that will need to be canceled out).
Others have considered a lot of features aimed at travel use, such as long battery life, adapters for use on planes and connectivity with a lot of different devices.
Price
Your budget is bound to play some part in the decision of which earbuds you purchase and it is fair to say that the price range is absolutely huge.
There are options of cheap noise-canceling earbuds for around $20-30 but you can easily pay ten times this price for a top quality brand. The price tends to go up a lot if you want wireless functionality.
App Use
Many earbuds now come with their own apps which can be installed on your devices to help to give more control. This can mean altering the EQ, volume, and noise-canceling functionality of the earbuds.
This extra level of control can add to your listening experience and means you can tailor the response to different genres or your own hearing and personal preference.
Battery Life
This is another absolutely huge feature and consideration. Modern technology has improved the battery life on our devices a lot, and you will need your earbuds or headphones to have a huge amount of life if you intend to use it for long periods of time.
For instance, if you are a distance runner, or if you regularly take long journeys and want to listen to music or other audio such as podcasts or audiobooks.
Some of the options on our list can offer 12-15 hours of battery life between charges. Others will die after a few hours, which may be suitable if you just want to go to the gym and then you can put them back on charge, but for long stints of listening then they are simply not going to cut it.
Comfort
If you've ever had a pair of earbuds that are uncomfortable you will know the benefits of not having to go through this.
Some earbuds have neckbands which can chafe and rub, others don't fit in the ear nicely and this means they can start to become very annoying after a few hours of use.
To increase the comfort, many manufacturers also offer extra tips which are interchangeable and can be suited to your own ears.
Noise-Canceling Earbuds vs. Headphones
This is a subject of some debate. Noise-canceling headphones (larger cans which can cover your whole ear) have been around for a long time, and these have the advantage of being able to work by physically blocking sounds from getting into your ears.
Earbuds don't have this, and work in a different way. Normally, the active element will mean they sense the sounds around and use this as a template to drown out these frequencies.
People may tell you that headphones are better for noise canceling and this may be correct. However, taking a huge set of headphones around with you isn't always logical. This is why the market for earbuds which can block sound out is growing hugely.
Conclusion
The best product on the list overall, the Bose QuietComfort 20, is a wonderful option for drowning out the sound around you and giving you a huge amount of clarity.
The only big downside of this product is the fact that you will pay extra for the Bose reputation and exceptional build quality.
Fortunately, there are other options too. By working out the environment in which you will be mainly listening to your earbuds and matching up the features, you can make sure you're happy with your decision.
Consider whether you're on a budget, what sort of battery life you need, whether you want to be able to control EQ and make calls. In a growing market for noise-canceling earbuds, there are a lot of products to suit your unique needs.