Ukuleles are beautiful instruments made popular by humble folks of the Hawaii islands – it resembles a guitar in design, but it's also much akin to different stringed instruments in various aspects.
For instance, ukuleles usually feature only four strings, much like basses, contra basses and bass guitars.
Now, what makes ukuleles different from other instruments in the same family is that they're substantially easier to play – Soprano ukuleles in particular.
Namely, Soprano ukuleles are, by far, the smallest standard-size ukulele type out there.
There are some issues regarding whether a piccolo ukulele should be considered as a regular type, but most people agree that Sopranos are the smallest of ukes.
We're going to discuss everything you need to know about what makes the best Soprano ukulele, so stay tuned.
What Is A Soprano Ukulele?
The most plain, straightforward answer to the question of "What is a Soprano ukulele" would be as following – "it is a four-string instrument which bears the Composite chordophone label by Hornboste-Sachs classification, and it was developed somewhere in the 19th century."
However, there's more to Soprano ukuleles than just that.
You might not have known this, but Soprano ukulele also goes by the name of a "Standard ukulele".
It's used as a starting point while determining the size of others (and further classification) which are later labelled as smaller or larger – for example the ukuleles we nowadays call "pocket" ukes are also called "Piccolo" or "Sopranino", which basically means "smaller version of Soprano".
Soprano Ukulele History
It's quite peculiar that Soprano is the centre point in this musical family – only one ukulele type is smaller from it, whereas there's a bunch of uke types that are larger, including Concert, Tenor, Baritone, Bass, and Contrabass ukulele.
We should consult with history on this one if we are to find a proper answer.
Namely, one of the first ukes that appeared in print can be found in the Metropolitan Museum of Art's Catalogue of the Crosby Brown Collection of Musical Instruments of All Nations – Year 1907.
You could easily see in this catalog that one of the two ukes bears much semblance to modern Soprano ukuleles.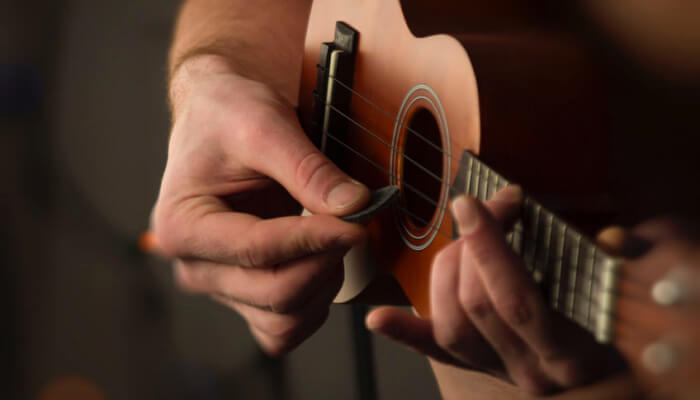 It was made popular in Hawaii by the King Kalakaua whose support and invaluable promotion of this fine instrument earned ukulele's place in the musical history books.
Other parts of the world have contributed too. For instance, Canada's Chalmers Doane – a Canadian educator has brought ukuleles on the scene by using this instrument to teach musical literacy.
His main drive was ukulele's affordability and practicality, meaning that people could take it up as a hobby easier than a guitar, per se.
Approximately 50,000 children and adults had learned to play ukulele by following Doane's program.
Is Soprano Ukulele Good For Beginners?
Putting it bluntly, Soprano ukulele is indeed good for beginners.
Better yet, it's practically ideal for beginners – there's a plethora of reasons and facts that can back this claim, and we're going to number just a few of the most notable ones.
Why Soprano ukulele is good for beginners:
One of the most affordable stringed instruments, and one of the cheapest ukulele sub-category
The smallest ukulele (disregarding pocket size ukulele) which is both the lightest and easiest to handle
Outstanding playability due to low number of frets and weightless qualities
Great as a travel companion, meaning that you can practice and play anywhere, anytime
Can be played strapped or unstrapped without significant differences
How To Play Soprano Ukulele?
Ukuleles are supposed to be played just like any other stringed instruments – you can opt between playing with your bare hands, a (guitar) pick, or with thumb picks (a form of accessory), though ukes are traditionally played with hands alone.
Further on that note, while guitars are nearly exclusively played with a strap, Ukulele play offers two choices on that matter.
Most ukulele players play without a strap, but should you find it too hard to play without one, there's a bunch of styles and types of ukulele straps at your disposal (one-button, uke leashes, and such).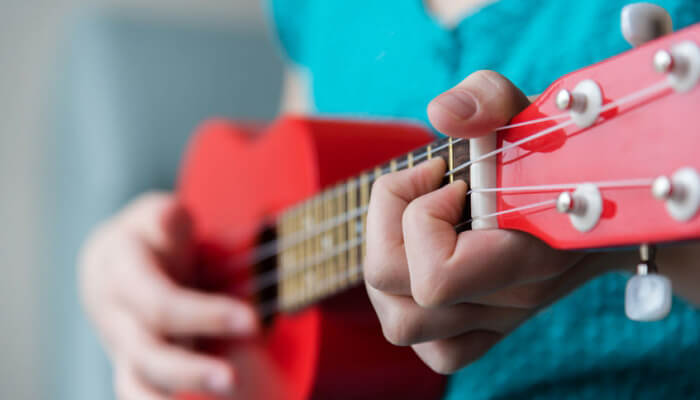 A fretboard of the ukulele bears much semblance to the fingerboard of an acoustic guitar, only this time around there are only four strings, hence four rows of notes to fret (which reminds of a bass guitar's fretboard, to be frank).
You should find a chord book if you're a complete beginner, as it will provide the much-needed insight about finger positioning – ukuleles are fairly easy to play and master, so even if you wanted to go on as a self-teaching prodigy, you won't face too many obstacles.
Soprano Ukulele's Size
Next common question: "How big is a Soprano ukulele?". We already mentioned that "Soprano" is the smallest of all ukuleles, but exactly how "small" is it?
The standard "length" of Soprano ukulele is 21", Concert is measured at 23", Tenor at 26", and Baritone at 30".
The length is measured from the very bottom all the way to the top (or vice versa, regardless).
Now, the "scale" of a ukulele regards its playable part, and a Soprano ukulele's average scale is 13" – as opposed to Concert's 15", Tenor's 17", and Baritone's 19".
Soprano vs. Concert Ukulele
Tenor and Baritone ukuleles are often instruments of choice. Musicians who play them are usually professionals who are in search for a very specific set of tonal qualities, which is why other musicians often compare Soprano ukes and Concert ukuleles.
First, let's talk about similarities between these two ukulele types.
The first one is their nearly indistinguishable size. Namely, Soprano ukulele is 21" long while Concert uke is just 2" longer.
On the other hand, Concert ukulele isn't that much heavier, so the level of playability of both uke types is quite similar.
Finally, both ukulele types share the same standard tuning – G-C-E-A (in fact, only Baritone ukulele should be tuned differently).
Now, regarding the main difference between Soprano and Concert ukuleles, the first notable one is that Soprano ukes are ideal for beginners while Concert ukes are just good.
Why is that so?
When beginners start out to learn the ways of ukulele play, every small detail comes into the picture.
Concert ukuleles are bigger, and even though they're just slightly heavier, they're a bit harder to balance without a strap.
What Makes The Best Soprano Ukulele For Beginners?
In all fairness, beginners should be looking for a good ukulele bundle.
Even if you owned the best possible ukulele in the world, there are high chances that you would have some difficulties at the start.
If you're wondering why that is so, the answer is simple – first is the issue of tuning, which is nearly impossible without a tuner.
Secondly, uke bundles feature straps, replacement strings, and picks. All of which you will need to advance as a beginner.
If you, somehow, managed to find these without external help, then you could take into consideration all the other aspects of a good ukulele:
First and foremost – you'll need a durable ukulele.
A flimsy uke will break down on you before you even figured out which finger goes where.
You can look up online – there are numerous sources that could help you figure out which types of wood are best for ukuleles.
Secondly, once you get to understand how ukulele build materials work, you'd be able to determine the sound.
As a beginner, you won't need the best sounding soprano ukulele, but it would be great if you found a good sounding model.
Thirdly – the price. Beginner ukuleles usually don't cost above $20 – $50, so anything beyond that should not even be considered.
Now, let us continue to Soprano ukulele reviews and best soprano ukulele brands. Dig in!
Top 6 Soprano Ukulele Reviews
Kala KA-S Mahogany Soprano Ukulele
The first soprano ukulele in our review comes from Kala. This might not mean much to a complete beginner who is not acquainted with the popular and prominent brands in ukulele manufacturing industry, but Kala is one of the leaders in this branch.
They're "responsible" for a plethora of premium-quality Ukuleles, and their KA-S is, perhaps, the finest representative of their craftsmanship.

In essence, Kala's KA-S Soprano ukulele features mahogany build materials – this particular wood element provides outstanding sound resonance which is characterized with rich, crispy tones.
The highs are pretty accentuated while the lows are present, but mellow.
Simply put, you'll get a rich sound to play with while you learn the ropes.
That being said, this is, in fact, a beginner's Soprano ukulele. It belongs to the "affordable" price point category and it's one of the best Kala Soprano ukulele models in the range.
Furthermore, it features a traditional, aesthetic white binding on top, as well as the awesomely looking back accent.
You'll see a set of four chrome die-cast machine pegs on the headstock which aren't just for show.
They ensure that your KA-S uke will remain in tune for extended periods of time, which isn't something most ukulele models can boast about.
Lastly, there's the Kala™ logo on top which is plain beautiful. Even though this is nothing more than an aesthetic piece, it's a pure sign of quality.
Just like any beginner ukulele, this one isn't perfect, per se. There is a couple of problems you should expect, maybe not straight away, but after a couple of months of playing on it.
Firstly, the intonation of Kala's KA-S ukulele is nearly impeccable, and the word "nearly" should be heavily accentuated.
The G string won't hold in tune like the rest, the same goes for the A string, but in a slightly diminutive way.
Absolutely excels in aesthetics
Beautiful Mahogany finish
Premium-quality build (judging by low-end uke standards)
Sustains the tone quite well
Great playability
Certain intonations problems are possible
Overall, this is an excellent beginner ukulele, and even despite its small flaws it holds a massive value for the buck.
Rogue Soprano Ukulele (Starter Pack)
Next up is Rogue's Soprano ukulele. Generally, Rogue isn't a brand which manufactures ukuleles in their primary line of work, but after extensive research, we've found that this particular model was amongst numerous "top ukulele" reviews, so we've decided to check out what's so special about it.
At first sight, Rogue's Ukulele appears pretty plain. It's a standard-size Soprano ukulele which features Mahogany materials and a satin finish.
It feels pretty great to play, and it looks quite amazing, despite its straightforward outward appearance.
Another peculiar thing about Rogue's ukulele is that it's hard to find it standalone – it's often laden with a bunch of complementary features, such as a gig bag, a pitch pipe, a chord book (guide), and such.
That's why it's called a starter pack.
That being said, it's easy to see why this particular soprano ukulele is ideal for immediate beginners.
What speaks volumes about its playability is the outstanding neck construction, however.
It's a bit wider than that of a standard soprano uke, thus allowing the beginner to grip it more easily and firmly.
There's a total of 15 frets onboard the fingerboard, whereas the dot inlays begin at the 5th and end with the 15th, all of which are clearly visible.
The neat little sound box (often called sound "hole") is measured just right – it's just large enough to condense and reverberate the sound emissions, thus providing a great sound in turn.
Notice that not all soprano ukuleles are outfitted with this feature – some are "closed", and the sound emitted from such instruments is often thumpy or blunt.
Rogue's ukulele starter kit also belongs to the affordable price point category, which means that its cost is substantially lower than that of a high-end uke.
In fact, this might just be the best soprano ukulele under 100 bucks.
Remarkable level of playability
High-quality build materials
Plain design and outlook
Laden with a bunch of complementary features
Superb for newcomers
Doesn't excel in any particular fields of performance
If we are to consider the fact that this is not just a ukulele, but an entire bundle filled with ukulele accessories and necessities, its value is sky high, to say the least.
Overall, this might be the top option if you're looking for the best starter Soprano ukulele.
Kala Makala Dolphin Soprano Ukulele
Here's another beautiful soprano uke from Kala – this one bears the name of MK-SD Car and is often called "the Dolphin Soprano".
This exceptional beginner's uke got its name after the dolphin-shaped bridge – it's purely cosmetic, though, and it doesn't have any notable effects on its performance.
Even though most Soprano ukuleles look the same, this remarkable model excels in aesthetics like no other – it features a beautiful Candy Red finish on the neck, body and headstock.

The neck of Kala's Makala MK-SD CAR Soprano ukulele is made of mahogany materials, the fingerboard are built from premium-quality rosewood while the back and sides are composite.
The nut is, sadly, made of flimsy plastic, but it's supposed to last for at least a couple of months – just enough for you to learn the basics of ukulele playing.
What's great about this Soprano ukulele is that it comes pre-strung with Aquila Nylgut strings.
These strings often cost quite a lot as they're made by a reputable brand, so the fact that factory strings on this uke are durable means a lot in this case.
Furthermore, Kala usually offers a complementary gig bag with the MK-SD uke – it's made of high-quality nylon material and it will help you get to your teacher's home (or simply carry it around) more easily.
The only problem with this particular ukulele is that the neck might start pulling away after a while.
It's durable alright, so it won't crack or break, but the manner in which it was joined to the base doesn't show much promise.
Be it as it may, if you are careful with your Makala MK-SD, nothing will go awry.
Exquisite outlook with Candy Red finish
High-quality construction
Mahogany neck with a rosewood fingerboard
Comes pre-strung with Aquila Nylgut strings
Sounds very good for the price
Potential problems with the neck
Overall, the outlook of Kala's Makala MK-SD is beautiful, the construction pretty solid, and it sounds great for the buck.
It might be the best soprano ukulele for the money, as it belongs to the bottom bracket of the "affordable" price point category.
This is a good Soprano ukulele, no doubt about it.
Mitchell MU40 Soprano Ukulele
Mitchell's MU40 soprano ukulele is a classic, vintage-style ukulele which features a set of exotic build materials.
First of all, the top, back, and sides are made of Lindenwood (sometimes referred to as Tilia's main sub-genus).
This particular build material is not as common as, let's say Rosewood or mahogany, and it brings about more richness and color to the tone while retaining a superb level of durability.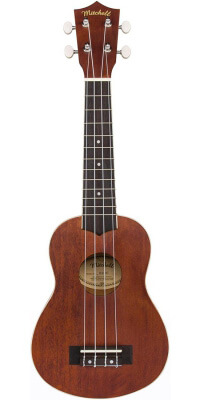 The top and back feature ABS materials – pretty common in the manufacturing of ukuleles, but quite great nevertheless.
The fingerboard of Mitchell's MU40 soprano ukulele is made of Bound rosewood – there are only 12 frets, though, with the dot inlays starting from the 5th and ending with the 12th fret.
Now, this ukulele excels in aesthetics before everything else – it's a surprisingly beautiful uke piece which comes at a more than affordable price.
Most people, however, point out that this shouldn't be your first ukulele as there's plenty of work before you could utilize its purpose to the fullest.
Namely, the stock strings aren't bad, but most certainly aren't good – they sound a bit dull and thumpy, and as a beginner you'll want to get accustomed to precise, good tone.
Comes very cheap
Decently good sound
Vintage-style design
Lindenwood top, back, and sides
ABS top and back
Rosewood bridge and fretboard
Stock strings aren't exactly great
All in all, this model holds a superb value for the cash due to its incredible outlook, high-quality build, and a well-rounded performance, making it an obvious pick for a top Soprano ukulele.
ADM 21 Economic Soprano Ukulele
ADM is a reputable brand in ukulele manufacturing industry, and they make some of the finest soprano ukuleles that market has to offer.
This particular model comes in a plethora of color variations, including the plain black, blue, brown, green, natural, purple, and mocha.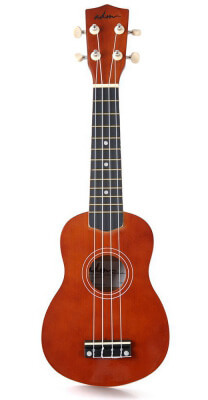 It's safe to say that all of the aforementioned color variations look ravishing and amazing, but this ukulele isn't just for show.
It boasts a huge level of playability due to hand-picked basswood materials on the fingerboard & bridge – a fine example of well-balanced compromise between a great feel and durability.
The basswood top is quite sturdy as well, but the same goes for linden sides and back.
You can expect to get a bright, exquisitely distinctive tone while playing on this remarkable ukulele.
Oh, by the way, it's very good for immediate beginners as it comes outfitted with numerous gratis features, including a convenient strap lock, a polishing cloth, clip-on LED-lit tuner, and more.
Great for starters
Comes with a plethora of gratis features
Superb level of playability
Distinctive tone
Sturdy and durable
Overall, ADM's Soprano ukulele is a breath of fresh air on the market, and it's certainly worth the cash.
Omalha EMF Soprano Ukulele
The last ukulele in our review of the best ukes comes from Omalha.
You might have already heard about this brand if you are a true ukulele enthusiast – their flagship EMFBK is, perhaps, the best cheap soprano ukulele on the market, but we're reviewing the EMF for the time being.
It's colored in bright white, bringing about a sense of relaxedness – even though it looks quite plain when compared our other top picks, it's the cheapest high-value uke you'll find, regardless of how much time you'd invest in your search.

The all-wood construction of this ukulele holds a promise of sturdiness – if we are to take into consideration that this is, in fact, an entry-level ukulele.
The tuners are open and easy to use and the nylon strings are absolutely perfect for beginners.
The only problem, however, is that just like all entry-level ukuleles, this one doesn't excel in any particular field of performance – it sound just about right, it's durable enough to withstand several months (or more) of playing, but it's surely worth the buck.
Extremely affordable
One of the best budget-level ukuleles on the market
Open machine tuners
Two-tone outward appearance
Nylon strings
Perfect for immediate beginners
Mediocre performance when compared to mid and high-end ukuleles
Conclusion
Soprano ukuleles are the most natural ukulele type. This uke sub-category was the first that was developed, and probably the one which is most widely used today.
Finding the best soprano ukulele to fit your needs shouldn't be too hard – we provided a thorough list of things you should consider before you get to the buying part, but if you're still out of ideas, check out our soprano ukulele reviews.
We wish you good luck in your search!