The 5 best Yamaha violins reviews will help you to decide which violin is best for you. Yamaha has a long history of producing reliable instruments. Yamaha offers a wide range of violins that can easily meet any need.
Yamaha was established as a music company in the late 1800's. It was established as the Nippon Gakki Company (the literal translation is Japan Music Company). The company initially focused on reed instruments and pianos. Yamaha has grown by leaps and bounds to become the largest instrument manufacturer in the world.
Yamaha has been credited with plenty of firsts like shipping the first ever CD player. They are a reliable source for all of your musical needs. Yamaha violins are an excellent option for anyone that is looking for a reliable instrument that is also affordable.
Reliability is key when it comes to choosing an instrument but of course it is not the only thing we looked out to determine what the 5 best Yamaha violins are.
What Makes a Violin Best?
When it comes to a violin and what makes it best, there are different levels of best. If we could all have an original Stradivari there would be no need for these reviews but we cannot so we have to find what is best for us right now.
Depending on your level of ability what is best for you may not be best for your orchestra mates. In some cases it is not skill level that determines what is best but the genre of music that you play that makes it best.
Most experts agree that there are some key factors that will determine if a violin is best or not:
Quality of materials
Expertise of the manufacturer
Cost that is appropriate to your budget
Size that is appropriate to your size and skills
Yamaha seems like an excellent place to start to find the best violins because we know that they have been in business for over 100 years manufacturing quality instruments and we know that they are committed to using quality materials. The expertise of Yamaha is also well-known so that is another reason that we choose to look at the 5 best Yamaha violins review.
Another reason that Yamaha is known for creating the best violins is because their price point spans a full range which means that they offer options that can meet every budget. They also offer a full range of sizes from 1/2 to 4/4.
This isn't the full range of violins..they start at 1/16, then 1/8, then 1/4, then 1/2 then 4/4. There's even a 7/8 size, for shorter people that need to play a "full size" instrument.
We looked at many of the models that Yamaha offers in a bid to find the 5 best violins. We considered all of the criteria that we set forth that makes a violin best and we took a look at what musicians had to say that have purchased violins from Yamaha.
You should know that Yamaha offers a very liberal 5 year warranty on all their violins when it comes to craftsmanship. They will repair/replace any violin that has workmen defects. This warranty covers all of their models from the most economical student starter models to their high end offerings.
Having a warranty that is iron clad like the one that Yamaha offers can offer you peace of mind when you make your violin purchase.
You should also know that Yamaha ensures that every instrument that they create is tuned before it is sent out from the factory. Each violin is checked to ensure superior craftsmanship.
Here are the 5 best Yamaha violins reviews:
Yamaha Model 5
This is a great example of what makes a violin best for the student. This high quality violin outfit offers everything a student needs to easily travel with their violin, practice and perform. Of course it is nicely priced as well and offers Yamaha's 5 year standard warranty!
This violin offers a solid maple back which is carved. It has a durable top made of spruce.The sides are crafted from whole sheets of maple. It also offers a gorgeous fingerboard made of Ebony. The outfit comes complete with rosin and bow.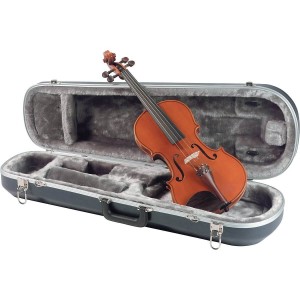 Click Here for Pricing, Pictures and Reviews on Amazon
The case is also included. The lightweight cases is durable yet comfortable to carry. It is expertly adjusted to exceed the standards set by the MENC. It is marketed as a student model but some musicians feel that this would be an ideal model for musicians that have passed the "student" phase in their playing. You may want to take a look at this violin no matter what your skill level is, it is a great value!
Yamaha V3
This is another excellent option from Yamaha. This is an entry level model that is built for durability but does not sacrifice an excellent sound for the sake of durability. This is a complete outfit that comes with the case, the bow and the rosin. The case is hard case that is easy to carry.
This violin is outfitted with ebony pegs, an ebony chin rest and an ebony finger board for added durability and beauty. It comes right from the factory ready to play so even the most novice of musicians will be able to enjoy the sound.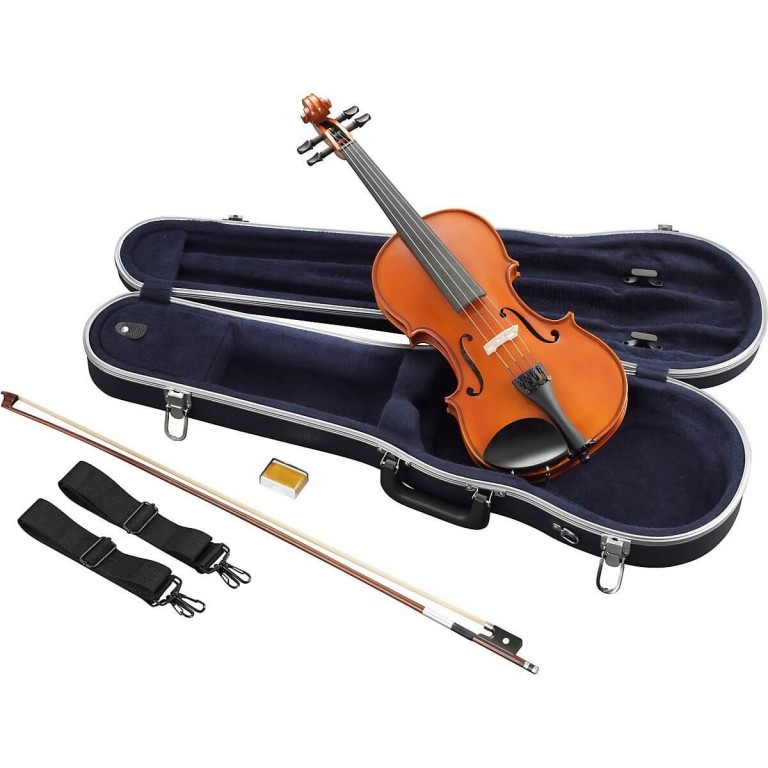 Click Here for Pricing, Pictures and Reviews on Amazon
This is a great reliable instrument that is made with the novice in mind. People that have purchased this violin have commented about how well made this model is and highly recommend it for beginners.
Yamaha V20SG
This is the top of the line. It is in a word "expensive" but according to those that use this violin it is worth every bit that they paid for it. What makes it so special? The woods that are used are all aged for 5 years or more (most of the time more 5 years is the minimum).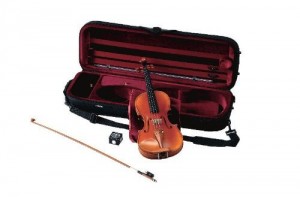 Click Here for Pricing, Pictures and Reviews on Amazon
It is hand finished, it is fully shaded and hand brushed with a lovely oil varnish. It has every top of the line feature that you could ask for from the boxwood pegs, chinrest and tailpiece to the Thomastik Dominant strings this is a work of art.
It comes with the case and the bow, both of superior quality and of course the 5 year warranty from Yamaha. It is an excellent choice for serious players.
Yamaha AV20
This is another high end model. It is considered one of the best that Yamaha has to offer. It is hand crafted and offers a solid construction from wood that has been aged at least 5 years. It offers solid boxwood pegs, chinrest and tailpiece. A solid maple back and a solid spruce front. It offers highly flamed sides and a highly flamed back. It is lovely to look at and offers deep resonating sounds. This is a great option for the serious artist.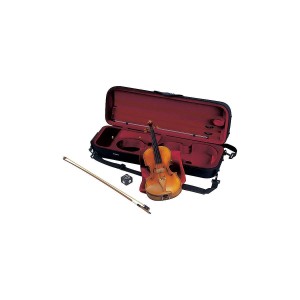 Click Here for Pricing, Pictures and Reviews on Amazon
Yamaha violins are well-known for providing reliable sound and durable play. These 5 best Yamaha violins reviews are an easy way to create a short list of potential options. We thought that the option is also worthy of mention while it did not make the 5 best it is certainly one to consider.
Yamaha SV-200
Here is one more electric model that could have been on the list because it may well be one of THE overall best electric violins for performance on the market under any brand. Brown. This 4/4 is finished with a layer of special finish to give it a rich look.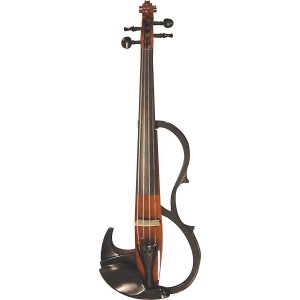 Click Here for Pricing, Pictures and Reviews on Amazon
The neck is oval shaped and made of maple while the body is made of spruce. It offers the ebony chinrest, ebony pegs and ebony fingerboard. The tailpiece is also made of ebony. It offers an equalizer switch so that the user can skip the built in default settings and customize their settings quickly. This is not only a great looking option it is a great playing option. It is ideal for performance purposes.