A fretless finger guide is often used as a learning tool, they are relatively inexpensive but the question is not really about the cost and whether it is worth investing the small amount of money to purchase one. The question is really whether it is a helpful tool in the learning process or not.
Some critics say that the fretless finger guide can actual inhibit learning and make the student adopt "lazy habits" when it comes to locating the proper finger placement. Other experts say that it is fine to use the fretless finger guide to gain a good understanding of finger placement.
Ultimately it really comes down to personal choice and whether the teacher that you are working with will allow it.
What is a Fretless Finger Guide?
A fretless finger guide can be as simple as a vinyl cling that you add to your fingerboard that helps you to find the first position for your fingers by indicating where your fingers go based on a numbering system or color coding or a combination of both.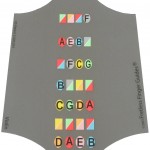 Usually no glue or adhesive is needed to attach the fretless finger guide. In most cases you do not even have to remove the strings.
The guide simply sides under the strings and "sticks" to the fingerboard.
In most cases the risk of damage to your fingerboard is just about zero.
Most fretless finger guides show first positions, flats and sharps. The goal is to help a beginner to learn the scales quickly.
The Cost
These tools are very inexpensive and can be purchased from a full range of sources. There is always the chance that there will be an issue with anything that you stick to your violin even if it usually does not happen, or it has not happened for other users.
The cost of the fretless finger guide will of course become very expensive if you cause damage to your fingerboard.
It is a balance for a fretless finger guide to be able to stick during play but then come away easily without damaging the finger board.
Luckily there are some brands that have been able to master the design so that it clings without sticking and so that it can be easily removed.
Are They Helpful?
The helpful part is debatable. Of course for a beginner getting finger position down pat will build confidence and will help a beginner to quickly master the scales however it can also retard learning.
We all know that we can easily become accustomed to a visual aid and then when the aid is no longer available falter because we have become dependent on the tool. The same can very easily happen when it comes to using a fretless finger guide.
Depending on the color coding and the marks to know where to place your fingers can actually become a handicap when it is no longer in use. Learning the proper finger placement without a fretless finger guide can actually be more productive.
Consider this, if a beginner learns to depend on the finger guide for placement once the finger guide is removed it may require relearning the finger placement without the guide.
On the other side of the coin there is something that is called muscle memory that can be learned from using a fretless finger guide.
As the student is learning the proper finger placement using the finger guide so is the muscles in their hands which will retain the knowledge or so the theory goes.
The Benefits
There are some clear benefits even with the threat of becoming dependent on the finger guides ever looming. While they may not be the best idea for a child that you really want to get the natural hang of things, if you are a little older it can be a really great way to learn to play quickly.
Older children and adults actually benefit more from a fretless finger guide than young children do. If you are an older student that has missed out on the early years of music education using fretless finger guide certainly is not going to stymie your ability to learn natural finger placement without the guide.
The Drawbacks
If you have a very expensive violin slapping on a fretless finger guide may be risky. While most profess that they are safe the reality is that you never know if you may damage the varnish or the finish on the instrument.
This is especially true if you have an older violin that is of really good quality. It is better not to risk the potential for damage.
We have already discussed the drawbacks that are a potential for very young leaners like becoming dependent on the finger guide.
The other issue is a small one and really is relative to user's ability. The fretless finger guide has to be installed exactly as it should be, if it is even a little off you will not be using the proper placement.
Of course this is up to the user's ability to install the guide correctly and has very little to do with the guide.
Some Tips
Buy a finger guide from a well-known brand to ensure accuracy.  When you consider that if you are even a very small fraction of a mm off on the placement of the fretless finger guide or if the guide is not made to exact specifications that you risk not learning the right placement it seems reasonable to purchase from a trusted source.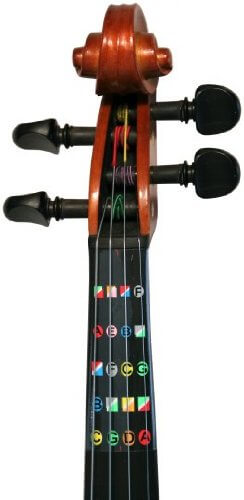 Choose an option that does not have to be glued or that does not use an adhesive to minimize any chance of damage to the finger board.
Avoid options where you have to loosen the strings too much to fit it, minimizing the stress of getting the finger guide on depends on the type that you choose.
Use it for its intended purpose to master the scales and finger placement than get rid of it. Avoiding becoming too attached to the finger guide is easy enough if you do not use it consistently for a long period of time.
Carefully apply the fretless finger board to ensure that it is in the exact position that it is meant to be in.  If you need help don't be afraid to ask for it.
Be sure to ask your teacher whether or not they approve of using the finger guide before you make the purchase.
Some teachers feel very strongly about using a finger guide and you may go through all the trouble of buying one an applying it only to find that your teacher wants you to remove it.
Also be sure that you purchase a size that is meant for your violin.
Some Good Options
We pulled together a few options for your consideration. All of the options that are listed below are clings that do not requires adhesives and all users have had good experience with them.
Fretless Finger Guide for Full Size this is an easy off, easy on vinyl cling that offers clear placements points. The strings do not have to loosened to affix the cling.
Click Here for Pricing, Pictures and Reviews on Amazon
Over 400 users have rated this cling at 4.5 stars or above. It does exactly what it is supposed to do AND it is inexpensive.
Fretless Finger Guide for ¾ Violin – this is also an easy off, easy on vinyl cling that offers clear fingering points.
Click Here for Pricing, Pictures and Reviews on Amazon
This is also an option where you do not have to struggle with getting the strings loose. This has also been well received by users where users have given it 4.5 stars or above.
Fretless Finger Guide for ½ Violin – this is a vinyl cling from the same company as the last two that are listed here so you get the same great quality.
Easy on, easy off feature and you do not have to worry about moving the strings around to the get this finger guide on. The markings are clear and colorful and easy to see.
Overall
If you are considering a fretless finger guide to help with the learning process, consider these two factors before you make a choice:
Age of the student
Teachers feeling about it
If the student is a young child you may want to forgo the fretless finger guide just to avoid disrupting the natural flow of things.
An older student will likely benefit from having a fretless finger guide. It is a safe bet to use one on children from the age of about 11 on up.
Adults will get the most benefit out of these learning tools and will likely not experience of any interruption in learning.
They are inexpensive so worst case scenario if you feel that it is hindering learning you just pull it off and not use it with only a minimal amount of money wasted.
If it helps, you will know right away that it is helping you and it will be one of the best small (really tiny) investments you ever made.