When starting using this magnificent instrument you can get into any kind of dilemma about certain "technical" aspects of it. This comes naturally as the ukulele has a very specific form. At first, it comes across as something like a small guitar, which in fact is true, but if you consider the visual aspect only.
When you get more familiar with it you will spot a couple of differences so let's start by clarifying those.

Musical theory classifies it as a four-stringed Hawaiian instrument in the lute family, with roots in Portugal. The ukulele is generally considered to be a member of the guitar family, which includes the acoustic guitar, electric guitar, and bass guitar. Ukuleles typically come in four sizes: soprano, concert, tenor, and baritone.
The main difference that anyone can see is that it has 4 strings, is way smaller than any type of guitar, and tones are way higher. The way of playing is almost the same since it is based on picking but that subject we already covered HERE so we will get straight to the actual holding techniques.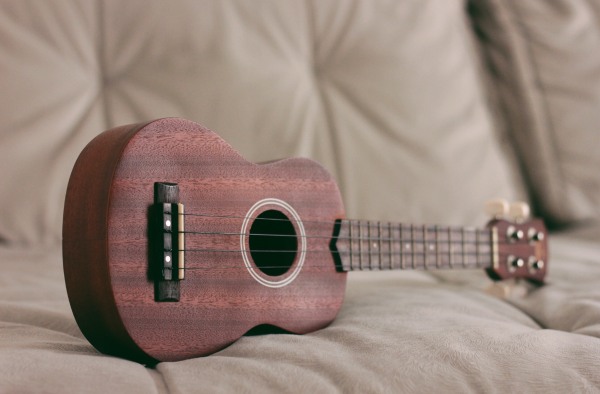 How to hold a ukulele?
How you hold your ukulele can make a big difference in how comfortable it is to play and how good you sound. Here are some tips on how to hold ukulele:
First, place your ukulele in your lap so that the strings are facing you. You might need to adjust the positioning of the ukulele depending on its size; for example, if you have a tenor ukulele, you might need to hold it higher up on your lap.
Next, put your right arm around the ukulele so that your hand is in the middle of the strings. You'll want to hold it close to the ukulele's body, but not so close that your hand is in the way when you strum.
Now place your left hand on the neck of the ukulele. You'll want to position your thumb behind the neck and your fingers behind the strings. Again, you'll want to hold it close to the ukulele's body, but not so close that your hand is in the way when you strum.
Finally, make sure that you are holding the ukulele securely but not too tightly. You should be able to move your hands freely without the ukulele slipping. If you find that you are gripping the ukulele too tightly, relax your hands and try again.
By following these tips, you'll be able to hold ukulele comfortably and play it with ease!
After you've learned how to hold ukulele properly, check out this post and find most suitable ukulele for you!