Roland are celebrating over 20 years since the launch of their first ever electronic mesh drum set. Indeed, the inclusion of mesh drum heads was a huge advancement for electronic kits and once again Roland are leading the way in innovation. They've recently launched their new Acoustic Design series which aims to combine cutting edge sound triggering with a traditional acoustic drum set look.
Currently the Acoustic Design series offers a line of 3 different drum sets, the VAD306, the VAD503 and the VAD506. Each kit offers something different and will suit a variety of budgets. We'll take a look at the 3 kits in greater detail and talk about some of the pros and cons that each kit offers as well as contrasting them with similar kits from competing manufacturers.
VAD306
The first kit that we'll look at in the Acoustic Design series is the Roland VAD306. This is the entry-level kit to the Acoustic Design series and is priced around $2500. The kit is a 5-piece with 4 cymbals – a hi-hat, ride and 2 crashes. The drum pads are shallow-shelled and do not have bottom heads, as we'll see with the likes of the VAD506. Each pad has 6 lugs which are tensionable so as to control the feel and response of the mesh head.
Drum sizes range from 10 inches to 18. The two rack toms are 10 inches in diameter, while the snare and floor tom are both 12 inches. Toms and snare pads all have separate triggering on the rims too. The bass drum with the VAD306 is an 18 inch. All drums are quite shallow, which keeps the weight down while allowing for that acoustic kit look.
Hardware with the VAD306 is similar to most regular acoustic drum sets. Gone is the 4 post rack which was so common with electronic kits of the past. This has been replaced with good old-fashioned cymbal stands and tom mounts.
VAD306: sound features
The VAD306 ships with the TD-17 drum module. This module has over 300 sounds and 50 preset drum kits. The TD-17 is equipped with Roland's flagship Prismatic Sound Modeling engine. This is their latest offering in drum triggering and gives the user complete control over every little detail of the drum sounds. You can alter the mic positioning, drum muffling, tuning, room size, stick type and more.
Importing your own drum kit sounds is as easy as using an SD card. Simply place your custom samples onto the drive and you'll be able to build your own database of drum sounds. The TD-17 also has a wireless feature which uses Bluetooth. This allows you to both send music to your monitor for play-along purposes as well as stream MIDI tracks to your computer or laptop. Don't worry though, you can still use USB or 5-pin MIDI if you prefer that way.
Image credit: Roland Check Price on Sweetwater

Does not include hi-hat, kick pedal or snare stand.
Shallow drum shells.
The VAD306 is a good electronic kit for drummers who want to experience the latest Roland drum technology but are on a tight budget. The improved TD-17 module is serious competition for other kits in this price range.
VAD503
The next in line on the Acoustic Design series is the VAD503. This kit is a minimalistic version of the flagship VAD506. Most notably it comes as a 4-piece, with a snare, bass drum and two toms, instead of the usual 5-piece setup. Also instead of 4 cymbals, with the VAD503 we get just the 3, a ride, hi-hat and crash.
Naturally stripping the kit back like this allows Roland to keep the price down to a manageable level for many consumers. It means that for around $4000 you can get a taste of the TD-27 drum module and the Prismatic Sound Modeling.
The VAD503 looks great and is complete with full-depth wooden shells. The toms and bass drum even come with resonant heads, which are solely for appearance purposes. This is highly effective and makes the VAD503 look like a genuine acoustic drum kit.
There's a 10-inch high tom, a 14-inch floor tom and a 20-inch bass drum. The high tom mounts to the cymbal stand which also can hold the crash cymbal or ride. The floor tom has the neat addition of having 3 old-school floor tom legs, which offers stability and convenience. You need not worry about losing resonance through contact with the ground, as is the case with a normal acoustic drum.
The bass drum feels remarkably solid to play on. It's quite possibly the best feeling electronic bass drum yet. You can perform all the different bass drum techniques which you would associate with acoustic drumming without feeling hampered. The two strong spurs on each side of the drum help to keep it in place during performances.
The snare drum is whopping 14 inches in diameter and sits up a separate snare stand. Unfortunately, as is the case with all drum kits in the Roland Acoustic Design series, you will have to supply a snare stand, along with a hi-hat stand and kick drum pedal.
VAD503: sound features
The VAD503 comes with the high-rated TD-27 drum module. This module has all the bells and whistles, so to speak. It has 728 sounds in total with bucket loads of room to store your own custom kits. There are 55 preset kits with 45 user banks to store your custom iterations.
Sound design with the TD-27 is a pleasure. Roland have designed the module with a clear and user-friendly look. Browsing through kits is easy to do and you can view your navigation on the crisp display. There are a few new features on the module which are a welcome addition. You now get two separate controls for controlling drum muffling and tuning. With these two knobs it's pretty easy to tailor any kit sound just the way you like it, without having to navigate through a series of confusing folders and sub folders. Connectivity has also been made a priority with the aforementioned Bluetooth streaming ability.
But where the TD-27 comes into its own is with the level of control you get over the individual and collective drum sounds. It's never been easier to customize your sound, with a host of multi-effects such as studio-grade compression, EQ and reverbs.
Image credit: Roland Check Price on Sweetwater

Deep, wooden shell drums.
Comes with the TD-27 module.

Minimalist setup.
Does not include hi-hat, kick pedal or snare stand.
The VAD503 is a nice kit, especially for fans of a 4-piece setup. You can always upgrade to the specs of the VAD506 should you wish, at a later date. It's worth comparing the prices though, as currently on Sweetwater.com there is not much difference in price between the two.
VAD506
The final kit of the V-Drum Acoustic Design series is the VAD506. This really is Roland's flagship electronic drum set. This 5-piece drum set comes with a 12-inch hi-hat, 14-inch crash, 16-inch crash and an 18-inch ride cymbal.
The cymbals on the Acoustic Design series are a lot softer than previous incarnations. This is very beneficial to drummers and particularly if you're prone to wrist injuries. There is a lot more 'give' in the rubber cymbals and this is evident when you put a little pressure on them. They are more malleable than the older type of electronic cymbal and the net result is a smoother feel.
The drum sizes are: 14-inch snare, 10 and 12-inch front toms, 14-inch floor tom and a 20-inch bass drum. This is what's often referred to as 'fusion' sizes. The drums are deep, and all but the snare are equipped with bottom heads. Roland also offer a range of custom wraps for their shells, so you're not just limited to the one finish.
VAD506: sound features
As mentioned with the VAD503, the TD-27 drum module is an impressive piece of kit. It won't leave you wanting when it comes to kit sounds or customization tools. There are also a bunch of training modes which are built into the unit. These are great for whiling away the time and improving your skills on the instrument.
There are 30 multi-effects on the module and they're all quite clear and easy to understand. You can apply effects to just the one drum, or group drums together. This is great for when working with toms, for example. It's also very simple to send different mixes to outboard gear such as live venue P.A. systems or studio desks.
There's MIDI in/out, as well as USB, and you can even stream wirelessly. The TD-27 module has a footswitch which can be used for a host of different functions. This is useful for triggering background loops or changing kit sounds between live song performances.
Image credit: Roland Check Price on Sweetwater

5-piece kit with 4 cymbals.
Deep shells.
TD-27 module.

As with the other kits, this doesn't come with a full set of hardware.
Overall, the Acoustic Design VAD506 is an amazing drum set and definitely one of the best electronic drum sets for how good it feels to play.
Alternative drum sets
The Yamaha DTX760K retails for around the same price as the Roland VAD503 but it does come complete with full hardware. The VAD series kits however are all missing a snare stand, a hi-hat stand and a bass drum pedal, which you will have to supply.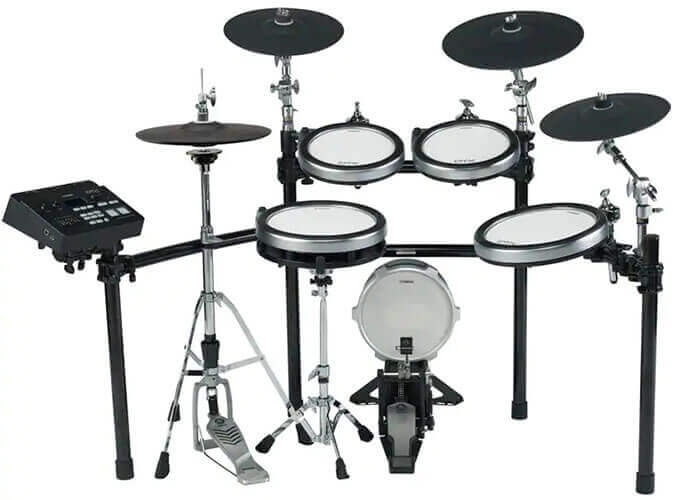 Image credit: Yamaha
Check Price on Sweetwater
The DTX760K is a 5-piece with 4 cymbals, although the Yamaha drum pads are not tensionable by way of a drum key. The sounds and features on the DTX drum module are a bit dated in comparison to the newer TD-27.
Alesis offer the Strike Pro SE which is an upgraded version of the original Strike Pro. This kit is very good value as it features double-headed drums along with wooden shells.
Image credit: Alesis
Check Price on Sweetwater
The Strike Pro SE is a 6-piece rack-mounted drum kit with 5 cymbals. It's certainly worth a look if you find that you would prefer to have more drums and cymbals than the latest Roland drum modules.
Conclusion
In this review we've looked at Roland's flagship Acoustic Design series of drum kits. It's plain to see that they have once again set the bar very high for electronic drums in 2020. With the Acoustic Design series, Roland have recognized the importance of an organic looking drum set which feels good to play on. When it comes to live performance, a deep-shelled drum kit is what many people expect, and it quite simply, looks the part.
With drum racks relegated to a thing of the past, Roland's Acoustic Design series opts for standalone drum hardware such as cymbal stands with tom mounts. One downside is that the VAD series does not supply hardware such as pedal or a snare stand. The upside is that if you already have an acoustic setup, then this is not much of an issue. It also means that should you wish to integrate the VAD into your acoustic setup then it won't look too out of place.
But don't be fooled by looks alone. Roland have made serious improvements to their modules of late. The development of Prismatic Sound Modeling means this kit does not just work with basic sample-triggering. What essentially happens is that each sample is processed individually to work in the context of how and when it is being triggered. So the net effect is that you get more realistic sounding drum roll crescendos and cymbal swells. The age-old issue of drum pads 'machine-gunning' has been eliminated.
This is all good news for drummers, whether professional or part-time. The fact that we can play and experience a top-quality drum set in the comfort of our homes, with little or no external noise, is something to behold.