Picking the best drum set for you and your lifestyle is not an easy task.
There is so much to think about when making the correct decision.
But, do not become downhearted because drum set reviews are always helpful, especially this one.
The process can be an enjoyable one if you know what you are looking for, like the best drum set brands.
Acoustic Driven Review
This article is purely about acoustic kits. There is an electronic drum set guide if you are looking for that instead.
Lastly, there is a specific guide for beginners, where you can find some of the best kits for starters.
Our Top 3 Recommended Drum Sets for 2019
7 Must-Have Features To Look For In The Best Drum Set
1.

Picking the Precise Wood
There are over a half-dozen wood varieties to choose from. This creates different sound qualities and variations.
Below are the top 8 popular wood choices that are used to construct the best quality drum sets:
2.

The Right Hardware
The drums are not the only thing a good drum set needs; the right hardware is also important.
Some indispensable items that all people need with their kit includes a snare stand, a pedal for the bass drum, a stand for the hi-hat, and cymbal stands for the amount of cymbals you own.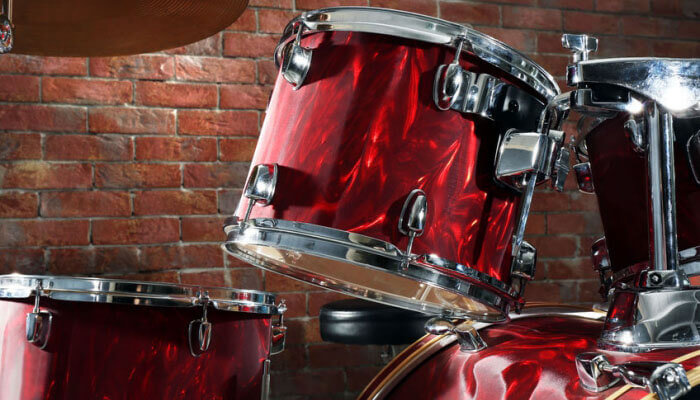 A lot of times, drummers can kind a hardware pack to save some money.
On the other hand, they may want to buy specific items, but this will spike the cost upwards.
3.

Pedals for Your Bass Drum
Any drum set buying guide should have some thoughts on bass drum pedals.
You do not need to settle with the bass drum pedal that you buy with your set.
There are a variety of pedals from a single-pedal model to a double pedal option, which is perfect for fusion, rock, and metal drummers.
Choosing a double beater pedal really can take your playing to next level.
4.

Sitting on Your Throne
A lot of times, there is no drum throne with your drum set purchase.
Some people think they can just use any, old chair, but this could not be further from the truth.
Drum thrones are necessary for drummers to help with adjustments of height, and they are very mobile to move around.
5.

Great Sound Cymbals
Without cymbals, a true drum kit is never complete.
Just like a bass drum pedal, there are different cymbals for different atmospheres.
Some of the traditional cymbals include the ride, crash, and hi-hat.
Other cymbals like the China or splash are also choices you could investigate because they have become more and more popular over the years.
Additionally, cymbals come in a massive amount of sizes, colors, and even sounds.
Historically, drum cymbals are made by mixing molten, raw metals together.
These metals are heated and shaped to make the right kind of cymbal.
This is a long, drawn-out process, but quality, cast cymbals are made the correct way.
Sheet cymbals are another type that is made for a drum set.
These cymbals are actually cut from large metal sheets, and create the most similar sound from brand to brand.
Furthermore, these cymbals are more inexpensive than the cymbals made of cast.
Ultimately, picking the right cymbal depends on your preference.
Customarily, rock drummer want a brighter sounding cymbal, while jazz players look for darker sounds.
It really is up to you and your prerogative.
6.

Racking and Standing Correctly
So much money can be spent when it comes to racks and stands.
Based on the set that you want, configurations and components are endless.
However, this also means it can cost a lot of money.
Many people choose to use a frame structure, so their kit can be sturdy and compact all in one piece.
There are also racks that are sold separately, but remember that this piece of your set may spike in cost.
7.

Drum Heads
When creating the best drum set, drum heads should not be ignored.
You can choose single or double ply, clear, or coated.
The head that you hit with a drum set is called a batter head and the other side is called a resonant head.
In some cases, drummers use a batter head on either side of the drum for an impressive amount of brightness and attack.
Many drum heads are made from Mylar, which is a thin plastic.
These heads come in a lot of different colors.
More often than not, coated heads are used and this has been the standard for decades.
They do not have a great projection, but they still create a warm and refined sound.
With a ton of drum head thicknesses, each drummer can have a different sound for their kit.
The thicker the head, the best the sound usually is.
Still, this type of thickness has a fast decay, but it is more durable over time.
If you want a more controlled tone, a double ply head is your best bet.
A dampened tone will be pronounced, but this is where an Evans Hydraulic or Remo Pinstripe head may be your best friend.
Any type of pinstripe head limits tone and generates a dry, muffled sound.
Are you looking for more dampeners with your drums?
Look into patches, pads, or dampening rings to help do the trick.
You may have to try some things to figure out what works for you.
Best Drum Set Brands & Manufacturers
Acoustic drum set reviews are never complete without knowing about drum kit brands, and many want to know what the best drum set brand truly is.
This is a challenging question, but one that is important when figuring what drum kit to buy for yourself.
There are literally dozens of companies, but only a few should be considered for you, no matter what level you play the drums at.
So, who makes the best drums?
Here is a breakdown of each brand in our review that deserves to be recognized.
ddrum
ddrum focuses on drummers and drummers only.
1983 is where the story of ddrum began. The founder of NORD keys, Hans Nordelius, experimented with the Digital Percussion Plate 1.
The technology was sold to Armadillo Enterprises, and in 2005, the first ddrum kit was manufactured.
All their drums are made from Ash wood, which allows for a quick, warm tone with every strike.
Pearl
The brand, Pearl, has been a wholesale distributer of percussion instruments and drums in the United States for decades.
Currently, the corporation has moved its headquarters to Japan, but also has facilities in Nashville, Tennessee, too.
Overtime, Pearl has breathed stability and consistency, as they have been a very stable organization, and have created one of the best American made drums on the market today.
Gammon
Gammon's goal in life has been to sell quality, yet affordable drum sets to its customers.
The brand is sold in a variety of locations from Amazon, Sears, Musician's Discount, and so much more.
Not only does Gammon sell drums sets, but also a variety of replacement parts, gear, and add-on gifts.
Gretsch
Since 1883, Gretsch drums have been in production.
From its owner, Friedrich Gretsch, building drums by hand to its continued success 135 years later, Gretsch has stayed constant and loved by musicians worldwide for its distinct tone and sound.
Ludwig
For over 100 years, Ludwig drums have been into production.
The company was founded by the Ludwig brothers of William and Theobald.
In 1909, the brothers created their first pedal for the bass drum and later on, created the quality Gold Triumphal Snare Drum.
Best Choice Products
Drums are not the only thing that Best Choice Products sell.
They are also in the business of selling home equipment, toys, games, fitness items, pet supplies, and so much more.
Yamaha
From the company's inception, Yamaha has been a musical mainstay.
Its founder, Torakusu Yamaha, first repaired a reed organ, and after that, the company got itself involved in a variety of instrument creations.
Mapex
Mapex cares about a few things. First, they care about the wood they use.
From birch to maple, their woods are selected by hand from skilled experts.
Detail and looks are important to Mapex.
Each drum set is finished off with lacquer, which makes them durable and long-lasting.
Lastly, each drum set is modified the same, helping with consistency.
Tama
Tama may not have been around as long as some of the other drum brands, but it still has a storied past.
Most of the production is done in China and Japan, but there is also marketing and stocking done in Pennsylvania.
So, is Tama a good drum brand?
Over the last few decades, sales and dependability say that Tama is worthwhile.
PDP
Pacific Drums and Percussion, or PDP, got its start in 1999, but over the last 2 decades, it has worked to create features that are built for greatness.
Creating stylish drums is a part of PDP's promise to share their drums with all people.
Cecilio
Cecilio makes some of the best American made drums.
They are based in California and produce other musical equipment such as saxophones, violins, violas, double electric basses, ukuleles, mandolins, banjos, cellos, and so much more.
They opened in 2003, and they pride themselves on being a company that builds for quality, knowing that you are trusting them to make a product that lasts.
Top 12 Acoustic Drum Set Reviews
Finishing Up
So, what is the best drum set?
It is definitely a difficult decision to swallow, but the best kit for the money and quality has to go with Tama.
It will not cost you an arm and a leg, but it still has so much to offer to any drummer.
It has a variety of warranties to take advantage of, but it also stays together over time quite nicely.
Even though Tama's history is shorter than Pearl, Yamaha and Gretsch, it still has had success in the music world or they would not be here today.
Tama continues to push the envelope and develop drums of great quality, but they are always looking to improve.
Customer service is a big reason for Tama's success. They truly care about their customers. You are more than a number to them.
They work to fix any problems that you may have, and go above and beyond to help satisfy all your needs.
Without Tama in the drumming world today, there would definitely be a hole that would be hard to fill, even from the biggest brands in the market.
Tama breathes drums and they show it day after day, so consider them as a top option.
This drum set buying guide has given you a lot to think about and consider, but the decision is still yours at the end of the day.
Sure, drum set reviews are here to give you advice, but use the information to your benefit and go confidently out into the world picking the best kit for you and your style.
You may have to read the review over a few times, so you can grasp all the concepts you need to know to be successful.
If not, you may miss something important that ruins your drum buying experience during the year.
No matter what you decide, you just have to be happy with your purchase.
Can you see yourself playing this specific set?
Consider how long you will be playing the set you are looking to purchase.
You may be in for the long haul together, so do not take short cuts to pick the best kit for you.
Disappointment will not follow if you have done your homework and make a decision that is smart financially and quality wise.
Good luck with your search and enjoy your time rocking out!
It will be worth the money you spent!