Picking the best drum set for you and your lifestyle is not an easy task.
There is so much to think about when making the correct decision.
But, do not become downhearted because drum set reviews are always helpful, especially this one.
The process can be an enjoyable one if you know what you are looking for, like the best drum set brands.
Acoustic Driven Review
This article is purely about acoustic kits. There is an electronic drum set guide if you are looking for that instead.
Lastly, there is a specific guide for beginners, where you can find some of the best kits for starters.
Our Top 3 Recommended Drum Sets for 2019
Austin's Choice - Tama Superstar Hyper-Drive
Best Sounding Drum Set - Ludwig Breakbeats
Best Budget Drum Set - PDP New Yorker
7 Must-Have Features To Look For In The Best Drum Set
1.

Picking the Precise Wood
There are over a half-dozen wood varieties to choose from. This creates different sound qualities and variations.
Below are the top 8 popular wood choices that are used to construct the best quality drum sets:
Maple: The most popular of all the woods is maple. It creates a balanced tone that is warm and pleasant.
Falkata: When people do not have enough money to buy maple, falkata is usually the next best choice. It also has a great finish and the sound qualities of this wood are comparative to maple in many ways.
Basswood: This type of wood is massively abundant across the world. The nice grain of basswood can be lacquered, producing a magnificent finish.
Lauan: People who use a lauan wood know it is the best cheap drum set wood around. As an inexpensive wood, it is looked upon as a good, quality 2nd tier option.
Mahogany: Midrange and low end sounds come from mahogany. However, mahogany does not make high sounds. But, some experts even believe that the sound quality is better than maple.
Birch: Since birch's nature is tough, the sound for drums with this kind of wood enjoy the brightest tones. The high and lows are expected from birch wood, but midrange sounds are not very prominent.
Oak: Similar to birch with its bright, quality sounds, oak creates powerful tones, too. It terms of great finishing woods, oak is comparable to maple.
Poplar: The last wood on the list is poplar. If you can't afford birch or maple, poplar is an inexpensive choice. Bright sounds fill any musical setting.
2.

The Right Hardware
The drums are not the only thing a good drum set needs; the right hardware is also important.
Some indispensable items that all people need with their kit includes a snare stand, a pedal for the bass drum, a stand for the hi-hat, and cymbal stands for the amount of cymbals you own.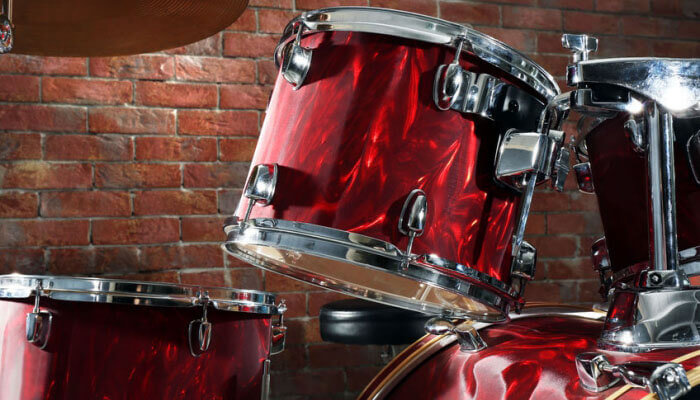 A lot of times, drummers can kind a hardware pack to save some money.
On the other hand, they may want to buy specific items, but this will spike the cost upwards.
3.

Pedals for Your Bass Drum
Any drum set buying guide should have some thoughts on bass drum pedals.
You do not need to settle with the bass drum pedal that you buy with your set.
There are a variety of pedals from a single-pedal model to a double pedal option, which is perfect for fusion, rock, and metal drummers.
Choosing a double beater pedal really can take your playing to next level.
4.

Sitting on Your Throne
A lot of times, there is no drum throne with your drum set purchase.
Some people think they can just use any, old chair, but this could not be further from the truth.
Drum thrones are necessary for drummers to help with adjustments of height, and they are very mobile to move around.
5.

Great Sound Cymbals
Without cymbals, a true drum kit is never complete.
Just like a bass drum pedal, there are different cymbals for different atmospheres.
Some of the traditional cymbals include the ride, crash, and hi-hat.
Other cymbals like the China or splash are also choices you could investigate because they have become more and more popular over the years.
Additionally, cymbals come in a massive amount of sizes, colors, and even sounds.
Historically, drum cymbals are made by mixing molten, raw metals together.
These metals are heated and shaped to make the right kind of cymbal.
This is a long, drawn-out process, but quality, cast cymbals are made the correct way.
Sheet cymbals are another type that is made for a drum set.
These cymbals are actually cut from large metal sheets, and create the most similar sound from brand to brand.
Furthermore, these cymbals are more inexpensive than the cymbals made of cast.
Ultimately, picking the right cymbal depends on your preference.
Customarily, rock drummer want a brighter sounding cymbal, while jazz players look for darker sounds.
It really is up to you and your prerogative.
6.

Racking and Standing Correctly
So much money can be spent when it comes to racks and stands.
Based on the set that you want, configurations and components are endless.
However, this also means it can cost a lot of money.
Many people choose to use a frame structure, so their kit can be sturdy and compact all in one piece.
There are also racks that are sold separately, but remember that this piece of your set may spike in cost.
7.

Drum Heads
When creating the best drum set, drum heads should not be ignored.
You can choose single or double ply, clear, or coated.
The head that you hit with a drum set is called a batter head and the other side is called a resonant head.
In some cases, drummers use a batter head on either side of the drum for an impressive amount of brightness and attack.
Many drum heads are made from Mylar, which is a thin plastic.
These heads come in a lot of different colors.
More often than not, coated heads are used and this has been the standard for decades.
They do not have a great projection, but they still create a warm and refined sound.
With a ton of drum head thicknesses, each drummer can have a different sound for their kit.
The thicker the head, the best the sound usually is.
Still, this type of thickness has a fast decay, but it is more durable over time.
If you want a more controlled tone, a double ply head is your best bet.
A dampened tone will be pronounced, but this is where an Evans Hydraulic or Remo Pinstripe head may be your best friend.
Any type of pinstripe head limits tone and generates a dry, muffled sound.
Are you looking for more dampeners with your drums?
Look into patches, pads, or dampening rings to help do the trick.
You may have to try some things to figure out what works for you.
Best Drum Set Brands & Manufacturers
Acoustic drum set reviews are never complete without knowing about drum kit brands, and many want to know what the best drum set brand truly is.
This is a challenging question, but one that is important when figuring what drum kit to buy for yourself.
There are literally dozens of companies, but only a few should be considered for you, no matter what level you play the drums at.
So, who makes the best drums?
Here is a breakdown of each brand in our review that deserves to be recognized.
ddrum
ddrum focuses on drummers and drummers only.
1983 is where the story of ddrum began. The founder of NORD keys, Hans Nordelius, experimented with the Digital Percussion Plate 1.
The technology was sold to Armadillo Enterprises, and in 2005, the first ddrum kit was manufactured.
All their drums are made from Ash wood, which allows for a quick, warm tone with every strike.
Pearl
The brand, Pearl, has been a wholesale distributer of percussion instruments and drums in the United States for decades.
Currently, the corporation has moved its headquarters to Japan, but also has facilities in Nashville, Tennessee, too.
Overtime, Pearl has breathed stability and consistency, as they have been a very stable organization, and have created one of the best American made drums on the market today.
Gammon
Gammon's goal in life has been to sell quality, yet affordable drum sets to its customers.
The brand is sold in a variety of locations from Amazon, Sears, Musician's Discount, and so much more.
Not only does Gammon sell drums sets, but also a variety of replacement parts, gear, and add-on gifts.
Gretsch
Since 1883, Gretsch drums have been in production.
From its owner, Friedrich Gretsch, building drums by hand to its continued success 135 years later, Gretsch has stayed constant and loved by musicians worldwide for its distinct tone and sound.
Ludwig
For over 100 years, Ludwig drums have been into production.
The company was founded by the Ludwig brothers of William and Theobald.
In 1909, the brothers created their first pedal for the bass drum and later on, created the quality Gold Triumphal Snare Drum.
Best Choice Products
Drums are not the only thing that Best Choice Products sell.
They are also in the business of selling home equipment, toys, games, fitness items, pet supplies, and so much more.
Yamaha
From the company's inception, Yamaha has been a musical mainstay.
Its founder, Torakusu Yamaha, first repaired a reed organ, and after that, the company got itself involved in a variety of instrument creations.
Mapex
Mapex cares about a few things. First, they care about the wood they use.
From birch to maple, their woods are selected by hand from skilled experts.
Detail and looks are important to Mapex.
Each drum set is finished off with lacquer, which makes them durable and long-lasting.
Lastly, each drum set is modified the same, helping with consistency.
Tama
Tama may not have been around as long as some of the other drum brands, but it still has a storied past.
Most of the production is done in China and Japan, but there is also marketing and stocking done in Pennsylvania.
So, is Tama a good drum brand?
Over the last few decades, sales and dependability say that Tama is worthwhile.
PDP
Pacific Drums and Percussion, or PDP, got its start in 1999, but over the last 2 decades, it has worked to create features that are built for greatness.
Creating stylish drums is a part of PDP's promise to share their drums with all people.
Cecilio
Cecilio makes some of the best American made drums.
They are based in California and produce other musical equipment such as saxophones, violins, violas, double electric basses, ukuleles, mandolins, banjos, cellos, and so much more.
They opened in 2003, and they pride themselves on being a company that builds for quality, knowing that you are trusting them to make a product that lasts.
Top 12 Acoustic Drum Set Reviews
ddrum Paladin Maple Rock PMR 424 ZG
The ddrum PMR 424 ZG Paladin is one of the best drum set options around.
The maple rack tom is of the 4-ply variety to create magnificent resonance.
This brand uses Chrome Fix pitch mounts that help with suspension to keep the drum heads in the pitch you tuned them to.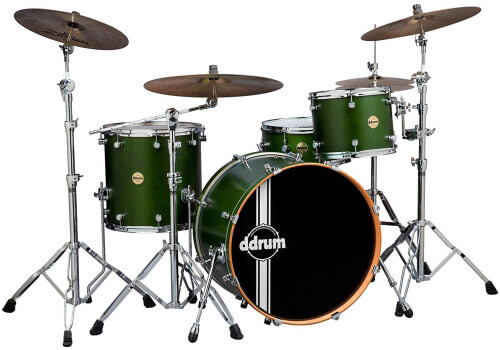 The face-off lugs are easy to manipulate and move around.
Both the snare and bass drum are made from poplar and maple wood, and they are 8-ply.
It is the best drum set under $1,500.
Creates a punchy, deep sound
Quality resonance that fills any music venue
Limited edition makes this set worthwhile
Even though ddrum has not been around historically as long as other sets, over the last 3 decades, it has gained credibility.
With this authority in the marketplace, it is definitely one of the top drum set brands to enjoy in the world today.
Pearl Export 5-Piece Drum Set
The Pearl Export five piece set includes a bass drum, snare, drum, two rack toms, and a floor tom.
The Demonator pedal is perfect for the Pearl bass drum because of the way it does not move easily, and it hits with great authority.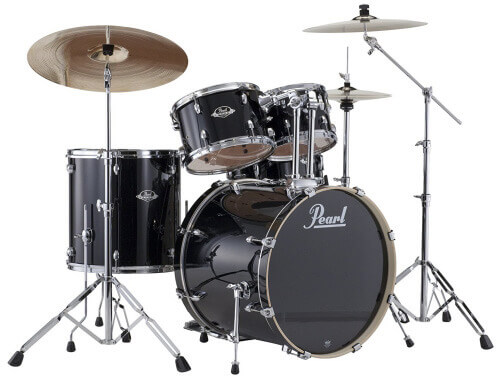 Brand new hardware is used for ever Pearl drum kit, and not old hardware pieced together.
The snare drum uses a REMO snare batter head to make sure the head is long-lasting.
Lifetime Warranty
Best drum set under $700
Great for a serious beginner
Suspension system creates amazing resonation
Phenomenal low-end sounds
Cymbal stands included
Easy assembly
Parts are a choking hazard for young children
Cymbals not included
Nuts and bolts technology more old fashioned
The Pearl Export is one of the best drum sets that the world has to offer in today's day and age.
No matter the drum set review, you will see Pearl in the discussion.
Because of its longevity and craftsmanship, many people naturally gravitate to Pearl.
Definitely turn your gaze to the Pearl Export as the best value drum set for you to consider.
You will not be disappointed with the sound quality and make-up of this kit.
Gammon Percussion Full Size 5-Piece Set
The Gammon Percussion finds itself in the category of good drum set brands.
This complete drum set not only includes drums, but also cymbals, stands, sticks, and a throne to boot.
This set really is the comprehensive package.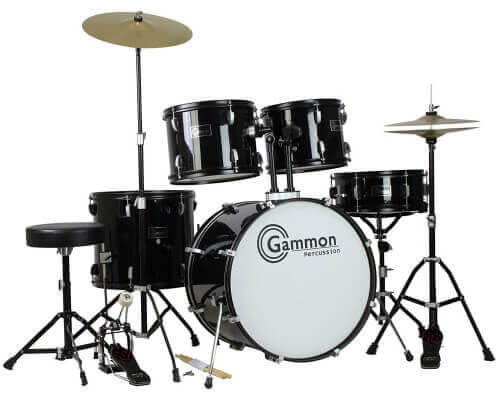 The kit caters to people who want to be a part of a more professional setting.
The glossy finish makes this set shine under any lights.
With the pedals being chain driven, they are expected to last longer than the typical, generic pedals.
Easy set-up
Great for a beginning youngster
Detailed instructions to get the job done right
DVD included to help with practice techniques
Excellent sound and tone
Cymbals are average
Upgrades will be needed over time
This Gammon product is a best budget drum kit.
For all that it offers a drummer at such an inexpensive price, almost anyone can now own a drum set.
It truly is the best drum set under $300.
Good acoustic drum sets do not come around very often, but this full size Gammon kit fits the bill.
This set was also featured in our beginner drum set reviews.
Deliberate on using the Gammon brand if you are just starting out, but are committed to playing drums the way they should be used.
The Gretsch Renown is one of the most expensive drum kit options on this review.
However, it is worth the money because of all the ways Gretsch spends time crafting their product.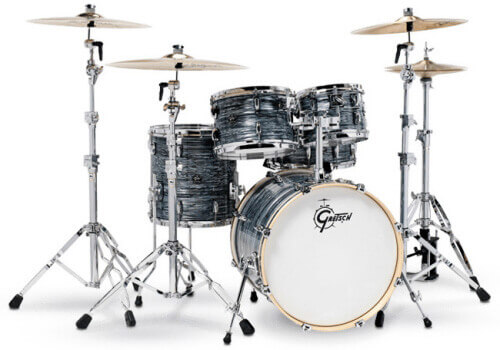 This kit includes a bass drum, two rack toms, a floor tom, and a snare.
All the drums are made from maple and are 7-ply.
Also, on each drum, there is a 30 degree bearing edge, which makes the ease of playing that much more enjoyable.
With double flanged hoops and a sealer, you can expect the Gretsch Renown to blow away your expectations.
Excellent craftsmanship
Fun, retro design
Exquisite tone and resonance
Stands and cymbals not included
Too pricy for novice drummers
This is the best drum set under $2,000.
Gretsch makes quality, but you have to pay for it in the long run. Some people gasp at the price, but when you are talking about Gretsch, the price is in the history of their products.
This is why they continue to have the top rated drum sets on a year to year basis.
Ludwig Breakbeats 4-Piece Shell Pack
The Ludwig Breakbeats is no ordinary drum kit.
Many people may be drawn in by its black or white sparkle color, but it has a lot more to offer than its looks.
With a bearing edge of 45 degrees, each drum set is perfect for anyone 12 and up.
Some of the features include a bass drum that is lifted, allowing for perfect specifications with any drummer.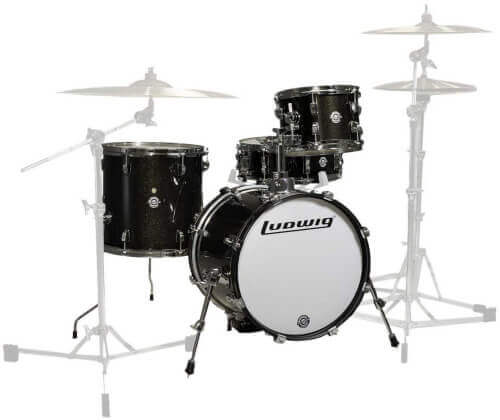 Each drum has a Remo head that will last hit after hit.
Furthermore, if you are looking to travel your drums around, velvet storage cases are included with your purchase.
Storage cases double as drum dampeners
Easy tune feature
Great for a jazz atmosphere
Compact size still has a booming sound
Stands for cymbals and snare not included
Edges of the bearings can chip over time
As the best drum set under $600, Ludwig prides itself on being affordable, while still creating a great product in the process.
If you are in the business of looking for a quality shell set, the Ludwig Breakbeats are extraordinary.
Best quality drum sets do not come around that often, but Ludwig is always on the path to success.
As one of the best intermediate drum set selections, Ludwig could be the brand of your next drum set.
Best Choice Products 5-Piece Set
The Best Choice Products drum set has not been around very long, but it is starting to make waves.
As a good, cheap drum set, Best Choice has designed a beginners set that has a whole lot more bells and whistles than most other competitors.
This is another good acoustic drum set that has everything included.
We are talking the drums, stands, cymbals, sticks, and throne to sit on.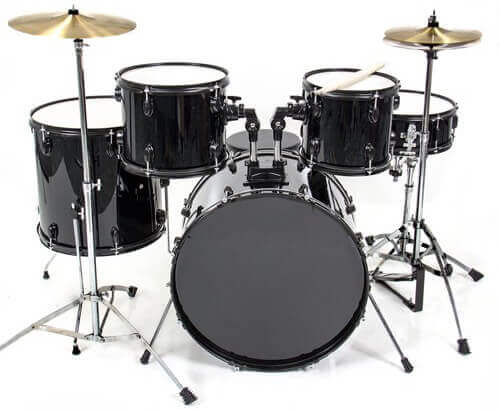 It is very comparable to the Gammon set mentioned earlier in the article.
With pedals that are chain driven, you can expect your technology to hold up every time you play these drums.
Classy, retro style
Traditional sizing for all drums and cymbals
High-glossy finish
Easy instructions to follow
Inexpensive price and great quality for what is paid for
Basic beginner set
Quality leaves some things to be desired
Is it really the best drum set under $500? Many seem to think so.
If you are looking for the best budget drum set around, then look no further than the one from Best Choice Products.
Even though this company does not focus on drums like the other brands do, it does not mean that it should be overlooked.
It actually is the best drum set for the money.
Give it a test trial and see for yourself.
Pearl Roadshow 5-Piece Set
When you think of the best drum manufacturers, please remember that Pearl is on the list or you will be highly misinformed.
If you are informed, then you know that many debate if the Pearl Roadshow is the best Pearl drum set ever created.
Sure, there have been a lot over the years, but the Pearl Roadshow 5-piece set is superior over many kits in today's market.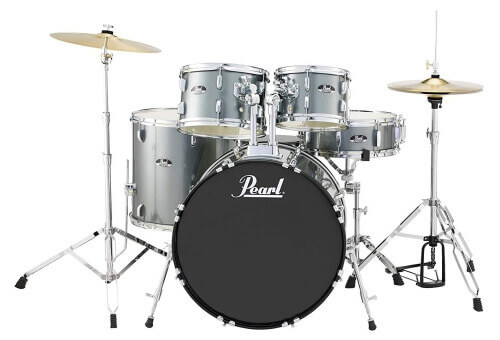 The Pearl Roadshow is easy to construct right out of the box.
All the heads and hardware, of the double braced variety, keep the drum set going strong.
In this good drum set, it includes a bass drum, two rack toms, one floor tom, and a snare drum.
A crash, ride, and hi-hat are also sold with this set along with stands for all the drums and cymbals, as well as the drum pedal for the bass, a throne, and holders for the two rack toms.
Great beginner kit
Fantastic for any budget
Perfect pedal creations
Sound is perfect for jamming and/or recording
Price is doable for most
Drum heads are generic
Snare tension rods can come loose
Is it the best Pearl drum set?
It definitely is up there, as one of the best drum set under $600 options.
Since Pearl is one of the best popular drum brands around, many drummers flock to this brand because of its long, storied history.
It is definitely a plus that it is one of the best affordable drum set choices for today's drummers.
Consider Pearl Roadshow if you are looking for both good quality and a more inexpensive price.
Yamaha Stage Custom Birch Set
Yamaha has always been a recommended drum brand because they have stood the test of time.
And the Yamaha Stage Custom Birch set has a few things to offer its customers that other drum kits do not have.
First, this 5-piece set includes amazing drum sticks from Zildjian, a learning book to help with practice time, and a CD to follow along with.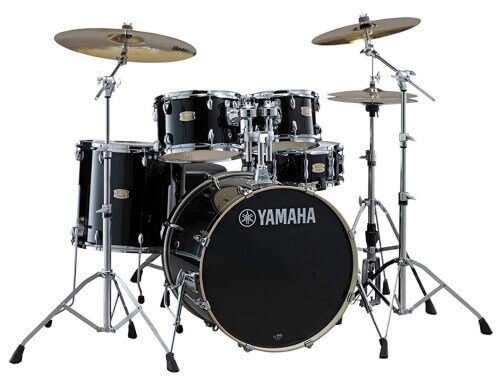 Additionally, Yamaha uses birch wood for their design because it is great in a studio for recording or playing live on a stage.
Each drum head has a great attacking sound, and the resonance is explosive because of Yamaha's Enhanced Sustain System.
This custom drum set has stoppers on the drum legs making them easy to tear down and to set-up again.
Finished with lacquer
6-ply and 7-ply craftsmanship
Instrument cloth helps to keep drums clean
Smaller drum sizes
Cymbals not included
You are looking at the best drum set under $800 coming from one of the best drum brands, too.
Now, Yamaha may be for more beginner type players, but that does not mean that their drum sets should be perceived as ill-equipped or cheap.
The Yamaha Stage Custom Birch is a worthwhile product that many believe is one of the best sounding drum set options ever created.
This set is not for the faint of heart.
Your checkbook may hurt after purchasing the Mapex Saturn V, but it value is worth its weight in gold.
It should be praised for being the best drum set under $3,000.
Because of the maple wood construction, you can imagine how heavy this product is, but it is built to last.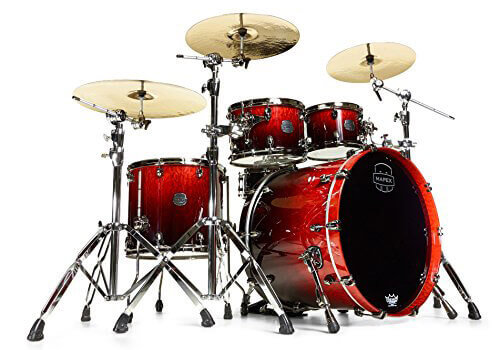 This Mapex kit includes two rack toms, a floor tome, and a bass drum.
Mapex uses SONIClear technology, which keeps the drum heads looking brand new, as well as memory marking, which shows the drummer where the hit from the sticks should be.
Best wood construction around
Catchy color scheme
Amazing sound and tone
Snare drum and cymbals are not included
Expensive drum kit
Sure, this may be the most expensive drum kit on the review, but it also comes from one of the best drum manufacturers in the business.
As acoustic drum set reviews go, you will see the Mapex Saturn V at the top of the list every time.
There are good drum sets and then there are the best professional drum sets and that is where Mapex falls.
As a top 10 drum set brand, Mapex should be considered if you have the money and if you want the best constructed and sounding drums on the planet.
Tama Superstar Hyper-Drive
Some people really want to know if Tama is a good drum brand, and the truth is out that they are a quality company.
The Tama Superstar is not only the best affordable drum set, but it is in the running for the best intermediate drum set, too.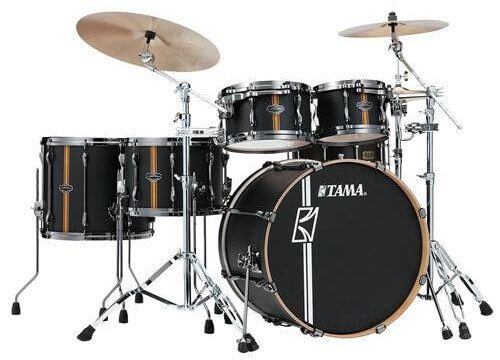 The Superstar includes two rack toms, one floor tom, a snare drum, and the bass drum.
Tama's Star-Cast Mounting System holds the drums in place, so they do not move over time.
Limited warranty of 5 years
Limited warranty on the hardware for 1 year
Made of maple wood
30-day lug warranty
Great low and medium tones
Best drum set under $1,500
No cymbals included
Stands not involved in purchase
Drummers need to have Tama on their short list of top drum set brands.
Tama has proven the doubters wrong over the years, and have ultimately come out on top.
Some might think Tama is a most expensive drum set brand, but you get what you pay for in this market.
Sure, some might think the best drum sets under $1,000 options are top shelf, but not in the case of Tama.
They are worth every penny paid.
PDP New Yorker 4-Piece Shell Pack
When creating a review, PDP needs to be considered as one of the best drum companies.
Not only is PDP New Yorker the best cheap drum set, but it also is a fun kit to jam on.
The New Yorker has been around for over a decade, so the product has been tweaked and altered so it is in tiptop form.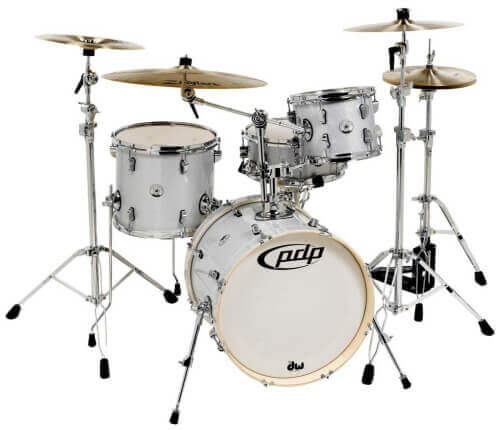 This 4-piece configuration set includes a bass drum, one tom, one floor tom, and snare.
Made of poplar wood, PDP uses a quality wood to engage a vibrant sound.
With Teardrop technology, PDP's drums are great for traveling and do not weigh a ton.
Some of the lightest drums on the market
Tones that are fresh and exciting
Stylish coloring and finish
One less rack tom than most
No cymbals or stands
PDP may not have the lineage that other good drum set brands do, but it should be treated as such.
It is not only affordable, but also full of great sounds to experience.
Since it is not the most expensive drum set brand on the market, you can spend the money elsewhere, in case you are looking to purchase stands, cymbals, etc.
With so many add-ons to buy with a drum kit, some buy a cheaper shell pack, so they can pick other things to make their set unique.
Medini by Cecilio Complete Full Size Set
This Medini by Cecilio is a fantastic 5-piece drum kit. It is used predominantly by teens and adults.
Poplar shells are used to create a fantastic sound and they are coated and laminated for ultimate protection.
This kit includes a bass drum, two rack toms, a snare drum, a crash cymbal, and a hi-hat to match.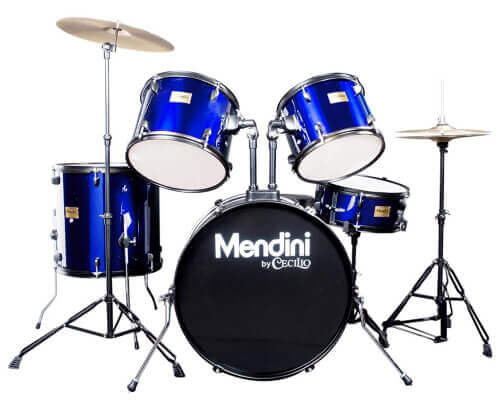 Additionally, the kit includes a drum throne that is easily adjustable.
Lastly, drum sticks come with this set and instructions that will allow you to play quicker than you ever thought was possible.
At just under $300, this set is affordable for anyone looking for a trap of their own.
Warranty of 1-year for defects by the manufacturer
Tone and resonance are fantastic for the purchase price
Drum key included
Easily adjustable for varying heights
Drum parts are a choking hazard for young children
Set gets dirty easily
The Medini drum set is comparable to a Gammon set, so if you are narrowing down your choices, you may find some help there.
With the company only being out for a little over a decade, many drummers have not heard of this brand.
If you are looking for an inexpensive set to try out and figure out if you are going to be a long-term drummer, then this kit is most definitely for you.
New learners of the drum trap should keep their eye out for this Medini set.
Finishing Up
So, what is the best drum set?
It is definitely a difficult decision to swallow, but the best kit for the money and quality has to go with Tama.
It will not cost you an arm and a leg, but it still has so much to offer to any drummer.
It has a variety of warranties to take advantage of, but it also stays together over time quite nicely.
Even though Tama's history is shorter than Pearl, Yamaha and Gretsch, it still has had success in the music world or they would not be here today.
Tama continues to push the envelope and develop drums of great quality, but they are always looking to improve.
Customer service is a big reason for Tama's success. They truly care about their customers. You are more than a number to them.
They work to fix any problems that you may have, and go above and beyond to help satisfy all your needs.
Without Tama in the drumming world today, there would definitely be a hole that would be hard to fill, even from the biggest brands in the market.
Tama breathes drums and they show it day after day, so consider them as a top option.
This drum set buying guide has given you a lot to think about and consider, but the decision is still yours at the end of the day.
Sure, drum set reviews are here to give you advice, but use the information to your benefit and go confidently out into the world picking the best kit for you and your style.
You may have to read the review over a few times, so you can grasp all the concepts you need to know to be successful.
If not, you may miss something important that ruins your drum buying experience during the year.
No matter what you decide, you just have to be happy with your purchase.
Can you see yourself playing this specific set?
Consider how long you will be playing the set you are looking to purchase.
You may be in for the long haul together, so do not take short cuts to pick the best kit for you.
Disappointment will not follow if you have done your homework and make a decision that is smart financially and quality wise.
Good luck with your search and enjoy your time rocking out!
It will be worth the money you spent!