If you've been searching for beginner drum set reviews, you may find that there are a vast amount of options out there. In this article we will discuss the best cheap drum sets for under $500.
Some beginner drum kits and junior drum sets will fall well below this price range, and can often be purchased for $200 to $300. In general though, you get what you pay for, and as you will notice, when it comes to larger adult drum sets, they tend to retail at higher prices than smaller junior sets.
Also included in this article is information on the most affordable drum set for kids. If you're looking for a drum set for a child, then you will most likely want to know which kits are more suitable. Among our list of the best beginner drum sets, are many options for kids, such as smaller junior drum sets. Let's get on with the list.
Here are the best cheap beginner drum sets under $500:
1. Pearl Roadshow RS525SC
In comparison to the Gammon Percussion drum set (below), this kit is almost twice the price. So what do you get for the extra cash outlay? Well, Pearl is one of the most widely recognized drum manufacturing names in the world. They have generations of experience in making quality drum sets. With the Roadshow they have produced a competitively priced drum set for starter or entry-level drummers.
This is a 5-piece drum kit with three toms, a snare and a bass drum. Two toms are mounted to the bass drum and the third is a floor tom. The floor tom has three legs which are adjustable. You can raise and lower each leg to find the right height and angle for your own comfort.
The tom sizes are 10-inch, 12-inch and 16-inch. This is slightly smaller set compared to the Gammon 5-piece, but they are very flexible in style. You can play any type of music with this setup.
The 22-inch bass drum is 16 inches in depth which makes it deeper than the Gammon equivalent. All drums are kitted out with Pearl's own hardware and ship with custom Pearl drum heads.
The drums sound great, and are quite versatile when it comes to tuning. You can get a wide range of styles out of these drums, from pop and rock to latin and jazz.
Included in the Roadshow package is a set of 14-inch hi-hats and a 16-inch crash ride cymbal. These are both Pearl in make. The sound is pretty good from them and they hold up against other low price entry-level cymbals.
The hi-hats are mounted to a Pearl hi-hat stand and the crash ride comes with its own stand too. Also included in the deal is a Pearl drum throne, which is suitable for adults.
Image credit: Pearl Check Price on Sweetwater

Full-size cymbals.
Nice sparkle finish.
Pearl hardware included.

Would be nice to have another cymbal included.
This is certainly one of the best drum sets for under $500. You get nice 9-ply poplar drum shells with some Pearl lower-end hardware. This is a solid kit to play on and is worth the extra money if you can afford it, over the Gammon Percussion kit. If you're looking at drumming long term and can't stray over $500 then this is a good drum set to buy.
2. Ludwig 5-Piece Junior
If you're planning on purchasing a drum set for a child then it's important to know your budget. This drum set from famous drum manufacturers Ludwig can be bought for just under $300 and promises to get your junior musician up and running right away. It's a quality kit, for the price, and has been specifically designed for players of a smaller size, mainly children.
There are five drums, a hihat, a crash cymbal and hardware included. Ludwig have included a bass drum pedal for playing the bass drum too.
The hardware is light and portable and can be set up in minutes. The drum sizes are small and compact too. There's a 16-inch bass drum, a 12-inch snare drum, three toms (8, 10 & 13 inches in diameter) and all the mounting hardware to go with it.
The hihats and cymbal are both 10 inches. This is quite small for such cymbals but perfectly suitable for younger smaller players.
Image credit: Ludwig Check Price on Amazon

Smaller sizes will suit children.
Available in different colors.
Drum stool/throne included.

May be out of some parents' budgets.
This drum kit looks great and even comes in a selection of colors. It's an ideal drum kit for a 3-year old and upwards. All you'll need is a suitable pair of drumsticks to get playing instantly. The size of this drum set means that it won't take up much space at home so could easily fit in the corner of a child's room. Not the cheapest junior drum set but a considerable one.
3. Gammon 5-Piece Full-Size
If you're looking for a low cost drum set which is ideally suited to beginners and starters, then the Gammon Percussion 5-piece might be for you.
The most notable thing about this drum set is the low price. It can be purchased for under $300, which is extremely cheap for a starter drum kit. For the money you get a full 5-piece drum set with cymbals, drums, hardware, a stool and even a pair of drumsticks.
This 5-piece drum set consists of a snare drum, a bass drum, two mounted toms and a floor tom. Being an adult kit, all drums are full size. The bass drum is 22 inches and the snare is 14 inches in diameter. The three toms are 12 inches, 13 inches and 16 inches in diameter. Each drum comes with two drum heads on the top and bottom, which can be tuned and adjusted for tone and feel.
The two smaller toms are mounted with hardware to the bass drum. The can be angled as well as either raised and lowered to suit your playing style and reach.
There are memory locks on the mounting hardware which can be tightened into place to save your preferred positions. This is very useful when dismantling and setting up the drum set as it means you can easily find your preferred playing heights and angles.
Included in the Gammon Percussion bundle is a bass drum pedal. This is a single pedal and connects to the base of the bass drum. There is also a hi-hat stand which holds the hi-hat cymbals. The top hi-hat cymbal is secured to the stand rod by way of a hi-hat clutch. This allows the cymbals to be played by way of the foot pedal.
The hi-hat cymbals themselves are only 12 inches in diameter, which is a little on the small side. The typical size of a pair of hi-hats is 14 inches. If you're planning on learning the instrument, this is not a big issue, and in time the hi-hats can be swapped out for a better quality pair.
Cymbal-wise, in addition to the hi-hat is a crash/ride cymbal. This cymbal is 14 inches in diameter. The quality of this cymbal is not great, but, just as with the hi-hats, it's good enough for a person starting out on the instrument.
Image credit: Gammon Percussion Check Price on Amazon

Affordable.
Comes with everything you need to get playing right away.
You shouldn't lose much if you go to resell it.

Quality of drum shells is not the best.
Factory drum heads will need replacing.
Cymbals are quite small and light.
The overall sound of the drum kit is what you would expect from a drum kit under 300 dollars. The factory drum heads are lacking in quality and will likely need to be upgraded after time and abuse. The nature of drumheads is that they need to be replaced every now and then, so this is not a major criticism.
All in all, this is a good budget or entry-level drum kit and it's one of the most inexpensive adult 5-piece drum kits out there.
4. Rise by Sawtooth Full-Size
This is another cheap and affordable drum kit which is aimed at beginner adults. There are five drums, a hi-hat, crash/ride, bass drum and hi-hat pedal, hardware, drumsticks and even a drum key for tuning thrown into the bargain. This kit is usually around the $300 mark online and in stores, but bear in mind that you may also have to fork out for shipping costs.
This 5-piece drum set comes in three cool colors: red sparkle, blue sparkle or pitch black. The drums are all full size, so that means you get a standard 14-inch snare drum. This rests upon a sleek black snare drum stand. In fact, all of the hardware and stands that come with the Sawtooth are black. The color here really compliments the drum hoops, which also have a pitch black finish.
The two rack toms sit on the bass drum mounts and have memory locks to save position placement. They are 12 and 13 inches in size and are quite deep at 8 and 9 inches respectively. The floor tom is 16 by 16 inches. Overall the drums on this set are deeper than many competitors.
Image credit: Sawtooth Check Price on Amazon

Full-size and suitable for adults.
Throne, sticks and pedal included.
Deep drum sizes.

Cheap sounding drum heads.
There is a 14-inch set of hi-hats as well as a 16-inch crash/ride cymbal included in the Sawtooth bundle. They're not the greatest sounding cymbals ever produced but that is to be expected with a $300 drum kit. For the money this is really quite good value and you won't find many cheaper acoustic drum sets of this size and build.
5. PDP Player 5-Piece Junior
If you have a little more cash to spend you might want to consider the PDP Player junior drum set. This is a 5-piece drum kit with a hi-hat and crash cymbal and retails for under $400.
The drums and cymbals are all smaller than a regular full-size set. The snare is 12 inches in diameter and 5 inches in depth. This is a smaller diameter than regular snares which are typically 14 inches. The smaller size can make it easier for younger drummers to play on especially when it comes to using smaller sized drumsticks.
The bass drum is 18 inches in diameter and 14 inches in depth. This makes it one of the largest popular junior drum sets out there. 18 inches is a good size for a junior drum set as it is easily playable yet you don't sacrifice much in the sound department. It's still possible to get a nice full sound from a smaller 18-inch bass drum. Many professional drummers use bass drums of this size.
The toms are 8, 10 and 12 inches in diameter. The two smaller toms are mounted to the bass drum and the 12-inch floor tom is mounted on three adjustable legs. All drums can be tuned and tensioned with a standard drum key.
Image credit: PDP Check Price on Sweetwater

Larger size drums make for more longevity.
Solid build.

No drum stool/throne included.
The PDP Player 5-piece is a nice junior starter kit. It has everything you need, well almost – there is no throne included in the pack. The larger drum sizes mean that this kit can adapt with the age of the player. Typically this kit is aimed at players from 3 years old to 7 years old but really, depending on the size of the child, it could suit older still.
6. GP Percussion GP55 Junior
GP Percussion are perhaps not the most widely recognized drum brands around but with the GP55 they have created one of the best value entry-level drum sets.
This 5-piece junior drum set has cymbals, a drum stool, pedals, hardware, sticks and a drum key. It would ideally suit a small child from the ages of 3 to 8 years old.
Image credit: GP Percussion Check Price on Amazon

Good value.
Full package including sticks and drum key.

Cheap sounding cymbals.
Very small hi-hats.
The GP Percussion GP55 junior drum set is ideal for parents that want all you need to get started on the drums. It won't break the bank, price-wise, and should serve your child for a few years with proper care.
7. Gammon 5-Piece Junior
The Gammon 5-piece junior is the cheapest drum set on our list. It retails at around $170 which is very cheap indeed. For this you get a compact 5-piece drum kit with cymbals, a throne, pedals, hardware and drumsticks. This is a convenient one-stop-shop if you're looking to get a son or daughter into the world of drumming.
Image credit: Gammon Percussion Check Price on Amazon

Inexpensive.
Lightweight and small.
Suits small children.

Cymbal stand mounted to bass drum.
Child may grow out of it soon.
This is a cheap and cheerful solution if you need a basic drum set. It's perfectly playable although it would definitely suit a smaller and less experienced child over a child with some knowledge of drumming. In the latter case, he or she may grow out of it rather quickly.
Conclusion
We hope that this article has shed some light on some of the great deals out there when it comes to finding the cheapest acoustic drum sets for both adults and kids alike. We've included the best drum sets for beginners of all ages and all price ranges, under $500.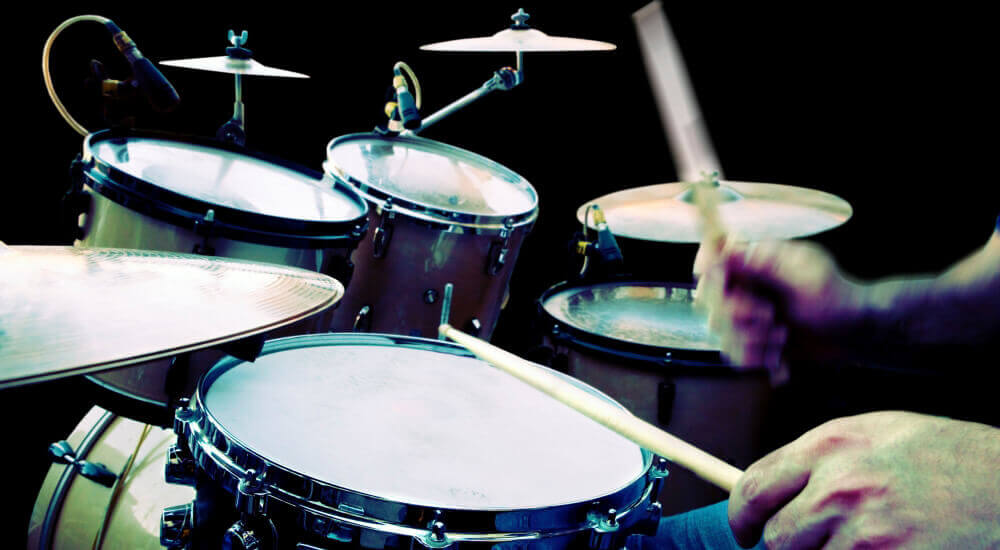 One of the most important things to take into account is the size of the drum kit. When buying for a small child it's important that you buy a drum set which they can easily play. In most cases once a child gets past the age of 10 they are usually able to play on full-size drum sets.
Take time to weigh up the pros and cons and choose the drum set that suits your needs best.