In this article we will discuss some of the best junior drum sets for kids. The list will include drum kits which are suitable for children from the age of 2-years old to 10-years old.
As children vary in size it is impossible to accurately suggest drum kits based on their age alone. One 5-year old boy could feasibly be tall enough to comfortably play on a drum set which is typical for 6 to 9-year olds.
It's better to consider the kits listed below and decide then which drum kit is a suitable fit. Use your own discretion when making a final decision and pay close attention to things such as drum sizes and drum stool heights.
Most hardware that comes with a drum set can be adjusted to suit children of all ages, although when it comes to adult kits, they are not quite as flexible and will have their limitations as to what size child can play on them.
Read on and get a better understanding of the world of junior drum sets.
Here are the best junior drum sets for kids 2023:
1. Gammon 5-Piece Junior Drum Kit
This Gammon 5-piece drum kit is ideally suited to beginner drummers of most ages from around 3-years old to 6-years old. It has some realistic features that you would associate with proper full-size drum kits so it's perfect for a budding drummer to get to grips on.
The drum set comes with five drums. These are a bass drum, a snare drum, a floor tom and two high toms. When it comes to the cymbals, there is one crash/ride cymbal and a set of hihats.
Looking at the hardware and there is also a hihat stand and a bass drum pedal. There's a small stand to mount the snare on. This stand can be raised or lowered and angled also. The crash cymbal sits upon a stand which is mounted directly on the bass drum. The whole setup is quite compact.
The bass drum size is 16 inches, which is small but not unheard of in adult-sized drum kits. The smaller drum sizes helps to keep the space needed down to a minimum. Also included in the package deal is a drum stool which is adjustable for different heights.
The kit is available in either black, blue or pink so you can tailor the color to your boy or girl's preference. There's also a junior set of drumsticks included which means the kit is ready to play out of the box.
Price-wise this kit is a great deal. It's under $200 which is good value for a kit of this standard. You can get smaller drum kits than the Gammon 5-piece but they tend to miss out on playability and some of the more advanced features.
A small child could very definitely learn the basics of drumming coordination on this drum set and it's adjustable enough to last over several years of growth.
Image credit: Gammon Percussion Check Price on Amazon

Good value.
Playable.
Comes with everything you need to get started.

Smaller drum and cymbal sizes don't sound great.
The Gammon 5-piece junior drum set is a good starter kit for a small child either side of 5-years old. It's one of the best drum kits for kids to learn on as it comes with everything you need to begin playing the drums.
The sounds are a little basic due to the quality of drum head and the drum build, but if this is the first kit that you're purchasing for a child, then that should not be an issue. They will be more concerned about learning to play the basics rather than perfecting their drum sound.
For sheer value for money, the Gammon 5-piece is the top-rated kids' drum kit on our list.
2. PDP Player 5-Piece Junior Drum Set
As you may have noticed, just like kids, junior drum sets come in all sizes. Unfortunately, it's not a one-size-fits-all situation. This PDP drum kit caters to larger boys and girls, possibly in the age bracket of 4-years old to 7-years old.
What makes this drum kit different to the Gammon 5-piece is not just the price. Yes, this drum kit is over twice the price of the Gammon 5-piece but it has a lot to show for it. All in all this is a much more stable drum kit. It's made of a better build quality and feels sturdier to play on.
There are larger drum sizes on the PDP Player too. The bass drum on this drum kit is 18 inches in diameter. It's fully adjustable with 6 lugs on either side of the drum. You can easily tune and replace the heads with drum key.
The snare drum is 12 inches in diameter. This is just 2 inches under the size of a regular full-sized snare drum. Like the bass drum, the snare can be tuned with the attached lugs. It sits upon a chrome snare stand which has adjustments for height and angle.
The two front toms are mounted to the bass drum. These bass drum mounts can be removed for transporting and are fully adjustable for height and angle. This is important when setting your kit up for kids of differing sizes. The floor tom has the traditional design of having three adjustable legs.
The PDP Player comes with a straight cymbal stand. This stand has two points where it can be adjusted for height. You can also angle the top mount to make playing the cymbal easier. The hihat stand is of good quality and is chain driven for extra reliability.
Image credit: PDP Check Price on Sweetwater

18-inch bass drum.
12-inch snare.
Sturdy.

Could do with another cymbal and stand.
PDP are a well-known brand when it comes to making drums. They are an off-shoot of the hugely popular manufacturer DW, which is regarded as one of the best drum brands out there today.
With the Player 5-piece, PDP have produced a drum kit which is reliable, playable and looks great too. The versatility of this drum set means that it could potentially cater to kids of 2 or 3-years old all the way up to 8-years old.
3. Alesis CompactKit 4
If you're short on space around the house and would ideally like to keep the noise down to a minimum, it may be worth looking at a digital electronic drum kit.
This best-selling tabletop drum kit by Alesis is small and portable and can be used with headphones. The benefits of this are many. Children can play away for hours in practically any room of the house without a lot of fuss.
The Alesis CompactKit 4 is a popular drum set with 70 different percussion and drum sounds. There is also a selection of 10 different effects and 50 play-along songs. These songs are good fun to play along with and they range in style from rock to pop to blues and jazz and more.
Using headphones with the Alesis CompactKit 4 is easily done. There is an input port which is optional for headphones or alternatively you can plug into an external speaker. If you want a little more volume the CompactKit 4 can be plugged into a home stereo system, personal monitor or P.A. system.
Included on board the CompactKit 4 are some useful coaching functions. These functions help to hone a drummer's skill as they learn the instrument. There are timing and accuracy functions as well as a metronome.
Image credit: Alesis Check Price on Amazon

Suits all ages.
Not a huge commitment financially.
Portable and takes batteries or a power supply.
Can be used with headphones for silent practice.
Perfect for playing along with songs.
Good quality build.

Not as much fun as a real acoustic drum kit.
Pads are quite small.
The Alesis CompactKit 4 really excels as a practice tool when playing along with favorite songs. You can easily adjust the output volume to match the song audio and jam along.
It's a little small and you must take into account the child's interests before purchasing a tabletop drum kit like this one. If your child really likes the physical activity of drumming over the musical side, then perhaps a tabletop set might not be the right solution.
Lots of kids see drummers playing their instrument and are amazed at the size of the kit and all the little details, such as different drums and cymbals.
Other kids are more musically minded and to them the size or shape does not matter as much when starting off. They are more concerned with playing beats and learning coordination. Be sure to take this into consideration as you make your decision.
4. Ludwig 5-Piece Junior Drum Set
Ludwig are one of the biggest names in drum manufacturing. They have been making drums for decades and decades and have a reputation for building some of the best drums around. With their 5-piece junior drum set, they have created a formidable little kit which will be music to the ears of many a budding young drummer.
This drum kit comes with 5 drums, a cymbal and a set of hihats. The build of this kit is of a higher quality than the Gammon 5-piece at number one on our list, although this drum kit is almost twice the price. It's currently around $300 online and in most stores.
For this you get a 16-inch bass drum, a 12 inch snare, and three toms. There's an 8-inch tom, a 10-inch tom and a 13-inch floor tom. The floor tom is mounted on three legs which can be adjusted for height and angle.
Image credit: Ludwig Check Price on Amazon

Better build quality than the Gammon 5-piece.
Larger snare drum.
Standalone cymbal stand.

Price.
Small cymbal sizes.
The Ludwig 5-piece junior drum set is a great starter kit for kids from about 4-years old to 6-years old and upwards, depending on the child's height.
It's well-built which means it should last a few years. There is everything you need to get started, barring a pair of drumsticks. There's a drum stool which can be adjusted in height, and a bass drum pedal which connects to play the bass drum.
The drums are fully tuneable so if you want to change the sound you can so with a standard drum key. Replacing drum heads is easily done in the same manner – simply loosen the lugs, take off the drum heads and replace them with new heads.
All stands are adjustable, so you can reposition the drums and cymbals for different sizes of players. It's available in different colors, such as blue and red and looks stunning when fully setup.
The cymbals on this junior drum kit are quite small at 10 inches in diameter. This is a good size cymbal for smaller children and if, in time, it's necessary to upgrade, you can purchase larger cymbals which will fit the stands.
5. Paxcess 'Roll-up' Drum Kit
So, perhaps you want to introduce your child to drumming but are not sure if they will take to it. This is a common dilemma for parents all over the world. Thankfully, with drums it is possible to learn the instrument without needing to play on a full-size drum kit. The Paxcess roll-up drum set is far from a full-size drum kit.
This inexpensive drum kit literally rolls out so that you can play it. It consists of trigger pads which can be played with drumsticks. There is a drum 'brain' attached to the drum mat and it is this brain which provides the sound features.
There are a total of 7 pads which control the snare, toms, cymbals and hihat. Also there are two connecting pedals which control the bass drum and the hihat open and close positions.
Sound-wise there are 5 different timbres to choose from as well as 8 playalong songs. The Paxcess is an ideal entry-level or starter drum kit.
It has a built-in speaker which provides the sound, although you can also choose to listen using the output port on the drum brain. Headphones are easily connected for silent practice or else you can choose to plug into a powered speaker or stereo system.
A nice benefit of the Paxcess roll-up kit is that it is also compatible with many of the popular music performance games that are on the market. There are many musical performance games on the market such as 'Drum Hero' and 'Guitar Hero'. With the Paxcess you can use the pads as a controller device.
There is a standard 5-pin MIDI out on the drum module which allows you to connect to computers and other devices. It's possible also to record and track drums with the Paxcess roll-up kit. You just need to enable the instrument as a controller in your digital audio workstation.
Image credit: Paxcess Check Price on Amazon

Has 7 different pads and 2 foot pedals.
Compatible with computer music games.
Extremely portable.
A cheap introductory option.

Lacks realism.
Drum sounds are not the best.
Suspect durability with heavy hitters.
This roll-up drum set will suit small children and boys or girls who are interested in learning the drums. From a parent's point of view, the benefits are many. The low price of this drum set means it's not a huge outlay of cash to determine whether or not the child has a long term interest or aptitude for drumming.
While this kit is cheaper than the previously mentioned Alesis CompactKit 4, it does have more playable pads than the CompactKit 4. It's cheaper although it falls down when it comes to the quality of sounds on the module itself. Still, it's certainly a convenient and affordable junior drum kit which will get many familiar with the instrument.
Conclusion
Whether you're looking for the best drum set for kids or the top-rated entry-level drum kit, this article has explained what to look out for and what to avoid.
Pay particular attention to what the child you are buying for really likes about drumming. They may be happy with a tabletop drum set or they might insist on having real acoustic drums to bang on.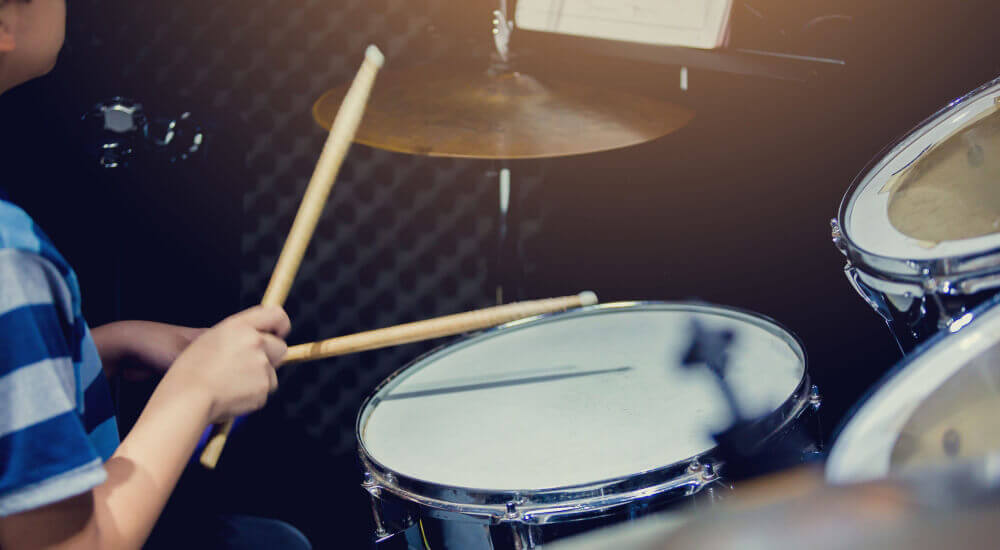 Practically everybody likes to sit down and have a bash on the drums and kids are no different. The first few days they might do nothing but make noise and have fun bashing on the drums. It's only after a time that most young drummers start to pay attention to beats and fills on the instrument.
It's a good idea to then to introduce them to the concept of drum beats and perhaps think about sending them for lessons with a trained instructor. A good instructor will coach the child as well as introducing them to all the terms associated with music and the drums.
There are many factors to be aware of when purchasing a junior drum set. Children's drum sets are naturally much smaller than adult drum kits. They're cheaper and generally not really as built to last.
In this article we have highlighted some of the most reliable and best kids drum sets that are available to purchase online and in stores. The nature of drumming means that it pays to buy a drum set which will hold up to the everyday pounding of a budding drummer.
A good rule of thumb is to have the child play on another drum set just to see how they like it. This is a good way to observe what appeals to them. You can then assess whether or not to go with a full acoustic junior drum set or something a little smaller like one of the electronic options.
Take your time and have fun!