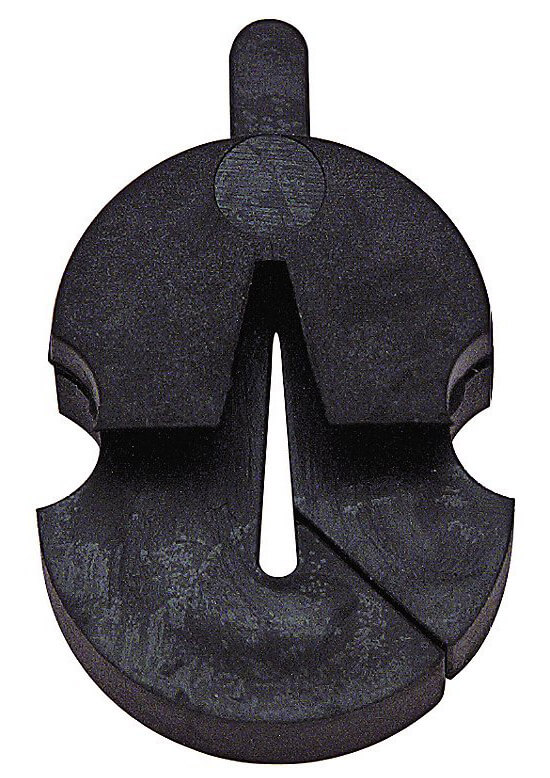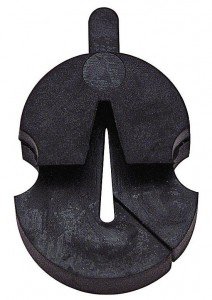 A violin mute is a small and relatively inexpensive accessory that you attach to the bridge of the violin.
Usually it is a small piece of rubber, but anything that dampens the vibrations of the bridge will work.
As the name implies, a mute dampens the intensity of the sound of a violin. However, the size and material of the mute can have a considerable effect on the sound or timbre of your instrument.
Many composers use violin mutes in their compositions. For example, all string players have mutes at the beginning of the Overture to Romeo and Juliet by Prokofiev. You can listen to it here:
httpv://www.youtube.com/watch?v=xgUI1J3_qyQ
Another great Prokofiev piece that uses the violin mute is his Violin Concerto No. 2. Oistrakh does not play with a mute at the start of the first movement, but he places one on his bridge around 6:15 into the recording below. Notice the big difference in his sound!
httpv://www.youtube.com/watch?v=AKfMA_Vctu8
There are several things you must consider when choosing a mute:
Ease of use; how quickly can you slide the mute in place or remove it from your bridge?
Sound quality; does the mute you use adversely affect the quality of sound of your instrument? If so, you may need to find a different mute!
Aesthetics; do you like the look and feel of the mute? Although this is obviously not the most important thing to consider, if you are comfortable with your instrument and accessories it can show in your playing!
Check out the several types of mutes that are outlined below online or at your local violin store. Many of these mutes also work on a viola, or come in slightly larger sizes to fit a viola bridge.
Tourte Shaped Violin/Viola Mute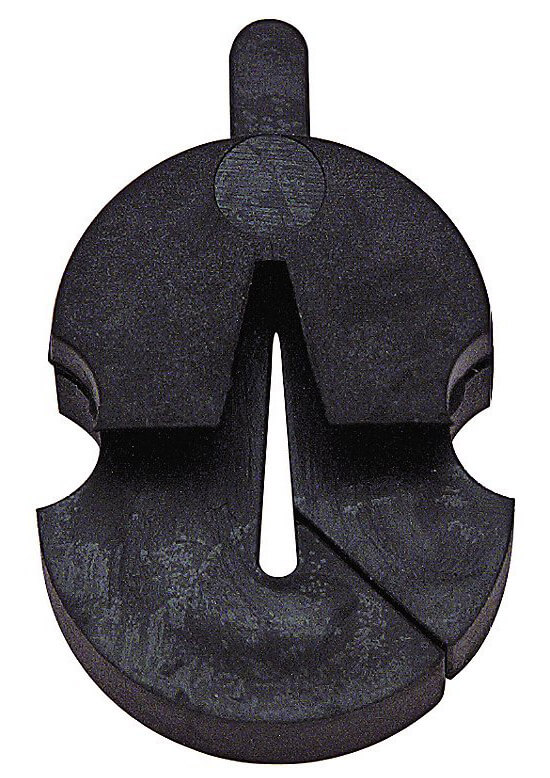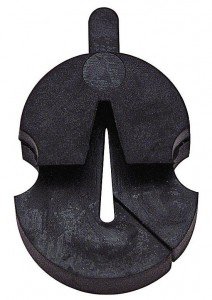 This is a popular mute for solo and orchestral playing. It is made out of black rubber that will not damage your strings.
The small nub on the top makes it easy to place and remove from the bridge.
When not in use, you can leave it on your instrument, hooked onto the A or D string.
Due to its size and shape, this mute does not dampen the sound of your instrument as much as some of the models below.
Tourte Round Violin Mute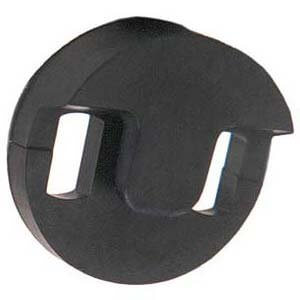 This mute and the mute above are the most popular violin mutes.
The Round Violin Mute is also made out of black rubber that will not damage your strings.
This model is often used in orchestra because it is small and easy to slide into place. Like the mute above, when not in use, you can leave it on your instrument between the A and D strings.
Due to its size and shape, this mute does not dampen the sound of your instrument as much as some of the models below.
Ultra Violin Practice Mute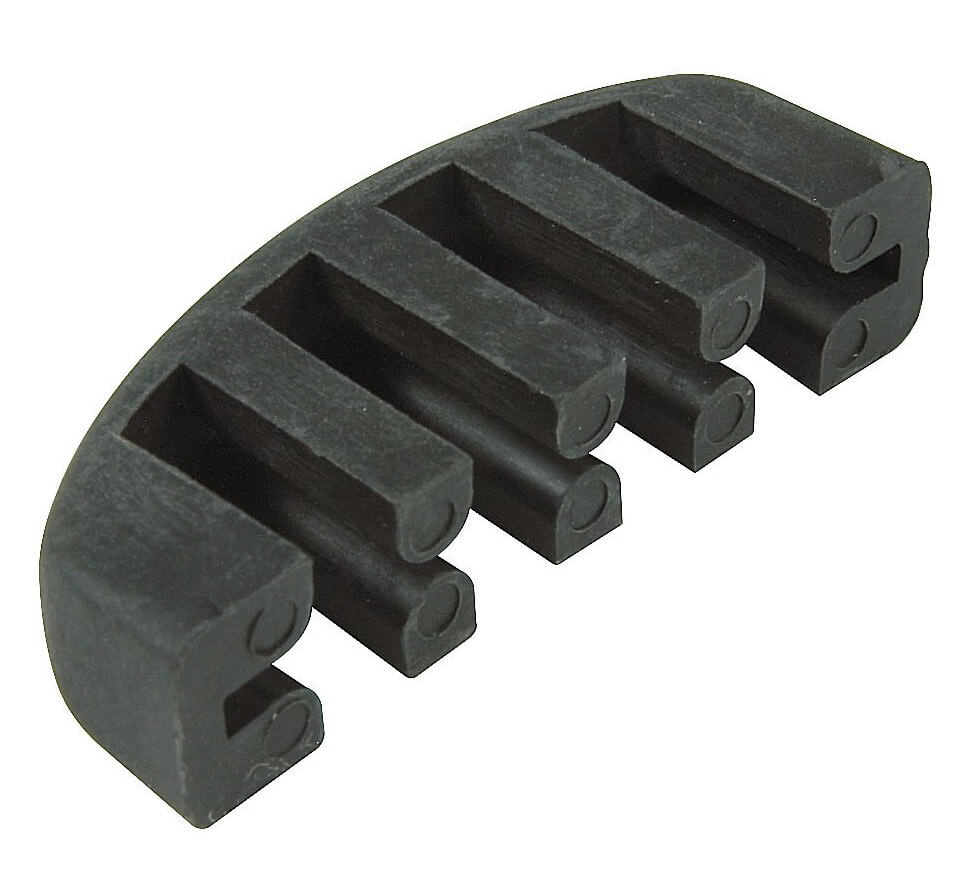 This is a tough and heavy-duty mute that will dampen the sound of your instrument considerably.
Many people use this as a practice mute in an apartment or a practice room when they do not want to disturb other people around them.
The mute is made out of black rubber, but instead of hooking onto the strings, it fits entirely over the bridge.
This means, however, that you cannot keep the Ultra mute on your violin when it is not engaged. Because it dampens the sound so much and is not very easy to use in a performance setting, this mute is less of an artistic choice than a choice made out of necessity when you cannot make a lot of noise practicing!
This video shows the sound differences between the Tourte and Ultra violin mutes. They also show you how to put common types of mutes on your violin:
httpv://www.youtube.com/watch?v=637ttC5hwTo
Metal Violin Practice Mute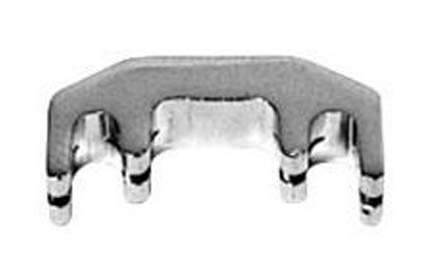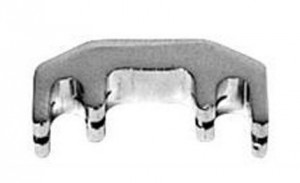 This mute works in the same way as the Ultra Violin Practice Mute above. The difference, however, is in the tone.
Since the metal (usually chrome-plated brass) is very heavy compared to a rubber mute, you can get a very muted sound. This mute still keeps a clear tone.
This is the best mute for you if you do not want to disturb your neighbours while you practice, but you still want to sound nice.
Wire Slide-On Violin Mute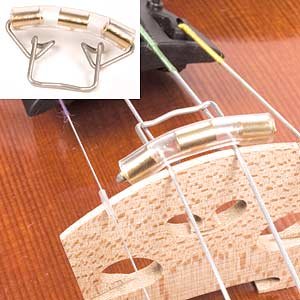 This is another mute that slides up to the bridge, like the Tourte models.
Unlike the over-the-bridge models, this mute only dampens the sound a little, making it ideal for muting in an orchestra or solo setting.
Because it works with a spring mechanism, you have to be careful not to damage your strings if you engage it too aggressively.
Finissima Violin Mute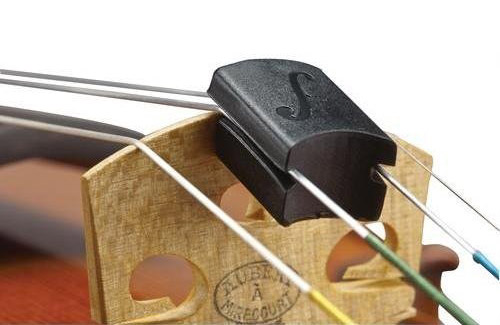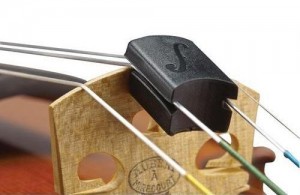 If you are interested in experimenting with different tones, this may be a mute for you.
This mute slides easily up to the bridge and can be left on the violin when not in use, making it ideal for orchestral playing.
Since the mute only puts pressure on the top of the bridge, it does not mute a lot of overtones that are necessary for a beautiful, violinistic sound.
Issac Stern highly recommends this mute. As he stated in 1997:
"I have enormous enthusiam for the Finissima Artist Mute. Since putting it on my own violin the afternoon it was shown to me, I have not removed it and it will remain a permanent part of my accessories for performance.
It is an extraordinarily wonderful development for all string players, in particular every orchestral string player. The quality of its muted sound is much better than any other that has been developed to this point. And its ease, speed and comfort make it the most natural concomitant to good music making that I have seen.
I heartily endorse this mute for any performer that has respect for his own work."
 (www.cremonatools.com)
Whichever model you choose; know that every violinist should have at least one mute. Mutes are especially important if you are playing—or planning to play—in an orchestra.
In fact, you could make many friends by putting a few extra mutes in your violin case; mutes are one of those things that tend to get easily misplaced!