Are you overwhelmed by the amount of different rosins out there? We have created this list of the top 7 cello rosin brands, based on quality and affordability, to help you make the best choice for your instrument.
What is Rosin and how does it work?
Rosin, which is applied to the horsehair on your bow, is a very important accessory for producing sound from your cello. Rosin is made out of a resin that is gathered from pine trees or other conifers. Over a lengthy process, the resin is then distilled and hardened into cakes.
The way that rosin works is all physics—literally! Rosin makes the hair of the bow stickier so that there is enough friction to cause the string to vibrate. If you ever try to play your cello without enough rosin on your bow, it won't produce a lot of sound, so it is very important to always have rosin in your case.
Types of Rosin
There are many different types of rosins because of the amazing variety of pine trees we have on this earth. Additions like metal flakes, as well as the way the resin is processed create an almost infinite amount of possibilities.
Certain types of rosin are better for the cello. While violinists and violists generally us a lighter, harder rosin, cellists prefer a medium-strength darker rosin. On the furthest end of the spectrum, bassists typically use the softest and darkest rosin.
You must also consider what type of strings you have because certain types of rosin react better with different core materials. If you have steel or other metal-cored strings, you might want to consider a harder and/or drier rosin. A softer rosin will generally react better with your instrument if you play on gut or synthetic strings.
Several rosin manufacturers like Pirastro and Larica add metal flecks, such as gold, silver, and copper to the rosin. These small bits of metal can affect the clarity of the tone by increasing the static friction between the bow and strings.
Another things to consider is the climate. If you live in a dry climate, you should pick a softer rosin. Softer rosins tend to be too sticky in humid climates, so if that is the case for you, pick a harder rosin. Some people even switch rosins as the seasons change it can make that much of a difference!
Certain companies like Pirastro and D'Addario also make and brand their rosins specifically for the strings they manufacture. Pirastro names the majority of their rosins after their violin, viola, and cello strings. This can simplify your task of finding a suitable rosin, because if you play on Pirastro strings, you can always find the rosin that best matches your strings!
Though a good quality set of strings can make a bigger difference to your tone, it is a good idea to find a rosin that will bring out the best qualities in your strings. To help you, we've listed the top 7 producers of rosin and what strings they are most suited for.
1. Pirastro
Pirastro is not only the top producer of strings, they are one of the top producers of rosin, and so they certainly deserve the top spot on our list! Pirastro names their rosin lines based on the strings that they suit. As well, the majorit of their rosins are suited for the cello along with the violin and viola. This is Pirastro's selection for cello:
Pirastro rosin on a scale of hardest to softest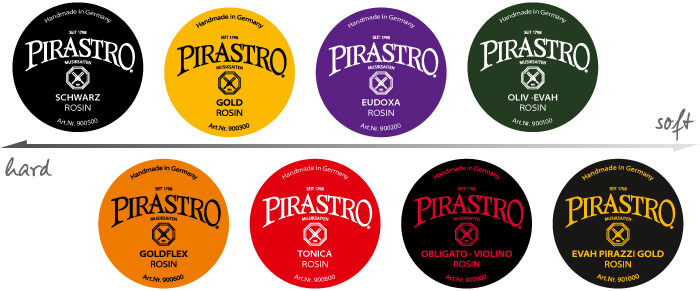 Evah Pirazzi Gold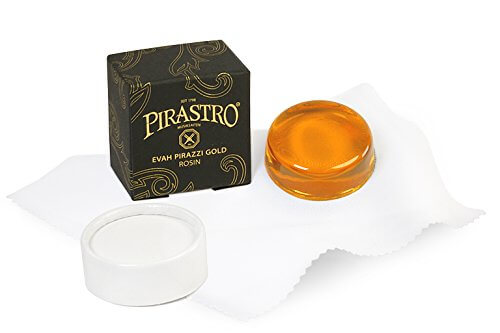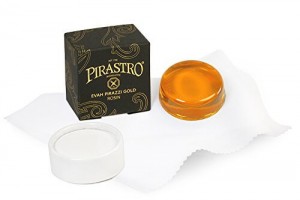 The Evah Pirazzi Gold rosin is light and soft and was created to be paired with the Pirastro string set of the same name. The Evah Pirazzi Gold is softer than many rosins and as a result, does not produce as much dust. Pirastro recommends that you only use it sparingly on your bow. Moderately priced, Evah Pirazzi Gold rosin works for violin, viola, and cello.
Oliv/Evah Pirazzi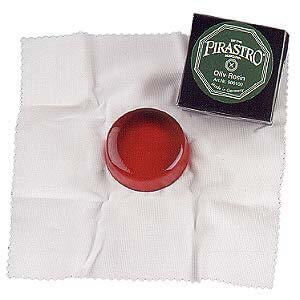 Matching Pirastro's Oliv strings in sound and colour, this olive-coloured rosin grips strings to produce a clear and articulate tone. Comparable in price to the Evah Pirazzi Gold rosin, the Oliv/Evah Pirazzi rosin works well with both Oliv strings and Evah Pirazzi regular strings. This means that the Oliv/Evah Pirazzi rosin is compatible with both synthetic and gut strings. As well, you can use it for violin, viola, or cello.
Obligato/Violino
The Obligato/Violino rosin pairs Pirastro's Obligato or Violino strings. It is darker in colour and works well with synthetic strings with a lower tension. This rosin can be used with the violin, viola, or cello.
Tonica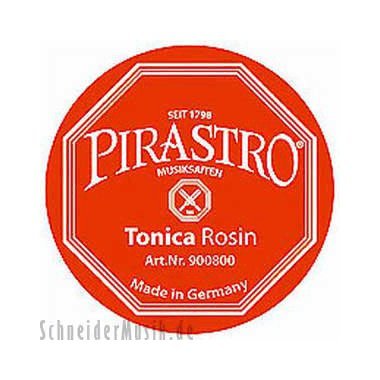 The Tonica rosin is an affordable alternative if you are in the market for a medium-hardness rosin. It is suited for Pirastro's Tonica strings on violin, viola, and cello.
Gold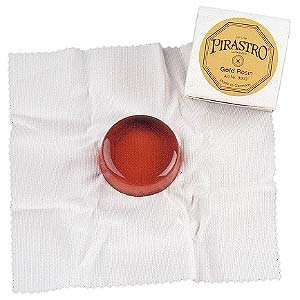 Similar to the Tonica, Pirastro's Gold rosin is a medium-harness rosin that works well with gut strings on violin, viola, and cello.
Schwarz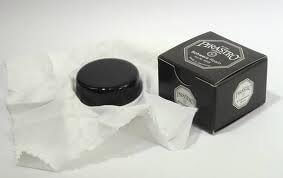 Pirastro's Schwarz is a hard and dark rosin that is suited for steel strings on violin, viola, or cello.
Goldflex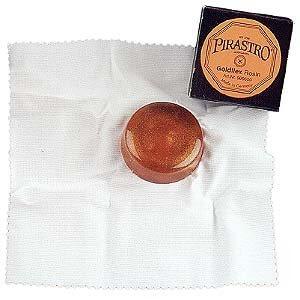 Goldflex is one of Pirastro's most popular lines of rosin, and it matches well with many of their strings. Goldflex, as the name suggests, has flecks of gold right in the cake of rosin itself. These flakes of gold create a stronger friction between the strings and the bow, and allow for a fast and smooth grip. Goldflex is reasonably hard, so it creates a brighter and clearer tone on violin, viola, or cello.
Cello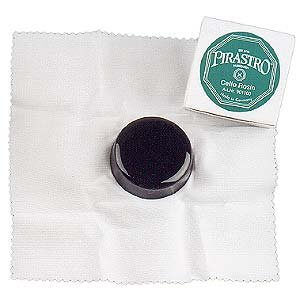 The Cello rosin is one of two rosins that Pirastro makes that is specifically for the cello. The Cello is dark amber in colour, and slightly harder than many rosins made specifically for the cello. The Cello will bring out a smoother, more mellow sound from your cello.
Cellisto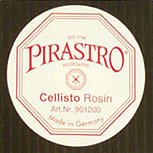 Another rosin by Pirastro made specifically for the cello, Cellisto will bring out the brighter side of your instrument.
2. Andrea
Andrea Rosin, formerly known as Tartini Rosin, is a superior rosin that is acknowledged all around the world. Made in Italy, Andrea rosin comes in three styles: Solo, Orchestra, and A Piacere, each specifically made for the violin, viola, or cello. Though Andrea is slightly more expensive than Pirastro, it is generally of higher quality, and many people are on waiting lists to purchase it.
Cello Solo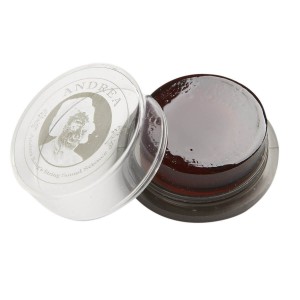 The Cello Solo rosin will bring out powerful tones from your instrument for soloistic playing, with an emphasis on clarity over complexity.
Cello "A Piacere"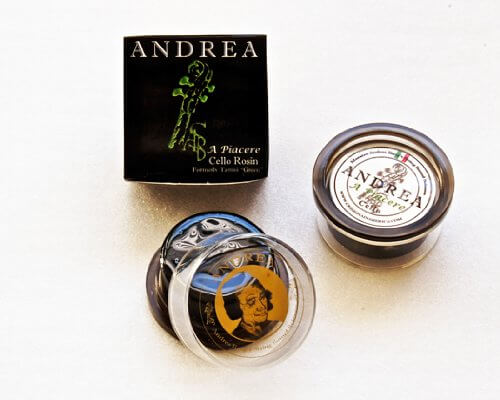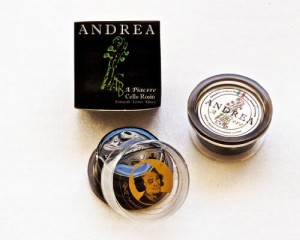 Andrea's Cello "A Piacere" is their top quality rosin and is suitable for solo and ensemble playing.
3. Kaplan/D'Addario
Premium Rosin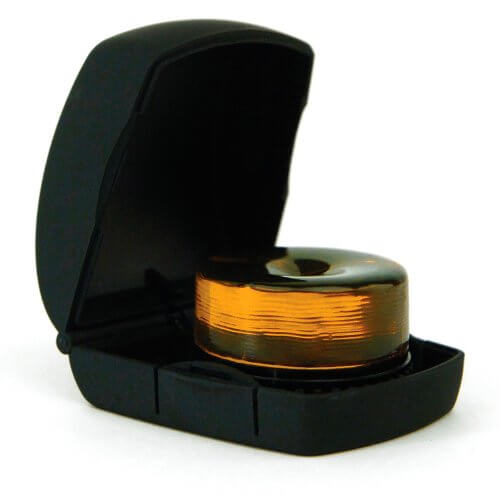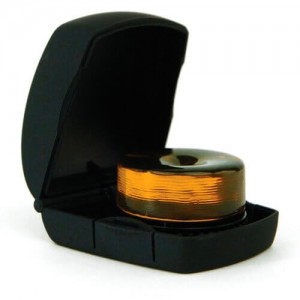 Made by D'Addario, Kaplan's premium rosin is available in light or dark. It is suited for D'Addario strings, especially Helicore strings. Their premium rosin does not produce a lot of dust, and produces a clear, crisp tone. Kaplan rosin comes in a conveniently designed package that can be opened and applied to the bow with one hand. You can use Kaplan light or dark rosin on violin, viola, and cello.
4. Larica
Larica is a high quality rosin company that uses metal in all of their rosins. Different metals in a rosin can produce different qualities in the cello. Most performers prefer gold, which tends to bring out a warmer and more complex tone. Larica Gold Rosin works well with all strings, especially synthetic and gut strings.
Table of Larica Metal Rosins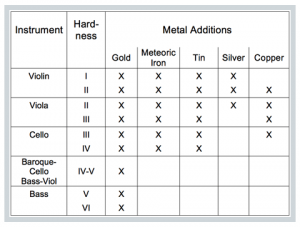 Larica III Gold
Larica III is a harder rosin for the cello, making it sound brilliant with a clear attack. It can also serve as a softer rosin for the viola, making it sound full and warm.
Larica IV Gold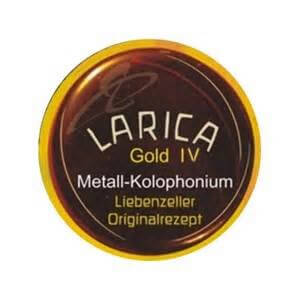 Larica IV is a softer rosin for the cello, bringing out the warmth and complexity of the instrument.
5. Clarity Hypoallergenic by Super-Sensitive
Sometimes you're not so worried about the aesthetic qualities of a rosin, but whether it will make you sneeze while you're playing! (That would certainly ruin the mood!)
Clarity Hypoallergenic is for people who are sensitive to traditional rosins. Super-Sensitive makes a synthetic hydrocarbon resin that produces a great sound without aggravating your other senses.
Clarity comes in two levels of harness, the softer of which is more suited for cello.
Clarity Cello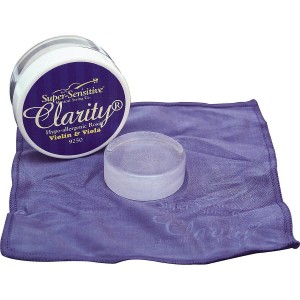 6. Bernardel
Bernardel is made from the formula created by French violin maker Gustave Bernardel at the beginning of the twentieth century. Today, it is is still a popular and affordable choice for cellists.
This secret original recipe produces a medium light rosin that is appropriate for violin, viola, and cello. Bernardel is great for beginner cellists who do not want to pay for expensive rosin.
Original recipe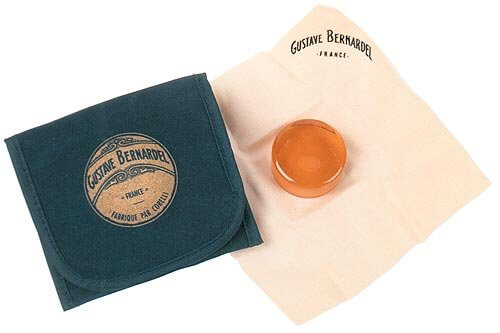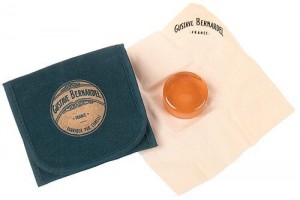 7. W. E. Hill and Sons
W. E. Hill and Sons, or Hill for short, rounds out our top 7 list as one of the most popular rosins. It is hard to beat Hill's quality and affordability. As such, they have become the industry standard for rosin. Hill rosin comes in light or dark, and the dark is more suited for the cello.
Light rosin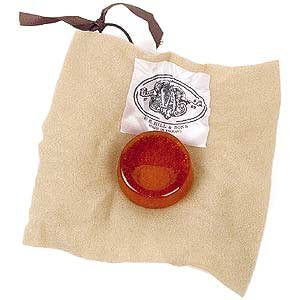 Dark rosin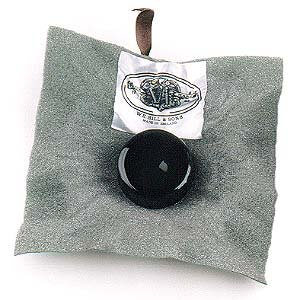 Happy playing!