If you are considering taking up violin lessons for yourself or your children, check out our top 10 best things about playing the violin and you will not look back.
1.You can impress your friends
If you have always been the wallflower that feels a little awkward taking centre stage, learn to play the violin and you will see your popularity soar. Never again will you take a back seat when it is time to share party tricks at the next family get together.
Children that learn to play will delight in showing off to friends and are sure to make many more along their musical journey.
2.You can gain a sense of achievement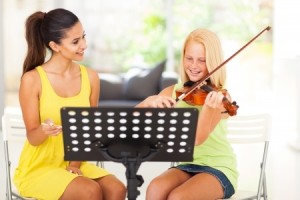 If every new year starts with a list of things that you say you will do but never get around to it, make this year different.
Learning to play a musical instrument is often on many peoples things to achieve before they die and you really can make your dreams a reality.
Encouraging your children to learn violin can help them gain their own sense of achievement and will inevitably boost their confidence.
3.Improved Memory
Playing the violin means that you will need to take in a lot of information in a short space of time. Once you have learned the basics, there are intricate chords and stops to get to grips with and a lot of repetition as you rehearse. The ability memorise music will transfer into other areas, with improvements seen in other areas of your life as well as your violin playing.
4. Better posture
Slouching is out of the equation when it comes to playing the violin. In order to get the most out of your violin playing, you will need to stand/sit up straight and hold your violin in the best position possible. Not only will a good posture improve your play, it will alleviate the chances of getting back, neck and shoulder pain.
The posture that you adopt when playing the violin will come second nature to you and you will soon start adopting a better posture in all areas of your life.
5.Increased dexterity
As you learn to play difficult songs on the violin, you will feel the fingers on your hand strain to reach certain strings whilst the other hand controls the bow. This continuous need to co-ordinate and stretch will lead to an overall improvement in the movement of your hands and fingers.
Whilst this may not be a huge benefit if you are learning as an adult but if children are learning, it can support the development fine motor skills
6.A better social life
Fed up of staying in and doing the same old thing all night? Worried that your child does not have too many friends? start violin lessons and you will soon be mixing with like minded people as you attend lessons, rehearsals and performance, meeting lots of new people along the way. You need never be lonely again.
7.Lowered stress levels
If you often feel tense and stressed, playing the violin make just be the therapy you need. A blast of music when you are feeling anxious can let out all of the tension that has been building up in your body and playing an instrument means that you are in total control of the output.
Think calm, relaxing, lyrical music to ease a busy mind and soon your body will feel like it is floating along a river rather than battling a stormy sea.
8.Boosted academic skills
Starting to learn violin at a young age has shown that academic skills as a whole improve, often with IQ's being 7 points above those who do not play. The commitment, challenges, dedication and complex understanding of playing the violin exercises parts of the brain that are used in other areas of learning. If you want your child to become a genius, investing in violin lessons may just go a long way.
9.Improved concentration
A lot of effort is put in to learning how to read and interoperate violin music, translating notes on the paper into some of the most beautiful music you will hear. You cannot get bored with the repetitious nature of learning and practising and will inevitably learn to concentrate on matter at hand rather than becoming aware of distractions at every turn.
10. Stronger arms
The violin is not a heat instrument but it does need to be held up for long periods of time. It may feel like a chore once you start learning but soon holding the violin will make your arms stronger and you will no longer feel the strain of holding up your violin.
These are just the top 10 benefits, there are lots more advantages to playing the violin that will turn your life from good to great.