When it comes to buying a new bass guitar, many people enter the world of bass guitars blindly, not knowing whether to go for a 4-string, 5-string, or even being able to answer the question "what is a bass guitar?".
This article should both shed some light on the wonderfully powerful instrument that is a bass guitar, as well as pointing you in the right direction to getting your own bass guitar.
To help you on this, we came up with a short guide for choosing the best beginner bass guitar. We're also going to give you some brief bass guitar reviews of models we think you should consider.
The two most important questions this 2020 guide answers are:
The Best Beginner Bass Guitars: Reviews
Here are the best bass guitars for beginners:
1.

Fender Mustang PJ Bass

When it comes to bass guitars, we wouldn't be able to hold our heads high if we didn't start with the granddaddy of bass guitars, the Fender Mustang PJ bass guitar.

Everyone who plays a bass guitar knows that Fender makes top rated bass guitars, and are known as one of the top bass guitar brands.

Why is this one on the list of best bass guitars? Well, for starters, it's a classic bass guitar, with the tone and look that everyone can instantly recognize.

Why it special though? Well it has both the smooth "jazz" pickup from a Fender J-Bass, as well as the split pickups from a Fender P-Bass (hence the name PJ in the title).

With a rosewood fretboard, and a maple neck, this is a classy 4-string bass guitar, with good looks and an impressive range of tone to go along with it.
Classic tone.
Can be used for jazz or funk with ease, due to multiple pickups.
Internationally respected bass guitar model.
Easy and comfortable to play.
Used by many famous bands.
This bass guitar is definitely a top-rated bass guitar, and it's easy to see why. Perfect tone, internationally used, can be used for funk, jazz, rock, and pretty much any other genre of music.
Aside from the somewhat hefty price, it's the best beginners bass guitar you can get.
When it comes to classic bass guitars, you can't get more classic with this one, and it will definitely turn heads if you bring it to a gig, show, or a practice.
If you don't get it right away, you should add it to your bucket-list of cool bass guitars, as it's quite possibly the best one to get (aside from a vintage Fender bass guitar, that is).
2.

Sterling Ray4 Electric Bass

Another bass that has been around the block a few times, Music Man is one of the well known classically good bass guitar brands, and also for good reason.

They have been around for years, and everyone has heard of the Music Man Stingray bass guitar. However, this is the next level upgrade of that classic bass guitar, whilst still keeping the "ray" in its title as a homage to its father.

The Ray4 is a brilliant bass guitar. It's hailed as one of the most comfortable bass guitars to play, with a good double cutaway, and attractive body shape to compliment any bassist who plays it.

This bass guitar boasts a humbucker pickup, which gives the tone it produces a rich complexity. If that wasn't enough, it has a 2-band EQ for the beginner bassist to tweak the tone to be even sweeter when they play.

This model also boasts 4-strings, and with a Music Man, you don't need much more.
Humbucker pickup.
2-band EQ.
Double-cutaway body for ease of playing.
Variety of colors to choose from.
Best bass guitar under $400.
Little pricey for a beginner's bass guitar.
As you can see, there isn't much wrong with this bass guitar, which makes it a brilliant beginners bass guitar, apart from the price (akin to the Fender Mustang PJ).
If you're looking at gong for a classic-rock tone for your music, then this bass guitar is the one for you, as it's the best sounding bass guitar for that genre, hands down.
It's easily recognizable, and once you have one, you'll never want or need to get another bass guitar.
3.

Ibanez GSR200 Electric Bass

And now we're starting with a true beginner's bass guitar, possible of the cheapest bass guitars for a beginner to start on.

Ibanez are well known in modern rock band circles, as they offer clear tones, are comfortable to play, and have reliable electronics. With the Ibanez GSR200, that's no exception!

Don't let low price of under $200 fool you, it's a really popular bass guitar for a reason.

It comes with a one-piece maple neck, as well as dual P and J pickups, copying the Fender Mustang PJ bass in pickups layout. Don't be surprised to see this bass guitar model being used by famous and newcomer bands alike.

A bass guitar doesn't have to be an expensive bass guitar to be good. It just has to have decent tone, and be easy to play, and that's this bass guitar.
Best bass guitar under $200.
Popular as a starter bass guitar.
Dual pickups, both J and P.
Multiple colors.
Decent cutaway.
Tone not as clear as a humbucker of similar quality.
Electronics might give in after some time and playing.
Very commonplace tone, lacking warmth and depth.
This bass guitar could quite possibly be the best cheap bass guitar on our list, but don't let that dissuade you.
It might be the cheapest, but that doesn't mean it's a bad bass guitar.
For the price range, it's a good-quality bass guitar, and you shouldn't overlook it due to the price.
In fact, if you're wanting to start out on a bass guitar, then this one should be considered by any prospective bass guitarist to be.
4.

Yamaha TRBX304 Electric Bass

Now we're talking! Yamaha are a well known brand in the music world, as they make everything from top rated violins, to high quality digital pianos, to motorcycles (not musical instruments, but still worth mentioning).

As they've had success with all of their other ventures, it makes sense that they'd create a quality bass guitar or two, and this is definitely true!

The Yamaha TRBX304 is a well know, widely used bass guitar by many bands, and here's why.

First of all, it sports the attractive curves of a double-cutaway, which makes playing the high notes particularly easier than without. It also comes in a variety of colors, which appeals to a great many bassists.

However, what makes it special is the double-humbucker pickups built into the body. One humbucker offers a richness of sound, but having two pickups means you can go for the bass-heavy tone that is needed for metal music, or use the treble-friendly tone that is needed for funk and pop music.

This bass guitar screams versatility, and as a beginner bass guitar, that's what you're needing!

Coming in between $300-$400, it's still somewhat pricey for a beginners' bass guitar, but worth it.
Multiple colors.
Twin humbucker pickups.
Double-cutaway body.
Multiple and complex electronics for tone adjustment.
Price a little high for beginners.
Would be more versatile with 5 strings.
As this bass guitar is used by many modern bands, it's definitely a solid choice for any modern bass guitarist, and you can't go wrong with this one.
In terms of versatility, it's one of the best value bass guitars, as you can play multiple genres of music, and look and sound good doing it.
If you're looking at a mid-to-high range bass guitar, then this is the one for you!
5.

Epiphone EB-3 SG Bass

Epiphone. You've probably heard of this electric guitar and bass guitar brand, and if you haven't then you've definitely seen and/or heard them.

Heard of Gun's & Roses? Their lead guitarist plays an Epiphone. AC/DC? Also an Epiphone lead guitar. However, this is an electric bass guitar review, so let's have a look at the Epiphone EB-3, and why it's on this list.

It's a classic bass (as are a few of the ones above us), and it's been played in the blues and rock'n'roll band Cream. It looks like an Epiphone SG electric guitar, and sounds like the 50's are singing in your ear when you play it.

It comes with not one, but two pickups. The main one is a standard humbucker at the base of the neck, and a mini-humbucker in the bridge.

This offers versatility of tone, and when combined with the mahogany body, it gives you a mean kick when you want to play anything from blues, to rock'n'roll, to swing music.

Yet another classic bass guitar, and you should want to add this one to your bucket list for sure!
Classic body shape, with attractive real-rood color.
Multiple picks for versatile tone.
Complex electronics for added versatility.
Widely used by many famous bands.
A little pricey for a beginner's bass guitar.
No cutaway makes playing higher notes a little uncomfortable.
Alright, so this one might not be the best bass guitar for beginners, but it should definitely be considered when looking at upgrading your beginners bass guitar to something better.
It's got a classic look, sound, and feel, and you should seriously consider getting this one if you're a fan of the Rolling Stones, rock'n'roll, or blues music and jazz.
6.

Squier (by Fender) Affinity Jazz Bass

If you look at the title of this bass guitar review, you might be wondering about it. Squier bass guitars are made by Fender, but not in the main factory.

Why would we be mentioning this? Well the top-shelf Fender bass guitars can get up to $1000 easily (unlike the $500 of the Fender Mustang at the top of these reviews).

So if you're offered a Fender-made bass guitar around $200, then chances are you're going to want to have a look at least. That's where the Squire Affinity Jazz Bass comes in to the mix.

If you're wanting to experiment with cheap rock tones, then you can find a Santa Fe bass for next to nothing, but the quality is too low for this review to comment on.

However, if you're wanting a great-sounding jazz-style beginner's bass guitar, then this is the one you're going to need. It has dual pickups, and the classic "fender tuning pegs" for added authenticity.

The warmth of the jazz tone will bring back memories of the original Fender bass guitars, and that's what every bass guitarist wants!
Nice warm bass guitar tone.
Made by Fender.
Dual pickups for added tonal versatility.
Not top-quality bass, can sometimes be outclassed by higher-grade basses.
If you're wanting the signature Fender bass guitar tone, or want to try out the feel of a Fender without spending too much on it, then this bass guitar is the one you should go for. It's made by Fender, and looks (and sounds) a lot like one too, so why not?
Many a bass guitarist started out on this bass guitar for the above-mentioned reasons, and we recommend that you consider it too.
7.

Yamaha TRBX174 Electric Bass

Yet another incredibly popular beginners entry-level bass guitar, and yet another Yamaha bass guitar.

The TRBX174 is a common student's bass guitar, due to the incredibly affordable price, and with P and J pickups, it's not surprising that it's a popular bass guitar in music schools.

This guitar has a steep cutaway, perfect for runs all the way up the 24-fret neck. If you're a student bassist, then you're going to want this to complete all of your music exams.

The glossy sheen that it has is just waiting for a few scuffs and scratches to give it personality, but that might take a while as the durability of this Yamaha bass guitar has been noted by many a bass guitar student in the past.

Just like a few of the other bass guitars above, this is one of the best bass guitars under $200 (if you search enough, you will be able to pick one up for an affordable price).
Incredibly durable.
Popular as a student bass guitar.
24-frets, perfect for runs and solo work.
P and J pickups, good for multiple genres of music playing.
Clarity of tone and quality of sound is lacking.
Not an active-pickup bass, so volume is lacking too.
Not respected by accomplished bassists.
One of the top student bass guitars on the market, it's easy to find this bass guitar in most music shops, and if you're lucky, you can get a combo deal that comes with a bass guitar amp, and bag, and cable.
A really good choice for a first bass guitar if you're unsure about the severity of your future play levels.
8.

Ibanez AEB5E Acoustic-Electric Bass

We would be amiss if we didn't mention the famed acoustic bass guitar. However, as this is a beginner's bass guitar review guide, we can't talk about the expensive Warwick, Taylor, or other custom-made acoustic bass guitars.

Now, if you speak to any professional bass guitarist, they will tell you that an acoustic bass guitar is the best sounding through an amplifier. Yes, this might sound like a redundancy, but don't worry, it's not.

The acoustic side of the bass guitar is great for any beginner bassist who wants to practice wherever they go, without needing an amp. This is always useful, don't let anyone tell you anything differently.

However, if you're going for an acoustic bass guitar, then make sure you get an acoustic-electric bass guitar.

Why should you get one with a pickup? Because any bass guitar sounds better through an amp, all bassists agree on this.

If you add the hollow body of the acoustic bass guitar, it means the sound waves get in a few extra bounces before going through the pickup to the amp.

This will give you one of the richest bass guitar tones you're ever going to get through a bass amp.
Acoustic bass guitar, you can play it anywhere.
Rich tone when played through an amp.
All bass guitarists want one.
Affordable price at around $300.
Usually has 18-frets, instead of 24.
Somewhat uncomfortable to play, due to body thickness.
If you're wanting to add to your collection, or you're thinking of recording your bass guitar, then this is the one for you.
All bassists want an acoustic bass guitar, and if you get this one, it'll be the talk of the music school.
You can bring it anywhere to play, and if you need to plug it into an amplifier, then you're just going to end up happier.
---
And there you have it – 8 beginner bass guitar reviews, from just under $200, to just over $500. Classic tones, to heavy rock sounds. Jazzy or funky, we've got you covered too.
Is that all there is? No, of course not. However, we were talking about the best beginner bass guitars.
You can pick up a cheap bass guitar for under $150 or $100 from a secondhand store, but the quality will be so bad, you'll with you hadn't. That's why we didn't list the entry-level bass guitars in this review.
What Is a Bass Guitar?
Before we can go any further, let's go back to the basics and discover what constitutes a bass guitar.
Many people hear the word "guitar" and aren't able to see the difference between a bass guitar and regular guitar.
What's the difference between guitar and bass then?
Well, there's the neck, strings, play style, and uses… just to name a few.
The Strings
The strings of a bass guitar are the easiest difference to see between guitars and basses. Generally a bass guitar will have 4 strings, or sometimes 5. As we all know, a guitar has 6 strings, or possibly 7, if you're looking at electric guitars.
The other way that the strings differ, is that the bass guitar's thinnest string, is thicker than the guitars thickest string. The thicker a string, the lower the notes it can produce, and that's what bass guitar is all about.
The Neck
The next difference between a guitar and a bass is the neck. Thicker strings, means a longer stretch, and that requires a longer neck than a regular guitar would.
Another pretty cool feature on some bass guitars, is a fretless neck. With guitars, frets are required to get the notes sounding pleasant, and not discordant.
However, as you play bass guitars one note at a time (unless you're a professional bassist, that is), a fretless bass makes your playing that much sweeter. It adds a more classic "double bass" tone to the playing, which is music to any bassist's ears.
The Play Style
The next difference between bass and guitar is the play style. Acoustic guitars generally are used for chords, and electric guitars are used for soloing with a plectrum, but a bass guitar is played somewhat differently.
You get the regular plectrum playing that most beginner bassists start with, or perhaps the plucked style of more adventurous bassists. However, the most advanced, and most rewarding play style for a bass guitar is funk.
Funk bass playing is when the bassist "slaps" the lower strings with their thumbs, or "pops" the higher strings but plucking them aggressively with their fingers.
This style of playing is what everyone things when they hear the phrase "slappa da bass" (from the movie "I Love You Man), and that's why everyone knows about "slap-bass" style of playing.
The Purpose
The fourth difference between a guitar and bass is the purpose of the instrument.
You see, a guitar might produce the chords that allow a melody to follow it, but the bass guitar plays the notes that keep the listener bobbing their heads, and tapping their feet.
It's the perfect blend between timing, rhythm, and musicality. It connects the guitars with the drums, and keeps the band going when no-one knows which chord goes next.
That's the purpose of the bass guitar, to keep the song on track, without anyone knowing it.
Choosing Your First Bass: 4 Things To Consider
So now that you know what a bass guitar is. What should you look for when choosing your first bass guitar?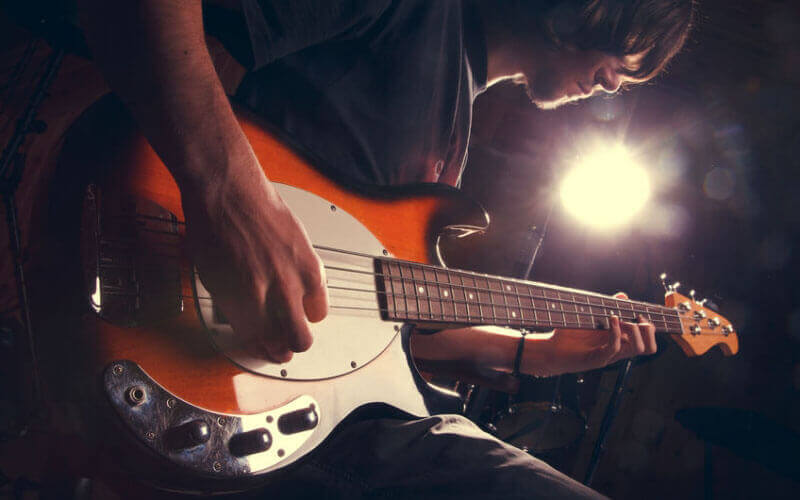 Well, there's quite a few things to consider when choosing your first bass guitar, as it's the first step in joining a band, and touring the world (if you look at it optimistically).
You need to decide on your budget, play style & musical genre, functionality, and general tone of the bass.
1.

Budget

Budget is always an important one. Sometimes you hear the tone of an amazing bass guitar and think to yourself "I have to have that", but then you have a look at the price and realize that you're looking at one of the top bass guitars, and you have to walk away with your head down, defeated by your wallet.

Don't worry though, there's plenty of affordable bass guitars out there for you to choose from.
2.

Musical Genre/Tone

The next thing to consider is the musical genre and tone that you're going for. It doesn't help to get yourself a Fender Mustang PJ bass guitar (a classic funk bass) if you're looking at playing some heavy, complex metal genre licks.

Along the same lines, buying a Warwick bass, with it's heavy growl featured in the band Mudvayne's songs, then if you're wanting to hit the bass with some sick funk lines, it's recommended that you look elsewhere.

Choosing the bass that suits your musical genre is the next important step in buying your first bass guitar.

Granted, the best beginner bass guitar probably won't be a Fender Mustang P-bass, as that's a classic bass, and comes with a hefty price tag.

What is recommended though, is that you listen to various bands, and see what bass guitars they play.

Chances are, certain genres of music will always use the same bass guitar brands, and that will help you when it comes to getting the best bass guitar that suits your musical genre play style.

Most metal bands require a 5-string bass guitar to hit the low notes, so keep that in mind when looking and listening to bass guitars.
3.

Functionality

Up next is functionality. Passive bass guitars are fantastic for beginner bass guitarists, as there's almost no maintenance required.

No batteries, or complicated internal wiring. However if you get a bass guitar with active pickups, it gives you the freedom to tweak the tone, and pump up the volume to make sure that all of your neighbors can hear you practicing.

Although some might think that this is more along the lines of advanced bass guitaring, many beginner bassists find that starting out with a beginners bass guitar that has extra electronic functionality, such as overdrive, or EQ adjustments can help them in their playing.

Getting a bass guitar with dual pickups, humbuckers, or triple pickups can also help when fine-tuning that perfect tone for your playing.

So always look at functionality when choosing your first bass guitar.
4.

Play Style

The next (but by no means last) area of bass guitars that you have to look at is the play style you're looking for.

Many bassists enjoy playing an Ibanez or Washburn bass if they use a plectrum, as they tend to give very clean playing tones.

However, classic funk players will go for a Fender or Music Man bass for the more clear, twangy sound that they produce.

Further up the chain of play style is the fretless bass guitars, acoustic bass guitars, and a warmer, muted tone for jazz-style playing of bass, where the bassist needs to flow smoothly up and down the neck to get all of the notes in clearly, smoothly, and cleanly.

You have to consider the distance between the neck and the strings (called the "action" of the bass guitar), as more height is great for funk, but terrible for speed playing of jazz.
---
All of these things have to be considered when choosing the best beginner bass guitar, as your first bass is like your first car, special, used for years, and never forgotten.
Final Words
So you might also be wondering why there weren't any 5-string bass guitars in this list?
Well, the reason for that, is a 5-string bass guitar isn't a beginner-friendly guitar. Extra strings means more learning, and more complications.
Most beginner bass guitarists prefer a 4-string for playing funk songs, as the low "B" of a 5-string bass guitar gets in the way of slap-bass playing every time.
The other reason we didn't mention 5-string basses, is because beginner bass guitarists are given songs in "drop-d" tuning, so the 5th string would never be used.
When it comes to getting yourself a bass amp, bigger is usually better. However, don't go for a separate "head and cab".
Combo amps are ideal for beginner bass guitarists, as they're literally "plug in and go" amps.
They offer enough power through 3 or 7-band equalizers, but they're simple enough for anyone to use. If you're wanting to practice, a 15W amp will be fine for you.
If you're wanting to play with others though, we recommend a bass amplifier between 90W-220W.
A bass amplifier this size will get you through most practices, whilst still being able to compete with (and drown out) any obnoxious electric guitarists.
So whether you're wanting to "go pro" and invest in a top rated bass guitar, or whether you'd prefer to test the waters with something cheaper, this article should help highlight just a few of the best bass guitars in the various ranges.
Now all that's left for you to do, is to go out there, plug a few bass guitars into amps, and play them until you find the one that speaks to you.