The saxophone is an instrument that has been making beautiful music for over 120 years.
The best soprano saxophone brands like Selmer, Yamaha, Cecilio, and many others have given incredible musicians the means to make some of the best music the world has ever heard.
As a musician, you strive each day to discover the best soprano saxophone, and gain knowledge through soprano saxophone reviews, so that you can purchase the best instrument for you.
This guide will accomplish that for you.
What is a Soprano Saxophone?
The soprano saxophone is different from its siblings because it plays a bit of a higher note range than the others.
In the list of ranges from highest to lowest, the soprano fits in at third place, followed by the sopranino sax, and the soprillo sax.
The tuning of a soprano sax is keyed in B flat, usually with an extra key that will reach as high as F#, depending on the construction of the individual saxophone.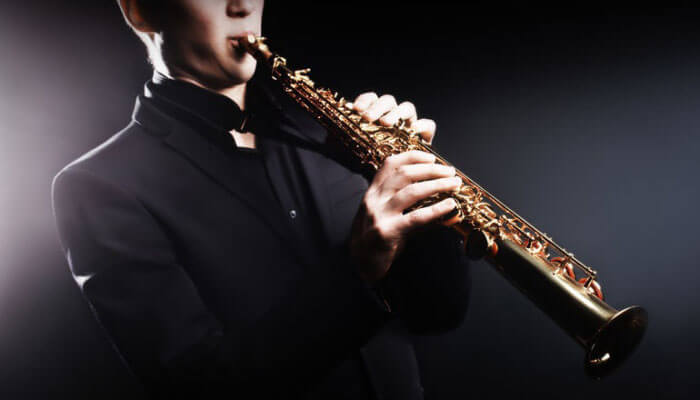 The size comparison is significant within the saxophone family. The higher the range of the sax, the smaller the overall instrument is going to be.
The soprano sax is also quite a bit different in its look and design. That is to say, that most are different than an alto saxophone, because of the straight design.
When you picture a saxophone, you probably see the brass or gold finish, the complicated system of keys, and then the curved bow at the bottom, to where the sound comes out of the bell.
The common design of a soprano sax is a straight one, leaving out the bow, and going right into the bell from the body. Much like a clarinet, but smaller.
I'm Inspired! How Do I Learn to Play the Soprano Saxophone?
Learning to play the saxophone is something that takes dedication, commitment, and some capital to start.
If you live with someone, making sure that they won't throw you out when you miss some notes is also a good thing.
In all seriousness, if you really stick with it and learn from reputable sources, you will master the saxophone quicker than you think.
There are so many questions during this point in the process of learning to play the soprano saxophone.
The first question that pops up is: "where do I start?"
Luckily, you have this handy guide to reference every step of the way.
1. Finding the Right Saxophone
What's the first step? You guessed it, you need the instrument to learn how to play it!
Well, as a beginner, or a new student, you likely have no previous knowledge of saxophones. That's ok.
The best thing to remember when you start your search for the best soprano saxophone is that the best one is the one that you like.
If you like the sound, quality, and feel of a super cheap saxophone from a brand that few have heard of, then that is the best one for you.
On the other hand, you could throw thousands of dollars at the music store, and walk out of there with a brand-new Selmer that will knock your socks off.
Either way, you will find the one that will be perfect for you.
2. What are Some of the Best Brands of Soprano Saxophones?
Keep the previous advice about what is best for you in mind when you consider different brands during your shopping experience.
Your budget is also going to be the deciding factor. Soprano saxophones range anywhere from a hundred dollars to several thousand dollars.
If you want to spend more money on a sax than you would a good, used car, than that is your prerogative. However, most people don't have a small fortune sitting there that doesn't need to be used elsewhere.
If that is the case – which it most likely is – then you'll find that most of these brands will suit your style and your budget.
Mendini by Cecilio
If you are looking for a great saxophone without cleaning out your savings account, these instruments will not disappoint, and there are so many to choose from.
They have beginner saxophones, intermediate, and expert/concert level saxophones that still are not a high price.
The value of what you get with Cecilio is ranked at the top among just a few others. The quality of the finish, construction, and placement are perfect for every type of player.
Their reputation has been a very good one for decades all across the board. They are sold all over the world, but can always be purchased online if you are not near a music store that sells Cecilio products.
Yamaha
This company has been producing all types and kinds of musical instruments for many years now. They are a very well-known company with a great reputation.
If you are not familiar with their instruments, maybe you will be familiar with the other things they make, like speakers, amplifiers, and other sound equipment. They are also famous for making motorcycles, ATV's, and other small vehicles.
Yes, this company has their hand in quite a few things, but do not let that fool you, because they are one of the top soprano sax brands out there.
The quality of their products is some of the best that the market has to offer. What is so great about this brand is that they have just about any product for any budget, style, genre, or experience level.
Do you play jazz? They have many products to choose from. Classical? They have a massive selection.
You would be hard pressed to find a bad Yamaha product. Keep in mind, that their products are top-rated, so as you climb the experience ladder and find your way up to the intermediate level, you will see that the prices of those saxophones go up significantly.
Always be prepared to spend a good amount of money on a great saxophone. Although, no one should be reluctant to put that much money towards a great Yamaha saxophone, because the value of their products is arguably the best that money can buy.
They will play like they are brand new, if you properly maintenance the instrument, for many years beyond your lifetime.
Selmer
This brand makes some of the best soprano saxophones in the world. Their products are what most other companies copy, or, at least attempt to.
There is not one product that Selmer makes that does not hold up to the standards that is expected from them.
As a high-end saxophone manufacturer, they continue to produce different models often, with upgrades, newer technology, and new materials.
Selmer has been the leading competitor for a very long time, but they also lead in research and development in the instrument and music field. Most musicians would not walk into a recording studio without one.
They also beat out the competition by producing the best soprano saxes for under $1000.
Selmer makes beginner, intermediate, and of course, expert level soprano saxophones. The value is tremendous. They arguably make the best soprano saxophones ever made. The sound quality is what everyone else compares their sound to.
Selmer is the standard across the board. Their quality, finishes, sound, playability, price, value, and construction are all the standard that everyone else strives for.
Most hit the marks, others fail, some more than others. But Selmer will never let you down if you decide to buy one of their soprano saxophones.
Once you start shopping in this brand, you will quickly see that they do not give these saxophones away for free.
To the unacquainted, the prices are sky-high and too expensive, but to the trained eye, they are well worth any price tag they have.
3. How Much Does a Soprano Saxophone Cost and Where Can I Find Them?
The best soprano sax for you is easy to find, if you know where to look, and what brand produces it. These soprano sax reviews are complete with a buying guide of these instruments for your referencing needs.
The costs are going to vary. The cheapest soprano saxophone you will find is around $200, the most expensive you will find will be just under $5,000, so there are many saxophones in between that large cost gap.
Once you discover what your budget is, the search will become much easier, and you can weed out the ones that are much too expensive.
Top 3 Best Soprano Saxophone Reviews
Yamaha Custom YSS-82Z Professional Soprano Saxophone
This instrument is one of the most expensive soprano saxophones there is right now because it is one of the best professional soprano saxes.
If money is of no concern, and you really feel that you need one of the best saxophones either to learn on, to grow as a musician, or to record incredible music in a famous studio, then this is the one for you.
This soprano saxophone has a straight neck, like most do, and it is offered in a gold-finished base sub-model, a silver, unlacquered sub-model with a slightly curved mouthpiece, a silver lacquered sub-model, and a gold unlacquered sub-model.
These options are significant because of the sound options available to you. Lacquered saxes tend to have a warmer, smoother sound than unlacquered saxes. Silver or gold-plated saxophones have more of an edge to their high-range harmonic sound.
All other models except for the one with the curved mouthpiece have straight mouthpieces.
The functionality of the features is outstanding. The key post rib plate is solid, making it feel more durable, and it increases the quality of the resonance in the sound.
The keys are perfectly positioned for a very comfortable play experience. Hours of play is easy with the ergonomic handling.
The pivot screw is adjustable, and the crafters took care to elongate the screw a bit, so that it pivots at the screw, instead of the hole, which will make for a longer lasting part.
The beauty of the sax is topped off with a hand-engraved design on the bell. The style of the design is not loud, but subtle, and still noticeable at the same time, giving it a classy, rich quality to it.
This is the type of soprano saxophone that a musician would give a classy ladies' name to.
All the features on this instrument are pros
Expert style soprano saxophone
Offered in many variations of sub-models
Straight neck
High-quality construction
Different sound options with sub-models
Most versatile
High-functionality
Solid rib plate
Highly durable
Comfortable and ergonomic
Adjustable pivot screw
Hand-engraved design on the bell
High quality and value
Some will look at the price tag and slowly back away from the saxophone
Does not come with a package deal like most other saxophones do
No extra hardware or parts
This sax is heavier than others, which may be a con to some
This saxophone is probably the best that money can buy. It is elegant, harmonic, durable, ergonomic, and will stay that way for many, many years.
Anyone who purchases this product will never be disappointed in the quality, sound, or playability, regardless of what they use it for.
Mendini by Cecilio MSS-CSBNG Soprano Saxophone
As mentioned before, Cecilio makes some of the best saxophones on the market, and this product is the reason why it is named one of the best curved soprano saxophones.
The beautifully structured body is unique from other soprano saxophones, in that it has the famous bow before the bell.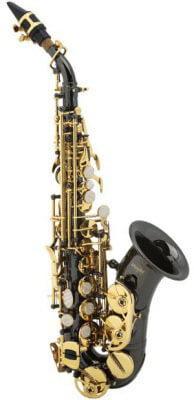 Most soprano saxes are straight, but the sound is not much different in the two, because what matters is the finish, material construction, and body size. Some musicians will swear up and down that one is better than the other.
Ultimately, you will have to decide on whether a straight or bowed body is best for you. Either way, this is possibly the best soprano sax for jazz musicians.
Its uniqueness does not stop at a bow, as it is offered in a black lacquered finish with gold keys and hardware, making it truly stand out in the crowd of soprano saxophones.
It has a large bore, which gives it a bit of a deeper, warmer sound. The solid ribbed construction gives it that extra durability and increased resonance.
Metal tone boosters give it a bit of an edge in the sound, while leather pads make it very easy to play without much effort.
The inlays are a fake mother of pearl, which is a disappointment though.
However, they make up for that blunder with offering a whole kit to come with the saxophone, which is perfect for any type of beginner.
The package has: a strong hard-shell case, a neck strap, a box of 10-2.5" reeds, a pair of gloves, a mouthpiece, and extra cleaning supplies.
The price for the saxophone is already low, so having everything you need included in the package makes the value increase sky-high.
Quality standards are some of the best in the industry
Unique design and finish
Great for any level player
Deep, rich tone
Even intonation through full range
Quality electronic tuner included
Hard-shell case protects the sax
Black lacquer finish
Nickel plated gold keys
10 2.5" reeds included
Gloves included
Mouthpiece included
Cleaning supplies included
Neck strap included
Great for practice, recording, or concert
Great price
High value
Easy to play
Faux mother of pearl inlays that have a tendency to break
The overall performance of this soprano saxophone is top-notch.
All you would need to do to make this saxophone just like any other that costed thousands of dollars are to put real mother of pearl inlays on the keys.
For the price, that is a phenomenal deal that any serious player should not pass up.
Merano Silver Soprano Saxophone
Merano is known for making quality instruments that everyone can afford. Not everyone can throw thousands at the cashier at the music shop and walk out of there without crying.
While there just are not any cheap soprano saxophones that are under $100, this one comes in around $300, and it is possibly the cheapest one you will find on the market right now that is not used.
Is the sound and construction quality the same as a high-end Yamaha or Selmer? Unfortunately, it is not, but for a beginner or someone wanting a sax to practice on at home, this one is great.

Mostly because of the price, but it also does play well, so it is the best cheap soprano saxophone available.
It comes with a large kit full of goodies to get a beginner started. That kit has 10 reeds, a screw driver, pair of gloves, cleaning supplies, nipper, mouthpiece, and of course, a hard-shell case.
Now, getting all those great items to get a beginner started and getting a great saxophone with it for $300 is a great deal.
While you may not want to wow people at a large concert, it will help you hone your skills and become that incredible musician that will wow the crowds, just with another saxophone.
The lacquer plated body is straight, giving it a warm, smooth sound through the range, but also delivers edge to the higher notes for a crisp sound. It does rival other saxophones that are well more than twice the price.
It is also easy to play. Practicing for hours will not put undue burden on your hands, fingers, neck, and wrists like some other cheaper saxophones do. Especially once it breaks in.
Best budget soprano saxophone
Best student soprano saxophone
Best soprano saxophone for beginners
Quality sound regardless of price
Silver body
Lacquer plated finish
Straight body
Hard velvet-lined case included
Screw driver included
Nipper included
Pair of gloves included
Cleaning supplies included
Warm, rich tone with edge in high range
Even intonation throughout
Easy to play
Quality construction
Great practice saxophone
This will not have the sound of more expensive soprano saxophones
It is constructed with cheaper materials
Has silver tone throughout, giving it a plastic look
If you go to purchase this saxophone with the idea that you are getting the best quality money can buy, you are going to be disappointed.
You must realize and expect certain things when buying the cheapest instrument on the market.
The sound quality is not going to be like what you hear on your favorite albums you play along with. You are going to be recording platinum albums with this saxophone either.
If you have realistic expectations when it comes to this instrument, you will know that it is for a beginner, so that they may become familiar with the soprano saxophone, and it also gives them the chance to save a ton of money.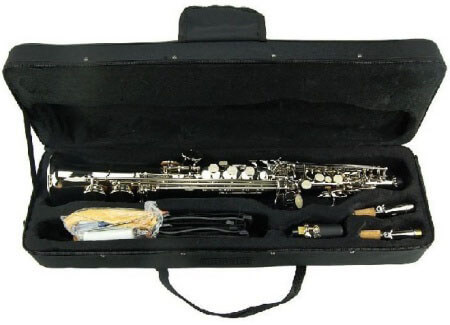 People with tighter budgets can really find the value in this saxophone. It does produce good sound and is easy to play.
Aside from it looking like a toy, there just is not a reason to not have this saxophone, especially if you are a beginner or a student beginner.
Although, your instructor may want you to throw down a bit more money for a better one sooner than later.
The Final Word
Any level of saxophone player with any budget will be sure to find what they are looking for in this guide.
If you do not, you may use this guide as a reference, so you can understand more about what you need as a musician, and you may then refine your search, so you can find your perfect soprano saxophone easier. That is the main goal with this guide. Your perfect instrument is lying somewhere out there.
Again, the way to obtain it is to do plenty of research, hopefully not beyond this guide though. You must know what you want. Indecisiveness can be a great burden on the buying process.
Understanding what is out there to compare to what you want is another large factor in which saxophone you ultimately end up with.
Finally, narrowing your results by what models have the features, sound, accessories, and other things that you need to grow as a musician.
Also, do not be afraid to walk into a music shop and demand to play some of the saxophones. No one cares if you do not know how to play. You can decide if you like something or not by messing around with it.
Feeling how heavy it is, how easy it is to press the keys, or how good it looks strapped to your neck. These are all factors in play when buying a soprano saxophone.
Do yourself a favor and make a list. Prioritize that list by what is most important to you, and rank the saxophones that you narrow down, so you can be 100% sure that you got the best saxophone possible.
After you find it, all you need to do is get lessons, or learn on your own, either way, do not give up when the lessons get tough.
Do not give up when you have less and less time to practice. Do not give up when you cannot learn a song.
You can be great, but you have to put the work in, like all the other great musicians did before you. And then, it is time to make wonderful music that reaches in and touches people's souls.