When looking for the best synthesizer keyboard, it's important to know what you plan to play with the instrument.
Most synthesizers are small, lightweight, and portable, and they often don't have speakers to play without being plugged into an amplifier or recording software.
Many synthesizers focus more on a large variety of sound samples than sounding like a real piano, and it can get confusing to try to figure out what you need.
Read on for our in-depth discussion and reviews.
What Is a Synthesizer Keyboard?
Let's start at the beginning. Synthesizer keyboards are electronic – not acoustic – instruments that allow you to play a variety of sounds, including samples from pianos and other instruments as well as sounds from nature and sometimes even non-musical tones like car horns.
A synthesizer has black and white keys like a piano but is not played in the same way.
Synthesizers are connected to speakers or software to amplify the sounds the player makes with the keys.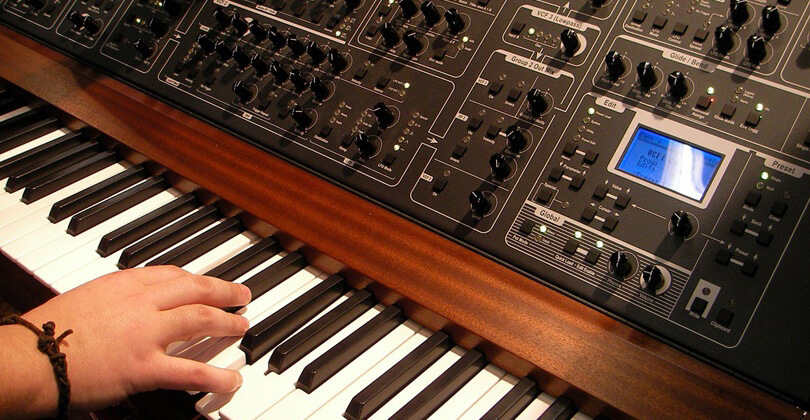 Synthesizers are often used in pop and dance music, and especially in electronic music to create unusual or unique sounds.
A professional pianist may find it a little challenging to learn to play a synthesizer keyboard at first since although the keys look the same, the sounds the synthesizer produces are generally nothing like a standard piano.
Our Top Picks For The Best Synthesizer Keyboards
Difference Between Piano and Synthesizer
What's the difference between piano and synthesizer?
First, the similarities: both (usually) have black and white keys. It's possible to find synthesizers that aren't keyboards (like a guitar synthesizer) but our focus today is on what is a synthesizer keyboard.
Synthesizer keyboards don't usually have the full 88 keys like a piano.
A synthesizer keyboard cannot be played without being connected to an amplifier or music production software as most of them do not have built-in speakers.
A piano or digital piano will generally focus on piano sounds first. On a digital piano, the sounds are often sampled from a real acoustic piano and the keys are often weighted to give the player a more realistic piano-playing experience.
A synthesizer will have a lot of pre-programmed tones to choose from, including a variety of instruments and electronic sounds.
Synthesizers also usually include a variety of tone knobs, wheels, buttons, pedals, and other settings to allow the player to further manipulate the tones and even create their own sounds.
Synthesizer keys are rarely weighted and may not be full-size.
Synthesizer vs. Keyboard
Let's look at the synthesizer vs. keyboard. Which one is right for you?
If you're looking for more basic piano tones, a richer playing experience, and the most similarities to an acoustic piano, you'll want a good keyboard or digital piano.
On the other hand, if you're looking for a way to experiment and create your own sounds, compose electronic music, or use non-musical tones in your compositions, a synthesizer may be the right choice for you.
Synthesizers will include more tones, which can be more fun for musicians of any age and ability.
When it comes to synthesizer vs. keyboard, it depends on your musical goals. Traditional music will be better suited to a keyboard while electronic music is better for a synthesizer.
Why Are Synthesizers So Expensive?
Many musicians looking to purchase the best synthesizer for the money may find themselves asking why are synthesizers so expensive?
They often don't have a full keyboard or speakers. What makes the price so high?
Synthesizers aren't just keyboards. They include a lot of tones and ways to manipulate the tones.
There aren't many companies with the expertise needed to design and build synthesizers.
Most higher-end synthesizers are also analog, not digital, using analog circuits with a variable signal for all tones. These analog synthesizers often must be designed by hand.
It is possible to find digital keyboards that have a variety of tones, but these are not considered synthesizers.
These keyboards simply allow the player to press a button and select a different voice.
A synthesizer uses specially designed electronic signals to create the tones synthetically – hence the name synthesizer.
The knowledge and experience necessary to create the electronic signals is the primary reason a synthesizer keyboard may be more expensive than a digital keyboard.
For those on a tighter budget, there are less expensive options.
Many companies have begun to develop strictly digital synthesizers and it's possible to even download apps to an iPad to function as a synthesizer.
There are now digital mini synthesizer keyboards and even what are considered "toy" synthesizers that focus more on digital sounds and cost less to produce.
What Is the Best Synthesizer Keyboard?
It's difficult to choose a best keyboard synthesizer because every musician has different goals.
Do you prefer an analog or digital synthesizer? How many keys? Which computer programs will you be using with it?
Here are some things to consider:
1.

How many keys?
Many synthesizers don't have 88 keys, but it is possible to find 88 key synthesizers if you need.
Keep in mind the larger the synthesizer, the more difficult it will be to take it with you for performances and recordings.
2.

Monophonic or polyphonic?
Many synthesizers can only play one tone at a time, which will take some getting used to if you play many chords on a traditional piano.
3.

Analog or digital?
Digital will be less expensive but some prefer the more unique, classic synthesizer sounds that can only be found with analog instruments.
4.

What type of music are you looking to create?
Different genres and different musicians will require different tones.
5.

What's your budget?
With the wide variety of synthesizer keyboards available today, you're sure to find something within your price range.
You'll want to take the previous points into consideration and prioritize features to ensure you're getting the best synthesizer for the money.
Instead of choosing just one best piano synthesizer, here's a roundup of our best synthesizer keyboard reviews.
Top Synthesizer Keyboard Reviews (and one MIDI Controller)
Korg MicroKorg 37-Key Analog Modeling Synthesizer
This analog keyboard synthesizer continues to top the charts. It's small and portable, and although the keys aren't full size, there are 37 of them.
The Microkorg is a polyphonic synthesizer, allowing you to play 7 tones at once.
As the name suggests, it's an analog synthesizer, so you will need an interface to record with it. You can even use the vocoder feature to record and manipulate vocals! There are also 128 included pre-set tones to work with.
It lists for under $500 and is definitely a best synthesizer for the money.
Priced under $500
Analog instrument
Polyphonic
Keys and case feel cheap
Software is beginning to get dated
The Microkorg is a great option for someone looking for a tried and true synthesizer keyboard from a reputable company.
This would be our top pick for a best keyboard synthesizer.
Yamaha MOXF8 Music Production Workstation
The Yamaha MOXF8 is our pick for best 88 key synthesizer.
Many synthesizers are smaller and more lightweight, but at 33lbs the MOXF8 isn't too difficult to carry to rehearsals, performances, or recording studios.

A somewhat unique quality of the MOXF8 is its quality piano samples – just like many other Yamaha keyboards, the grand piano sound was sampled from a 9' Yamaha concert grand.
This allows the player to imitate an acoustic piano as well as host of other instruments on one synthesizer keyboard.
Full 88-key graded hammer action keyboard
Quality acoustic piano voices
128-note polyphony
Over 1200 pre-set voices and tones
Can be played as a piano or as a synthesizer
Must be connected to headphones, an amplifier, or PA system – no built-in speakers
Too big for a desktop synthesizer
Price may be out of range for some musicians
Coming in at close to $2,000, the Yamaha MOXF8 is not the most budget-friendly option on our list, but for the price and features, it's the best 88 key synthesizer in its class.
Moog Minimoog Model D
No list of synthesizer reviews would be complete without a Moog.
Moog developed some of the first synthesizer keyboards back in the 1950s and 1960s, and the Minimoog Model D is a replica of one of these early models.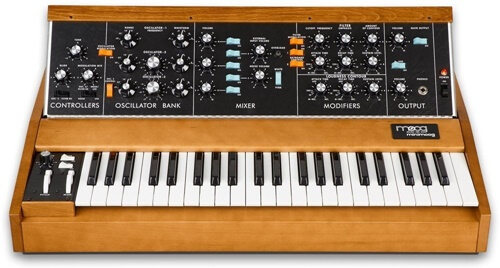 Unlike many synthesizer keyboards available today, the Minimoog doesn't require any fancy software or computer programs to use and manipulate the tones.
Small size
Vintage synthesizer tones
Classic synthesizer setup with no need for specific computer programs
No built-in presets (this can be a pro if you love creating your own tones, but for musicians with a more digitally-based background, it may take some getting used to)
Monophonic
High price point
The Minimoog is priced over $3,000, making this instrument one for advanced musicians and those with a considerable budget for their synthesizer.
Still, the quality and genuine vintage tones are worth choosing this classic model.
Novation MiniNova Analog Modeling Synthesizer
A relative newcomer to the synthesizer market, the Novation MiniNova is quickly gaining fans and players.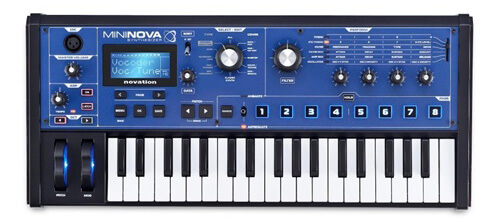 With 256 built-in sounds, a vocoder to record and manipulate vocals, and a compact 37-mini-key design, it's a great middle-of-the-road option for new and seasoned musicians.
Analog synthesizer
Small and portable size
Vocoder to record and process vocals
Budget-friendly option
Some may find mini-keys more challenging to play due to their small size
Some users have trouble with the included software
Can be played as a piano but still requires headphones or amplification
Coming in at under $500, the MiniNova is a great analog synthesizer keyboard in a compact and affordable package.
Roland GAIA SH-01 Synthesizer
The Roland Gaia is a polyphonic analog synthesizer with 37 full-size keys and the ability to simultaneously layer multiple effects.
Many tones will bring you right back to the 1980s, which is great to keep in mind if you're creating dance/electronic music with that era in mind.
Full-size keys
Analog synthesizer
Effects layering
64-voice polyphony
No vocoder to manipulate vocals
Quality vintage tones
The Gaia is an excellent option for those interested in the Minimoog with a tighter budget.
At just over $500, it may still be out of budget for some beginning players or those with a really tight budget, but it packs a lot of the Minimoog features into a similarly sized instrument at a fraction of the cost.
Korg Minilogue 4-Voice Polyphonic Analog Synth with Presets
Yes, that's two Korg synthesizers on the list. The Minilogue is another popular analog synthesizer with powerful features in a compact package.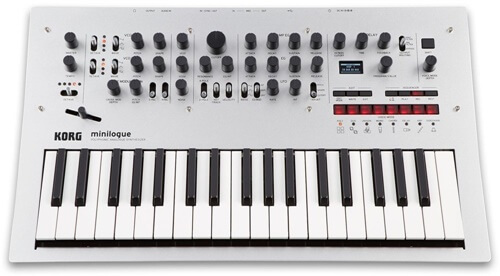 Although it doesn't include a vocoder like the Microkorg, it offers 4-voice polyphony with the ability to manipulate all four voices individually.
4-voice polyphony
Analog synthesizer
100 included sounds
No vocoder
Small keys could take some getting used to
At right around $500, the Minilogue is a great option to blend both analog and digital aspects of keyboard synthesizers in one compact and affordable instrument.
Bonus Review: Akai Professional MPK Mini MKII 25-Key USB MIDI Controller
Finally, for those on a very tight budget who are looking for a synthesizer sounds, the Akai MPK Mini MKII is an ultra-portable mini synthesizer workhorse.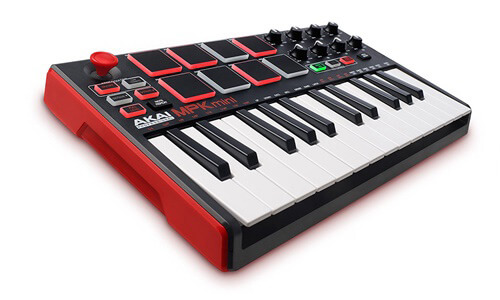 It's powered by a USB hub once connected to a computer and doesn't require an external power supply or batteries.
Keep in mind this is not a complete synth – it's a MIDI controller and the sounds are created with your computer.
Priced under $100
Weight under 2lbs for easy portability
Included "virtual instrument" software downloads
Completely digital – this is a synthesizing software controller, not a synthesizer itself
Some users have reported issues installing the software
The MKII is an extremely buget-friendly MIDI controller to help you create synthesizer sounds, but it's not a traditional synthesizer.
It's included in this list as a best beginner synthesizer because some may wish to expore the world of synthesizer sounds before spending a large amount of money on a larger or more complicated instrument.
Summary
Choosing the best synthesizer keyboard for you and your budget can be overwhelming.
There are so many options on the market today with so many different features and reading synthesizer reviews helps break down some of the specifics.
It's important to keep in mind your budget and musical goals when you're looking for the best synthesizer for your needs.
Happy playing!