Are looking for the best keyboard for beginners to practice on?
Or, are you a piano enthusiast who don't have access to the best digital piano or looking for an upgrade to one?
Whatever conditions are, we are committed to bringing a comprehensive digital piano reviews that will help you get an instrument that will perfectly fit your needs.
Read along our guide to find out what digital piano is best for you.
Our Top Picks For The Best Digital Pianos & Keyboards
Before we dive into the in-depth digital piano reviews, here are three great options that you should consider when choosing a digital piano.
Austin's Choice - Yamaha DGX-660
Best to Learn With - Yamaha PSR-EW300
Kawai CE220 - Best for Expert
Don't forget to check our digital piano reviews section for more keyboards and digital pianos.
Best Keyboard & Digital Piano Buying Guide
We are aware that researching for the best and affordable piano in the musical instrument is not easy.
There are many unique designs of digital pianos out there, but few will give you the satisfaction you need.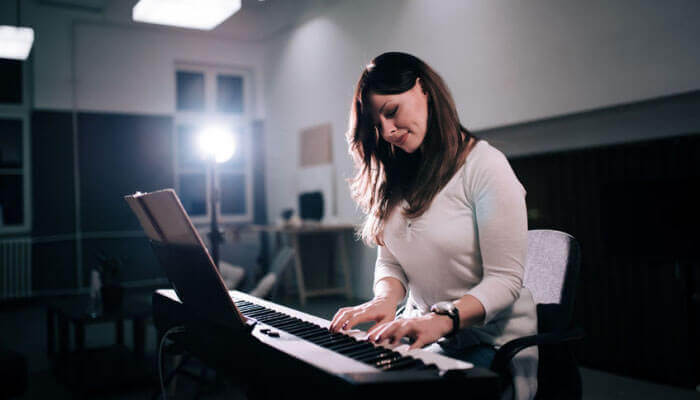 For this, we have done all the research and composed everything you need to look for when purchasing a digital piano.
Price
Digital pianos come in a broad range of prices. The cheapest ones are simple ones, but as the price goes up, they become better and more advanced.
You need to decide what your needs are so that you can know how much to spend.
For beginners, a low price instrument will be a good choice, but to advanced players, you need to pay some extra buck for more advanced options.
Either way, you will find best digital pianos that are quite affordable for both beginners and advanced players.
Number of Keys
This might seem like a simple question – How many keys do I need?
Well, you can say "any number as long as it sounds good."
But wait a minute, keys do matter, and as they do, they vary.
A standard acoustic piano comes with 88 keys – black and white.
Keyboards can come with 88, 76, 61 or even few keys.
Now, if you are looking for a real piano experience, you should go for the 88-key keyboard.
This might be a bit expensive compared to lower key keyboards, but it's affordable even from reputable brands.
A 61-key keyboard fits best to musicians who are looking for a lightweight, portable piano or beginners who are just looking for a good starter keyboard.
Experts might find this type of keyboards unsuitable because they might lack some features that are required when playing some songs.
76-key instrument is a middle ground keyboard between the 88 and 61 keyboards.
They provide enough range from a beginner to intermediate.
76-key keyboards are great for musicians looking for the best portable keyboard but also value quality.
All in all, 88-key keyboard is a great option for any level player.
If you are looking for a second keyboard, or just starting out, you won't be worried to outgrow the range of the instrument with the 88-key keyboard.
Key Size
Besides the keys numbers, it is crucial to consider their size.
Many 61-key instruments come with mini keyboards that are not quite of the acoustic standard.
While this might not be a problem for starters (under ten years) who are just looking for an instrument to have fun with, it will be quite problematic for experienced players.
If you are serious about learning the piano or you are an experienced musician, you need to use full sized keys to allow your hands to develop proper positioning necessary to grow your skills.
If you go with the mini keys, you will find yourself playing wrong notes when playing a standard piano.
Your muscle memory will lead you to wrong keys because you will be unable to reach the keys correctly.
It is always better to practice and play the full-sized keys to avoid these inconveniences.
Touch Response
Touch response is also an important aspect to check on before you purchase an instrument.
With this, you can express your feelings during the playing where your instrument responds to how soft or hard you drop on the keys.
Also, you will find dynamic makings in a music piece that requires you to play either loud or soft note.
Many cheap keyboards will not have this feature where they will sound the same regardless of how hard or soft you press the key.
If you are looking for a good keyboard or digital piano (especially for a beginner who want to excel in playing the piano), you should look for an instrument that has the touch response.
Action
The action in a keyboard describes how the music is made.
On a traditional piano, the sound is produced when the hammer strikes a string.
Digital pianos and keyboards are different. The actions are sampled from traditional pianos, and each key is connected to a sensor that produces the prerecorded sound each time it's pressed.
Sometimes the hammer action can be involved in the electric pianos to add the acoustic experience in the instrument.
Why does this matter?
Well, the answers lie in the key move. A keyboard that uses only the sensors can have lightweight keys that make the players not to develop the finger strength.
Also, the keys might not be able to bounce back to their original state as quick because they don't have a counterweight.
This brings as to the next point of weighted keys where the keys are weighted to bring the experience of an acoustic piano.
Weighted Keys
High-quality keyboards will come with weighted keys.
This means that they have a mechanism that makes them bring the weighted effect to give you the experience of a real piano.
When practicing with this keyboards, you will develop the finger strength and flexibility to play acoustic pianos that has weighted keys.
It is common to find many digital pianos and keyboards that lacks the weighted effect in the market so you must be keen if you want to be a good pianist.
However, it's okay to go for a keyboard that doesn't have the weighted keys especially if you are a beginner, and your choice is dictated by price.
Also, if you are looking for a lightweight and more portable keyboard, you are less likely to get a weighted keys in the market (there are some exception as you can find in our review section).
Number of Tones and Effects
With acoustic pianos, you only get one tone. However, digital pianos and keyboards will give you more than one.
They come with a range of voices and effects that you can easily choose to add a flavor to your music.
Great pianos focus majorly on emulating acoustic piano sounds plus some other instrument sounds.
The instruments are selected in place of an acoustic and will fall under the home digital piano categories.
The number of sounds an instrument has does not necessarily mean that it is better than the one with fewer sounds.
However, this will greatly matter to the person using the instrument.
If you love experimenting and having fun, you can go for a keyboard with a handful of other instruments sounds and effects to spice up your playing.
That said, advanced musicians would prefer to go for instruments that have fewer sounds and but focused on bringing the realist acoustic sound.
Speakers and Headphones Input
Some people might overlook speakers because you will find them on most keyboards and digital pianos.
However, you should know that just like the rest of the features, speaker's will affect the sound quality and the experience you get from the instrument.
That said, you need to go for models with high output speakers to get better sounds and good audacity.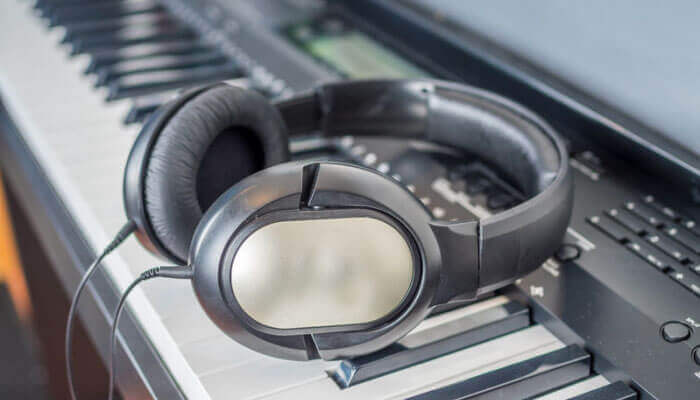 You should consider an instrument with headphone input if you are in a noise-sensitive environment.
This way, you can practice in silence without disturbing anyone.
If you are looking for an instrument, go for an instrument that has the amplifier connectivity.
Also, keep in mind that some keyboards like synthesizers or stage pianos don't have built-in speakers.
So if you are looking for an instrument to practice on, it is better to go for other options, but, if it's for performances they are definitely an ideal choice.
Types of Digital Pianos
There are a few styles of digital pianos you might consider when deciding which one works best for you.
Stage Piano
The only difference between a regular piano and a stage piano is that they lack built-in speakers.
Stage pianos are made specifically for stage performances.
They don't have cabinets and are lightweight than other digital pianos.
This makes them portable to be easily carried around to the places of performance.
You can hook up external speakers, amplifiers or other devices to put on the best live performances.
While they are easily portable, their keys are weighted to give you the experience of a real piano.
If you are looking for a digital piano to travel back and forth with, a stage piano is an ideal option for you.
Upright Piano
This is what you think about when you picture a traditional piano.
It looks just like an acoustic upright piano and probably the one that you saw when you were growing up.
The pianos come in different sizes so you can easily choose for your limited space.
They feature 88 keys, lid, cabinet, music desk, and 3-foot pedals.
They are good for use in stage performances or homes and studios.
One drawback of the upright digital piano is that they lack portability so if you are looking for an instrument that you can travel with often go for another option.
Grand Pianos
Everyone will appreciate the presence of this beautiful instrument.
They are very expensive but great for serious pianists.
Grand pianos imitate the elegant design and sound of acoustic grand pianos while offering a few additional features.
They vary in sizes where you can find full sized grand and mini sized grand piano.
For this, they are ideal even for people with limited space.
5 Best Digital Piano Brands
Picking the best brand to find your digital piano can be difficult.
Even for experienced players, it gets confusing because of the multitude of brands that are competing in the industry.
However, it can be easy when you know several brands with some great features that others don't.
Here are five brands that are not only the most popular but also the best one in the market today.
Yamaha
Yamaha has been known to be one of the most prominent digital piano makers in the industry.
They make great pianos that fits everyone from beginners to experienced players.
Yamaha pianos are efficient, robust and highly recommended by many.
The company is highly regarded for their innovative technology in developing high-quality musical instruments.
They are said to bring the best sound engineers to make their instruments which have really bared the fruits from their high-quality and best sounding digital pianos.
For instance, they are credited with the advancement of the hammer key actions.
Besides being advanced, Yamaha keyboards are pretty affordable and covers a wide range of prices making them very accessible.
Yamaha Arius series, for instance, is one of the crowd's favorites that is of low budget and provides all the benefits a quality digital pianos can have.
They are also very versatile to be used anywhere professionally or domestic.
They come with a wide range of sound options and have compact designs.
They might look a bit traditional but have all best feature you can want from a digital piano or keyboard.
Casio
Casio is one of the popular brands in the musical industry.
Over the years, the company has gained its popularity in making digital pianos that are innovative, well designed and classical enough to be widely accepted by most musicians.
Its instruments are recognized for helping players to maximize their experience and potential levels.
Their digital pianos include great features like graded hammer key action that works well with the best-in-class wave generation and sound engineering.
These features are available in all digital pianos on different price points suitable for both beginners and experts.
Also, Casio instruments are also very affordable and durable and make a fantastic investment that can be resold over time without losing too much value.
This brand has several models that consist of great features which you can find under $1000.
Roland
Roland digital pianos have made their reputation after having the warm tone modelled from the acoustic Steinway concert grand piano.
Their most regarded pianos are stage pianos that come among the best digital pianos in the market.
The pianos are rated top in their category because of their true-to-life sound representation and their high responsive keys.
They are also preferred by musicians who travel a lot because of their portability.
Roland is widely acclaimed because of its high manufacturing standard of durable, productive and efficient instruments.
The company has focused on improving connectivity, selecting more tones and finding new ways to sample sounds.
They have produced digital pianos and keyboards for every market range regardless of the skill level.
Regardless of how picky you can be, Roland keyboards and digital pianos will always impress you with one of their authentic sounds and feel digital piano.
The pianos are very efficient and do not take too much space.
They are also energy efficient and do not require too much power and automatically turns off when not in use for a prolonged period.
Kawai
Kawai is a popular brand that is known for making digital pianos in different forms and colors.
It is more of a low-end model that sells cheaper pianos compared to other brands.
However, do not let this fool you into thinking that the pianos are of no good quality.
Kawai produces excellent quality keyboards that bring out a realistic sound from their acoustic pianos that are acclaimed of precision and dedication.
The digital pianos form the company has hallmarking features of distinctive keys with unique touch and weight.
When purchasing a Kawai piano, you can expect to get the same sound you expect to find from other regular pianos.
The company focuses on producing a realistic experience that you can almost differentiate from a real piano.
These pianos are versatile where they produce classical and modern sound like hip-hop rock and roll and so on.
Korg
Korg is a premium brand of digital pianos that is known for high-end pianos manufacturing.
The digital pianos are designed by musician point of view making them sound unique.
Korg pianos are very durable and resilient to most drops and bumps, and this makes them excellent candidates for travel instruments.
The pianos are efficient and can hold their position quality wise compared to other big brands like Yamaha and Casio.
They offer a pure and realistic sound that can be produced for many different instruments.
The pianos have quite flexible price points so everyone can find their personal preference.
For any musician looking for a digital piano to experiment with new sounds, you can go for one from Korg.
Top Keyboard & Digital Piano Reviews
The PX-770 has a sleek design and 88-key weighted hammer action keyboard.
The piano has ivory feel that adds a luxury touch that when combined with the Tri-Sensor II weighted key action you get authentic playability.
The digital piano is designed to be compact enough to fit your home without dominating the room and provide sounds big enough for the relatively small footprint.
It includes a powerful amplification system and conveniently located speakers that gives you optimal listening experience and crystal clear sound.
It includes 60 built-in songs, 19 instrument sounds, eight reverb and chorus effect, 128 polyphony and 18 built-in tones.
With all these, you can add diversity, expression, and feeling into your music during play.
All things considered, the PX-770 is ideal for all players from beginners to experienced players especially if money is the factor.
The P-115 is a versatile instrument that you can use both at home and on stage.
It features some of the finest performance characteristics and aesthetic advantages.
Some of the great features include key-off stereo sustain sample, dual modes, adjustable resonance, and 128 polyphony.
With the instrument, you experience the sound and feel of an acoustic piano because of the graded hammer key action and a four layer piano samples.

Also, if you are in a noise-sensitive environment, you are covered as it comes with a headphone port.
It is very portable and compact, and you can easily carry around to performances.
The downside of this piano is that it allows storage of only one music piece at a time, but this shouldn't be a problem because you can record and store them in a USB as a midi file.
If you are looking for best digital piano for the money, Yamaha P-115 is the way to go.
Here is another excellent model that comes from the Yamaha Arius digital series.
This model comes with the Yamaha Pure CF Sound engine that produces accurate sound production.
The YDP-143 features a GHS weighted key action that is heftier in low keys and simpler ion high keys.
With this, the model gives you the experience of an acoustic piano.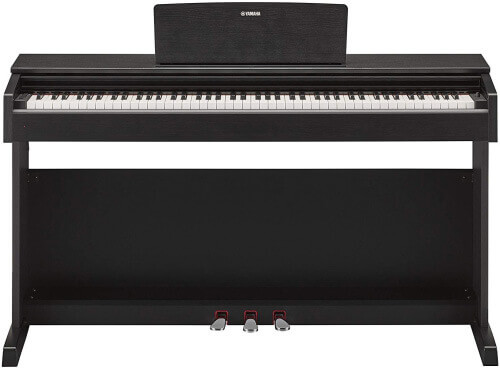 It also comes with a large internal memory of 900 Kbs and 50 classical piano built in songs that you can select and play to match your style.
You can use a controller app for IOS users to add taste and functions when using the piano.
One downside of the instrument is lack of an LCD screen display, but this shouldn't bother you if you are looking for a more traditional design.
Everything famous you ever heard of Kawai is incorporated in this model.
The ES 100 weighs only 33 pounds making it one of the best portable digital pianos in the market.
This piano is a perfect fit for professionals who travel a lot because of its easy-to-carry design.

With so many features that we can talk about, the ES 100 has a few ones that we can't help but mention.
One of them includes the advanced hammer action IV-F that give you a more realistic feel like that of an acoustic piano.
This instrument delivers excellent sound that beats most models in its category.
It features 192 polyphony tones and can be split into two making it easy to play duo or merely play two different styles at a go.
All these features come at a very competitive price making it a great alternative to big-name players such as Casio and Yamaha.
The Yamaha PSR-EW300 is a portable digital keyboard ideal for musicians who are in need of a reliable instrument to learn with.
It comes with a touch-sensitive 76-notes keyboard that allows you to play music expressively.
The model has a portable, lightweight design that can be comfortable to carry around and store.
It features over 500 voices that cover grand pianos, synth, ensembles and so on.
The YES learning feature in the keyboard provides you with over 100 songs that you can use to improve your skills independently.

It also incorporates the Yamaha "Key to Success" lesson function that redesigned to train your dynamics, timing, note familiarity among others.
You can also split the keyboard into duo mode so teachers and students can play side-by-side using the same range.
With the model, you will enjoy a classic black finish that complements any environment making it a good piece to store even in your living room.
The LP-380 a great instrument for serious students.
It is an energy efficient instrument that does not hold back on options or sound quality.
You can learn a lot from this instrument; you can learn everything that is necessary to play the piano in this model.
The LP-380 comes with a slimmer elegant design that can fit and blend into any room.
It has an additional key cover that protects it from damage when not in use.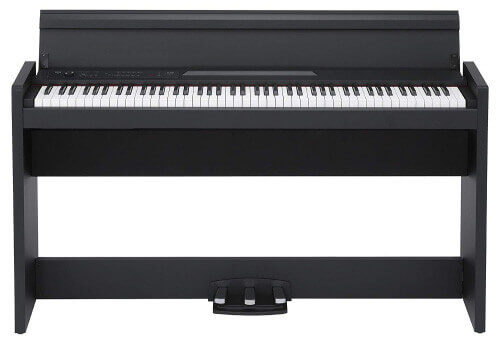 On top of its design, the piano comes with great features like the three-foot pedal that sets it apart and makes it a strong contender.
One of its main drawbacks is that it lacks portability, but this might not be an issue for students who prefer stationary pianos.
The Yamaha YPG-535 comes with amazing components that are packaged in a small grand piano.
It features a nice backlight LCD that greatly helps you during your performance.
It comes with 127 voices and another 361XG lite voices giving you endless sounds options that you can make from the instrument.

Other features include the graded soft touch, USB connectivity, and performance and assistive technology. quite compatible with any player.
The YPG-535 also comes with a good-looking design that can blend nicely in your room.
Beginners are sorted with the Yamaha Education Suite while the experienced players enjoy the big database that you can load and store your songs.
The Korg comes with a bold and unique shape that stands out from normal digital pianos.
It's portable compared to other digital pianos of its range and does not sacrifice that sound quality or selection.
The SP-280 offers acoustic playing experience with the natural weighted hammer key action.
It is heavy at the low register and light at the upper register.
It comes with 30 different tones and voices and ten demo songs and a MIDI connectivity to record your music.
It also features a 22-watt speaker that that is adequate for small and large room performances.

The instrument is a great fit for both beginners and experts where the beginners can enjoy the full weighted hammer key action and expert have the advantage of experiencing the acoustic three pedal functions.
Generally, its impressive features make it a perfect middle ground.
Kawai MP7 is a full 88-key digital piano that gives you a grand piano experience.
But, unlike the grand pianos, it comes with a small frame that you can easily to move around.
The MP7 can easily produce woodwind, strings and percussion sounds.
It comes with 28 different acoustic settings, pipe organ and electric piano that is worth to take a closer look.
You can easily customize all sounds with adjustable knobs found in near LCD, multilayer and record the sound.
The piano comes with a USB input that you can use to download and upload recordings and music.

It also features pedal sustains that produce sustainable sounds just like the real piano.
It has three key sensor that guarantees notes to be played on demand.
You can easily customize and edit sounds with the micro-editing features making it possible to mimic other piano types.
Other features that we must highlight is the 256-note maximum polyphony chip that allows 256 notes to be played at one time without cutting off any of them.
The CTK-3500 is a portable keyboard that opens up the whole music world with the 61-key full-size touch sensitive keyboard, 400 tones, 60 built-in songs and 100 rhythms.
It comes with the Step-Up Music Lesson System that helps you to learn the piano and discover the world of music.
An LCD also lets you see the music notation and hand positioning while the innovation lesson system tracks your progress.

The Casio CTK-3500 has plenty of features that take you beyond the initial leaning steps.
It comes with USB connectivity that links the keyboard with your computer for MIDI use.
You also get headphone output, to practice quietly and avoid noise disturbance.
Another great feature that comes with the CTK-3500 is the Chordana Play app where you can integrate it with the keyboard to make the playing more fun.
The PX-5S is the Casio version of the best digital stage piano that offers a wide range of features for live performances.
It uses the AIR sound source that gives a realistic tone for instruments such as grand piano.

It also comes with 256-note polyphony that gives you the response of an acoustic piano.
With the 370 tones and ability to add 350 more, the instrument has a large choice of complex tones that have natural feel and realism of the actual piano.
The result given from all these nifty features is an authentic sound that is more precise than its price tag.
The SP-170S comes with great features that makes it stand out from its competitors.
It features natural hammer action technology that gives a reliable and accurate response whenever you play.
The piano has 120-note polyphony that allows very low drop-offs sustained note during the play.
It also features a quick play button that you can use to return the piano to default tone instantly.

Apart from the high-quality sounds provided, the SP-170S is compact enough to fit a small size room.
It offers a great alternative to the cumbersome acoustic instrument that might need a lot of attention.
Korg SP-170S is a perfect fit for anyone with space and cash restrictions.
If you are doing your homework comparing prices with features for features, then you must consider this keyboard in your list.
The keyboard offers a wide range of features that can quench your music curiosity.
It encompasses all the features that any Yamaha customers seek and still affords to be inexpensive.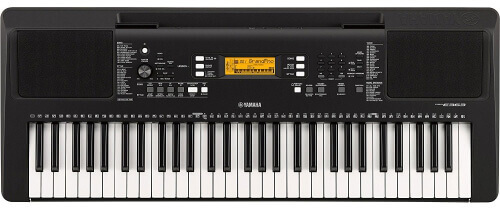 One interesting feature you can find in the instrument is its connectivity to IOS devices where you have to download the app and connect it via iUX1.
The PSR-E363 is the best electronic keyboard for beginners as it's built with students in mind.
It features Yamaha Education Suite plus many other features that will help you all the way to expert.
The LP-180 is an entry-level instrument in the Korg digital pianos.
With a competitive price, it offers forefront digital technology in a compact instrument that can fit in the corner of a small space.
The digital piano comes with weighted key action that provides a reasonably well-graded response from high to the low end of the keyboard.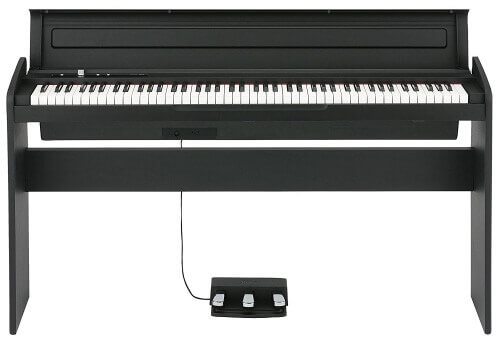 The instrument has been invested on where engineering skill to produce a most realistic tone and touch response that mimics the feel of a well-constructed acoustic piano have been applied.
An average player will more appreciate everything that this instrument offers.
This standalone instrument provides a good starting point for young and curious musicians who love to explore musical possibilities.
The CTK-2550 will give you access to fun elements and assist you in making all types of music.
The instrument is pretty standard and does not come with a hefty price tag.
It has 61 keys that are built with graded soft touch key action to give the authentic feel of a grand piano.
Several songs and a wide range of special sounds make the instrument interesting and fun to play.

Apart from that, it features a built-in microphone bringing a new and innovative method of sampling.
With the purchase of the piano, you get other accessories like X stand, Samson HP30 headphones, and a power supply.
Even though the number of keys might be less than other digital pianos in the market, CTK-2550 remains to be an ideal choice for low budget.
The PX-350 is a representation of the continued evolution of the Privia Line.
It comes with an impressive three sensor hammer action, mighty AIR Sound Engine, and a lightweight and stylish design.
The piano has a range of features that attempt to capture great attributes from many instruments and roll them in a price tag of one.

There are many features that both beginners and experienced players can admire.
Generally, it steals the show to be one of the best sounding and most playable instruments in the market.
The P-125 is an upgrade of the P-105 entry-level keyboard.
It comes with a fully weighted 88-key keyboard and offers pretty much standard price in the Yamaha catalog.
The keyboard comes with weighting settings that give the light to heavier feel across the graded keyboard action.
This makes it a great fit for young players with weak hands and experienced players who like their keys a bit heavier.
Its sound features include Pure CF Sound Engine, 24 voices and 192-note polyphony.
All this complete the catalog and add the fun felt from the piano playing experience.
The PX-860 comes with totally usable features that are a great fit for all players.
It has a Multi-dimension AIR sound engine and an upgraded memory capacity that boosts the memory of previous samples.
This enhances realism to the sound produced by the instrument.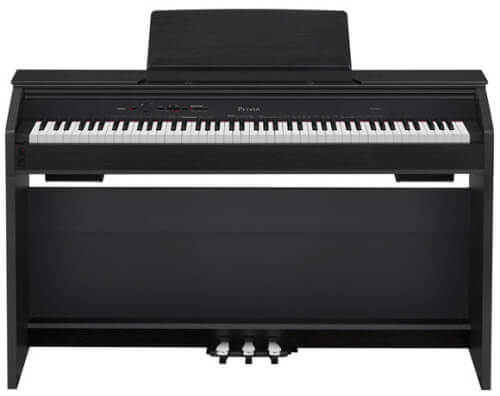 The brilliance, chorus, and reverb effects give the user a wide range of options to produce the right edge to the sound.
You can easily link the instrument to recording or notation software via USB ports.
Apart from that, there still a lot to admire in the instrument and it is totally worth your consideration when looking for the best upright digital piano.
The CE220 is a true representation of Kawai legacy that gives a perfect combination of Kawai features.
From functionality to design everything you find in this instrument is just incredible.
The digital piano comes with a black satin finish and a beautiful look that attracts you the first time you see it.
It comes with 88 AWA PROII graded keys that are heavy from the low end and light to light end.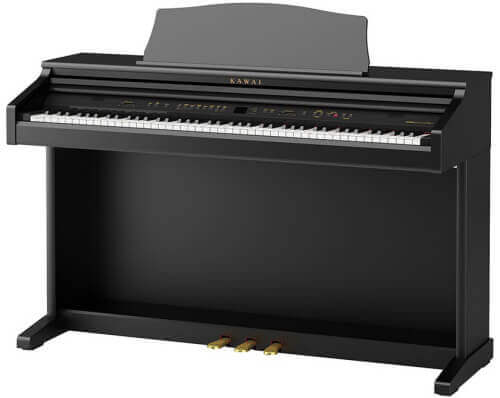 Additionally, the piano features 192 note polyphony, so there is enough to make the piano more appealing and make the playing even more enjoyable.
Kawai CE220 is a crowd pleaser that you cannot get tired of.
The DGX-650 is a professional digital piano that comes with an 88-weighted keyboard.
It features 128-note polyphony tone that layers notes without dropping off.
The DGX-650 comes with a touch sensitive four level sound mechanism that is derived from the Yamaha CFIIS concert grand Piano.
It also features over 100 voices, 100 preset songs, and a full dot LCD which makes it easier to follow and fun to learn and experiment with.

Other functions and effects available include the Reverb, Split Mode, Layer Mode Transpose and approximately 200 accompaniment styles.
These features might sound a little overwhelming, but there is no need for panic because you will enjoy either way.
The P-45 is an 88-key portable digital piano that comes with the Yamaha Graded Hammer Standard keyboard giving you the acoustic piano feel.
The instrument uses advanced Wave memory sampling to retrieve acoustic sound. It also features ten fun voice demos.
The P-45 boasts a four-level touch sensitivity that gives a more realistic response.
It also comes with a sturdy stand, headphone slot, and duo mode features.
There are still more features and functions that you can easily get from this unit.
On top of that, it still comes with a pocket-friendly price tag making it a great school or home piano.
The PX-160 is a continuation of the Privia Series professional digital pianos.
This model comes with just a small difference from other Casio models of the same series.
Firstly, it comes with a DVD manual where you can study and follow easy steps to learn how to play the instrument.
It also comes with bench, polishing cloth, instruction handbook, and a few other accessories.

As you might though, the 160 is an upgrade of the PX-150 the Casio highest selling model.
It features a speaker system that is well designed giving an excellent look to complement the style.
Additionally, the pianos come with electric piano tones and strings assemble that makes the professional players to play and select tones comfortably.
What set apart this digital piano is the unbeatable harmonic Imaging Sound Technology incorporated in the design.
Its primary features include the quality 88-keys piano sampled from the AHAIV-F acoustic piano.
It comes with an exceptional design that stands out from the pool of digital pianos in the market.
When you invest on the instrument, you are least assured that you will get value equivalent to what you have spent.
With realistic actions from the pedals that work perfectly, KDP90 give you the experience that you can expect only from acoustic pianos.
You can split the piano up to 4 hand mode design feature and play as two separate pianos.
The SV-1 is a top quality digital piano that is designed for professional players.
This black model comes with 73 graded hammer action keys and 36 piano songs that are very coveted by musician around the globe.
It features a number of sound buttons that give players easy access to the preloaded sounds that accompany the keyboard.
It has a charming look, and feel that makes everyone fall in love with the instrument.
It emanates high-quality sound that sounds like a grand piano with unique qualities and endless melodies.
The piano features a three-band equalizer that allows you to set the best sound quality while providing a great feel even for people with eye problems.
You can feel your way around the music when playing this instrument; this makes it one of the best professional digital pianos in the market.
The DGX-660 is one of the top digital pianos in market with an 88 graded hammer action keys.
The piano comes with a built-in microphone where you can record songs and listen later and share with friends and family.
It features a variety of different Pianos settings that you can use to personalize your performance and apply digital effects your voice.
The instrument has an LCD that you can use to see your musical score and song lyrics.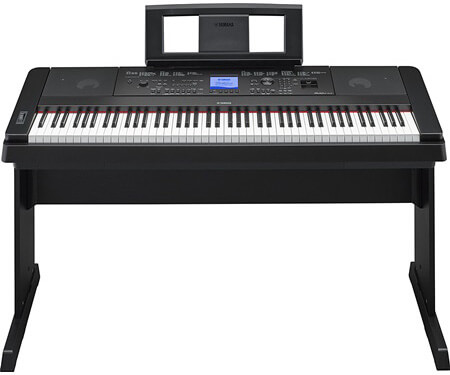 Also, using the Smart Chord feature, you can sound like a professional even when you are just a beginner.
With the Smart Chord, you can create an entire chord and add the professional touch to your playing.
The LK-190 is the best portable keyboard that fits beginners perfectly with the standard length and 61 lightweight keys.
The digital piano offers Step Up Lesson System one of the most useful features for beginners to learn how to play any song from the song bank.

It also has an LCD where you can easily see and control the changes that you might need to from the settings.
This instrument is very portable as it weighs only around 8 lbs.
So even a young child won't have trouble moving it.
The NP-32 is a 76-key digital piano that boasts as an ideal combination of simplicity and elegance.
The keyboard comes with a lightweight, portable design and cool features like the trademark Yamaha sounds, touch and feel for a reasonable price.
With 76 keys and 64-note polyphony, you can play most music composition without getting dropped notes.

You also won't have much troubles to adjust to a real piano because it gives you the sound and feel of an actual piano.
You can connect USB device and use iOS apps to share the recorded songs.
Also, if you are in a noise-sensitive environment, you can use headphones which will give you a quality sound just like on speakers.
Roland FP-90 take your piano playing experience to another level.
This compact instrument is loaded with the Roland SuperNATURAL piano sound engine that produces the concert piano in a meticulously.

The FP-90 comes with strings, synths, organs, electric pianos, and more.
It has a progressive hammer action that yields the acoustic piano feel.
With the instrument, you can get complete Bluetooth connectivity, multichannel speaker system and three-band equalizer that gives brilliant sounds.
The Roland F-140R is a great choice for tech lover musicians.
It has the look, and sound of a regular piano, with tones that is similar to that of a grand piano.
The F-140R comes with over 72 rhythm styles, 300 additional tones and a wide array for other instruments.
What makes the F-140R an ideal choice for tech lovers is its ability to connect to a tablet or smartphone through Bluetooth features.
The quality of the keyboard is fantastic, and it is very easy to assemble.
There are so many features that you will find creative when making any music on this keyboard.
If you are looking for a mix of high-end features of a stage piano and basic functionality of entry level instrument, then the Alesis Coda Pro is the best fit for you.
The Coda Pro comes with 88-key weighted action that give it a fairly realistic acoustic playability essential for practicing and performing.
It comes with 20 built-in sounds and reverb and chorus effects.
It also have capabilities to use as a MIDI controller with the USB-MIDI output.

One downside of this digital keyboard is that its sounds are not recorded from a professional piano so the tone is not realistic as you might expect from other pianos review here.
Either way, Alesis Coda Pro has a lot to offer but it is better to keep your expectation in check.
Final Thought
Our digital piano reviews contains all great options that you can consider when looking for a good digital piano.
Each of the options offers something different for every musician.
The guide aims to assist you to decide which one of the pianos is going to meet your needs.
Take a close look at each one of them to fully understand what they have to offer so that you can make an informed decision about what is best digital piano (or keyboard) for you.