The RD-88 was one of the stars of NAMM 2020 for Roland; in our short review, we will give you our first thoughts. As you might have read in other articles, I'm a fan of Roland's RD series of keyboards; I think they are well-made, sound awesome, and feel great. So, naturally, I was excited at the prospect of a new model. The RD-88 is something a bit different, rather than a continuation of the current RD line up. So, let's have a look and see if it merits the Roland RD name.
What is the Roland RD-88?
It's an 88-key stage piano powered by Roland's ZEN-Core sound engine. The ZEN-Core sound engine shows a new approach from Roland, in an aim to create a limitless sound-design platform. The general idea is that ZEN-Core sounds can be shared between any compatible Roland hardware. So, in theory, if you have custom patches saved on the very heavy Jupiter-8, you could transfer them to the much lighter RD-88 for a gig. Roland will release expansion packs with new sounds and presets that you can purchase, too.
Image credit: Roland
Check Price on Sweetwater
The pianos on the RD-88 come from the tried and tested SuperNATURAL engine, and are as beautiful as ever. Adding to the realism are some PHA-4 progressive hammer-action keys with ivory feel. The ivory feel helps prevent your fingers from slipping, and there is also an escapement mechanism. Escapement allows you to retrigger notes without fully releasing the key, which is incredibly useful in a stage piano.
The electric pianos and organs that are present in other RD models are also here and sound as good as ever.
The keyboard has three zones with effects available per zone. Per zone effects give you a chance to EQ your bass differently from your lead, etc. All of the usual effect types are available per voice or per zone, including six reverb types, chorus, delay, compression, and more.
In general, RD stage pianos have a straightforward user interface (the RD-2000 is perhaps more complex). The RD-88 follows that minimal trend with the familiar large voice selection buttons, and dedicated effects sections. It also has the same small display screen found in the earlier RD models. There are eight assignable knobs, two assignable wheels (pitch/mod), a damper pedal input, and two assignable pedal inputs.
How does it differ from other RD models?
It has the same SuperNATURAL sound engine, the ZEN-Core sound engine that is shared by many new Roland synths, and a typical RD-style layout. So, how is it different?
For a start, and very importantly, RD pianos tend to be very heavy (if you've gigged with one, you will know), but the RD-88 is somewhere around 29 lbs. That's about a quarter of the weight of previous RD stage pianos. Being lighter means being smaller, and being smaller usually means losing some features.
Surprisingly, the RD-88 still has fantastic hammer-action keys and impressive functionality. Furthermore, it comes with pretty comprehensive connectivity that includes easy integration with Apple MainStage. Through MainStage, you can integrate software sounds with your hardware, which on the surface sounds like you can use the RD-88 as a controller, and that's nothing new. But, it's more than that, Roland says you will be able to use software sounds as if they were part of the hardware, meaning you can layer or split them across the three zones with hardware sounds.
Another impressive feature is the 2-way (6 W) stereo speaker system. The speakers make it easier to practice at home or even play at small rehearsals/performances with an extra amp or PA system. Even more impressive is the fact that Roland managed to pack them into this compact piano.
The last small but awesome feature that is worth mentioning is the One Touch Piano button. Pressing this button instantly returns you to the default grand piano voice no matter what patch you are currently using. Even if you are on a split or layered zonal patch, you have this instant reset button.
Who is it for?
The RD-88 will be available for around $1200, so realistically, it's suitable for anyone who wants a high-quality 88-key stage piano. That applies to beginners who want a long-term piano rather than a cheaper short-term option, and more advanced players who don't want to overspend.
However, there is no doubt that the RD-88 is custom-built for the gigging musician. Whether you play in a wedding band, a jazz band, or any kind of session work, the RD-88 is for you. If you have experience as a working musician, you will know the frustration of not being able to throw your stage piano over your shoulder like a guitar. You'll also know the disappointment of not having a smaller, lighter alternative that is easy to transport with sacrificing sound and touch quality.
The RD-88 looks to be a very convincing prospect to fill that void. Especially with the ability to integrate software and hardware sounds so fluidly. If you already have another Roland keyboard like the Jupiter-8, remember you can share patches between that and the RD-88 via the ZEN-Core engine. So, it's potentially a great purchase as a second keyboard that you can substitute for certain gigs.
Conclusion
So far, the RD-88 looks like a very worthy addition to the RD line-up. It's certainly one that any gigging musician should be checking out, and it will be interesting to see just how well the ZEN-Core engine works. For now, it's a big thumbs up from us!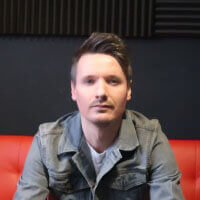 James is a USA-based writer and musician with a passion for audio production. Growing up he was surrounded by talented musicians and different forms of music, which set the path for both his personal and private life. He played several instruments during his childhood, dipping his toes into all sorts of musical genres, but once grown-up he discovered that his true calling is music production, rather than creation.
Strong roots in the music industry
Being in the studio for hours on end has was never an issue for James, and having a degree in Audio Production, as well as years of experience in the wider music industry, he is perfectly equipped to help both the young and inexperienced, as well as strongly established musicians, to get the best out of their skills and to create the music that they envisioned.
His personal musical interests include jazz, funk, hip hop, blues, and rock, but professionally he worked on a lot of different projects and with all sorts of genres, proving that he is a true professional and dedicated to getting the best out of every production he is involved in.
Sharing knowledge as a career
Apart from having strong roots in the music industry, James is also a talented writer and takes great joy in sharing his knowledge through this hobby. All his articles and reviews are always meticulously researched and presented in a way that is easily understood while being packed with useful information. In addition to that, he is also a lover of all things tech, especially the latest keyboards, synths, DAW's, virtual instruments, and effects plugins – so ofcourse he is our go-to guy for these types of reviews.
James is a truly versatile, and reliable artist who over the years has learned how to express himself in a variety of ways. Be it through his work with musicians, or through his writing, it is easy to see the thread that runs through all of his work – the need to help and to share knowledge.