Not everyone thinks that owning a piano can be affordable. Think about it, with the history of pianos being the luxurious and super expensive instruments, how can you find a good budget keyboard piano in the market?
It's obvious, you need to spend a good amount to in order to get yourself a keyboard piano that will fit your needs. But is that necessarily the case?
No! The truth is, you can spend a small amount for a good piano or keyboard instrument that will serve the purpose of a piano.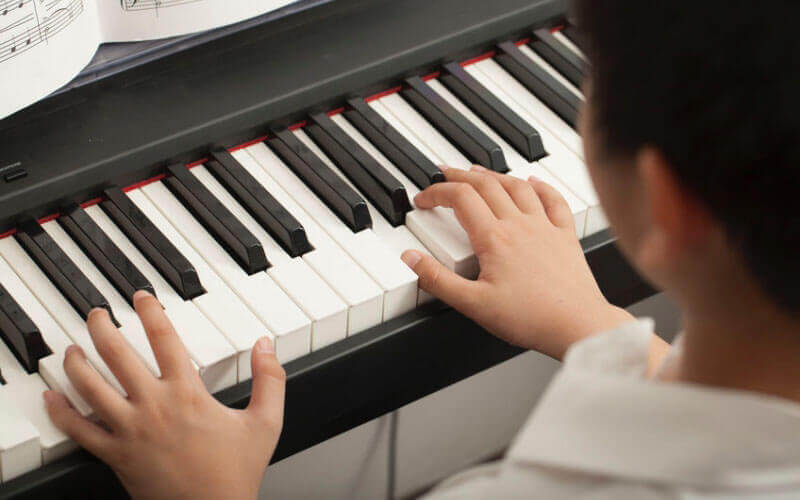 Today, we will be looking at some of the best cheap keyboard pianos in the market. Whatever your budget might be, we will find you a dependable piano or keyboard with enough features to cater to your needs.
So without wasting time, let's jump to our review and find out which one of the instrument will fit your requirements.
10 Best Cheap Keyboard Pianos Under $300
Here's the 10 best budget keyboard pianos under $300:
Williams Legato Digital Piano
William Legato is the new Williams 88 semi-weighted key piano and no doubt one of the best cheap keyboard pianos under $300.
Considering its price, the Legato comes with quite an understandable design that comprises an inexpensive plastic, buttons, and knobs that make it compact and lightweight.
It comes with sound library made of five sounds including piano, organ, bass, synth, and electric piano.
Its split mode enables you to divide the keyboard into two and select sound in each side. For instance, you can play piano on one side and organ on the other or synth and bass.
The chorus and delay add some depth in the music making it sound quite nice.
Its 32 notes polyphony is enough for an entry instrument but if you are looking to play complex arpeggios, two-handed chords or advanced passage of classical music you might find it an issue.
The piano does not disappoint in the response and feel. It comes with full-size keys and the semi-weighted function that gives the players the touch and feels close to that of real piano fitting easily to a medium level piece.
The Legato can also be used with batteries making it perfect to carry along to camping and other outdoor activities where power is unavailable.
You can connect it to many devices and software through various port including the USB making music sharing and recording easier.
Inexpensive
Portable
88 full-size keys
Uses batteries

Not extremely robust
The keyboard is not graded
The William Legato is a good product considering its price. For anyone who is not looking for a more realistic experience or simply looking for a lightweight digital piano with MIDI and USB capabilities, you will definitely reign in this.
It is a perfect fit for home studio where you can use it as a controller keyboard and utilize sophisticated sound software or just for practice.
Generally, the instrument can give many hours of satisfactory learning and growth to beginners and intermediate players.
Artesia PA-88W Digital Piano
Very few of you probably have heard of Virgin Music Instruments since it's not as popular as other big manufacturers but they have come up with some quality products that are worth noticing.
The Artesia are producing lots of products from monitors to headphones and now digital pianos.
As you will see from the PA-88W, the brand is not just another brand looking to make some extra cash from a mediocre product but it's quite determined to give a quality instrument at a low price.
The digital piano comes 88 full-size touch sensitive keys, which you can adjust the sensitivity to match softer or harder playing styles.
You can also connect a sustain pedal which is of great quality and very responsive for the better piano experience.
On sound, the PA-88W sounds really nice considering its price tag. It has 12 instrument voices that you can select from and a variety of effect that you can use to customize them.
You can also layer three samples to add more depth to the grand piano sound; by adding the 3D stereo sounds you can get more pleasing and realistic sound.
You can record your composition using a USB MIDI or connect it to compatible learning software.
The quality of the instrument is quite solid although some keys might be squeaky and their weights aren't as good as mid-range or top-end digital pianos.
Its design is plain and basic but it's still good for an instrument in the range.
Good value for money
Many connections options

The plain and basic design
For anyone who just needs something to learn on or play around with, the PA-88W is an ideal choice. It offers value and has some of the best functionalities in the price range.
Generally, the PA-88W is the closest you can get for a portable baby grand piano on the price range and definitely the best digital piano under $300.
Lagrima Digital Piano
The Lagrima is one of the best-weighted keyboards under $300. It comes with 88 full-size key beds with weighted actions that are quite nice for beginners.
The instrument comes with dream source digitization sampling that gives you an outstanding response. It features 3 pedal system which includes soft sustain and sostenuto pedal.
The sounds are quite nice where you will find 80 demo songs and 480 tones that will make your music colorful.
It comes with multifunctional features where you can easily adjust the volume, select multi-tone, control your recordings and playbacks enabling you to learn easily and get the best experience when doing it.
With functions like a metronome, teaching features, split and touch controls, any beginner is enabled to hone their skills and have fun in the process.
The instrument also comes with several connectivity options where you can use the USB MIDI port to connect and interact with a wide variety of musical, educational and other applications easily on your devices.
You can also use headphones if you are in a noise-sensitive environment or use the port to connect to an external amplifier for more sound if you are performing in front of a large crowd.
Quick and convenient connectivity
Includes all kinds of accompaniments

Not fit for kids as the keys are overly weighted
If you are looking for a good beginner digital piano that comes with features and functionality that will benefit your music experience, the Lagrima digital piano is a perfect fit for you.
The instrument comes with tons of songs, rhythms and tones that you can use to practice and listen.
It also has the USB and jack terminal that you can use to facilitate the playing experience.
Alesis Recital Digital Piano
This instrument comes with an incredible design and overall look that any beginner would like to use right off the bat.
Its price is way below its quality where it is equipped with LED buttons to complete the futuristic look while its lightweight physique makes it easy to store and look nice in your living space.
The instrument comes with 88 full-size semi-weighted keys that you can adjust the touch sensitivity. This gives users a natural and realistic touch close to that of an actual piano.
The instrument comes with five built-in voices which include the acoustic piano, organ, bass, synth and electric piano giving you enough music compatibilities to play with.
Even better, you can customize the voices to your preference in the layer mode to add more taste to your music.
On top of that, the Recital comes with chorus and reverb customization capabilities that add the final ingredient to flourish.
Its powerful built-in speakers (20W), enables it to provide a rich and realistic sound giving a fantastic playing experience.
The instrument comes with a superb educational feature known as Lesson Mode which splits the keys into two separate sections while providing the same voice and pitch.
This allows the teachers to play alongside their students without the need of taking turns on the keyboard.
Classic design
Lightweight and slim physique
Powerful built-in speakers

The keys are not fully weighted
If you are looking for the best price deal and the satisfaction that comes from knowing that you have a great instrument for a reasonable price then the Alesis Recital is a perfect place to start.
Its functionality and overall use surpass that of its competition. It is a perfect fit for anyone looking for the best cheap 88-key keyboard to hone their skills as a pianist.
Yamaha YPT-260 Portable Keyboard
The Yamaha YPT-260 is arguably one of the best cheap keyboard pianos and a remarkable instrument produced by Yamaha.
The instrument has everything that you can look for and extra features that will allow you to experiment and boost your creativity.
With the price tag, the YPT-260 is one of the most affordable keyboards with a wide spectrum of quality features that any musician can enjoy.
As you might expect from Yamaha, the quality of this instrument is impeccable.
The keyboard is covered with a hard plastic casing that offers excellent protection and survives the hard life of the road and home use.
Its quality doesn't just stop from the casing, its buttons and knobs are made to last using materials like rubber to protect it from wear and tear.
The keys from the keyboard are orderly placed where the ones that work together are closely spaced and the others are spaced reasonably to prevent wrong key pressing.
The YPT-260 comes with an LCD screen that enables you to navigate through various features with ease.
On top of that, there are other features like the Yamaha Education Suite that will take you from a newbie to an experienced pianist and polish your skills to become an expert player.
The instrument comes with access to around 400 instrument sounds and voices that is enough to work with and stretch your creativity.
High quality and robust design
Yamaha education suite
Sustain pedal capability

Comes with 61 non-weighted keys
The only limitation this instrument have is that it does not come with weighted keys.
Everything considered this instrument will fit any beginner or intermediate pianist especially those who are looking for the best cheap keyboard around $100.
You'll love it and definitely, you'll have an enjoyable time using it.
Casio CT-X700 Portable Keyboard
Casio CT-X700 is an extremely affordable keyboard build to change the entry-level keyboards landscape.
The instrument comes with a powerful AIX Sound Source that sets it apart from other portable keyboards.
It comes with a grand piano sound that is quite nice to listen. On top of that, it has 600 more sounds and 195 rhythms that will keep you engaged.
The CT-X700 has an optional power source where you can use the AC adapter or batteries to power it. This makes it convenient since you can use it even in places where there's no power source.
The instrument comes with built-in songs with lesson mode that allows budding musicians to play among them and learn at their own pace.
It has MIDI capabilities where you can use the USB port to connect to a PC and control the sounds and share music with your devices.
Affordable and portable
Sustain pedal input
Touch responsive keys
Durable exterior casing

61 keys that are not weighted
With the CT-X700, it's obvious you are buying an entry-level instrument. However, it's an instrument that guarantees you at least a year of use.
It's ideal for people who are looking for a lightweight and a battery-powered instrument that you can use to play your music in the middle of nowhere.
It's a good keyboard for beginners and intermediate player looking for an instrument that they can travel with.
Casio CTK-3500 Portable Keyboard
The CTK-3500 is a piano-style keyboard that comes with a variety of features for a fraction of cost.
The instrument has 61 touch sensitive keys with two sensitivity level. With this, you can pair with the digital effects like the reverb to produce a good sound depth and playing dynamics.
The instrument comes with 48 note polyphony and over 400 tones making it versatile instrument to learn on and experiment.
The built-in tunes and rhythms act as backing tracks which are great to jam to. It also has a USB port for MIDI compatibility that you can use to learn with.
It comes with two built-in speakers that are powerful enough to play in front of a small crowd without the need of external speakers.
You can also use the headphone connection option which you can use in your noise-sensitive environment.
The instrument is compatible with Chordana Play app which you can download to your smart device from app store or google play store.
With this, you can share different songs where you download in MIDI file format, connect your device to the instrument, share your favorite library and utilize them to practice.
You can also transfer the downloaded files to the instrument and use them even when you have not synced it to with the device.
Chordana app connectivity
Touch responsive keys
USB-MIDI connectivity

The keys are not weighted
The CTK-3500 is an ideal choice for budding musicians who are at their starting level looking to get fluent with keys and keyboards in general.
It can also be a good choice for experienced players since it enables versatile and smooth performances.
The ONE Smart Piano Keyboard
The One Smart 61-key piano keyboard is yet another instrument that has caught the eye of the piano community. It comes with a unique integrated app that an effective tool for learning as it eliminates the need of an instructor.
The LED light looks like something that is far away from the kid's piano as it is more discrete and advanced. The lights are on the top of the keys which are of different colors denoting different hands.
The red light is for the right hand while the blue is for left. Virtually, anyone can learn how to play piano by just following the lights and paying attention.
On top of that, you can use ONE app feature that comes with a real-time music sheet. Here, you just select the piece you need to play on the app and the keys you are to press will light up.
And when you press the wrong key, the music sheet won't advance until you do it right.
The instrument removes the limitation of downloading a few songs to practice with as there are over 2000 songs to download into the app.
It also comes with USB MIDI output that you can use to connect to your device and share your music files or use it as DAW.
The piano incorporates headphones capabilities making your playing much easier even in the noise-sensitive environment.
Advanced learning features
Great design

Most of its features are on the app
This is a good instrument for those who are looking to take the advantage of everything the ONE App has to offer. The instrument is suitable for beginners, anyone who would like to improve their skills.
Yamaha NP-32 Portable Keyboard
Yamaha NP-32 is easy to use lightweight keyboard that fits people who are not looking for many options.
It comes in two colors – black and white – that you can choose from. Either color you chose from looks gorgeous where it comes with a red line running across the key tops giving them the fancy look in almost any living room.
It also comes with just a few buttons which gives it a minimalistic, simple aesthetics.
The 76 keys are soft graded and touch-sensitive offering the same dynamics of a grand piano making it feel light when playing and sound great.
The speakers are 12W which surprisingly gets loud especially when on the max volume.
With its 64 note polyphony, the instrument enables to play most composition without doping off notes.
The grand sound is sampled from Yamaha Concert Grand that sounds quite nice when playing. There are also other sounds that the NP-32 comes with which includes the E. piano, organs, strings, vibes, harpsichord etc.
Lightweight
USB-host connectivity
Headphones output

The design might be a bit plain to some people
If you are looking for an entry-level keyboard that feels good and sounds grand, then the NP-32 is a good place to start.
For the price, it will definitely meet your personal needs and you can use it with your computer the way you want.
Yamaha EZ-220 Portable Keyboard
Yamaha EZ-220 is yet another entry-level keyboard that is worth your money. It comes with 61 touch sensitive and lighted keys that will make it even more fun to play with.
It includes 392 sounds that will spice up things and 100 built-in songs that work side by side with the lighted keys making learning more fun.
You can wirelessly connect it to various iPad applications and use that to better your learning.
It also includes Yamaha Education Suite that comes with features that will guide you towards your piano mastery.
Portable
Yamaha Education Suite
Wireless connectivity

Non-weighted keys
No built-in recorder
With its high-quality features and compact design, the EZ-220 makes its way to be among the top 10 of our list.
Overall, the instrument comes with great features that fit the beginners and advanced players alike. It will not only make learning easier but also make it fun.
Conclusion
Now that you have our list of some of the best cheap keyboard piano options out there, it's time to decide which one to go with.
All of the mentioned instruments comes with quality features that will make your practice and performance easier.
According to your requirement, you can go with any of the above instruments and get a lot for your money.