Choosing the right instrument is a big decision at any stage in your development but it's especially important as a beginner. Whatever you choose will either help or hinder your progress depending on how well it suits you.
In this article, we are looking at the best keyboards for beginners and the best digital pianos for beginners, discussing some important features that should factor in your decision.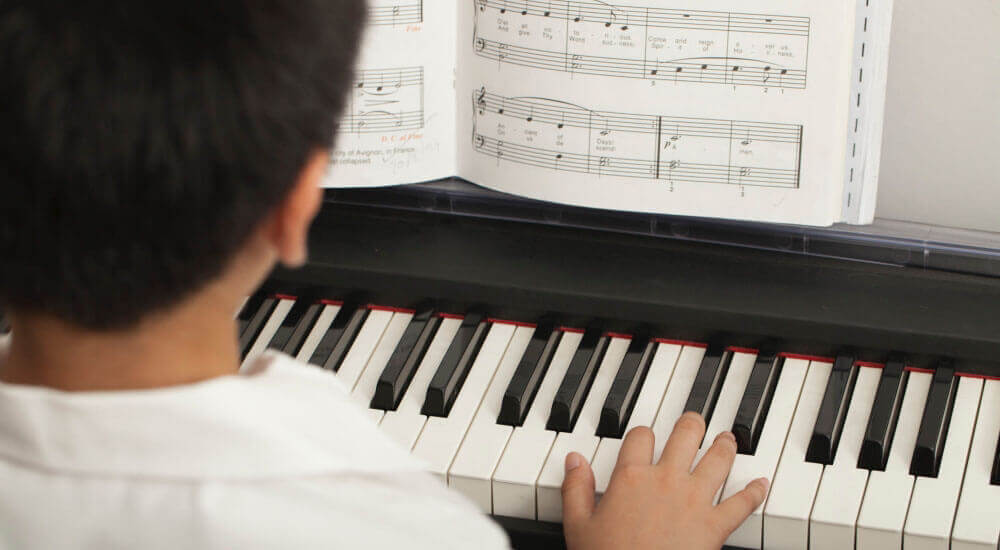 Some of the questions we will answer include:
Top 10 Best Beginner Digital Pianos and Keyboards 2020
Here are the best keyboards and digital pianos for beginners:
Yamaha YPT-260
This is an out and out beginners keyboard, it's designed in every sense to take you from knowing nothing at all to playing songs. It's got 61 velocity sensitive keys with a max polyphony of 32 notes, which is plenty at this stage.
The YPT-260 is packed with 384 voices including pianos, organs, and orchestral sounds plus 16 drum kits. Along with all those voices it has over 100 rhythms to play over meaning you won't quickly run out of ideas.
This lightweight portable keyboard is extremely versatile with its abundance of voices and it's perfect for a learner to discover their sound.
Yamaha has also added some nice interactive touches with lessons and tutorials available via a dedicated app. Adding to the teaching side of things, you can also split the keyboard in the middle to create two identical ranges for side by side student/teacher playing.
The YPT-260 also has USB connectivity so you can connect compatible devices and jam along to backing tracks through the built-in speakers.
Low price.
Versatility, a huge amount of voices and rhythms.
High-quality voices.
Educational features – keyboard split and app lessons/tutorials.
USB connectivity.
Very portable.

As an absolute beginner keyboard, it's hard to list any cons for the YPT-260 at the price.
It absolutely over-delivers in comparison to most keyboards at a similar price range. Yamaha has designed this keyboard to get you from A to B and have fun doing it.
It's affordable, it's versatile, portable, and will help you develop your skills, this is why we think the Yamaha YPT-260 is one of the best keyboards to learn how to play.
Casio CTK-3500
Casio are masters of making keyboards for beginners and this is a great example. It's a 61 velocity sensitive key instrument with 48-note polyphony and well within budget.
Don't let the price fool you, the CTK-3500 has plenty to offer with over 400 voices, 100 world rhythms, and 50 dance music rhythms. It comes with various learner features such as different auto-accompaniment modes to help you start to build basic chords.
The CTK-3500 has built in lessons for developing right and left hand technique plus USB connectivity so you can use your smart devices to connect to Casio's Chordana Play app.
Value for money.
Versatility, lots of voices and rhythms.
Play-along songs with built-in lessons.
Very portable.
Lots of learning material via Chordana Play app.

Sound quality lower than some others on our list.
There are options with better sound quality but when you consider the variety you get with this keyboard it really does make up for it in other ways. It's one of the best entry-level keyboards on the market and it will easily take you all the way to intermediate playing.
Roland GO:KEYS
This is at the top of our keyboard price range but it does justify the extra money with some great features. The 61 velocity sensitive keys have an ivory feel finish that just adds a more professional touch that most beginner keyboards.
Roland has included a whopping 500 voices in the GO:KEYS model but more importantly they are very high-quality sounds.
The GO:KEYS has Bluetooth connectivity which means you can use any smartphone to stream music straight to the keyboards built-in speakers. This isn't just good for listening to music, you can jam to your favorite tracks and use Roland's interactive online content like tutorials and play-along lessons.
One of the things we like most about this keyboard is the Loop Mix function that's a great starting point for beginners learning how to structure their own songs.
Using the keyboards touchpads you can trigger and alter programmed samples in real time which is a useful performance tool as well as a great production aid.
Ivory feel keys.
500 high-quality voices.
Loop Mix function.
Bluetooth connectivity.
Very portable.
Interactive lessons available.

The price is higher than others on our list.
This is a great keyboard for beginners who are not only interested in learning to play but also interested in songwriting and production. The price is higher than others on our list but it's reflected in a step up in sound quality and more professional features.
Features like the Loop Mix function are simple enough for beginners to get to grips with and provide a different angle on learning music.
It comes in a bright red color which isn't exactly important but it's pretty cool looking. Finished off with the ivory feel keys, this is a top keyboard for beginners if you don't mind the price.
Korg EK-50
This is the most expensive keyboard on our list and a somewhat controversial entry. The reason it's controversial is that on the surface it doesn't appear to offer so much more than the other keyboards to justify the cost. However, where the value for money comes from here is in its longevity.
This keyboard is great for beginners but the quality of sound and features is so good that you won't outgrow it as quickly as the others. The EK-50 is listed as having over 702 voices which is incredible. When you consider the sound quality is most likely better than all others on our list, it's even more impressive.
Korg has added a feature called Styles which is a performance aid. Styles allows you to trigger different types of accompaniment from a chord or even a single note. This includes intros, outros, fills, and more from a huge selection of over 280 musical styles with more downloadable from Korg.
Over 700 high-quality voices.
Simple layout to suit beginners.
Styles feature.
Input jack for external devices.

The highest price on our list.
No USB connectivity.
This is a pretty short and simple conclusion, this keyboard is perhaps the best sounding keyboard on our list. As you can see that comes at a price but because the keyboard is suitable for intermediate/advanced players as well as beginners the cost balances out in the long run.
So, the decision is, do you want to invest a little more money for longer term or see how you develop on a lower price unit first. Aside from any price issues is a very good sounding keyboard with a nice feel that you'd expect from Korg.
Yamaha PSR-F51
Rounding up our keyboard list is the PSR-F51 from Yamaha, a simple as can be, keyboard for new players. This will be the shortest overview of the lot because it's the most stripped back keyboard we looked at.
It has 120 voices, over 100 rhythms with no effects (reverb, etc, is added to voices at the sampling stage and can't be altered). The sound quality is more than good enough for a beginner without being too flashy, it does the job.
Lots of voices and rhythms.
Very low price.
Very portable.
Good quality sound.

Very limited functionality.
Fast learners will outgrow it quickly.
The PSR-F51 is on our list because it's a pure beginners keyboard, it's not fantastic but it does the job at a low price. If you suddenly decide keyboard isn't for you then you haven't lost too much money.
If you decide you need a better instrument then it has served its purpose without breaking the bank. As a complete newbie, this is a very valid option.
Yamaha P-45
We are starting our digital piano picks off with an instrument that gives you the best of both worlds. The Yamaha P-45 is a digital piano keyboard that comes with an optional upright wooden stand. With the stand, it looks and feels every bit like a proper upright digital piano.
The P-45 has 88 graded hammer action keys which feel incredibly realistic and are very expressive with 64-note max polyphony.
The best thing about this piano is its simplicity, 10 voices, 10 songs, easy to navigate, and it sounds great. Its flagship piano sound is particularly luxurious and that's ultimately the most important thing about a digital piano.
The P-45 comes with a feature that some other Yamaha models have, the dual split, giving you two identical ranges that are perfect for student/teacher playing. USB connectivity gives you access to a host of interactive content like tutorials and lessons from Yamaha.
Realistic feel.
Luxurious piano sound.
USB connectivity.
Simple user interface.
Portable if required.

Wooden stand costs extra.
This tops our list because it does the main thing very well, it sounds and feels like a piano. It really suits beginners who are taking piano lessons and that's the main purpose for buying a digital piano.
In that sense, it ticks all the boxes and is absolutely one of the best digital pianos to learn on. Unless you decide to venture into synths/organs etc, this piano will always be good enough for you.
Yamaha YDP-S34
The YDP-S34 is more of a permanent fixture in your house, the keyboard is built into the console which comes in 3 stylish wood finishes. It has 88 graded hammer action keys that with a max polyphony of 192 notes.
The design of the console is slimline and gives the experience of an upright piano without being an overbearing presence in any room. The piano sound comes from Yamaha's CFX tone generating technology and is incredibly detailed especially in the mid/high range.
The dual split feature is available in this model too making it perfect for students. It comes with 10 stunning voices, 10 songs, 50 piano preset songs, a record function, and some very nice reverb effects built-in.
Stunning Yamaha CFX sound engine.
Stylish design.
Realistic feel.
USB connectivity.
Interactive content, tutorials, lessons.

High price for a beginner.
The reason this keyboard wasn't considered to be top of the list is the price. It's one of those situations where it's worth the money but as a beginner, you can sacrifice a little quality for a cheaper price so the Yamaha P-45 takes it just on price.
The CFX sound engine in this piano is gorgeous, rich, and will hold its own against any other digital piano. If you want a high-quality digital piano that's a permanent fixture in your room you really should check this one out.
Casio PX-770
The Casio PX-770 is equipped with a wide range of sounds making it more versatile than many digital pianos. Thankfully, the versatility didn't come at the cost of the grand piano sound which is generated by Casio's unique AiR sound engine.
The AiR sound engine beautifully captures the sound of a 9ft concert grand that actually could be the most dynamically expressive on our list. Like the others, it comes with graded hammer action keys and like the YDP-S34 it comes in a sleek stylish console that looks great.
It comes with some built-in effects including reverbs and chorus along with a record function to listen back to your progress.
Amazingly expressive piano tone.
19 high-quality voices.
Realistic feel.
Stylish design.
This was a tough one to place in our list, Casio did an amazing job with their proprietary AiR technology. So well, in fact, it's possibly the most expressive in terms of subtle dynamics and that's often more valuable to a learner than sound alone.
We placed it third because some are more well rounded and it's fairly expensive. However, as a student of classical music, this would be perfect, the dynamic control in playing this piano is something special.
Korg B1SP
The B1SP is another that comes with an optional stand, making it an upright digital piano or a portable keyboard piano. It has natural hammer action keys which are essentially graded hammer action keys with 120-note max polyphony.
This piano comes with 8 voices, all of which are high quality but it's all about the grand piano tone combined with the natural feel. It has a very bright piano tone and plenty of depth at the bottom end making it sound very natural going from low to high.
It has partner mode, which splits the keyboard into two identical playing zones similar to some Yamaha models and it's a nice feature to have. The built-in effects are fewer than some other models with just a reverb and chorus but they are good quality. It's an easy to use, great sounding piano, there's not much more to it.
The natural hammer action is fantastic.
Korg's grand piano voice sounds very natural.
Partner mode.
Portable if required.

No USB connectivity.
Doesn't look as stylish as some others – if that's important to you.
This digital piano makes it onto our list purely on its sound and feel. It's not as strong as the above alternatives in our opinion but it's personal preference.
It's certainly worth testing because you may prefer the Korg tone to the others and that's what matters. Overall, a very good beginner digital piano, particularly the natural hammer action keys.
Roland RP102
You can't have this list without at least one Roland piano so we went with the RP102 model. It's built with beginners in mind with both Bluetooth and USB connectivity to access a huge amount of interactive learning content.
It generates its piano voice from Roland's SuperNATURAL technology and as always it's very high quality. There are 4 piano voices and 11 other instruments including electric pianos so there is more than enough for a learner to explore. The keys are of course graded hammer action and they have the ivory feel that Roland uses so often.
As far as effects go there isn't a huge amount but you do get some ambiance and brilliance control along with piano noise levels such as string resonance, etc. For play-along practice there are over 200 songs in most styles you can imagine so this one really is aimed at early learners.
A great piano voice from the SuperNATURAL engine.
USB and Bluetooth connectivity.
Lots of interactive learning content available.
Ivory feel keys.
There aren't many faults with this piano, but as a digital piano for beginners, it should be cheaper. If our list had no budget restrictions then there would be several Roland pianos near the top but in their lower budget range, they don't always match their competition.
That being said, it's a very solid piano, great sound, great feel, there are just better options for the price.
What's the Difference Between a Keyboard and a Digital Piano?
This can get confusing for new players because you do get such a thing as a digital keyboard piano but for the purpose of this article we will keep it nice and simple.
In general, a keyboard is a portable instrument with various types of voices and any amount of keys from around 25 to 88. The keys can be very light spring action to fully graded hammer action keys.
Digital pianos in general focus on creating a realistic piano playing experience. So, even if they have multiple voices the main focus is always the piano sound. They tend to have 88 graded hammer action keys and are built into a wooden console that mimics the size and feel of a real piano (usually upright).
There are exceptions to this simple explanation and we will touch on those briefly throughout the article but as a general reference, this is a good way to keep it simple.
Learn more: Digital Piano vs. Keyboard
What Makes a Keyboard or Digital Piano Suitable for Beginners?
This is a pretty broad question because every learner is different but there are some basic things that make a keyboard or digital piano suitable for beginners.
First and foremost, don't over complicate things! For example, buying the most expensive and complex synth on the market might seem like a great idea but it's counterproductive.
Having features that are aimed at more advanced players will only serve as a distraction, the time spent learning to use them will take your focus away from developing solid fundamental keyboard skills. Poor fundamentals are very tough to correct later on so starting as you mean to go on is essential.
In contrast to the first piece of advice, the second important quality is that it's an instrument you can grow with. So, while you don't want something that's so complex it slows down your progress, you do want something that serves you well as your playing gets better.
Finding the right balance between simple functionality and quality sound/feel is what makes a keyboard or digital piano suitable for beginners.
How to Choose the Right Digital Piano for a Beginner?
Choosing the right digital piano for a beginner is almost entirely about the playing experience. As we mentioned, if you're buying a digital piano then it's most likely to replicate an acoustic piano as closely as possible. So, what it comes down to realistically is the weight/feel of the keys and the piano sound.
Let's start weighted keys, if they are heavier they will feel more like a real piano but that also means they will be more physically demanding to play. To keep things nice and simple you can think of it in this way:
If you are a beginner who is taking piano lessons on an acoustic piano and using your digital piano for practice then go heavier with the weighted keys. Having too big a difference in weight can cause inconsistency in your touch/control when you go back to playing a real piano for lessons or exams.
If you are a beginner who is learning solely on your digital piano then you can afford to go a little lighter with the weighted keys. This can speed up your development early on because it's less physically demanding.
By the time you have progressed to the point you need more dynamic control than your keys offer it will be time you were thinking about a more advanced instrument anyway.
Keep in mind that beginner instruments mean entry-level prices for most people so the perfect weight/feel isn't likely to be found in this price range. However, you will still have many options so the same consideration has to be taken.
Now we can think about how it sounds, you shouldn't be too worried about any voices other than the piano(s). Again, this is something that the price will affect but you will still have multiple options, some better than others.
An important feature of a digital piano that we didn't mention already are the foot pedals. The reason we didn't consider it quite as important as the weighted keys or sound is that within any given price range the quality/consistency of the pedals doesn't change too dramatically.
Modern acoustic pianos have three pedals which are soft, sostenuto, and sustain. Some digital pianos have all three and some just have two, soft and sustain.
Set your budget then find the digital piano that gives you the best balance between all of the factors we just covered. In terms of developing from a beginner to an intermediate player, we would suggest the weight/feel is more important than the sound at this stage.
What Are the Different Types of Digital Pianos?
Digital pianos come in several different forms to suit different requirements.
Upright Digital Piano
This type of digital piano is very common for beginners who take piano lessons and want something similar to practice on at home. As the name suggests, they are built with an upright casing to replicate the look of an upright piano.
An upright digital piano is often a very nice addition to home furniture but the construction serves a practical purpose too.
As a beginner, you develop your technique that will shape your playing style, and when using an upright digital piano your posture will be as close to playing a real piano as possible.
There are also mental benefits of the construction, having an instrument that is physically more substantial adds to the realism and can influence your playing.
Digital Piano Consoles
This can mean a few things, firstly, it can refer to digital pianos that take the shape of different acoustic pianos like a baby grand or even grand piano. These are often used for live concerts to give the appearance of an acoustic piano and have all the benefits of a digital instrument.
In general, digital piano consoles have the keyboard built into the casing in contrast to some upright digital pianos, where the keyboard can be removed from the casing to be used as a portable keyboard.
Of course, this type of digital piano can also be used at home and provide all the physical benefits of the upright digital piano for learner players.
Secondly and less commonly, it can refer to a purpose-built case that houses a keyboard or digital keyboard piano. Again, this is common in live concerts to give the appearance of a real piano with the versatility of a keyboard.
Digital Keyboard Piano
This is where digital piano and keyboard meet to give you the best of both worlds. A digital keyboard piano has 88 weighted keys and while it may have multiple voices, the primary focus is a realistic piano sound.
Basically, it's a more portable version of an upright digital piano that is more suitable for stage and studio use as well as home practice. The difference between this and other keyboards is that it offers less versatility but a much more realistic piano playing experience.
What Are the Best Digital Piano and Keyboard Brands on the Market?
It's difficult to say with any authority that one brand is the best because it's determined by what it offers the individual player and every player is different. However, there are certainly some brands that stand out as industry leaders and we will take a look at them here.
To keep things as relative as possible we will exclude any top brands that don't offer beginner instruments. For example, Nord keyboards are amongst the most sought after but they are very expensive and that isn't realistic for a beginners budget.
Here are the best digital piano and keyboard brands:
Roland
Roland is one of the most loved brands when it comes to keyboards and digital pianos, and rightly so. They are responsible for some of the most iconic keyboards ever made, like the Roland Juno, Fantom, and RD range.
Roland has their acclaimed SuperNATURAL piano engine driving the piano voices in many of their keyboards and digital pianos. When it comes to build quality, sound, and feel, very few manufacturers can compete with Roland.
Luckily for beginners, Roland makes everything from entry-level keyboards to the most expensive, realistic, digital pianos.
Yamaha
Yamaha is one of the most known brand names in the world and has been at the top of the music industry for a very long time. Like Roland, Yamaha is also responsible for some truly iconic keyboards like the DX-7 and the Motif range.
Yamaha developed its Pure CF sound engine by sampling their stunning CFIIIS 9′ concert grand piano and the result is one of the most luxurious piano voices you will find.
Yamaha may well be the industry leader in keyboards and digital pianos because they offer such a wide range of products from absolute beginner to concert grand pianos.
Casio
Casio is more widely regarded as a manufacturer of beginner keyboards but they also make some premium digital pianos. They also have their own unique sound engines, AiF, and AiR which are very good indeed.
The biggest benefit of owning a Casio keyboard as a beginner is that they prioritize the beginner market so they are experts in that area.
Korg
Korg is a manufacturer with a reputation for making some amazing but expensive keyboards/synths but they also make more budget-friendly instruments too.
If you are looking for a first keyboard or digital piano you should consider Korg and don't be put of by the price of their higher end keyboards. Models like the Trinity and Triton range are legendary and the current Kronos models look set to enjoy that same status.
Even at entry-level, Korg products maintain a high standard that comes with the Korg name.
How Much to Spend on Your First Keyboard / Piano?
This is a very subjective topic, ultimately you can spend as much as you can afford and in theory, the more you spend, the better the keyboard.
As an absolute beginner, it isn't quite that straight forward, at this stage you have no idea how you will progress or if you'll even continue to play longterm.
So, when you are setting your budget, think about how much you are willing to spend to find out if this is something you are going to stick with.
The most important thing is getting an instrument that will help you develop as a musician but it's also important not to overspend. In the unfortunate scenario that you give up playing, you don't want to be stuck with a terribly expensive keyboard/piano.
The other reason not to overspend, as we mentioned earlier, is that having overly complex features that a beginner doesn't yet need can be detrimental.
Once you have that in mind you can compare that to entry-level prices and work out where you should be looking. You can use these figures as a guide:
Beginner Keyboard – $100 – $500
Beginner Digital Piano – $300 – $900
As a guide, those estimates will include some excellent beginner instruments. There will always be exceptions to our general advice, for example, there will be some very expensive keyboards/pianos that are not too complex for beginners. However, even if you can afford to spend more we suggest sticking to a sensible budget on your first purchase.
Summary
There are 10 great choices on our list but it's important you try different types and different manufacturers. Some people may prefer a Korg piano sound over a Yamaha piano sound, etc, so make sure to research before you buy.
The best beginner keyboard or digital piano is ultimately the one that suits you best and gets the most out of your playing. So, use our picks as a guide but don't assume our number 1 will be your number 1 and you'll find the right instrument for you.