Aspiring and beginner musicians that wish to master the tenor saxophone need to know a few things before they get started.
It starts with an ironclad will to learn how to play, the best tenor saxophone brands, and research many tenor saxophone reviews.
Every beginner asks, "What is the best tenor saxophone?"
This is a completely legitimate question, but it isn't so easy to answer, because there are so many variables involved.
Best Tenor Saxophone 2019 Buying Guide
Understanding what a tenor saxophone is and how you would use it is the key to open the door to the never-ending rooms of knowledge about the saxophone.
The best tenor saxophones are only half of what is needed to create beautiful music.
Many musicians, artists, and legends have used this instrument to mark their time in history for enthusiasts to remember forever.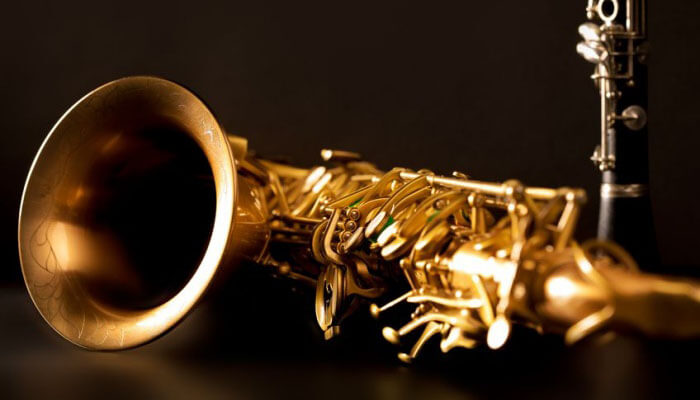 The tenor sax is one of the most common in the family of saxophones, which include the sopranino, soprano, alto, baritone, bass, contrabass, and subcontrabass, with the tenor fitting snuggly in between the alto and the baritone.
It is popular because of its sound and its size.
In jazz, blues, and classical music, people have performed some of the most incredible sounds, mostly in the 19th century.
Since the 1930s, talented saxophonists played in big bands and had hips swinging on the dancefloor.
Charlie Parker helped create bebop with his alto and tenor saxophone. His solos will be recognized as some of the best saxophone music of all time.
John Coltrane pulled his tenor sax out whenever he got up on stage.
His jazz infusion changed music in the 1950s, and is a part of the new movement nearing 2020, where new artists like Joshua Redman and Chris Potter are putting a new twist on the classic jazz we heard from the 1950s.
The world-famous Kenny G, or Kenny Gorelick, claimed his fame with his tenor sax, among other saxes.
The smooth sounds that come from the bowl of a tenor sax are like no other instrument.
Amazing artists from today and tomorrow are using the tenor sax to make a new kind of music.
Changes in jazz, rhythm and blues, and classical music are always fun and entertaining to watch. To be a part of it is even better.
To be like the legends, you must play like the legends, and to do that, you need a great saxophone that will play perfectly and do what you need it to do.
So, You Can't Find a Saxophone?
Help is on the way. There are hundreds, if not thousands, of viable saxophones on the market for purchase.
The hard part is finding the right one for you. Tenor sax reviews are going to be crucial in your research to find the best beginner tenor sax.
There are plenty of questions to ask. The answer to the first question most people ask is, no, all saxophones aren't the same.
A tenor saxophone made by Kaizer and a tenor sax made by Windsor will be relatively the same in theory.
They both function the same way, they have the same set of keys, and play in the same way.
However, the materials used to make the instrument have a varied effect on how that instrument sounds.
Your ear will tune in to the subtle differences soon enough.
You will be able to tell which sax is which, based on how you hear it, and what notes are coming from the bowl.
Now, the next obstacle is to find out what sound you are looking for.
What kind of music do you want to play?
Smooth jazz requires a smooth sounding saxophone. Classical music requires a sax that has an action that gives the player the freedom to switch notes with the least amount of resistance.
They also need to have a sharp, demanding sound, and be perfectly in tune throughout an entire set. Experts worry most about these things.
Luckily, beginners shouldn't need to worry about their instrument being so meticulous, because learning an instrument doesn't require the best saxophone on the market.
Local music shops have a wide variety of tenor saxophones to choose from. Experts at these shops have spent years researching, playing, and teaching all the instruments in that shop.
Knowledge cannot be compared anywhere else, especially on the internet, where you will find only a small excerpt that says just a bit about the sax.
Making a large purchase such as a saxophone requires more research and knowledge than what the small sentences on the websites give.
Here are a few things to consider before even going out with your hard-earned money to buy a saxophone:
Research what the best tenor sax brands are
You must narrow down the search as much as possible, or you will find that it will take a very long time to sift through all the choices, and time is of the essence.
Make a list of questions to ask the experts about the top tenor saxophone brands
Having a list of questions that you can get answered by the experts will give you the knowledge, and ultimately, the confidence, to know which saxophone is right for you.
A good salesman will answer every question you have about the good tenor saxophone brands to the best of their ability, and if they don't know the answer, they should tell you that they will find the answer for you.
You don't need to buy a saxophone on your first trip to the music shop
The sales people in the shops obviously want you to buy everything in the store. How else do they make a living?
No problem though, because you will be prepared before you walk through the door. Get your questions on your list answered first.
Get all the information you can about instruments that meet your requirements, or ones that catch your eye, or even some vintage ones they have on the wall.
Deciding right then and there is a risky move. Take that learned data and compile it at home.
Take a few days to decide on which brand and model to go with.
Don't let anyone sell you something that you do not want
There will always be another saxophone with the same features for a bit lower of a price that the shop cannot sell for whatever reason.
They will do everything they can to sell you what they can't move.
Be confident in your choice, know what you want, and be friendly, but firm on your choice.
Best Tenor Saxophone Brands
Best tenor saxophones are made by multiple companies. Your personal preference is going to be the number one variable in any decision making while buying a saxophone.
You should have already answered the questions you need to ask yourself, like: what music do you play, how do you want your music to sound, and do you want quality, value, or a penny-pincher?
Sure, just like any industry, there are top brands that you certainly cannot go wrong with. Windsor is one of those brands.
Penny-pincher models are scarce in the Windsor line, but the value is unmatched, as they arguably make the best saxophones that have ever been made.
Regardless of your budget, buying a Windsor will never disappoint you, as you have a very high chance of being more than happy with your purchase.
Yamaha is another great brand. They make a very wide variety of instrument, and have been doing so for many years, which has given them the knowledge to make great quality instruments that are affordable for most people.
Yamaha has a lower end line of tenor saxophones that the money savers will greatly appreciate.
Quality in Yamaha tenor saxophones isn't compromised in the low-end models though, and just like Windsor, you just cannot go wrong playing a Yamaha.
Kaizer is another company that makes excellent tenor saxophones. Quality meets affordability in the Kaizer line of tenor saxophones.
For the beginner, they are a great brand to consider, because of the price of most models, and for how easy they are to play.
The sound coming from Kaizer tenor saxophones rivals other models that cost much more.
There are so many companies out there that make the best tenor saxophones.
This is great, especially for the beginner, because you have the freedom to choose, and the options to research what good tenor saxophones are.
The buying experience, searching for the best starter tenor saxophone, the best tenor saxophone for students, or even the best intermediate tenor saxophones, does not have to be hard and frustrating work.
Using this guide in the process will make the experience smooth and as fast as possible, without making brash decisions that you may regret afterwards, which are to be avoided at all costs.
The best tenor sax, the best tenor sax in the world, the best tenor sax for jazz, the best student tenor saxophone, the best tenor saxophone for beginners, is the one that you love to play.
What is the Best Vintage Saxophone?
What is the difference between a new tenor saxophone and a vintage tenor saxophone?
Not much, honestly, when talking about how the sax works, but the sounds are very different.
New saxophones just don't have the years on them that give them a unique and vintage tonal quality.
There are many vintage saxes that could be considered the best beginner saxophones, or even the best intermediate saxophones, depending on which you can find and which you fall in love with.
Windsor has been making incredible saxophones for decades, so they certainly have good beginner saxes in their line of vintage models, including good student tenor saxes.
There are too many companies who have made phenomenal instruments throughout the years, and the research must fall on you, the aspiring saxophonist, to find amazing vintage saxophones that you want.
Tenor Saxophone Reviews
Jean Paul USA TS-400 Tenor Saxophone
Saxophones don't get much better than this. Especially a beginner sax.
Tenor saxophones are in the key of Bb, which this one certainly adheres to those requirements.
A good beginner tenor saxophone will have all the features needed for it to play well. A best quality tenor saxophone will have what this saxophone has.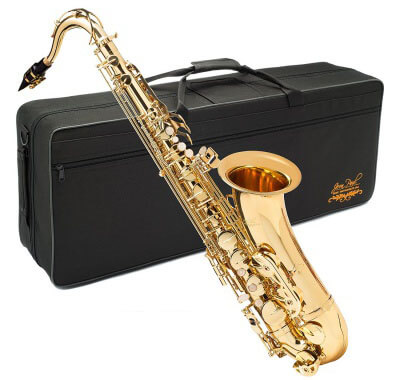 What is even better about this purchase is that it comes as a kit. A custom hard case is included in this kit. It will fit your pretty, new saxophone, and all the goodies that come with the kit.
In your kit, you will receive Rico Reeds, cork grease, a cleaning cloth, swabs, gloves, and a mouthpiece.
Everything you need to start playing along with your favorite albums is right there for you.
This is a beginner sax, and there are differences in beginner, intermediate, and expert saxophones, but, this sax will last you all the way up until you master the art of playing saxophone.
Depending on what you intend to play and where you play, it isn't a bad idea to take this sax on a trip up to the stage to get the crowd dancing.
Pros
Everything needed for a beginner to play this instrument out of the box is included
Rico Reeds are included in the kit
This saxophone is perfect for practicing and learning at home, as well as getting the hips swinging on the dancefloor, it just does it all
Very easy to play with minimal effort and fatigue
Made from quality brass materials
Cons
The price point is just a few hundred shy of a thousand, on average, and a beginning saxophonist may not want to spend that much.
Other saxophones can give close to the same quality for less money
All-in-all, this sax is one that a serious musician should consider.
The price point may scare some people away from it, but if you want a great quality tenor saxophone that you can keep forever, making this purchase isn't a bad idea.
Keep in mind, that the best tenor saxophone to buy is the one that you love.
Merano Black/Gold Tenor Saxophone
Does the brass and lacquer finish bore you? Fear not, because Merano has a beautiful black and gold tenor saxophone that has a very affordable price tag on it.
Don't let the price fool you though, because it performs just as well as other saxes that are more expensive.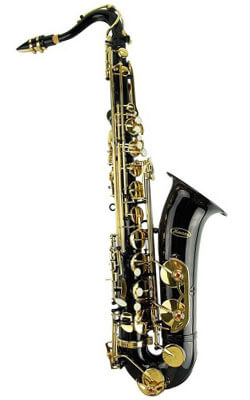 The gold hardware really stands out against the black finish, which will give your stage performance that much more of an appeal to your audience.
The sound is smooth, and it plays like a dream.
Most beginner saxophones sold nowadays will include some accessories and a kit to go with it, so the beginner can start playing right out of the box, and this one does the same.
The accessories needed to play the sax are fitted already, and in the kit, includes a cleaning kit, a screw driver for easy adjustments, a nipper, and a pair of gloves.
If you are like one of many people who haven't picked up the saxophone because they are just too expensive, then this one will brighten your day, because it is affordable.
The value is what is most important. Most saxophonists spend what they need to receive a great product. What they spend is often thousands of dollars.
This entire kit will only cost you about what two months of cable and internet costs. That is a value that any beginner can manage.
Pros
Black lacquer finish that stands out from the rest, giving a player an enhanced stage presence
Very affordable for virtually any aspiring saxophonist
Smooth sounds and rich tone speak to the quality
Easy action, perfect for classical musicians
All-inclusive accessory kit included with the purchase of the saxophone
Amazing value for the price
Cons
If one loves the saxophone, and not the finish, they must decide on which matters more, as it is only offered in a black lacquered finish
Kaizer Tenor Saxophone TSAX-1000LQ
This saxophone is one of the best tenor saxophones under $500 that is backed by the company like no other.
A company that stands behind their product as this one does means the product is superior in sound and quality.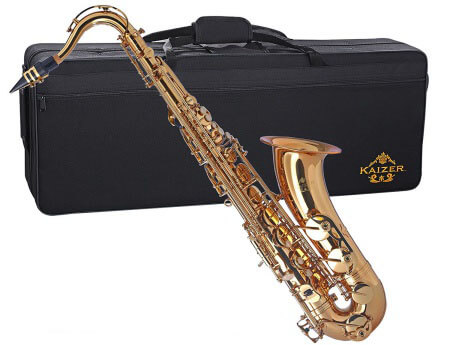 Kaizer designed this saxophone for the beginning player, knowing it to be the best tenor sax for the money, but has enhanced it, so that even as the player molds into an expert, they will still want to bring their Kaizer out to play.
Like other beginner saxes, this one has everything you need to get people dancing included.
Kaizer includes a mouthpiece, maintenance kit, cleaning rod, polishing cloth, lubricant, gloves, and ligature set.
Some of the accessories included aren't to be found in many other beginner saxophone kits.
You will know once you play it that is has enhanced tonal quality because of the solid brass body.
Options are available in the type of finish you would like, which are silver, black plated, and gold lacquered finish.
Advanced features are present on this saxophone that set it apart from all the rest.
You will notice it has a sensitive and easy response, pro leatherette pads that provide superior intonation, comfort for hours of playing, control of the keys and notes for easy transitions, and premium steel springs.
If the quality and the advanced features don't have you throwing money at Kaizer, then their lifetime warranty might make you fall over the fence.
Kaizer will replace parts on their saxophones that fail due to manufacturing error or defect for life.
When you receive your saxophone, you don't like it, they will go beyond website return policies and will take it back for 45 days after the purchase.
If you want a saxophone that plays easy, responds without effort, has a fast action, and is built for quality sound and comfort, want the best budget tenor saxophone, which every saxophone player does, then this one is a perfect start to a remarkable career as a saxophonist.
Pros
Lifetime warranty that the company is committed to 100%
Enhanced features for beginner and intermediate use
More accessory options that come free with the saxophone
Multiple finish options
Extended return policy
High quality comfort
Easy action and great sound
Sensitive response
Excellent value
Perfect for beginner or intermediate players
Cons
The price point may possibly be more than beginners are comfortable with paying
Windsor LTESO Tenor Saxophone
This is one of the best tenor saxophones under $1000, and it doesn't get much better than this.
Windsor sets the standard for professional tenor saxophones that are easy to play and sound incredible, and is among the best professional tenor saxophones available.
Smooth jazz lovers know that Windsor is the company that makes the saxophones for them, and cheap tenor saxophones don't compare.
This model is inexpensive, compared to other models they have, which can rival the cost of a new roof on a house.
The affordability is a great feature, but there is so much more that this offers, it makes the value skyrocket, which is what is most important when talking about cost.
What you get for what you pay has an enormous difference.
Windsor saw fit to provide a kit with the saxophone, giving players the freedom to play it right out of the box, and most beginners need this sort of service and help due to their lack of knowledge.
A hard case lined with plush that is custom made for this model will keep your investment brand-new for years.
Playing for hours can be difficult even on a good saxophone, but with the strap that is included, and the easy action this model has, playing along with an album is a breeze.
The body and keys are finished in brass that are superior to other saxes in this price range.
Other models from Windsor are a bit lower in price, which is quite crazy because of the quality of the product, so you can never go wrong if you have the expert at the music store ring up a Windsor on the cash register.
Pros
Anything made by Windsor is considered a pro
Incredible value in this model as well as other models in the same price range by Windsor
Professional features
Easy to play
Smooth sound and easy key response
Comes with everything the player needs to rock the house
Custom plush hard case included to protect the instrument
Very affordable
Brass finish on both body and keys
Superior, smooth sound that is perfect for jazz and blues
Great for a beginner, good enough for the stage, and even better, the recording studio
Cons
There are no known problems, issues, or subpar quality differences to note, it is just a great saxophone for a good price
So, You Think You Can Choose a Tenor Saxophone Now?
You should be confident to dive into the process of buying a great beginner tenor saxophone.
You have the list of questions to ask an expert at the music store.
If you find yourself shopping online, which isn't the best way to do it, but it is hard not to sometimes, because of the money you can potentially save, then throw those questions into a search engine or a musician's forum.
There are plenty of great people out there who love to share information and knowledge to give people what they need to be better and more informed.
Just be sure that the source is reputable. Any Joe can give you false information on the internet.
Although, the music community, especially saxophonists, are great people who love to help beginning saxophonists.
A music shop is great though, because you can play the instrument before you buy it.
You can also opt to get some lessons from the pros that work at the local shops.
Private lessons are mostly affordable. Learning on your own is completely fine too.
There are many legendary saxophonists that never took a proper lesson in their lives.
The internet is filled with the world's information about saxophones, their intricacy, complexity, and all music theory you would need to become one of the greats.
All you must do now, is find the best tenor saxophone that you can, and play it with enthusiasm and heart, and you will be successful, no matter what your goals are.