This Cecilio CCO -100 review is here to help you learn as much as you can about this cello. This is an entry level student cello that can also be used by intermediate skilled performers. This cello is made by the Cecilio Music Company.
Cecilio was started with the hopes of creating instruments that would be affordable with a high level of quality.
They started out with the goal of giving families the ability to buy instruments for students that were interested in learning how to play string instruments.
Cecilio has been able to create high quality instruments and they have been able to keep the costs down so that they are affordable under any budget circumstances.
The Cecilio CCO-100 is a superior option over rentals because it is actually cost saving to buy the CCO-100.
This is a well-made option that offers plenty of added value that you just will not find with other cellos in this price range.
The goal of the Cecilio Music Company was and remains to make musical instruments easily accessible to every student that showed an interest.
Many students are kept from participating in musical pursuits because the cost is far too much for the family to incur but Cecilio changed all of that.
They have done an excellent job of creating superior instruments at a price that is reasonable and that fits most budgets.
The Problem with Rentals
A lot of schools will push a rental contract but just like renting anything else, you keep paying and paying and get nothing at the end of the agreement but more payments.
You never get to own the cello that you rent. You cannot pass down a rental to other family members or trade up.
Of course with rentals you never know what you are getting or how much time it will have to spend being repaired while the student loses precious practice time.
It is really a matter of luck when you rent an instrument. Sometimes you get lucky and you get a model that holds up to the rigors of practice and play sessions.
Other times you are not so lucky and the instrument spends more time being fixed then being played because you never know what type of abuse the cello has gone through.
Rentals are also a bad idea because you are responsible for any damage that occurs to the instrument. Scratches, dents and other mishaps can be very expensive.
If damage occurs to the instrument or the instrument is lost or stolen, you will be responsible for the full purchase price of the instrument which can be staggeringly expensive.
Rentals are generally a bad idea but they can be very tempting when you consider the cost of buying a cello outright, unless it is the CCO-100 from Cecilio. You could wind up thousands of dollars in debt if something happens to a rental instrument.
In addition to all the other problems rental units typically come with a bow and a bag but you do not get any of the other extras that you get when you buy an outfit. Rentals are a bad choice, don't allow yourself to be talked into one.
What We Looked At
We wanted to see what all the buzz was about when it came to the Cecilio CCO-100. Since we already had a pretty good idea what the experts have to say about what makes a great cello we wanted to see if this model could hold up to scrutiny when it came to certain standards.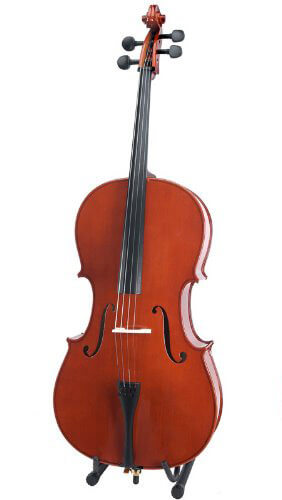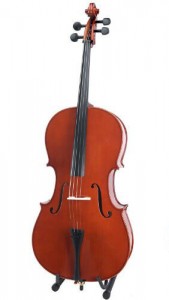 Click Here for Pricing, Pictures and Reviews on Amazon
First we wanted to keep things realistic during the review. It is important to understand that this is a very inexpensive student outfit which means that if you want something that compares to a Stradivari this is not likely THAT cello.
To keep things fair we compared this cello to other cellos at this price point. The first thing we came to realize was that it was very difficult to find a cello of any quality at this price point so it was actually difficult to find other cellos to compare the CCO-100 too.
We searched and eventually found a couple that we could compare the CCO-100 too but frankly this model blew the other models available at this price point right out of the water.
Here is what we were comparing:
Materials
Added value
Craftsmanship
Cost
The CCO-100 has a clear advantage when it comes to the materials that are used to create the cello which we discuss under the "materials" heading.
We also considered the added value factor and let's just say that Cecilio has been very generous with this outfit and that generosity is not really offered by other manufacturers.
The craftsmanship is also hard to beat at this price.  We looked at cost and found it very hard to find a cello at this price.
Materials
The CCO-100 is made from some of the best materials known for the construction of a cello. The back is maple, the front is spruce and the sides are maple.
The pegs and the fingerboard are also made of maple. It offers an alloy tailpiece for added durability.
This cello is made from fine materials that can be found in use on models that are far more expensive than this one.
The wood is aged, the cello is constructed to the highest standards and there is much attention to detail that is evident when you hold the cello.
The Bow
The outfit comes complete with a nice bow. It is crafted of Brazil wood and genuine horse hair that is unbleached.
It is a great bow that easily competes with bows that you would pay top dollar for, the best part is you get it for free with the purchase of the outfit.
You can easily spend a nice chunk of change on a bow so it is a great value to have one included in the outfit that is of good quality. Most all outfits do come with a bow but the bow is typically something that is not of the best quality.
The Case
You also get a fully padded soft case that has both backpack straps and handles to make carrying around the cello easy.
The case also has pockets and storage space for things like the free lesson book and DVD that comes with the outfit.
Other Freebies
The outfit comes with a spare set of strings which is something you typically do not get with most outfits. They also come in really handy.
The likelihood that a string will break during practice is a very likely thing to happen.  Having a spare set of strings can easily save some stress and will definitely save you some money.
The outfit comes with high quality rosin cake and a cello stand. It is a truly complete outfit that any beginner will get tons of use out of.
Overall
We're really amazed at the quality of the sound. The quality of the CCO-100 is really unexpected.
As with any string instrument everything has to be "just right" to get the tone that you need to get from the cello. Every detail matters.
The bottom line is that this cello is a great investment for any beginner.
One Draw Back
If there has to be a drawback that has to be identified it would be that the bridge is not assembled when you receive it. The bridge is left off to protect the cello during shipping.
For some people it may be difficult to shave down the bridge and install it but it is a relatively simple task.
Of course you can always take it to a local shop and have it professionally installed the added cost would be minimal and really will not cut into the savings by much.
You can also easily install the bridge on your own, most people can but it is the fear of doing something wrong that keeps some people from even making the attempt.
The other issue that people have complained about is the quality of the strings. You do get an extra set so if you have any issues you can easily change out the strings.
Some people have found that upgrading the strings and having them installed works out better for them.
Even with the two minor problems this model is still a really great option that you will be hard pressed to beat.