The Cecilio CVN-300 review will help you to understand what you need to know about this violin so that you can make an informed decision about your violin purchase.
The Cecilio Music Company is named after the patron saint of music, St. Cecilia. It is said that she heard heavenly music which she carried in her heart.
This company was started when a conversation was overheard by a family that was trying to make a purchase for their child in school. The family was concerned that they would not be able to afford the costs of a violin.
The founders felt that creating a high quality violin that families could afford was an important goal.
Cecilio was born of the need to provide affordable high quality instruments to anyone that had the desire to play one and they have done a great job in creating the ideal affordable instruments including the Cecilio CVN 300.
The founders of Cecilio felt that music was so important to a well-rounded education that no one should be excluded from it because of finances.
They set about to make a violin outfit that included everything that was needed to play. It was seemingly a lofty goal but they have been able to accomplish the goal nicely.
The drive to produce a high quality violin that people could afford has resulted in a full range of violins that have really exceeded the expectations of the founder's themselves!
When you see this violin you will wonder how it is that Cecilio is able to create such a high quality instrument at such an affordable price.
You would expect that you would have to sacrifice something given how low the price is but you do not have to give up anything.
The Cecilio CVN-300 is a 1/8th orchestra style violin that has inlaid purfling and antique varnishing. It is a beautiful instrument that comes highly rated by all users.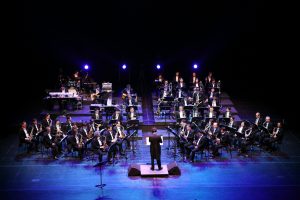 There is a great amount of attention that is paid to detail with this model that really sets it apart from other entry level violins.
This model is ideal for both the novice and the intermediate player. It is a violin that will suit any beginner for years to come which of course adds up to additional cost savings because you do not have to worry about replacing the violin with an upgrade for quite a few years.
This durable model is highly recommended by music teachers and meets all the standards set forth by the MENC.
httpv://www.youtube.com/watch?v=0R-BaGF1Co4
Here is some information about the Cecilio CVN-300 that you may find useful in your search for an affordable instrument that is highly rated.
The Wood
Experts agree that there are some choice woods that provide the best materials to craft a violin. The woods that are recommended by expert luthiers include most of the hardwoods because they are durable and can be cut thinly to improve the sound without losing any of the durability that you need in a violin.
Maple, spruce and ebony are all hailed as the best materials. The Cecilio CVN-300 is crafted from an aged maple back, aged spruce top and ebony fittings. The sides are crafted from the same maple that is used for the back of the violin.
The maple is used to provide durability while the spruce is used for the sound transmission. The ebony pegs, fingerboard and other fittings are used for durability. Ebony is a hardwood that can stand up to the constant movement.
The wood that is used to construct the CVN-300 is aged adequately to ensure that is dried well and will not warp. The aging process is an important step in producing reliable sound, sturdiness and a durable violin.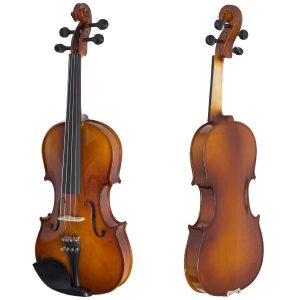 Click Here for Pricing, Pictures and Reviews on Amazon
Even the bow (that is supplied with the violin) is made from wood, while many other models from other manufacturers in this price range will substitute composite or fiberglass bows, Cecilio keeps with tradition and offers a bow made of Beech wood.
The Tuner
This model offers 4 fine tuners that are nickel plated and easily removable. They make tuning easy for even the novice. Tuners of this caliber are often included with high end models so it is an added value. Cecilio has really paid attention to detail where it matters.
The high quality nickel plating ensures that the tuners are durable and that they can take the abuse that a novice can dole out.
The Strings
The Cecilio CVN-300 comes with an extra set of strings which offers another added value. This outfit really does offer so much more than you get with other outfits within or outside the price point that this violin is offered for. The strings that are supplied of good quality and provide just the right tension.
Getting an extra set of these strings for free is a great option!
You can see how to replace strings on the video:
httpv://www.youtube.com/watch?v=ogTLNZwtbms
Read below to find out more about the great options that are included with this outfit.
The Case
This violin comes complete with a hard shell case that has rubber feet. This high quality case is fully lined and easy to carry even for the smallest hands.
Many manufacturers offer cases with their outfits that are sub-par. Typically you will get a soft case or a foam case but this case offers a hard durable shell that will ensure safe transport of the violin and is forgiving when it comes to bumps and bangs.
The case has bow holsters, storage compartments and a matching blanket to protect the violin.
Cases of this caliber are typically sold separately and are not offered with an outfit. Of course this added value is another way to save.
The Bow
We touched on the bow briefly under the wood heading but we have to expand on the quality of the bow so that you can understand what a value this kit really is.
You get 2 bows that are crafted from beech wood AND that are made from unbleached horse hair, which is highly recommended by music experts. As a matter of fact, the professionals prefer beech wood bows with unbleached horse hair for their own personal use.
The fact that you get 2 bows with this outfit means that you always have a spare "just in case". It is truly a great added value.
In most cases at this price point you will get a flimsy bow that you will have to replace, never mind having two high quality bows included.
Other Added Values
Cecilio's goal to make an affordable high quality instrument clearly has been met with the CVN-300. When they say you get a complete outfit they really did not leave anything out!
On top of the two bows, you also get two bridges. These well-made maple bridges are built to last but even the best bridge is at risk.
Having a spare bridge can really come in handy especially when you are first getting started because bridges are well known for breaking.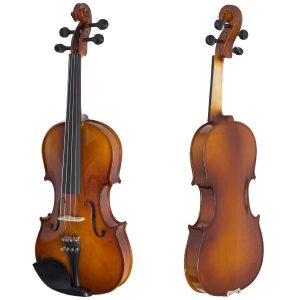 Click Here for Pricing, Pictures and Reviews on Amazon
Not having to pay for a new bridge is a great value and another opportunity to save.
You get plenty of "added value" with this outfit that you just do not get with other outfits. As an added bonus Cecilio's also includes a DVD, CD and lesson book. This added benefit is an option for additional savings. The DVD/CD and lesson book covers musical instruction and covers the proper way to handle the instrument.
The Warranty
Cecilio's offers a 1-year warranty on all their violins to cover defects and other issues. Their warranty is very liberal and they usually are willing to make repairs with a "no questions asked" type policy.
Overall
The Cecilio CVN-300 is a very hard value to beat. It offers all the "upgrades" of a much more expensive instrument without the cost. When you tally in the other "added values" like the extra set of strings and the extra bridge it is hard to find an instrument from any other manufacturer that offers the amount of value that you find with the CVN-300.
It is not just us that love this violin outfit even the experts have left comments about the quality and the price of the outfit giving it very high ratings.
If you are in the market for a student instrument that is versatile and that can grow with the student this is the instrument you should be considering. It is hands down the best value out there. If you find a violin outfit of the same quality that can offer you the same package for a lesser cost, you should buy it but there is a very slim chance of that happening.
Cecilio has kept true to the goals that they started this company with. They have produced high quality instruments that are affordable to most budgets. The CVN-300 is a good example of that goal.
If you are value minded but do not want to sacrifice on quality this is the only violin that you will find that can match your criteria.