If you are interested in learning how to play the piano, going for a less expensive instrument is a wise idea.
However, diving deeper into your research, you find out that there are many types and models of pianos out there.
Let's say you narrow down your choices; you will probably end up with two – digital pianos and keyboards.
Here is where the problem comes in, digital pianos and keyboards can easily complicate your purchase decision even further, where you end up wondering which one you should go for.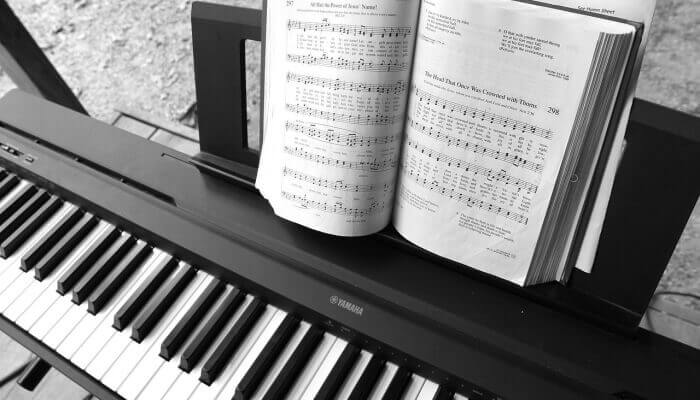 The two types often confuse many and even getting their difference becomes more challenging.
Each one of them comes with unique features that are of great help to different people.
With that being said, there is a vast difference between a digital piano and a keyboard.
In this article, we are going to take a look at some of the difference.
Questions To Ask Yourself
Before we proceed to the digital piano vs. keyboard comparison, it is essential to ask ourselves some questions to help you discern the exact difference between the keyboard and digital pianos.
The following will assist you in making a better choice when you go to purchase an instrument for yourself:
Which one is more mobile?
Which one sounds better?
Which one feels better than the other?
Which is better for certain occasions?
What features does each offer and how much does it cost?
If you still can't get the answers to this, there is no need to worry.
By the end of this article, you will have a better understanding of each instrument and which fits you best you and hopefully be able to answer each of the questions above.
The Difference Between Digital Piano and Keyboard
If you want to find your learning and practice instrument, it is essential to understand the basics of a digital piano and a keyboard.
Digital Piano
Digital pianos are instrument intended to be a digital replica of acoustic pianos.
They may be furniture upright model, cabinet or just a piano with a stand and a complete 88 keys that are fully weighted.
They are designed to give you the touch and feel just like that you find on an acoustic piano.
Keyboard
Keyboards are designed to focus on offering the portability to musicians mostly.
They are incredibly lightweight, and most of them come with 61 or 76 keys.
Keyboards are usually played using "keyboard style" where you play using the rhythms style and accompaniments.
Generally, you pick a drum from the keyboard, play notes with your left hand and melody in your right hands.
The keyboard creates a band playing, your left-hand plays 3 or more notes, and your right-hand plays the tunes.
Keyboards also come with hundreds of tones and contains a lot of technical options allowing players to customize the sounds fully.
Detailed Digital Piano vs. Keyboard Comparison
Price
Digital pianos are most cost-effective if you want to learn like a pro and experience the authentic feel and touch of a real piano.
Keyboards, on the other hand, they are most inexpensive among the pianos.
They are excellent choices to introduce pianos to young children and beginners who have never played musical instruments before.
Therefore, if you are looking for a more affordable instrument than digital pianos, you can go for a keyboard.
Space and Portability
Portability is one of the major factors that most people look for when going for musical instruments.
If you have a free space that can hold a piano, it is good to go for a digital piano.
However, if you have limited space or you need an instrument that you can carry along with you, keyboards are a perfect fit for you.
They are lightweight and compact compared to digital pianos making them perfect fit for travel musicians.
The instruments are built to last long even with much loading and unloading.
Sound Quality and The Feel
When comparing electric piano vs. keyboard, sound quality and feel are some of the most important areas to discuss.
Digital pianos are designed to produce sound and feel like an acoustic piano.
Their sound quality comes by taking the best acoustic piano sound samples and recording them with impressive technology.
This, however, doesn't mean that they are perfect stimulation of acoustic one, but it gets better with a high-end digital piano.
They also come with additional sounds from different instruments and a set of effects making performance even more versatile.
Keyboards are also enjoyable instruments for learning and practice.
They come with great features that can be used in music making and learning.
They, however, do not give you the authenticity that you can find in an acoustic or a digital piano.
When it comes to keys feel, digital pianos come with technology known as Graded Hammer key action that makes them more sensitive to pressure.
Keyboards, on the other hand, come mostly with soft keys that don't have the graded key action.
You can, however, find this to some high-end keyboards with this feature.
Pedals
Pedals are essential for players to show the expression and feel of the musical performance.
This crucial aspect is only covered in digital pianos where you can even find three pedal system to enhance expressiveness in your playing.
Our Recommendations
Digital pianos are a great option for beginners and even players who are on a tight budget to purchase an acoustic piano.
They come at an affordable price and gives value to the players.
On the other hand, if you are a casual learner and you need an instrument to have fun with, keyboards are an excellent choice for you.
They are a good fit for children and beginners who have no experience with any musical instruments.
Conclusion
Now that you understand the difference between digital pianos and keyboards, you should know that the two instruments are unique on deferent functions and benefits.
For you to understand what works best for you, you should analyze what your needs are so you can get what fits best.
You will find a wide range of models that range in price and features in digital pianos and keyboards.
So you need to research more on this.