You may have dreams of your child learning to play the violin and becoming a musical star but your child may think very differently. Whilst most children love listening and dancing to music, learning to play an instrument does not appeal.
First of all, they may feel that toys and other activities are more appealing or they may think that they do not have the ability to play an instrument. It is your job to encourage your child to take up lessons rather than force them too. We take a look at a few tips that may just help sway your child's opinion.
Understand why they may be reluctant to start lessons
To get a feel of how your child feels about playing an instrument, you will want to wait for a natural opportunity to chat about it. You do not want to suddenly start talking about it out of the blue and turning it into a sales pitch.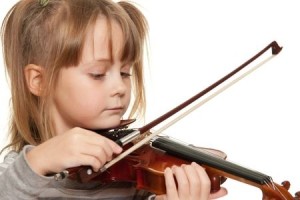 If you little one likes to tap their cutlery on the table or play air guitar when the radio is on, explore how they would feel about having a real musical instrument.
Once you have started to chat about it, make a mental note about the things that they see as negatives, so you can have a think about it and look at ways to overcome these challenges.
If your daughter is worried about long practise hours and less time spent playing with friends, this is a realistic concern that need to be thought about before going ahead.
Explain the Benefits of playing violin
Whilst the obstacles may seem minor to you, your child will see things differently and will need to understand exactly how the benefits outweigh the negatives. For children, the idea of meeting new friends, performing on stage and always having something to do after school will be very appealing.
For others, they will relish in learning intricate techniques that they can show off to their friends, thus sensing a feeling of achievement. Hopefully you will let them listen to violin music to convey just how beautiful it can be.
If you have music lessons in mind from a very young age, it is a good idea to buy children toy instruments or encourage them to use various household objects to make sounds. This will enable children to connect with sounds and music at a young age and they may just want to carry on the learning as they grow.
It is also worth pointing out some the longterm benefits, such as greater motor skills and increased brain activity, but you don't want to put them under too much pressure. The additional benefits can be explained over time you can compliment your children as they go along, rather than overwhelm them with expectations at the beginning of their journey.
Set realistic expectations
Having too high an expectation for your children or setting targets that are too high, will only lead to your child feeling under pressure and less likely to succeed. You child has to want to play violin, with their needs and goals taking precedence over yours.
Your child will not be able to play music within weeks of starting lessons, let them know that it will take time and lots of perseverance before it all comes together. Lots of positive reinforcement will lead to an understanding that they cannot be good straightaway but can be eventually.
In later life, this positivity will result in the ability to be resourceful when faced with challenges, where they will focus on what they can do rather than what they are not good at.
Offer encouragement
If we look at what we can do to instil positivity within our children then, it all comes down to good communication. If our children have a strong bond with us and are able to talk to us openly about their feelings, they have an attachment that will give them life long security.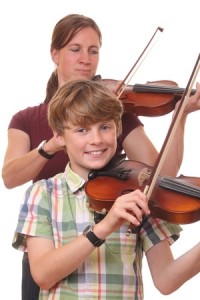 This means being honest with them, letting them know just how well they are doing at their violin lessons and encouraging them to think about how they think they can improve. Try not to be ver critical and work on solutions to problems together.
Of course, the violin teacher you choose will be very supportive throughput the learning process and will tell you when and how you can step in.
We all want the best for our children and that can lead to us being a little pushy from time to time.
Whilst is definitely good to encourage our children to play the violin, we must be aware of their wants and needs. So, if Jeremy wants to play the violin when he is older then encourage him but If Alice has a few months of lessons and realises she just cannot carry on then this has to be ok.
Violin playing should always be filed with a desire to play and your child would never be able to reach the top standard of playing if their heart is not in it. If their heart is in it, however, you and your family are destined for a lifetime of wonderful music.