We all know that feeling, we want to buy our first guitar because we are ready to start on the path to stardom, but what should we buy?
Well, in the guitar world there are many variables. So many shapes and colours to choose from. That's before we even dive into the world of price.
Or, on the other hand, you might have been playing for several years and just want to treat yourself to your dream guitar.
Before you step foot into the guitar store you need to develop an idea of what you think you might want.
To come to this conclusion, you can look at a few key areas:
What type of guitar does my favourite guitarist play?

Look at photos of your idol and see what's in their hands? If the sounds you crave come from Hendrix, you'll certainly be wanting a Fender Stratocaster, but if you're tonal heaven is Slash or Jimmy Page, you'll certainly be looking at the Les Paul style guitars.

Price

Guitar's come in a huge range of prices from next to nothing, to more than the cost of a house. Only you can decide what your budget is.

I always recommend spending the most you can afford on a good quality instrument. If you buy cheap, you'll certainly need to buy twice (More on this later).

What sort of sound do I want to achieve?

This goes hand in hand with what type of guitar does your favourite guitarist play.

Assuming that your initial goal, as is the case with most players, is to learn some songs and sound a little like the guy that lights your guitar playing fire.

Remember there are other aspects to tone beyond the guitar (Amp, pickups, pedals… and your hands!).

Aesthetics

Do you dig the way it looks? You're the one who is going to be playing it, you really should like it.

If you like the shape but it's not the right shade of baby blue for you, ask the store if it comes in any other colours.

Try a few guitars, look at them and feel them, sooner or later you'll fall in love. Don't take the first option just because it's the first option.
Buying Second Hand
The second-hand market is incredible for guitar players, but it is also a dangerous place.
Most social media channels have great local buy and trade guitar and gear pages. I personally have bought plenty of gear off my local pages.
When buying second hand, trust your gut instinct. If something seems too good to be true, it probably is. Not many people will part with a real 1959 Gibson Les Paul for £250.
Before buying off second hand groups, watch the pages. You'll see pretty quickly who the reputable sellers are.
Always look over the guitar fully before you pass over any cash. If possible, plug the guitar in so you can test the electronics.
Some areas I would check:
Look down the neck to make sure it's not warped
Check the neck joint is solid with no damage
Check the electronics work
Move the tuning pegs to be sure they are stable and not broken
Inspect the frets and nut for any wear which might impact the guitars playability
Wear and tear on the finish is a subjective matter. If you're buying a guitar that's been used a lot, or is older, then don't expect it to be a factory perfect finish.
It might be work and have chips and dents. For the most part, any chips and dents to the body won't affect how the guitar plays.
Be sure to ask the seller as many questions as you can to ensure the guitar has been well looked after and might not have sustained any serious issues over its life.
Buy Cheap – Buy Twice
Alongside the big brands, there are some VERY affordable brands. While I am not going to outwardly say cheap means bad, you have to use your judgement here.
If a guitar is going to come in around the £50-mark brand new, you have to consider what makes it viable in that price point.
Set yourself a realistic budget and buy the most expensive guitar you can afford.
Always work to the top of your budget. If you can score a second-hand deal for a good price, then cheap is champion.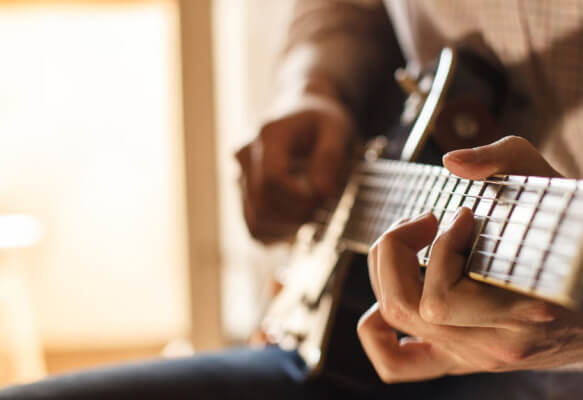 Some lower priced bands offer fantastic instruments but with lower quality parts such as electronics and tuners. These guitars are great as a starting point where you have the scope to possibly upgrade parts later on. Some cheaper guitars will be made from very poor-quality wood which means the guitar will not resonate very well and in turn not sound great.
Cheaper guitars often suffer from assembly issues. You may find cheaper guitars (Especially those "USA copy" guitars that float around various wholesale websites), have very sharp fret edges, poor quality pots, unpotted pickups (Very microphonic and prone to feedback) and sometimes even issues with bridge and neck alignment.
Country of Origin vs. Quality
This is something that would probably be more relevant to someone purchasing a second (or beyond) guitar.
Search all the major guitar forums online and you'll find this is a hot topic.
Guitar's are made in every country, but there is an accepted hierarchy of country vs. cost:
USA/UK – High Price, High Quality
Japan/Mexico – Lower Price, High Quality
Korea/Indonesia – Even Lower Price, Good Quality
China – Low Price, Low to Medium Quality
Take opinions in this subject with a pinch of salt and when trying guitars, always trust yourself not the country of origin.
I've played (And own) some fantastic guitars made in China that I regularly use for gigs and recording sessions and I've also played some very expensive USA made instruments that I would never dream of paying for due to how rough around the edges they felt (I won't name brands but I'm sure it won't take much to work out who we're talking about here given their recent quality control issues).
Some of my favourite guitars are actually from Japan and Korea. I own some old 1980's Tokai guitars which are made in Japan which for me, blow everything out the water.
I also own some mid 90's/early 2000's Epiphones from Korea which again, quality is amazing, and they are absolute workhorses.
Conclusion
Welcome to the minefield of guitar buying. There are so many options available and we've covered a lot of discussion topics here.
Just remember these tips and if something sounds too good to be true, it probably is!
Use your instinct, use your ears and treasure your purchase!
About the Author
| | |
| --- | --- |
| | Leigh Fuge is a professional musician and guitar teacher from Swansea in the UK. He has taught thousands of guitar lessons to a vast number of students. When he is not teaching or performing with his band, he spends his time scouring the internet for more vintage guitars to add to his collection. He has also helped many students choose their first instrument. |