The Kennedy Pupil Violin review will help you to start gathering the information that you need to make an informed decision about the right student violin.
The Kennedy Pupil Violin is crafted by the Kennedy Violins company. The Kennedy Violin company has an interesting back story that has actually helped it to become a favored student violin manufacturer.
The Kennedy Violin Company was started by a violinist. Mr. Kennedy is a classically trained violinist that was teaching music to students as a way to supplement his income during breaks in his professional on stage career.
As a teacher he notices that his students were struggling with their lessons because their violins were of sub-par quality.
He felt that if he could provide his students with a better student violin option that it would actually help to promote more focused practice and actually help the student to fall in love with the violin.
After a few months of going back and forth with violin manufacturers that were willing to sell him violins at wholesale costs so that he could improve upon them and then sell them to the students he was on his way to become one of the most respected student violin companies.  Kennedy Violins was born and the legend began!
Mr. Kennedy had two advantages that really helped him to come up with student violins that are highly regarded.
His father built instruments and Mr. Kennedy spent a great deal of time learning about instruments in his father's shop. He was a musician and knew what qualities would really enhance practice and performance.
He took both his love of the violin as a musician and his ability to craft fine instruments and combined them to create a company that would focus solely on producing superior violins for both the student and professional.
It has been a winning combination for the Kennedy Violin Company. The Kennedy Violin Company has been providing excellent student violins for over 30 years.
They are a highly regarded company that provides superior customer service and superior violins.  They are a brand that has built their reputation literally one student at a time and one instructor at a time.
They have a full staff of luthiers that finely tune and adjust every violin that is sold under the Kennedy umbrella.
The Kennedy Pupil Violin
Usually we do not expect a lot from any violin that has the word "Student" or "Pupil" in the name because it typically elicits visions of sub-par construction and shanty materials.
Every once in a while a nice shock comes along when you open the box of a student or pupil violin!
The Kennedy Pupil Violin is shockingly well constructed. It is made from solid spruce and solid maple. This hand carved violin has a solid spruce front and a solid maple back, neck and sides.
The fittings are all ebony and not 2nd or 3rd grade ebony but 1st grade ebony.  The hand rubbed oil stain gives this violin a lovely glow where the grain of the wood is highlighted.
The oil based stain is not heavy like some lacquers that are used. The oil stain does "weigh" down the wood and affect the sound.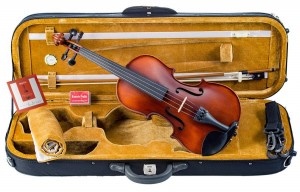 Click Here for Pricing, Pictures and Reviews on Amazon
The Kennedy Pupil Violin has ebony purfling that has been inlaid. It offers a composite tailpiece and a hand carved bridge. The strings are measured to exacting height so that play is comfortable.
The Kennedy Pupil Violin is outfitted with steel strings for durability and wear. According to the manufacturer the Kennedy Pupil Violin is recommended by Suzuki teachers which gives it quite a bit of credibility. It also exceeds all MENC suggested specifications.
The outfit come complete with a brazil wood 100% horse hair bow, rosin and a hard shell case that is lined in either amber or light blue velveteen.
The case has ample space for your bow, rosin and music. There is also a matching blanket included to further protect your violin.
This model is available in a full range of sizes so it is ideal for people of all ages. Kennedy Violins are so confident that you will love their product that they offer a 45 day no questions asked money back guarantee. They also offer a lifetime warranty against manufacturer defects.
Kennedy Violin company does everything that they can to ensure that their clients on 100% happy with their violins.
Does It Need Upgrades
Honestly I have never met a student violin that could not benefit from at least some minor changes. You get to save a lot of money when you purchase a student violin but you often wind up with a VSO instead of a playable violin.
The Kennedy Pupil Violin is an exception to the rule of inexpensive violins. While there is always room for upgrades as a beginning student if you choose the Kennedy Pupil Violin you can use it with confidence right out of the case.
If you are a beginning student you will not have to do anything to this violin to make it appropriate for practice and lessons. If you are an intermediate player you may want to consider switching out the strings to a better quality string.
The tailpiece is composite which you can eventually upgrade to an ebony tailpiece that would increase the value and improve the look of the violin.
Of course that is entirely up to you. The violin plays well right out of the box. It goes through a couple of different tuning/finishing stages during the process so it arrives pretty much ready to play.
The bow is something else that you will likely wind up upgrading because the bow that comes with the outfit is nice enough to start with but it is probably about a mid-grade bow.
Other than those few things you will likely never have to make changes to this violin.
Who Would Get the Most Out of the Kennedy Pupil Violin?
The Kennedy Pupil Violin would be great as is without any tweaking for a beginner. If you are an intermediate player you will still love this violin with a few upgrades.
It is offered in a full range of sizes so that it is perfect for a full range of ages as well as skill levels.
Anyone that is budget conscious and wants to deal with a company that offers a great deal of quality customer care will love the Kennedy Pupil Violin. Kennedy has shown that you can craft a hand carved violin for a cost that is reasonable.
This is an excellent option for both young beginners and adult beginners as is right out of the case.
Overall
Rarely do you come across a student or pupil violin that offers everything that you need to get started without having to make any changes or tweaking it. Rarely do you find a violin of quality that is also affordable.
Keeping quality affordable has been the goal of the Kennedy Violin Company since its inception and they have managed to do that nicely with the Kennedy Pupil Violin.
Choosing a student violin is a very important step because a low quality violin can easily discourage a student and affect whether or not they move forward with violin lessons.
The right violin RIGHT from the start can help students to really develop a love of the violin and develop their skill level.
The reason that Kennedy Violins got its start is because as a teacher Mr. Kennedy saw the discouragement that a poor quality violin could cause.
When you have a business that focuses on perfecting a student violin it is clearly a company whose products you should be considering.
After evaluating the Kennedy Pupil Violin and hearing the sound capabilities it would be hard not to recommend making the purchase.
Of course other users have also been highly satisfied with this violin so much so that it rates a nearly perfect score among users.
The violin comes completely set up and ready to play which is a nice touch since so many times when you order a violin it is shipped without the bridge and sometimes it is much more that you have to have put together.
Overall this is a highly recommended option that meets all the MENC standards and a is a Suzuki recommended option.
Did we also mention that it is offered at a great price? We have not really talked about the price because there are so many other selling points but the cost is very low, surprisingly low.
You would not really expect to get this much violin for this amount of investment. Typically, when you find violin that is this low priced you should be suspicious of the quality.
You are not very likely to find a violin at this price point that is actually a playable violin that can be recommended. This violin is highly recommended by users and teachers alike.
It is a great deal and you should grab it!