If you've ever taken portable Bluetooth speakers on a trip such as a camp out or a day at the beach, you'll know how frustrating it is if they're not loud enough.
Just because a speaker fits in your bag and is suitable to take out and about and play via batteries, doesn't mean it can't pack a punch. If you're looking for volume as well as quality and portability, these options could be your new best friend.
In this article we're counting down some of the loudest portable Bluetooth speakers, including:
1. Aiwa Exos-9 – The Most Powerful Speaker
When power is more important than portability
If you are looking for top levels of power and dB then it is sometimes necessary to buy a large speaker to give you the boost you need. Bigger cones and drivers can mean more power.
If you don't mind carrying around a bit of a heavier model of speaker, the Aiwa Exos-9 could be a great option for you. The sound quality as well as the volume make this a fantastic option.
Image credit: Aiwa Check Price on Amazon

200 watts of power provided by five different drivers to create a huge level of power.
Link two of the speakers together for sound that is suitable for up to a 75 person function or party.
Use outdoors without worrying about the weather conditions.
Control over the frequencies. You can set five different bands of EQ or use EQ presets to improve the audio.
Quick connection to audio devices via Bluetooth.
Long battery life can last the whole day if needed.

Expensive. This is undoubtedly one of the more pricey portable speakers on the market.
Heavy. This isn't a lightweight product you could chuck in your backpack and take a long distance. It's great for taking in a car, but not so much for walking.
The Aiwa Exos-9 Bluetooth Speaker is good for putting in the garage or an outdoor party, but it isn't quite as portable as some other Bluetooth speakers. The power is not to be questioned, though!
2. Bose SoundLink Mini II – Clean Sound Quality Bluetooth Speaker
Exceptional sound quality comes at a price
Some people love to stick to the bigger audio brands. When you buy a product from Bose you can basically guarantee that years of research have gone into the technology. Bose is known all around the world for the quality their speakers and headphones offer.
We like to take speakers at their merit rather than worry too much about what brand they are from. The SoundLink Mini II is not just on the list because of the brand that produces it. The sound quality is exceptional.
Image credit: Bose Check Price on Amazon

Allows you to use voice controls to change songs and other settings.
Connects with a variety of different devices.
Great power in spite of an incredibly small size and weight.
Excellent audio clarity as we've come to expect from the Bose brand.
Inbuilt microphone allows you to make and receive phone calls from your linked device as well as using voice controls such as Siri.

More expensive than a lot of the other Bluetooth speakers of the same size. The Bose name carries a price premium.
Not as durable or water resistant as some of the other products on this list, so not as suitable for outdoor use.
Are you an audiophile? If you're looking for a model from a brand that has a reputation of satisfying those who have a thirst for high fidelity audio, Bose might be the answer for you. These speakers pack a real punch considering the size.
3. Soundcore Rave Mini – Loudest Mini Bluetooth Speaker
A tiny speaker with lots of power
Soundcore (by Anker) is an audio brand that has grown a lot in recent years. The 'Rave' name of this product may give you some clue that they've gone for power, but that doesn't mean they've sacrificed portability.
The Soundcore Rave Mini packs a good level of power into a tiny speaker, you could chuck it in your backpack and take it round with you all day.
Image credit: Soundcore Check Price on Amazon

80W of sound packed into a small size.
BassUP technology is designed to give a more intense bass sound (hence the 'Rave' name).
IPX7 waterproof so you can use it in the rain or even after it has been submerged in water.
An LED light show included.
18 hours of playtime from one charge and a USB charging option that can charge while playing.
Comes with a Soundcore app that you can use to alter the EQ and light show.

Could do with a bit better sound quality in the mid-range.
One of the speakers is redundant and doesn't produce any audio in some modes.
All-in-all, this is a great speaker for those who are looking for something small enough to carry around with them on a day-to-day basis, but still need some power and booming bass. It's no replacement for a big sound system, but for taking on trips with you this is more than suitable.
4. Anker SoundCore 2 – Light Weight Bluetooth Speaker
Champion of the lightweight division
This makes our list partially due to the fact that it is so incredibly light. The 12 W of power is not suitable for big parties, but for a couple of people listening to music while grilling and camping, the SoundCore 2 will have enough audio power.
Plus, it is absolutely tiny and lightweight. It weighs just 0.79 lbs and can fit in even a small backpack. If you don't want to add bulk to your camping gear then the SoundCore 2 could be worth considering.
Image credit: Anker Check Price on Amazon

Excellent value for money. A good price tag for a versatile speaker.
Can be paired up with another speaker of the same model to create a stereo system.
IPX7 waterproof so you can use it in rainy conditions.
Spiral bass port gives a bit of a low end boost to create better bass.
Battery life of up to 24 hours.
Extended wireless range for use even when far away from the device in question.

Not as loud as the other options on this list. 12W of power is good, but not amazing for big gatherings.
Controlling the volume can be tough with no indication of what the volume is set to at any given time.
The Anker SoundCore 2 makes our list mainly because of the incredibly small size and light weight, and the fact that it still manages to be a loud Bluetooth speaker. Well, certainly loud enough for solo use or using for small groups and gatherings. It's also pretty durable and sturdy for using in a variety of different locations.
5. SOUNDBOKS 3 – Long-Life Battery Speaker
As loud as bluetooth speakers get
SOUNDBOKS 3 is the next-gen upgrade of the popular SOUNDBOKS 2. While SOUNDBOKS has always had a loud speaker, the improved version is undeniably one of the loudest Bluetooth speakers on the market. Where its predecessor gave you 122 dB of volume, SOUNDBOKS 3 gives you 126 dB. It is pricey, but if you need the ultimate in power, then it is worth paying the extra money for a product which is part Bluetooth speaker, part PA system.
To find this level of power in a portable speaker is always rare, but if you then consider the fact that you are getting battery life of up to 40 hours, this is even more impressive. The battery life is one of the biggest reasons why the speaker does well in tests, but it is also because you have the ability to stream from your phone via Bluetooth 5.0, which is new with this model.
Image credit: SOUNDBOKS Check Price on Amazon

Can connect via either AUX cable or reliable Bluetooth.
126 dB of volume. Great for block parties or other gatherings.
40 hours of battery life come from the brand's "military grade" battery.
Shockproof casing designed to survive even very challenging outdoor situations and weather conditions.

Very expensive. The price is perhaps understandable when you consider the fact that it has such amazing features and volume, but it is still a definite 'con'.
41 lbs in weight. Not too bad for an alternative to a PA system, but it certainly isn't easy for one person to carry very far.
This is a speaker designed for big gatherings. Make no mistake. It's not the model you're going to take on a camping trip for two people or the sort of speaker you will need for doing some grilling outdoors. It's a luxury, and if you want something to entertain you and all your friends (and don't mind the price) then the SOUNDBOKS 3 could be an ideal choice. Another great addition to the speaker is the ability to connect multiple speakers wirelessly with a very low latency. That means it is also ideal to DJs an musicians and perform without issue.
6. JBL Boombox – Retro Designed Bluetooth Speaker
A blast from the past
We all remember the old-fashioned boomboxes blaring out on street corners playing cassettes or CDs, but now they can be used with your device. There are a few brands making boombox designs out there, but the quality offered by JBL makes theirs a fantastic option.
It's not the smallest or most easily portable, but the handle-design makes it simpler to take out and about, and the bigger size means that the battery can be larger and more powerful.
Image credit: JBL Check Price on Amazon

Excellent JBL sound fidelity and clarity.
Can be connected to two devices at a time.
Up to 24 hours of battery life on a single charge.
No need to worry about the water, the Boombox is IPX7 waterproof so it can handle being splashed with water.
Indoor and outdoor modes to give stronger bass depending on the environment.
Reliable Bluetooth is easy to connect to a vast number of different devices.

A bit big and bulky, not really suitable to go into your backpack.
More expensive than some of the other Bluetooth speakers and Boombox designs.
JBL have a rich history of creating some amazing speakers, and this is not an exception. It doesn't have ultra high fidelity or stereo, but for a portable Bluetooth design, it is hard to argue with the quality on offer with the Boombox.
Conclusion
There are many different options on the market for Bluetooth speakers and brands are developing new ways to keep them both small and portable and loud. Our list of the loudest portable Bluetooth speakers should help you find the perfect audio companion for taking out and about with you.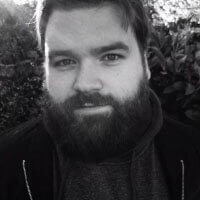 Ben is a writer, musician and former studio engineer from the UK with qualifications including music technology. A self-confessed audiophile. Ben can also play multiple instruments. He has worked in recording studios in the East of England, and written about all aspects of music equipment and the music business, as well as production and engineering.