Bluetooth technology has come a long way, and as consumer electronics continue to grow and improve too, we're exploring some of the best Bluetooth speakers available to buy in 2023.
It is amazing how much power Bluetooth speakers can pack into a tiny package these days, but it isn't just about power. We've explored top-rated options for waterproof portable speakers, home options and even speakers designed for audiophiles. All the options on our list have a good level of portability. Take them to the beach or out on another trip with you and get the most out of your speakers.
Here are the best portable Bluetooth speakers 2023:
1. Anker Soundcore Motion+
Best all-around Bluetooth speaker
The Soundcore Motion+ is a fantastic option for pretty much anyone's needs. It is a real all-rounder, great for listening at home or when out and about pretty much anywhere.
Reliable Bluetooth, plenty of power (though not one of the absolute loudest speakers) and the option to take it out and about on long trips without worrying about the battery life.
Image credit: Anker Check Price on Soundcore

Great audio provided by two tweeters, a clever neodymium woofer and 30W of power. The BassUP technology also gives a bass boost that some portable speakers struggle with.
IPX7 waterproof, suitable for use in the rain, on the beach or even by the pool where it might get splashed.
Huge 6700 mAh battery for a long life, perfect for use on long trips.

Some of the midrange frequencies could be stronger, though the bass and highs are good.
This is a portable Bluetooth speaker that is very hard to fault. It can be listened to for 12 hours on a single charge and has a wide frequency response. It's not the cheapest Bluetooth speaker, but sits somewhere in the middle of the price range you can expect on this list.
2. ZoeeTree S1
Best small Bluetooth speaker on a budget
It is perhaps a surprise to see one of the best small Bluetooth speakers at such a cheap price. We want to be clear that this maybe isn't one of the absolute elite products in terms of sound quality.
However, it does have an amazing set of features for such a small price tag. We were happy to include it on the list of the best portable Bluetooth speakers due to the features and functions it offers.
Image credit: ZoeeTree Check Price on Amazon

Incredibly affordable Bluetooth speaker.
Reliable Bluetooth 5.0 technology which stably connects to most devices.
Can be used with SD cards or Aux-in to play audio, and also has an inbuilt radio.
Decent sound quality, especially considering the price.

Not an elite model for sound.
Could do with a little more power for big gatherings, it only has 10W in total.
This is a good option for someone on a low budget. If you're willing to spend a bit more you can get an upgrade, but for a portable option that you won't mind too much if it gets scratched or even broken, this cheap speaker could help.
3. Sony SRS-XB12
Best outdoor Bluetooth speaker for battery life
If you're looking for a good battery life, one of the better known brands on our list might have your back covered. Sony make some amazing electronics, and the SRS-XB12 are designed to have a long battery and plenty of bass as well as being suitable for use outdoors.
Though these are branded speakers they aren't overly expensive, and the features they offer are pretty great.
Image credit: Sony Check Price on Amazon

Available in lots of different colors.
Waterproof and dustproof with an excellent IP67 rating.
Very small and light.
Sony's XB or 'Extra Bass' technology boosts the bass response.
Battery can last up to a fantastic 16 hours.
Chain two of these speakers together, they cleverly match up and provide audio in stereo.

When battery is low the audio drops considerably in volume.
Sometimes the bass can be a bit too much, and some genres aren't suited to this.
Generally speaking, this offering from Sony has plenty of volume and they're very hard wearing. It is possible to buy two and chain them together for a full stereo experience when listening to your favorite music.
4. JBL Charge 4
Best audiophile Bluetooth speaker
JBL is a brand known for making exceptional speakers, studio monitors and even PA systems. The Charge range of products is their version of the best mini Bluetooth speakers, but they're also among the best-sounding Bluetooth speakers.
The clever design is called 'Charge' because as well as being a portable Bluetooth speaker it is also a power bank. This means you can plug other devices into your speaker and charge them from the internal battery.
Image credit: JBL Check Price on Amazon

Available in a variety of different designs.
Great, full-spectrum sound with a fantastic audio response.
IPX7 waterproof, no worries when it comes to water.
The wireless connection can be used on multiple devices.
Charge your devices through the internal battery.
JBL connect allows you to link up multiple JBL speakers.

A bit more expensive than some of the other options.
Battery can drain a bit more quickly if you are using it as a charger as well.
If you want audio clarity and the added bonus of an accessory for charging your devices then the JBL Charge 4 could be a great choice for you.
5. Aiwa Exos-9
Loudest portable Bluetooth speaker
The Aiwa Exos-9 is a great option if you are looking for volume first and foremost when reading through Bluetooth speaker reviews.
It's not the smallest option, but it truly provides a huge amount of power considering the fact that this is a portable Bluetooth speaker, suitable for taking on trips.
Image credit: Aiwa Check Price on Amazon

Combines five different drivers to give up to 200W of audio power.
IPX protected so you counts as a top waterproof Bluetooth speaker, too.
Has an EQ inbuilt to control the audio frequencies.
Battery life can last up to an incredible 24 hours.

One of the more expensive options on the market.
Heavier than a lot of portable speakers. It isn't really the sort of speaker you can just put in your bag and is more suitable for keeping in the trunk of your car, for instance.
Volume might well be top priority when you're looking for Bluetooth speakers. Though some speakers can be chained together, this model provides all the power you need in one package.
It's tougher to carry around, but if you are having a big gathering it's hard to beat in terms of features. Just be prepared to spend a little bit more for the huge level of power.
6. Marshall Kilburn II
Best mini Bluetooth speaker with a cool design
We don't recommend just basing your purchase on the way it looks, but there's nothing wrong with getting something that looks good. Especially if you want the best home Bluetooth speaker.
Marshall are perhaps best known for their guitar amps, and this takes on a classic guitar amp design. It's no novelty product though, it sounds absolutely fantastic.
Image credit: Marshall Check Price on Amazon

20 hours of playtime from the battery.
Pretty loud in its playback.
Allows both Bluetooth playback and connection with a 3.5mm Aux cable.
Good frequency response and high-fidelity sound.
Awesome leather carry strap to allow you to take this with you wherever you go.

Quite expensive. Undoubtedly there's some element of paying for the brand name and the fact it has a cool name.
Bass response not as good as some other Bluetooth speakers.
There are plenty of people out there who absolutely love the Marshall brand, and the idea of having this 'mini amp' design is very attractive. Plus, the fact that it has some great features too means it is suitable for a review on our list of the top 10 Bluetooth speakers.
7. Bose SoundLink Revolve
Best surround sound portable Bluetooth speaker
This is technology you may not even have known existed. You can get small Bluetooth speakers that have surround sound functionality! The SoundLink Revolve is made by Bose, a brand who provide audiophile products and some of the top-rated speakers on the market.
You may pay a premium for Bose branded speakers, especially ones with surround sound, but if you are looking for the very best options then it's inevitable that you're going to consider something by Bose.
Image credit: Bose Check Price on Amazon

Works with voice control apps and can be used to make and receive phone calls.
Exceptional surround sound and 'immersive' audio.
Big wireless range of up to 30 feet for connecting your devices.
SoundLink Revolve can be connected to other Bose speakers to create big coverage.
Very small, only six inches tall.
Can be used with other forms of flash memory.

Pretty expensive, and definitely on the high end of the market.
Water resistant but not totally waterproof, could struggle with some rainfall.
If you're not bothered about surround sound then the price could be off-putting, but if you are looking for excellent sound then Bose's SoundLink Revolve could be worth exploring.
8. JBL Clip 2
Best small waterproof Bluetooth speaker
If you're looking for a mini Bluetooth speaker suitable to take out and about with you then the JBL Clip 2 could be a great choice. It's probably the best-sounding Bluetooth speaker of its size.
The Clip 2 is great for people who are really active as it is designed to clip onto your person or onto some of your hiking gear such as a backpack with a carabiner.
Image credit: JBL Check Price on Amazon

Incredibly lightweight at just 6.5 Oz per speaker.
You can connect multiple speakers together.
Easily clip it onto your person and forget it's even there! Very portable and easy.
Comes with a microphone so you can even take calls with your speaker.
Fully waterproof so no need to worry about rainfall.

Not very loud as the speaker is designed for personal use.
Audio clarity and bass frequencies aren't amazing due to the size of the speaker.
For an active person who loves to be out and about, having a speaker that can clip to your person and connect to a device left in your backpack is a real bonus. The JBL Clip 2 is a good option for hikers, climbers and people who spend a long time outdoors. You don't even have to worry about the weather conditions as it is totally waterproof.
9. Anker SoundCore 3
Best value Bluetooth speaker
We're not the only reviewers to name this one of the best value Bluetooth speakers on the market. The Anker SoundCore may be perceived as more of a budget brand, but make no mistakes, the speakers they offer are fantastic, especially considering the price.
Anker has included some top features and work hard on the development of their audio features such as enhanced bass and BassUp technology with a spiral bass port. This gives the bass a bit more impact when listening to certain genres of music.
Image credit: Anker Check Price on Soundcore

Great sound for the price.
Enhanced bass, great for listening to a lot of different genres.
Can be paired with another identical speaker in order to provide fantastic stereo sound.
IPX7 waterproof protection, so these are very suitable for use outdoors even if the conditions aren't great.

No Aux cable to listen the 'old fashioned' way.
Not the loudest speaker. Could do with a bit more volume if you're having a big gathering.
This Bluetooth speaker is a fantastic option combining value with some good features. It might be worth getting two in order to take advantage of the stereo sound and the extra volume that having another speaker can provide you with. One speaker may just be a little too quiet for bigger gatherings or filling a bigger space.
The Anker SoundCore 2 may not be made by the most famous audio brand, but the features are up there with some of the more expensive speakers on the list, or on any list of Bluetooth speakers. They're easy to take from one place to another, and have a decent battery life, but it is the sound that makes these stand out.
Conclusion
As you can see from our list of the top portable Bluetooth speakers, there are many different options. Which one you go for should be based on your own budget, and your own needs. The prices vary from under $20 to over $200, so how much you are able (and willing) to spend is bound to be a big part of the consideration when you are ready to buy portable speakers.
Fortunately, there are some good budget Bluetooth speakers too including the Anker SoundCore 3 which outperforms the price tag significantly!
You shouldn't just look for the best-sounding Bluetooth speakers either, think about whether you need them to be super lightweight, whether you plan to take the speaker out on your person and hook it to your clothing, or how much power you need.
You might end up choosing the most powerful Bluetooth speaker, or you might end up buying the best lightweight option. It will all boil down to what you need.
Luckily, the options in 2023 are more impressive than ever, with features such as surround sound, enhanced bass and even wireless pairing available on the market for the best speakers, even when combined into the smallest of packages.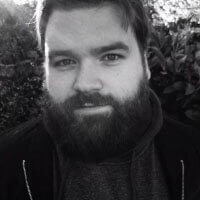 Ben is a writer, musician, and former studio engineer from the UK. His two major passions in life are music and writing, so naturally, he chose a combination of both as his career. Besides writing about instruments, music, and music equipment, he also used to work in recording studios in the East of England. He produced music that has been played on BBC radio and even ran a record label where some of the music he produced was played on MTV.
The self-proclaimed audiophile
As a self-proclaimed audiophile, Ben emerged himself in the world of music from quite an early age. He got a National Diploma in Music Technology and plays several instruments himself. He started working in a photography studio after graduating, but eventually found his way back to the music industry when he started tutoring for a music and mental health organization – Noise Solution.
At around that time he also started to write more professionally. He had been writing for publications in some form or another since he was a teenager, and was always obsessed with telling stories, but at this time he decided to make a career out of it.
Becoming a writer
For the past 5 years, he has been writing full time, covering a lot of topics in two major industries – music and technology. Combining all his experience, skills, and knowledge with his unquestionable writing skills, he produces content that is engaging, informative, and also easy to understand.
Ben still produces some music, but his main focus now is on writing and educating about the topics he is passionate about. He delivers well-researched and on-point reviews and guides on instruments and equipment that he worked with for years – so his readers always get information that is true, unbiased, and usually also gathered from his own first-hand experience.