This Louis Carpini G2 Violin review will give you insight into this instrument and hopefully help you to make a decision that you will be happy with. The Louis Carpini G2 Violin is manufactured by Kennedy Violins a US based violin company.
Kennedy Violins has a slogan that states "Violins created by Violinist". The slogan actually is a nod to founder Joel Kennedy. Mr. Kennedy is a classically trained violinist that relocated from NYC to the Pacific Northwest about 20 years ago. Like many musicians to supplement his income he began teaching music.
As a new studio many of Mr. Kennedy's students were beginning students. As each student walked into his studio he was aghast at the quality of the beginning instruments the students brought along.
He found that many of the instruments were simply unplayable. The curvature of the instruments was off or the bridge was too thick leaving the instrument really unable to play as you would expect a violin to play.
Mr. Kennedy felt that having an instrument that performed well was key in helping beginners to learn. He knew that a faulty instrument that just did not produce the right sounds was a recipe for disaster with the beginning student.
Mr. Kennedy noticed that many students showed up with a VSO (violin shaped object) that were being purchased off the than fledgling internet. He felt that these instruments instead of being a vehicle to learn were actually a roadblock to learning.
He started his instrument business by convincing manufacturers to sell him violins at whole sale then he would take the instrument and improve it so that it was playable and sold it. Mr. Kennedy learned about creating instruments at the elbow of his father who had realized considerable success building instruments.
Kennedy Violins was born and took off quickly. When you provide a much needed product at an affordable price point your company is destined to become well known. Today Kennedy Violins has a full staff of luthiers, music teachers and sales people.
They offer a full range of both student and professional violins. Each violin is hand crafted in the Kennedy Music shop by experienced luthiers. They offer rentals, lessons and superior customer service.
The goal for this company has always been to provide students with reliable instruments that would help them to perfect their craft and encourage continued play. The goal is clearly met with the Louis Carpini G2 model.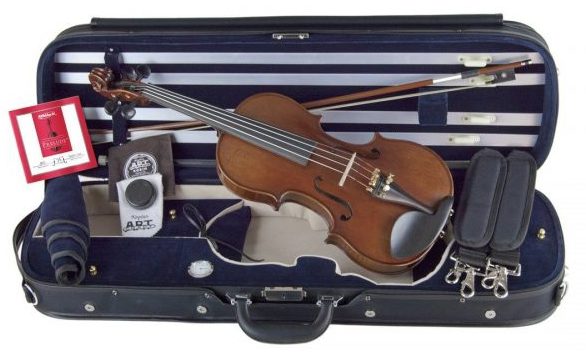 Click Here for Pricing, Pictures and Reviews on Amazon
The Louis Carpini G2 Violin is one of their student models. One of the first things that was noticed when reading what others had to say about this violin is that every single user had something nice to say about the customer service of this company. The next thing that you notice is how highly rated this violin is by users.
The Louis Carpini G2 Violin Features
First you should know that this violin is offered with a lifetime warranty, it also has a 45-day return warranty no questions asked, if you are not happy with it.  Kennedy Violin stands behind all of their violins.
The Louis Carpini G2 is a well-made violin that is made from rich tone woods to affect a lovely sound. The back is maple, the front is spruce and the fittings are ebony.  All of the expert luthiers agree that using these tone woods in the construction of a violin is a hallmark of quality.  The violin has a rich high gloss finish that comes from the hand rubbed oil varnish.
This violin is very deceptive in its appearance. To look at it you would think that it is very high end and expensive. It may be high end quality but it is not expensive at all. It is fairly priced, as a matter of fact some would say that it is an exceptional value.
One of the nicest things about this violin is that it sounds as good as it looks. It does have that high gloss finish so if you are not crazy about a rich glossy look than you may not fall instantly in love until you hear it play.
It offers a nice level of volume, rich tones and great resonance. The ebony pegs make it easy to keep this violin in tune with minimal adjustments.
The weight of the Louis Carpini G2 is just right. It is easy to manage but yet has enough substance that it feels solid in your hands.
The Louis Carpini G2 comes ready to play. Some violins are shipped with the bridge and other parts not assembled but the Kennedy Violin Company not only assembles every violin but they also tune them before they leave the shop.
This violin is outfitted with D'Addario prelude strings so you do not even have to switch out the strings to upgrade them when you receive this violin like you do with so many other beginning violins.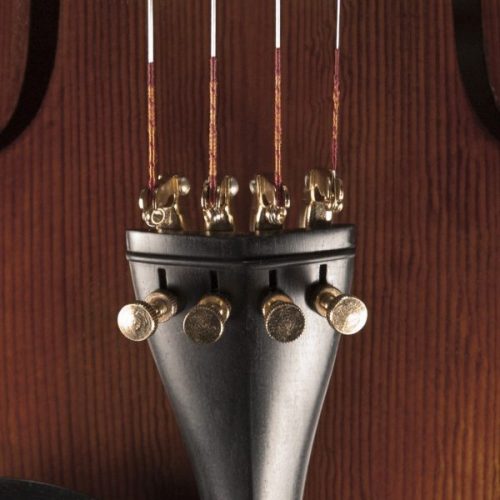 This violin is part of a complete outfit. It is shipped with a Brazil wood bow, resin and a hard professional grade case.  The brazil wood bow is genuine horse hair. The case is a hard shell case that is lined in velveteen and includes a blanket. There is plenty of room in the case for the violin, a couple of bows and other accessories.
It is offered in 4 sizes. The ¼. The ½. The ¾ and full size. A great amount of detail is paid attention to each size.
Can It Be Improved?
You would think that every violin has room for improvement but it would be very hard to pinpoint any way to improve this violin. If you ask other users, you will hear the same thing. This violin is one of the few that has received perfect review scores.  It seems that everyone loves this violin and no one can find anyway to improve it at this price point. Of course if they were giving them away for free that would be nice.
It comes with everything that you need to get started. In all honesty sometimes you come across a student violin that comes "complete with an outfit" that is literally just a case of junk. The manufacturer seemingly pulls together the cheapest things they can find to load up the case to offer a complete outfit. Of course you have to spend a ton of cash to make up for all the items in the outfit that need to be replaced.
Thankfully the Kennedy Violin Company understands how important it is to get off to the right start and how expensive it can really be when you wind up with an outfit that is just full of junk that you have to spend more money to replace. The Louis Carpini G2 outfit is ideal just the way it is. There is nothing to upgrade, there is no added "hidden" expenses. You pay for a reliable, beautiful violin and you get a complete outfit that is ready to play the minute you open the case.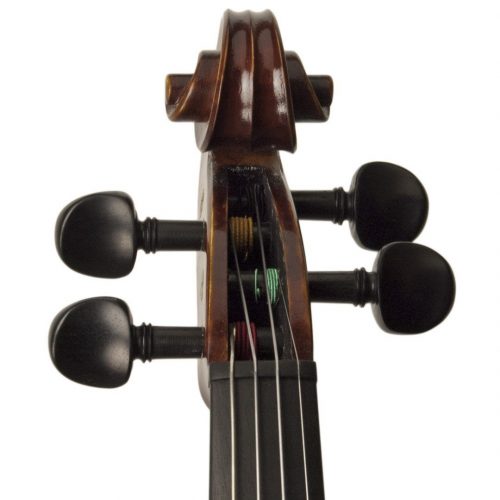 It is actually quite refreshing to review a violin that is exactly what you would hope a student violin would be. It is affordable, exact and simply perfect the way it is.  There is nothing that has to be improved!
Overall
Kennedy Violin Company is a company that is well known for not only producing great violins but for also standing behind their products. They utilize their firsthand knowledge as violinist to create violins that are worthy of great musicians or students with great musical futures.
The Louis Carpini G2 is a fine example of exactly what a student violin should be. It offers a rich tone that resonates nicely, it is ready to play right out of the case and it is built with a great deal of thought put into the materials and design.
All of the experts agree that getting a good start in playing the violin relies heavily not only on student aptitude but also on the quality of the instrument hat is being used. This is a perfect student violin because nothing has to be upgraded on it.
Click Here for Pricing, Pictures and Reviews on Amazon
Other users have found that right out of the case it is a lovely instrument with excellent sound. No one complains about the strings (which is the most common complaint when it comes to student violins) no one complains about the bridge or the quality of the instrument. It is all around a great pick.
Some violins are meant only to start out with and as the student's ability grows they need to upgrade, of course size is a factor but not considering size issues, this model could easily sustain a user from beginning to intermediate skill level without any problems.
Overall if you are looking for a reliable violin that offers not just great sound but great show as well the Louis Carpini G2 is a good choice. It is reasonable priced and most music instructors would be happy to have their students own one.