Tuning a mandolin can be tricky business. Since mandolins have shorter strings than guitars, narrowing in on the correct pitch takes finesse – not to mention time.
Mandolins have four sets of two strings that are tuned to the same pitch. Violinists will tell you that it's far easier for three violinists to play in tune with one another than for only two. The same principle makes it a particular challenge for each pair of strings on a mandolin to sound in tune.
It seems counterintuitive, but our ears amplify even small differences in tuning between two strings to the point that you may find yourself adjusting your tuning after every song.
So how is a mandolin tuned?
With the right equipment, experience, and sometimes just a little bit of luck, you'll be able to get your mandolin sounding great in no time.
What is the Tuning of a Mandolin?
The standard mandolin tuning is the same as violin tuning: G-D-A-E, from low to high. The only difference is that the mandolin has eight strings, but the violin has only four. On a mandolin, you tune each "course," or pair, of strings to the same pitch, so the mandolin's tuning is really G-G-D-D-A-A-E-E.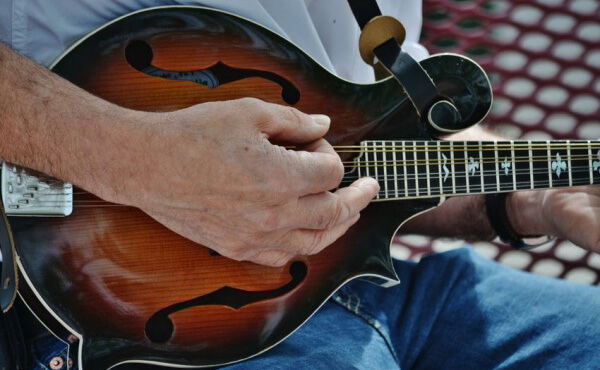 Tuning a mandolin can be confusing for guitar players at first, but you can think of the mandolin as the opposite of a guitar – the lowest strings on a mandolin have the same pitch as the highest strings on a guitar.
The second lowest strings on a mandolin then correspond to the second highest on a guitar, and so on. This also means that many mandolin chords are the same as guitar chords, only in reverse. Like most instruments, mandolins can be tuned in a variety of ways.
Some of the more common alternate tunings are G-D-A-D, A-D-A-E, G-D-G-D, and G-D-G-B, so give those a try if you can't tell what a mandolin is tuned to in a particular song. You'll also find that it's possible to maintain the relationship between the strings but to tune them all lower by an equal amount, such as E-E-B-B-F#-F#-C#-C#, to make it easier to play in certain keys.
How Do You Tune a Mandolin?
Find the tuners that correspond to each string. Typically, you'll find the tuners for the G and D strings on the upper side of the head (closest to you) and the tuners for the A and E strings on the lower side of the head. The G strings and the E strings will typically be closest to the body of the mandolin.
Start from the lowest pitch and move to the highest pitch. This means you'll be tuning in a clockwise direction around the mandolin's head.
Tune in pairs. Start by tuning each string individually using a tuner to get as close to the correct pitch as possible. You'll probably need to use a pick to be sure you can tell precisely which string you're playing. Then, play the two strings consecutively and listen to see if they sound the same as one another. If one sounds higher or lower, adjust it accordingly until both strings sound together.
Pro tip: When you tune your strings, make sure you start from a pitch below the intended tuning and then tune up to your intended pitch.
If you tune from a higher pitch down to your intended pitch, the string will go out of tune much quicker – and you also risk increasing the tension on your string to the point that it might snap.
Double check your tuning after you've tuned the E strings. Mandolins can go out of tune even in the course of tuning because the tension of each string affects the tuning of all of the other strings. Once you have your tuning relatively set, you can go back and make fine adjustments to make sure each pair of strings sounds great.
When you use the right kind of mandolin strings, tuning can be a far less-frequent chore.
Coated strings and flatwound strings in particular are known for decreasing the variability in mandolin tuning.
You might also find that some mandolins hold their tuning better than others. If your mandolin goes out of tune quickly, check to see if it has a truss rod running through the neck. Truss rods provide stability, so if you don't have one your mandolin may not hold its tuning very well.
What to Consider when buying a Mandolin Tuner
When picking a tuner, the first thing you should consider is what type of tuner you need. That of course largely depends on the type of your instrument – in this case, your mandolin – but there are other factors to consider as well, like how portable it needs to be, ease of use, and of course how much you are willing to spend.
Clip-On Vs. Pedal
If you have an acoustic mandolin, then you will need a clip-on tuner. They are designed to pick up vibration from the wood of the instrument, making them a lot more accurate than tuning apps for example, but they are still very easy to use. They are also compact, and quite affordable.
If you have an electric or electro-acoustic mandolin, then you could also go for a pedal tuner. They are a bit more clunky and usually more expensive, but also the gold standard when it comes to tuning – all professional musicians are using them. If, however, you still want something affordable and portable, then go for the clip-on ones as they can be used on both acoustic and electric instruments.
Price Range
Prices of tuners differ widely depending on their brand, type, and other factors – you can get a cheap one for as little as 10 bucks, or a premium one for a few thousand, depending on your needs and budget of course.
Most people will do fine with a clip-on tuner for 20 or 30 dollars, but if you are looking for a more professional one, then opting for a pedal tuner might be a better choice – you can get a good one for around 100 bucks.
Durability
Pedal tuners are usually more durable and will last you for years, but so can high-quality clip-on tuners. More expensive tuners from well-known brands will last you longer than cheap ones, but if you have multiple and treat them right then even budget clip-on tuners can last you for quite a while.
Accuracy
Accuracy is of course the main factor to consider when choosing a tuner, but also the hardest one to figure out, especially if you are inexperienced. As mentioned before, pedal tuners are the most accurate ones, but good-quality clip-on tuners can get you the same results – you just need to get the right one. If you are still unsure of how to do that, then take a look at our top 5 mandolin tuners below.
Mandolin Tuner Reviews
Snark ST-8 Super Tight Clip-on Tuner
A reliable tuner with a clear display
Snark has become a really big name in the world of tuners for stringed instruments, and the ST-8 is something of an 'industry standard' model for a variety of instruments.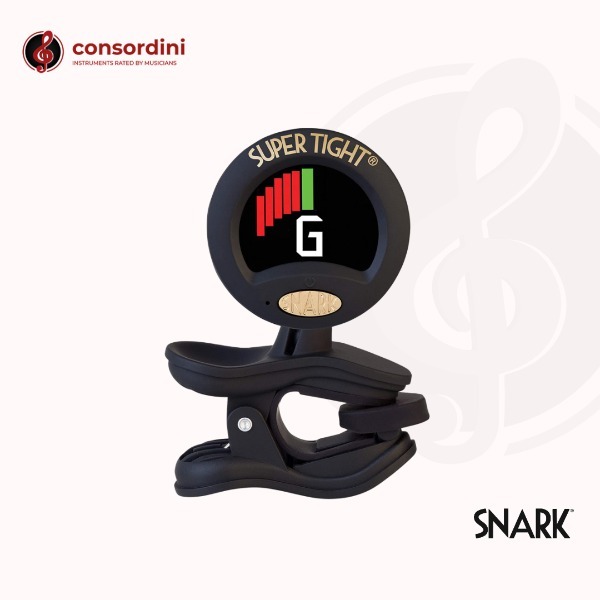 For live musicians, there is a lot to like about this tuner, and the way it sits on top of your instrument, providing you with a bright screen to view the tuning even in low-lit gig environments.
The "Stay Put" clip is sturdy and keeps the tuner in place at the headstock of the instrument. You need to ensure that it fits your own instrument, and that you place it properly in an area that won't actually hinder the tuning pegs.
Pros
Super easy to read with a simple display that won't distract you as you tune
Works well with a variety of string instruments
Compact design
Offers tuning to pitches other than A=440, which may appeal to mandolinists playing classical or folk music – though you may find it challenging to change these settings
Cons
A little more expensive than some competing options
Tells you what pitch you're playing, but not the octave, tough for brand new strings
This is an upgrade on some previous models that used a slightly different chip. The manufacturers describe that the "newly redesigned processing chip and pitch calibration make for accurate tuning of any instrument."
D'Addario Mandolin Tuner - Micro Headstock Tuner
Micro headstock tuner for travel
D'Addario is known for making exceptional guitar and acoustic instrument strings as well as other accessories including tuners…like this!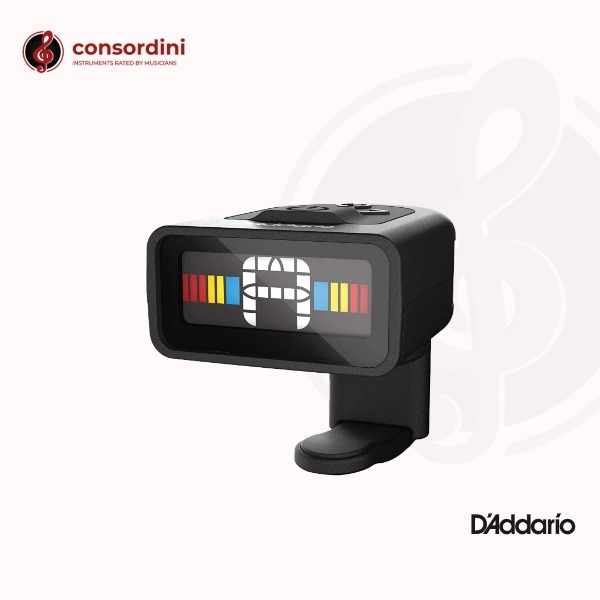 The Micro Headstock tuner has been through a couple of different iterations, and this upgraded model is better for the gigging mandolin player, with a brighter, high-definition screen to allow you to see what you are doing even if you need to tune up mid gig.
The previous version had big, clunky buttons, but this has been replaced with a simplistic design with more of a low profile.
The new version also boasts a CR2032 battery, with a long lasting battery life aided by an automatic shutoff when it is not in use.
Pros
Sleek and modern buttons with a low profile compared to the predecessor
Colorful and bright screen to see exactly what you are doing
Swivel design
Available with or without clip
Cons
Some users have reported this struggling with lower tunings
It's essential to check that it will fit on your instrument, as it isn't universally fitting
As another clip-on tuner, this is a subtle option, and it even has a swivel design so you can alter it to see the screen as desired without having to crane your neck. The NS-Mini design can be bought without a clip at all if you prefer, but we figure most mandolin players would rather have the clip option.
Fender FT-2 Professional Clip on Tuner – Upgraded for High Volumes
Best Fender model for tuning in high-volume environments
Fender is a brand guitarists will know and love, and their products are great for pretty much all string musicians.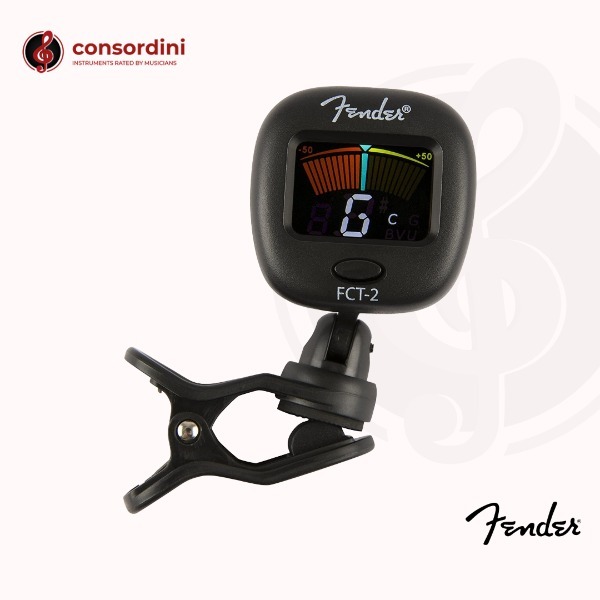 This is a newer model than the Fender FT-004 and it has more detailed colors and a far superior display so you can see much more easily whether or not you are in tune. It isn't designed primarily for mandolin, but it is versatile and can be used for a variety of different musicians, so you'll have no issues as a mandolin player.
The versatile clip also fits the majority of mandolin designs, so it will sit on your headstock and you can tune up in practice or in gigs. It's a little bit confusing to get to grips with in the first instance, so you need to read the instructions and get used to your new tuner.
Guitar, Bass, Ukulele, Violin and Chromatic tuning modes are all available, so you can choose based on your instrument.
Pros
Much better in high volumes than its predecessor
Low-profile design and can easily sit at the back of your mandolin
Improved color screen so you can see the tuning needle perfectly
Cons
More expensive than some of the other models on the list
May not be as reliable at tuning in the very low registers
The user interface is not as intuitive as some of the others, so you will need to read your instructions
Mandolin players will use the chromatic mode. The tuning range is B0 – B7 with A440 calibration and this is also a more reliable tuner than the FT-004 that came before, coping a little better with high-volume situations thanks to the built-in vibration sensor.
KLIQ UberTuner – Most Rugged Tuner
Rugged and long-lasting tuner
The KLIQ UberTuner is a bit more expensive than some of the other models on the list, but when you consider the features on offer you may well agree that it is worth it.
The UberTuber has a micro-processor and a great piezo sensor that tunes very quickly and accurately. This is the sort of pickup that is used on some instruments.
The tuner is simple and intuitive, it detects the sounds coming from your instrument, so when you start to pluck your mandolin string it will detect and tell you whether you're sharp, flat, or perfectly tuned.
A color display is easy to see and though it's not quite as adjustable as some competitors, it does allow you to position the screen in three different ways so you can always see the needle easily.
The piezo pickup mentioned actually picks up vibrations so you'll be able to enjoy using these even in situations where your instrument may be otherwise drowned out.
Pros
Clear color screen

Tunes from vibration using the piezo pickup
Simple and intuitive to use
Excellent, rugged design built to last years
Cons
More expensive than some of the other models
The best feature of this is arguably how incredibly well-built and rugged it is. The UberTuner is not only built to last, even for a touring musician, but it has a manufacturer guarantee for 3 years.
KLIQ MetroPitch - Best Metronome Tuner for All Instruments
A metronome, tone generator and tuner rolled into one
Another offering from KLIQ is the MetroPitch, this is one of the options on the list that is not a clip-on tuner, and while it is always useful in your gig bag it may be better for practice sessions than use on stage.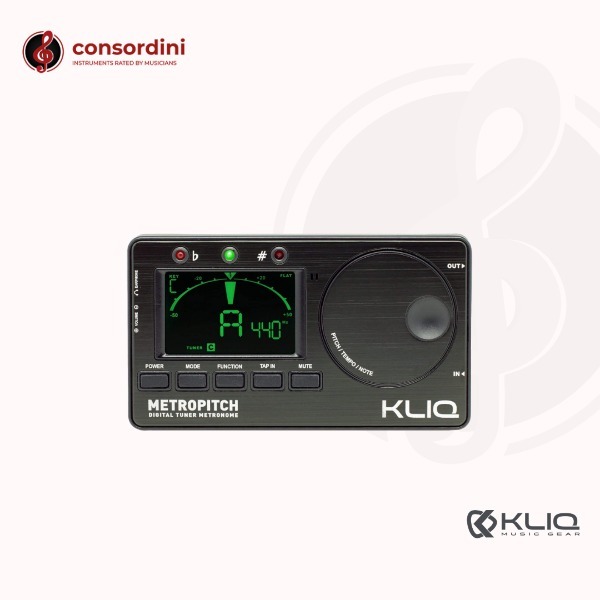 On top of offering an exceptional level of reliability tuning a range of instruments, the MetroPitch includes a metronome. This is amazing for those mandolin players who want to practice playing in time with a beat.
It also has a tone generator, and a wider tuning range than some other models, with A0 to C8 reliably tuning. The metronome is equally flexible with a range from 30 to 250 beats per minute, and if you don't know the exact tempo you want to play with, there is a tap tempo so you can enter it based on your own rhythm rather than adding the numbers.
It's still portable, too, Though this is a bit bigger than the clip-on tuners, it comes with a little carrying pouch.
Like the other KLIQ models, it comes with a 3-year manufacturer warranty. If anything goes wrong in that time (assuming it isn't your fault) then you will get your money back or a replacement.
Pros
Available in multiple designs
Simple interface
3-year warranty from the manufacturer
Cons
Not as easy to use on-stage as some competing options
The most expensive tuner on the list
Due to the larger size of the tuner, you can enjoy a simpler operation, too, including a jog wheel for changing the tempo and other settings.
What is the Best Mandolin Tuner?
The majority of mandolin players choose to use a clip-on tuner. They're easy to use, inconspicuous, and affordable.
While all three clip-on tuners described in this review offer a high level of reliability, D'Addario's NS Micro Tuner offers an inconspicuous design, easy adjustability, and simple-to-read screen that make it the best mandolin tuner for your money.
How to Tune a Mandolin by Ear
If you're not an experienced musician, you'll typically find it far easier to tune your mandolin with the help of a tuner. But sometimes no tuner is available, so how can you still make sure your mandolin sounds great?
Unless you have "perfect pitch," where you can recognize pitches without any assistance from a tuner or other reference point, you'll still need to tune your mandolin in reference to an outside source.
If you have a piano, a guitar, or even an app on your phone nearby, you can use them as a reference to tune your G strings. Play a G on the piano, then play the string on your mandolin. If your mandolin sounds lower, tune it a little higher, and vice versa. Repeat until your G strings match the pitch of the piano.
From there, you can tune your other strings using your mandolin alone. Start by playing a D on your G string, at the seventh fret. Then play your D string. Just as you did with the piano, adjust the tuning of each D string until it matches the pitch of your G strings at the seventh fret. From there, you can repeat this process for each higher string.
You will always use the seventh fret since the relationship between each pair of strings is identical on the mandolin. Double-check your tuning when you're finished by repeating the same process, and you're good to go! In a worst-case scenario, you might not have anything on which to base your tuning.
In that case, simply tune your mandolin to itself. Tune the G strings together, then follow the instructions to tune by ear above. While you may not be in tune with other instruments in a band, if you're playing by yourself this can be an adequate solution in a pinch.
Can You Tune a Mandolin with a Guitar Tuner?
In short: yes, but it's not always easy.
Luckily, most guitar tuners will recognize a pitch regardless of the octave, so in a pinch a standard guitar tuner will work just fine to get your mandolin in tune.
How to Tune a Mandolin with a Guitar Tuner
These instructions will vary depending on your particular model of guitar tuner, but there are some general principles to keep in mind.
The pitches on a mandolin are higher than those on a guitar (except for the G strings), so your tuner may struggle to recognize the upper strings accurately.
In that case, you're better off tuning your lower strings with the guitar tuner and tuning the rest by ear.
Mandolin Chromatic Tuners vs. Fixed Tuners
As a mandolin player, you'll almost certainly want to buy a chromatic tuner. This means that the tuner can hear any pitch and tell you whether it's in tune or not. Fixed tuners are generally intended for guitars only, and they can only register certain pitches.
You can probably work out a way to tune your mandolin with such a fixed tuner (since the G strings on your mandolin are the same pitch as a G string on a guitar), but these days you can find a chromatic tuner for the same price as – or even less than – a fixed tuner.