Tuning a mandolin can be tricky business. Since mandolins have shorter strings than guitars, narrowing in on the correct pitch takes finesse – not to mention time.
Mandolins have four sets of two strings that are tuned to the same pitch.
Violinists will tell you that it's far easier for three violinists to play in tune with one another than for only two.
The same principle makes it a particular challenge for each pair of strings on a mandolin to sound in tune.
It seems counterintuitive, but our ears amplify even small differences in tuning between two strings to the point that you may find yourself adjusting your tuning after every song.
So how is a mandolin tuned?
With the right equipment, experience, and sometimes just a little bit of luck, you'll be able to get your mandolin sounding great in no time.
What is the Tuning of a Mandolin?
The standard mandolin tuning is the same as violin tuning: G-D-A-E, from low to high.
The only difference is that the mandolin has eight strings, but the violin has only four.
On a mandolin, you tune each "course," or pair, of strings to the same pitch, so the mandolin's tuning is really G-G-D-D-A-A-E-E.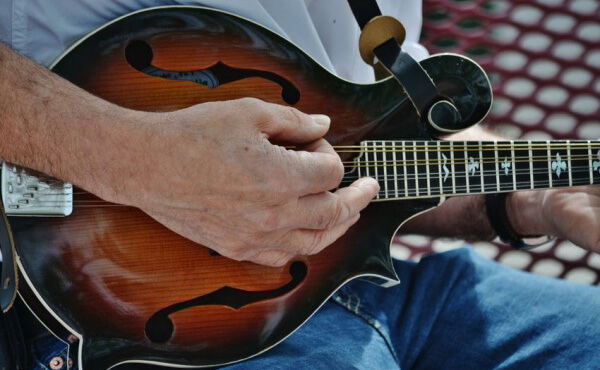 Tuning a mandolin can be confusing for guitar players at first, but you can think of the mandolin as the opposite of a guitar – the lowest strings on a mandolin have the same pitch as the highest strings on a guitar.
The second lowest strings on a mandolin then correspond to the second highest on a guitar, and so on.
This also means that many mandolin chords are the same as guitar chords, only in reverse.
Like most instruments, mandolins can be tuned in a variety of ways.
Some of the more common alternate tunings are G-D-A-D, A-D-A-E, G-D-G-D, and G-D-G-B, so give those a try if you can't tell what a mandolin is tuned to in a particular song.
You'll also find that it's possible to maintain the relationship between the strings but to tune them all lower by an equal amount, such as E-E-B-B-F#-F#-C#-C#, to make it easier to play in certain keys.
How Do You Tune a Mandolin?
Find the tuners that correspond to each string.

Typically, you'll find the tuners for the G and D strings on the upper side of the head (closest to you) and the tuners for the A and E strings on the lower side of the head.

The G strings and the E strings will typically be closest to the body of the mandolin.

Start from the lowest pitch and move to the highest pitch.

This means you'll be tuning in a clockwise direction around the mandolin's head.

Tune in pairs. Start by tuning each string individually using a tuner to get as close to the correct pitch as possible.

You'll probably need to use a pick to be sure you can tell precisely which string you're playing.

Then, play the two strings consecutively and listen to see if they sound the same as one another.

If one sounds higher or lower, adjust it accordingly until both strings sound together.
Pro tip: When you tune your strings, make sure you start from a pitch below the intended tuning and then tune up to your intended pitch.
If you tune from a higher pitch down to your intended pitch, the string will go out of tune much quicker – and you also risk increasing the tension on your string to the point that it might snap.
Double check your tuning after you've tuned the E strings.

Mandolins can go out of tune even in the course of tuning because the tension of each string affects the tuning of all of the other strings.

Once you have your tuning relatively set, you can go back and make fine adjustments to make sure each pair of strings sounds great.
When you use the right kind of mandolin strings, tuning can be a far less-frequent chore.
Coated strings and flatwound strings in particular are known for decreasing the variability in mandolin tuning.
You might also find that some mandolins hold their tuning better than others.
If your mandolin goes out of tune quickly, check to see if it has a truss rod running through the neck.
Truss rods provide stability, so if you don't have one your mandolin may not hold its tuning very well.
How to Tune a Mandolin by Ear
If you're not an experienced musician, you'll typically find it far easier to tune your mandolin with the help of a tuner.
But sometimes no tuner is available, so how can you still make sure your mandolin sounds great?
Unless you have "perfect pitch," where you can recognize pitches without any assistance from a tuner or other reference point, you'll still need to tune your mandolin in reference to an outside source.
If you have a piano, a guitar, or even an app on your phone nearby, you can use them as a reference to tune your G strings.
Play a G on the piano, then play the string on your mandolin. If your mandolin sounds lower, tune it a little higher, and vice versa.
Repeat until your G strings match the pitch of the piano.
From there, you can tune your other strings using your mandolin alone.
Start by playing a D on your G string, at the seventh fret. Then play your D string.
Just as you did with the piano, adjust the tuning of each D string until it matches the pitch of your G strings at the seventh fret.
From there, you can repeat this process for each higher string.
You will always use the seventh fret, since the relationship between each pair of strings is identical on the mandolin.
Double check your tuning when you're finished by repeating the same process, and you're good to go!
In a worst-case scenario, you might not have anything on which to base your tuning.
In that case, simply tune your mandolin to itself. Tune the G strings together, then follow the instructions to tune by ear above.
While you may not be in tune with other instruments in a band, if you're playing by yourself this can be an adequate solution in a pinch.
Can You Tune a Mandolin with a Guitar Tuner?
In short: yes, but it's not always easy.
Luckily, most guitar tuners will recognize a pitch regardless of the octave, so in a pinch a standard guitar tuner will work just fine to get your mandolin in tune.
How to Tune a Mandolin with a Guitar Tuner
These instructions will vary depending on your particular model of guitar tuner, but there are some general principles to keep in mind.
The pitches on a mandolin are higher than those on a guitar (except for the G strings), so your tuner may struggle to recognize the upper strings accurately.
In that case, you're better off tuning your lower strings with the guitar tuner and tuning the rest by ear.
Mandolin Chromatic Tuners vs. Fixed Tuners
As a mandolin player, you'll almost certainly want to buy a chromatic tuner.
This means that the tuner can hear any pitch and tell you whether it's in tune or not.
Fixed tuners are generally intended for guitars only, and they can only register certain pitches.
You can probably work out a way to tune your mandolin with such a fixed tuner (since the G strings on your mandolin are the same pitch as a G string on a guitar), but these days you can find a chromatic tuner for the same price as – or even less than – a fixed tuner.
Hints for Getting Your Mandolin in Tune
Change your strings frequently. Older, rusty strings go out of tune much more quickly.

Plus they don't sound as lovely as a fresh pair of strings, so don't forget to treat your mandolin well.

Invest in a high-quality tuner. Even expensive tuners will not break the bank, and the gulf in quality between the poorest tuners and the best is immense.

If you bought a beginner's pack, consider replacing your starter-level tuner with a more sophisticated model.

Buy a tuner that clips onto your mandolin. Most mandolins are not electric, so most likely you will not be plugging your mandolin directly into a tuner.

Small tuners that can clip onto the head of a mandolin are often just as accurate as larger tuners.

Plus, you won't have to worry about positioning your mandolin in a way that will project the sound into the tuner.
Mandolin Tuner Reviews
</p> <h3>Snark ST-8 Super Tight Clip-on Tuner</h3> <p>
One of the most popular clip-on tuners around, Snark's ST-8 has an elegant design and a proven track record for instruments for the mandolin to the trumpet.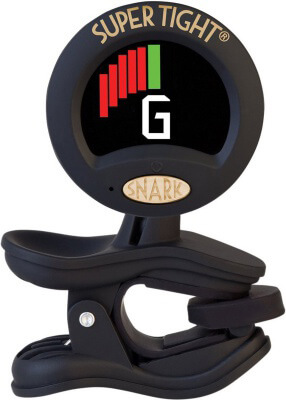 Pros
Super easy to read with a simple display that won't distract you as you tune
Works well with just about every instrument
Compact design
Offers tuning to pitches other than A=440, which may appeal to mandolinists playing classical or folk music – though you may find it challenging to change these settings
Cons
A little more expensive at around $15
Tells you what pitch you're playing, but not the octave, which means that if you're tuning new strings you may find yourself confused
Snark's ST-8 is deservedly popular, offering a sleek aesthetic and improved reliability at an affordable price.
</p> <h3>D'Addario NS Micro Clip-On Tuner</h3> <p>
Unlike Fender, D'Addario is a company that specializes in accessories, and in particular accessories for acoustic instruments.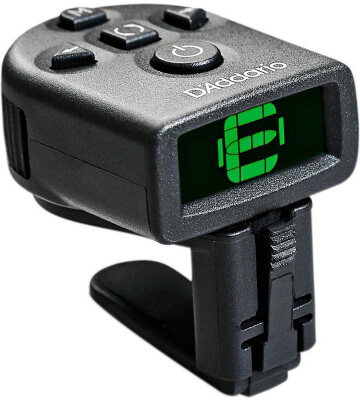 The NS Micro Clip-On Tuner rings in at just over $10, and its balance of features and affordability make it a top contender.
Pros
Ultra-compact design – unlike many other clip-on tuners, it hews to the instrument instead of sticking out where it might get knocked off.
Color-coded display shows more detailed information than other models, though again it may not be as helpful for anyone with color blindness
Easy-to-use buttons on the top of the tuner make it simple to adjust the tuning to pitches other than A=440
Cons
Take a look at the designs of your mandolin's head and this tuner before buying – in certain cases this tuner will not fit on an instrument's head if the design does not match well.
Struggles to tune in loud environments (though this will be an issue with any tuner used with acoustic-only instruments)
May struggle to pick up very low tones, which won't be a problem for your mandolin but may be an issue if you hand it off to the bass player in your band
D'Addario's NS Micro tuner will neither be seen nor heard – you can even clip it to the back side of the mandolin's head.
This makes tuning discrete and straightforward, and it's hard to beat its reliability for the price.
</p> <h3>Korg TM50BK Instrument Tuner and Metronome</h3> <p>
When it comes to tuners you can't clip onto your instrument, Korg is the golden standard of affordability and reliability.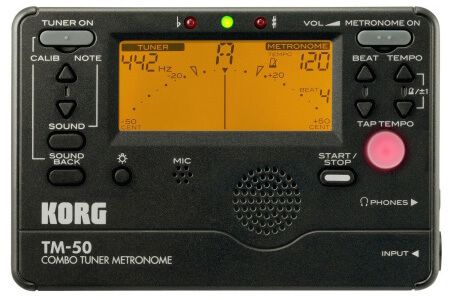 The TM50BK offers the added bonus of providing metronome capabilities, making it one of the best mandolin tuners you can't clip on.
Pros
It's extremely easy to adjust features like pitch level, sound, and more
TheTM50BK is an all-in-one product, offering a detailed tuning interface and a usable metronome in a smart phone-sized package
Offers a headphone plug-in so you can hear your metronome without disturbing your neighbors
Uses AAA batteries, which will be much easier to find
Offers the possibility of plugging your electric mandolin into the tuner for even more accurate tuning
Screen brightness can be adjusted easily
You can even use the metronome and the tuner at the same time!
Cons
The display can be difficult to read, especially from a distance.
It can be a challenge to ensure that your mandolin's sound makes it into this tuner's microphone, especially if there is ambient noise.
The metronome could stand to be a little louder.
A little more expensive at around $20
Most mandolin players will find it simpler to stick with a clip-on tuner, but if you think you'll also be using a metronome frequently the Korg TM50BK could be a tempting choice.
</p> <h3>Boss TU3 Chromatic Tuner Pedal</h3> <p>
The favored tuning pedal of guitarists worldwide, the Boss TU3 is a heavy duty machine that caters to electric guitar and bass players who use a pedal board.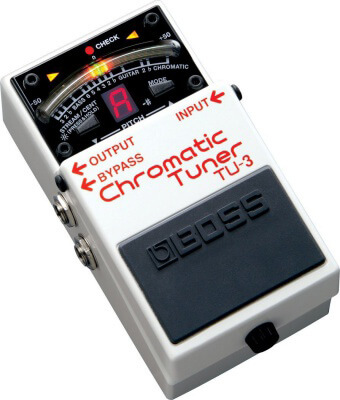 Most mandolinists will be turned away by the price tag of over $80, but electric mandolinists may profit by investing in this classic tuner.
Pros
Allows you to plug your mandolin into the tuner and then run the signal past the tuner into a PA system or other amplification.

This means it's simple to switch between tuning and playing in a concert environment with the stomp of a pedal.

Perfect for loud environments and live performances – this pedal will not be distracted by ambient noise.
Easy to read from a distance, so you can keep it on the floor and tune your mandolin with ease.
Built to last
Won't affect the tone of your mandolin's electronic signal at all, preserving the best possible sound
Can tune any instrument effectively – including electric basses and other low-pitched instruments
Cons
Has no microphone, so it can only tune based on electronic signals – not for acoustic-only instruments
Price point makes this a reasonable choice only for professional stage musicians
Boss's TU3 Chromatic Tuner is a far more specialized choice that will only appeal to certain experienced mandolin players.
But it justifies its exorbitant price by offering the most reliable tuning system for live, electric performance.
</p> <h3>Fender Clip-On Tuner FT-004</h3> <p>
Fender is typically known for building instruments, but in recent years their products have expanded to include nearly any accessory you can think of, including this user-friendly electronic mandolin tuner.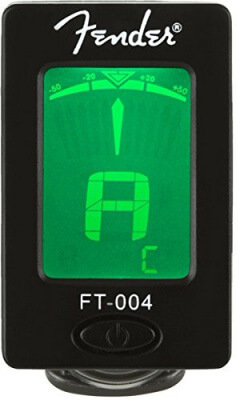 Pros
Ultra-affordable at less than $10
Clips onto your mandolin easily
Small enough that you'll hardly notice it on your mandolin
Chromatic tuning means it will work well no matter what tuning you're using
Cons
Not as precise as more sophisticated tuners
If you are looking for a tuner you can use for both your mandolin and lower-pitched instruments like a bass, you might invest in slightly higher-end model.
Color-coded tuning makes it easy to see whether your mandolin is in tune or not, but if you have color blindness it may be harder to read.
Uses a fairly obscure battery that might be challenging to replace
Fender's tuner is just as reliable as most of their other products – and just as affordable.
If you're looking for a basic, no-frills tuner, the FT-004 won't do you wrong.
What is the Best Mandolin Tuner?
The majority of mandolin players choose to use a clip-on tuner. They're easy to use, inconspicuous, and affordable.
While all three clip-on tuners described in this review offer a high level of reliability, D'Addario's NS Micro Tuner offers an inconspicuous design, easy adjustability, and simple-to-read screen that make it the best mandolin tuner for your money.