When you buy a new mandolin, you may think you're stuck with that instrument's sound for the rest of its life.
But there's another factor to consider, which can be almost as important to the sound as the instrument itself: the strings.
Do you want your mandolin to have a bright tone quality, or do you want it to have a rich, mellow sound? How important is it for the mandolin to be easy to play and smooth on your fingers?
Answering these questions and considering the differences between the best mandolin string brands will help you pick out the best strings to complement your mandolin.
Our Top Picks For The Best Mandolin Strings
What to Look for When Buying Mandolin Strings
First, a few of the basics:
How many strings does a mandolin have?
Unlike many other stringed instruments, mandolins have eight strings in pairs of two.
What are the mandolin's strings tuned to?
Mandolin strings are tuned like the violin, whose four strings are tuned to G-D-A-E.
The only difference is that two strings on the mandolin are tuned the same as each string on the violin. This results in the tuning G-G-D-D-A-A-E-E.
Are mandolin strings the same as guitar strings?
A major difference between mandolin strings and guitar strings is that mandolin strings have a simple loop on the end that wraps around a hook under the mandolin's tailpiece.
If you play guitar, you might find it difficult to change mandolin strings at first for this reason, but if you are careful you'll quickly adjust to mandolin-style strings.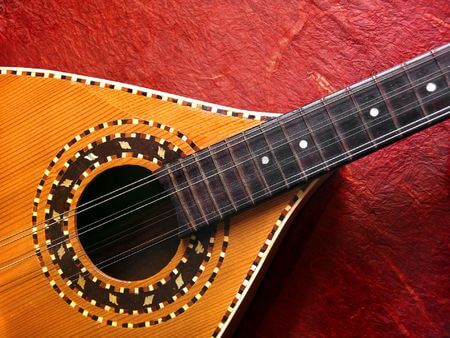 In composition, mandolin strings are nearly identical to acoustic guitar strings.
Because the mandolin was a more specialized instrument, however, there used to be far fewer choices when it came to picking the best mandolin strings.
Luckily, many string manufacturers have enthusiastically embraced the mandolin market today, and a wealth of options are available to mandolinists everywhere.
Before you consider the specific brands and models of mandolin strings that are available, you'll want to consider some larger picture questions that will help you narrow down your choices.
What gauge of strings should I choose?
In general, mandolin strings come in one of three gauges.
Light: .010, .014, .024, .038
Medium: .011, .015, .026, .040
Heavy: .0115, .016, .026, .041
Lighter strings vibrate more quickly, exert less tension on the instrument, and have a brighter, more vibrant tone.
Many beginning players choose light mandolin strings because they don't cause much harm to their fingers before developing calluses.
If you have an older mandolin with no truss rod in the neck, you may also want to consider lighter strings, since they will put less pressure on the neck and could prevent serious damage to the instrument.
Medium gauge strings are the most popular variety, with a balance between a bright tone quality, strong playability, sustain, and volume.
The heavier strings are, though, the harder it is to press them down against the frets and the more they will hurt your fingers.
The payoff is a louder volume and better sustain, as well as a deeper, richer tone, if that suits your playing style.
What kind of metal should the strings be made from?
The metal used in making mandolin strings is the most significant determining factor in their tone quality.
The most popular alloy, or combination of metals, is phosphor bronze, a combination of copper, tin, and phosphorus that results in a bright timbre that has a long lifespan.
Standard bronze strings may result in a brighter timbre than phosphor bronze, but their lifespan suffers.
Other metals like stainless steel, nickel, and copper have a darker tone as well as a richer bass sound.
Nickel plated steel strings have a brighter tone than even bronze, making them a good choice if you play electric mandolin.
Just like stainless steel kitchenware, stainless steel strings have the advantage of being resistant to oxidization.
For players whose fingers sweat a lot, this can make a big difference in increasing the lifespan of the strings.
Coated vs. Uncoated Strings
With recent advances in technology, many mandolin string manufacturers have experimented with ways to extend the lifespan of their strings.
The result is coated strings, in which a polymer coating is applied to the wound strings (those that are most susceptible to corrosion).
While this technological breakthrough solved a number of chronic issues with traditional strings, you'll need to think through the upsides and downsides before jumping on the bandwagon.
Pros of coated strings
The polymer coating protects the strings from all kinds of grime, preventing corrosion and maintaining their initial tone quality.
They last longer – often four or more times longer than uncoated strings!
Your fingers will not create a buzzing sound when they brush against the strings.
The polymer coating can enable manufacturers to experiment with new metal alloys. This is because certain metals, like copper, are impractical for traditional strings because they oxidize easily. But with the polymer coating, they are protected from oxidization and can thus have a far longer lifespan.
Cons of coated strings
This is still an experimental technology, and not every company has mastered the techniques of applying polymer to the strings.
The polymer will have an effect on the strings' tone quality. The upper range of the sound will be less vibrant – the only question is how much the tone will change.
The polymer may rub off over time.
Roundwound vs. Flatwound Strings
All wound mandolin strings share a core that will either be round or hexagonal.
Some strings known as flatwound strings, however, are wrapped in a special kind of wire that results in a comparatively smooth and flat surface around the outside of the string.
The feel of flatwound strings is noticeably different from roundwound strings.
You can feel distinct grooves between each wrapping on a roundwound string, but on a flatwound string it is much harder to notice.
Neither flatwound nor roundwound strings are better than the other. Instead, most mandolinists will tend prefer one or the other depending on their priorities.
Pros of flatwound strings
They make less of a squeaky sound when your finger runs across them
Their smoother surface does less damage to your fingertips and means you can play for a lot longer.
Mellow sound, which may be appealing to folk or jazz players in particular
Like coated strings, they don't lose their tone quality nearly as quickly as typical roundwound strings
Cons of flatwound strings
They are generally more expensive than roundwound strings, though you can offset this issue by leaving them on the mandolin for longer.
You can't buy low-gauge flatwound strings, so they won't feel the same if you're used to playing low-gauge strings.
The strings have a higher tension than round strings, making it more challenging to bend them or use vibrato. This is a much larger factor for guitars than for mandolins, but it can still have an important impact.
The higher strings will a comparatively dull sound, since flatwound strings remove the upper end of the harmonic range of the string.
There are fewer customizations available since they are not as common.
Conclusion
When it comes to buying good mandolin strings, you'll need to experiment with a few different varieties before you find the best fit.
Ultimately, what you're looking for is the ideal balance of value, tone, and flexibility to meet your needs.
The Best Mandolin Strings: Reviews
Martin M400 Mandolin Strings
While Martin is best known for their unbeatable line of guitars, they also have their own line of strings for guitars, mandolins, and more.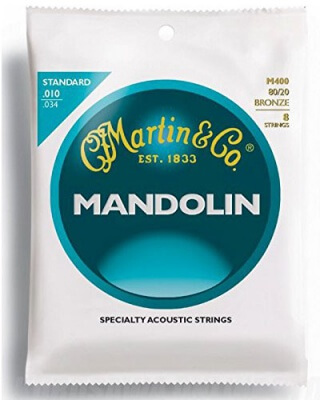 The M400s feature an 80/20 copper alloy, and at around $7 they are among the least-expensive mandolin strings available.
Pros
Nice tone quality for the price
Predictable, simple, and dependable
No-nonsense packaging and marketing means you're paying for the product, and nothing more
Cons
Will not last as long as coated mandolin strings
They may not hold their tuning as well as some of their competitors.
Some strings with more advanced combinations of metals may break less often when you install the strings, though all strings are bound to break a certain percentage of the time.
Martin's reputation is quality, and that's still the case when it comes to their strings.
While their strings don't receive the same attention and care as their guitars, Martin's mandolin strings are a high-quality and dependable option, especially if you're on a budget.
D'Addario J74 Mandolin Strings
A classic choice, D'Addario's phosphor bronze J74 strings have a lengthy pedigree to their name.
In 1974, D'Addario brought string making to a whole new level by introducing phosphor bronze, an alloy of copper with tin (to protect against corrosion) and phosphorus (to make the metal last longer and to make it stiffer).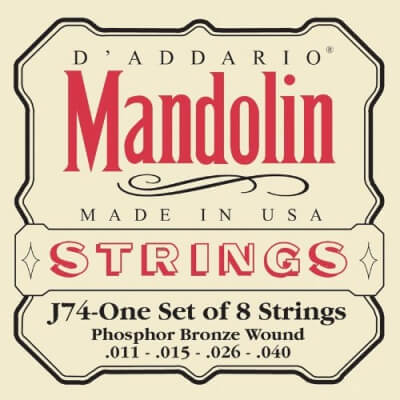 The J74 mandolin strings boast endorsements from some of the legends of mandolin playing, including Ricky Skaggs, David Grisman, and more – plus, they're made in the USA.
Pros
Extremely high quality construction – D'Addario is known for their consistency, so you can rest easy knowing that the strings will not be prone to breaking.
Excellent sound quality, tone, and volume
Simpler and less wasteful packaging than many of their competitors
Among the best mandolin strings for bluegrass
Cons
Their lifespan won't be as long as coated mandolin strings, though you can increase their lifespan with proper care.
A lot of mandolin players use J74s, so they won't necessarily help you step out from the pack if you're looking for an unusual or unique tone quality.
You'll hear some string buzz when you pass your fingers across the surface of the strings.
D'Addario mandolin strings set a high bar when it comes to traditional, uncoated strings.
They might not be as high-tech as some other options, but they sound great – and not just at their price point.
D'Addario EXP74 Coated Phosphor Bronze Strings
Building off of the standard set by the J74s, D'Addario has created a coated version of their best-selling mandolin strings in the highly regarded EXP74s.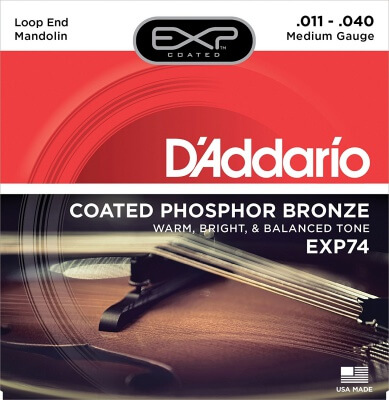 At nearly $15, these strings require significantly more investment than the J74s or most other traditional strings.
But J74 loyalists who are looking for a longer-lasting string need look no farther.
Pros
The strings feel essentially identical to traditional D'Addarios, since their coating is sprayed onto the outer wire before it is wound around the inner string.
Boast a minimum of four times the life of standard J74 strings. Even if your experience varies, you'll be sure to be able to play them far longer than traditional strings.
Cons
Though D'Addario claims the EXP74s will have identical tone quality to the J74s, many players will notice a slightly less crisp sound in comparison when the strings are first installed. After a week of playing, however, the tone will even out, and after two months the EXP74s will have a far superior tone quality compared with the then-corroded J74s.
It's hard to beat D'Addario's quality when it comes to strings for acoustic instruments.
If you like the sound of J74s, the EXP74s are at least worth trying. You might save yourself a lot of time spent changing strings in the process.
D'Addario EFW74 Flatwound Mandolin Strings
Though branded similarly to the classic J74s, D'Addario's EFW74 flatwound strings are in fact made from stainless steel.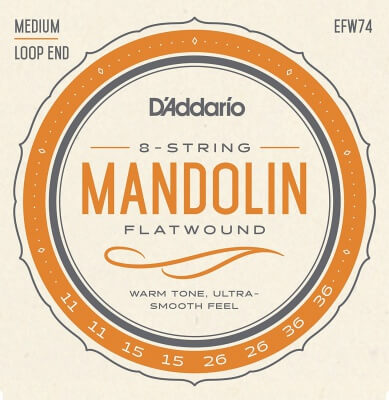 These strings aren't cheap, at around $20, but jazz, classical, and folk players in particular may be swayed by the superior comfort and rich tone provided by this model.
Pros
Great choice for beginners – they feel smooth and comfortable as you learn to play.
Among the best mandolin strings for a mellow sound – suits folk and classical players well
Strong sound projection
Long lifespan
Among the best mandolin strings for Irish music as well!
Cons
Significantly more expensive than roundwound strings
Bluegrass players may not get enough of a punch from these strings
D'Addario's EFW74 flatwound strings are a strong choice if you know you want flatwound strings.
They won't be the right fit for every mandolinist – or even most mandolinists – but anyone who seeks a gentler tone quality with real depth should give them a try.
GHS A240 Phosphor Bronze Mandolin Strings
The A240 model of phosphor bronze strings, made by budget-friendly GHS, are available in an "Ultra-light" gauge of .009, .013, .020, .032, making them an intriguing choice for beginning mandolinists.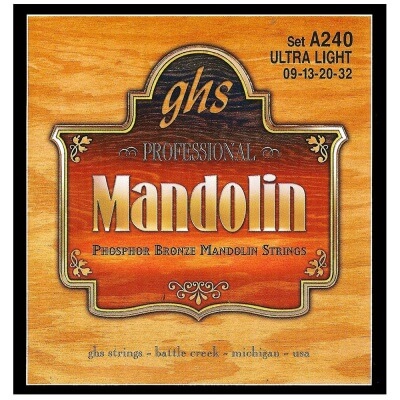 Pros
Highly affordable at around $6 per pack
Ultra-light gauge mandolin strings like these are very easy on your fingers
Sweeter, mellower tone than heavier gauge strings
Cons
There are some reports of quality control issues and strings breaking.
The sound will be quieter than higher gauge strings and will not sustain as long.
Among the least expensive options around, GHS's A240 mandolin strings provide a solid option for the budget-minded consumer.
Thomastik-Infeld 154 Mandolin Strings
These flatwound, solid steel core strings from Austrian manufacturer Thomastik-Infeld cost more than most other options, at around $40.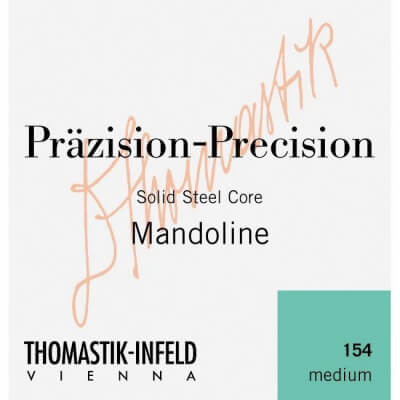 They're flatwound, incorporating some of the highest levels of quality and technology available, so they may justify a second look if you're willing to put down the money for a quality set of strings.
Pros
Solid stainless steel core with a tin plating results in a clear, vibrant sound, with warm lows and brilliant highs
Stable tuning
Cloth winding near the tuners and other details of construction make them a breeze to put on your mandolin.
Flatwound strings are easy to play and decrease the possibility of buzz on the strings.
Very long lifespan
Cons
Very expensive, so it's a risky investment to try these strings if you think you might not like them
The tone quality might not be the right fit for all mandolin players.
More than any other set of strings mentioned in this summary, Thomastik-Infeld flatwound strings can take your mandolin's sound to the next level.
They might cost half as much as your mandolin cost in the first place, but their undeniable quality and attention to detail will be attractive to many players with high standards for tone, feel, and lifespan.
Ernie Ball Earthwood Mandolin Strings
Ernie Ball is considered one of the best inexpensive options when it comes to electric guitar strings, but they also offer a full line of strings for other instruments.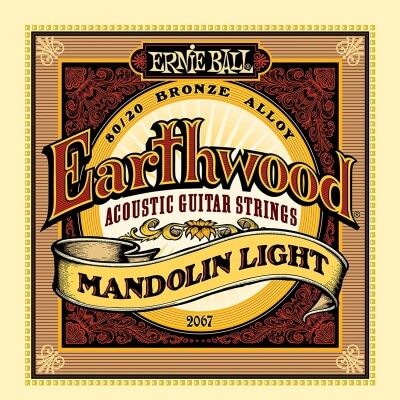 Their Earthwood brand of strings for acoustic instruments includes mandolin strings with an 80/20 copper and zinc alloy, wrapped around a steel core wire plated with tin.
Pros
Among the best mandolin strings for beginners – easy to play!
Easy to find
Far better sound than the factory strings on most new mandolins
Cons
Some customers report quality control issues, especially that the loops at the ends of the strings become easily undone.
These strings can also be prone to breaking, particularly if you overtighten them.
At almost $9, they are more expensive than other budget options for traditional strings, an expense they don't justify with higher quality.
Darker tone quality than some strings means they might not be the best sounding mandolin strings for bluegrass music, particularly in a band setting.
Electric guitar players who are loyal to Ernie Ball might be tempted to go with a known brand when learning to play the mandolin, but you'll often be better off buying strings made by D'Addario, Martin, or another maker who specializes in acoustic instruments.
Elixir Strings Nanoweb Coated Mandolin Strings
Elixir has established itself among the top manufacturers of instrument strings, from guitar to mandolin to banjo and beyond.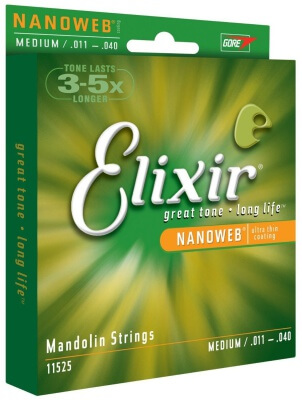 Their nanoweb coated mandolin strings apply a state-of-the-art polymer coating to the entire string, including not just the outside edges but the space in between the winding.
The metal interior is made from 80% copper and 20% zinc.
Pros
Long-lasting
Fluoropolymer coating covers the whole string, protecting the inner core of the string from sweat, dust, and other corroding materials that can significantly decrease the lifespan of the strings
Easy on the fingers
Very little buzz when you move your fingers across the strings
Stay in tune well
Among the best coated mandolin strings
Cons
Slightly more expensive than budget mandolin strings, though the increased lifespan of the strings should more than offset their budgetary impact
The tone might be a little dull for your taste, but that's only until other strings begin to corrode and their sound begins to deaden.
If you are a heavy player, you may find that the coating rubs off on the mandolin's neck over time.
Elixir's nanoweb-coated mandolin strings are among the most popular mandolin strings on the market, and for good reason.
While professional mandolin players may find reasons to gripe with these strings' tone quality, their lifespan attracts many casual and experienced musicians alike.
Even better – if you have a mandolin that you don't play very often, these strings will ensure that it will sound just as good every time you pick it up.
Conclusion
If you're looking to throw some new strings on your mandolin without making too much of an investment, you can't go wrong with the tried-and-true classic, D'Addario's J74s.
They won't last forever, so buy a few packs at a time, but you'll achieve excellent tone and playability without breaking the bank.
For those who want to experiment with a higher-quality string, Elixir's Nanoweb coated strings offer an excellent balance between affordability and extending the lifespan of your strings.
While you may notice a decrease in tone quality, they'll still sound great.
Plus, once you've left them on your mandolin for a couple of months, you'll actually be saving money by opting for the more expensive strings.
There are countless options available when searching for quality mandolin strings, so the best advice you can take is to give some different styles of strings a try.
Your mandolin might sound better with coated strings, with flatwound strings, with stainless steel strings, or some combination of those options – you'll never know until you try.
Fortunately, strings are a relatively small purchase compared to a new instrument, so you can achieve wonderful advances in tone quality without having to buy a whole new mandolin.