For years, Roland has dominated the market with high-end pianos for those seeking the best in terms of feel, sound and the outward aesthetics.
Unfortunately, these pianos are beyond the reach of many due to their hefty price tag, which most people may not be able to validate.
To fix this, Roland introduced the Roland F-120, a price considerate piano with most great features commonly found in the high-end models and their mesmerizing design.
In this Roland F-120 review, we are going to take a look at the features, pros and cons and other additional specifications of the F-120 piano.
The Roland F-120 Review
The F-120 comes with a price of about $1000 depending on the shipping.
Regardless of its price, F-120 has fewer features; but to make up for this, it retails with high-quality samples and learning features.
Even more, F-120 is equipped with numerous prerecorded songs to assist with practice and provide more voices compared to other pianos in its price range.
It does not have unnecessary buttons making it the best choice for beginners.
Technical Specifications
Keyboard: Ivory Feel-G keyboard
Weighted Keys: Yes
Keys: 88 Tones
Songs: 189 Songs
Voices: 30
Polyphony: 128 Notes
Sound Engine: SuperNATURAL
Speakers: (2) 12 cm x 8cm
Amplifiers: 12W + 12W
Display: 3 characters LED
Touch Sensitivity: fixed, 5 levels
Pedals:

Digital Effects:
Brilliance;-10-0 and 0-+10
Reverb (1 to 10)
Damper Resonance
String Resonance
Key off Resonance
Functions:
Whole mode
Split Piano mode
Tuning: A4 = 415.3-466.2 Hz
Transpose: 12 steps; -6 semitones to +5 semitones
Metronome:
Tempo Setting: 1/4 note = 10-500
Volume: 103 dB
Beat: (2/2, 0/4, 2/4, 3/4, 4/4, 5/4, 6/4, 7/4, 3/8, 6/8, 9/8, 12/8)
Resolution: 120 ticks per 1/4 note
Inputs/Outputs:
MIDI In
MIDI Out
Mono(Line Out)
Stereo(Line In)
Headphones Jack x2
Damper Pedal
Weight:
75 pounds
Dimensions W x D x H:
53.6 x 13.6 x 35.9 inches (lid opened) and 53.6 x 13.6 x 30.7 inches (lid closed)
In the box
When you purchase the F-120, it comes in one large box. It may take about two people to carry it to its destination as it weighs about 34 kg (39 kg shipping weight).
The piano takes not more than an hour to assemble it, depending on your skills.
You can download a Roland manual for instructions if you are having trouble assembling.
The Roland F-120 comes with a lid that doubles as a music stand and it's sold with a stand and no bench but pairs quite nicely with Stage KB8902 keyboard bench.
Features
Enhanced playing ability
The Roland F-120 is made in such a way that it can be used for duet performance using the twin piano mode.
The keyboard can be split into two to allow players to use the piano at the same time using the right and left pedals as the damper pedals for each player.
This is a great feature that enhances private lessons to go smoothly, where teachers can demonstrate what he or she wants without the need of the student to switch places or move over.
The piano feel
Roland F-120 has the Ivory Feel-G keyboard that gives the player the touch response found in an acoustic piano.
The keyboard provides an easy transition for people who are accustomed to acoustic pianos.
Everyone can appreciate its synthetic ivory keys designs that feels natural, absorbs moisture and emits less noise when compared to the plastic keys.
The sound and the fury
The F-120 has many features that allow players to improve their skills.
It has 189 songs and finger exercises that can be used by players to learn, practice and warmups.
Although the songs can be easily found online, having them built-in is more convenient and easy to use.
Also, most of the competition contains a few of this, so using them is an effective way to practice for one.
They also come with three grand piano sounds: a ride cymbal in the left hand and split sound with the piano in the right, a ragtime and a piano sound layering with the choir, bells, and strings.
Sound quality
The Roland F-120 has quite a phenomenal sound. The acclaimed superNATURAL sound engine gives the piano a heightened level of a realistic tone.
The produced sound including a nice subtle echo resembling that of an acoustic piano.
Its two 24 watt speaker system is not too loud to burst eardrums, but it's capable to volume anything short of a concert performance.
Another beautiful thing with this piano is that the other instrument sounds it comes with have a high-quality sound just like the acoustic piano tone.
It can play most pieces without cutting any tone prematurely due to its 128 notes of polyphony capability.
Other features
The F-120 has a unique built-in external input that enables you to connect to an external player and play through the pianos speaker.
This is a great feature especially when you are trying to play along with a certain music.
It has the inbuilt track recorder and a metronome, which are used to monitor during the practice or performance and keep time while playing.
Other useful features include the headphone jack and its hook and MIDI connector that enables it to be connected to a computer.
The Pros and Cons of the Roland F-120
Good voice selection
High-quality samples
Useful features and tools
High price
No included bench
Limited feature selection
Keys might be a little bit clunky
The review – final thought
For the price, it's hard to find pianos that looks more attractive and produces better sounding than the F-120.
The stunning finish and eye-catching cabinet design makes the piano look modern and classy while its superNATURAL sound engine makes it produce a magnificent sound.
Its key actions get close to that of traditional realistic experience, and you can almost tell no difference if you are used to the acoustic piano.
The keys, however, might feel a little clunky to some people and it may take some time to adapt.
The piano comes with both white or satin black that blends with almost every theme and the modern furniture look making it fit for your home decor.
It also comes with a small footprint that fits in most room size and is environment-friendly.
Roland F-120 might not be the best choice if you want a piano that you can move around with very often.
It comes with a fixed stand making it a little bit heavy and does not have wheels to aid the movement.
All in all, the piano features everything the average pianist can require for general playing.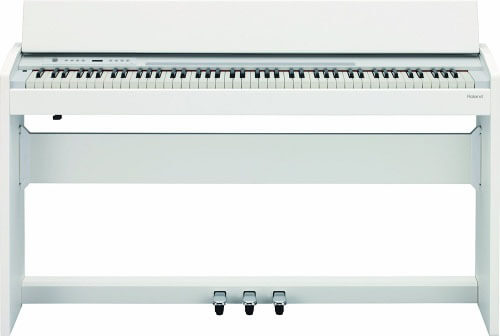 So if you are looking for a piano that sounds Grand, and can give you a tremendous amount of bang for your bucks, Roland F-120 is an impeccable choice.
It's definitely a perfect choice, a great model to practice on and by far one of the best digital pianos in its price range.
I have used it for a couple of years, and I have nothing but good things to say about it.
I highly recommend it for beginners.