This Suzuki Violin Book 1 review will help you to understand why you should buy this book. The Suzuki method is heralded around the world as one of the leading methods in teaching the violin. The principles of the Suzuki method are simple and very effective.
Shinichi Suzuki was born in Japan in 1898. He studied western music in Germany in the 1920's. He returned to Japan during the 1930's and started teaching young children.
He began developing his method during the post war period. Suzuki's method has been heralded as one of the most successful teaching methods ever.
Initially because he himself was a violinist the method was used to teach the violin but it has been used over the years to teach many other instruments successfully as well beginning in nursery school. The Suzuki method has also been used to teach other subjects successfully as well.
The Suzuki method is based on the idea that all children possess the talent to play an instrument. This world famous method is used to tech children as young as 3-4 years old (which is the recommended age to start).
It is the belief of the Suzuki train of thought that because all children learn to speak their own language quite easily and if the same "natural" teaching methods are applied to other subjects than they can easily learn that subject matter as well.
Suzuki referred to the process as the "mother tongue method". The whole system of teaching and learning is referred to as "talent education". There are several key tenets to the approach that include:
Start early (age 3-4 are the ideal age)
The importance of listening to music.
The importance of learning to play music before learning to read
Parental involvement
High standard of teaching
A nurturing and positive environment
Producing a sound in a natural and balanced way
Core repertoire
Socialization with other children
One of the most important steps in the process of the Suzuki method is to start the teaching very early on. The younger the better.
The Suzuki method suggests that even infants should be exposed to classical music. The sooner the child is exposed to music the better they will develop an understanding of the "language" that music is.
Listening to music will help the child to develop a love for the sound it will become a natural part of who they are if they are exposed early enough.
The Suzuki method believes that it is important that a child learns to play an instrument before they learn to read music. Just like a child learns their language before they learn to read their language.
The Suzuki method also requires parental involvement in the form of attending instruction sessions and enforcing practices at home.
Parents are encouraged to learn to play the instrument that their child will learn so that they can have a better understanding of what is required to play the instrument.
Of course a high standard of teaching the core repertoire is also outlined. Maintaining a positive and nurturing environment for the child to learn in is also an important aspect. Encouraging the child to learn an instrument by providing positive reinforcement is mandatory.
One of the other tenets is that the child learns alone but time is also spent instructing the child as part of a group.  It is important that the child is able to interact with other children that are also learning how to play.
According the Suzuki method socialization is a very important part of the process, it helps the child to feel that they belong to a community.
What is the Suzuki Violin Book 1?
The Suzuki Violin Book 1 has all the basics that you need to help your child to get started on the road to becoming a successful violinist.
Purchasing a Suzuki Violin Book 1 is one of the greatest steps you can take to help your child with their practice session.
Book 1 is the beginning for every Suzuki student no matter how old they are when they get started. For some students it can take a 1 year to get through the lessons in the book for others it can take up to 2 years or beyond to get through the lessons. Each child is encouraged to move at their own pace.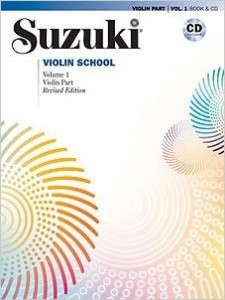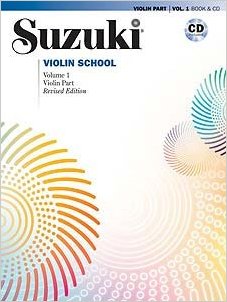 Click Here for Pricing, Pictures and Reviews on Amazon
The book contains a range of pieces that the student will perfect through diligent instruction and continued practice sessions.
This volume offers instructional information on fingerings, instructional text and instructional photos as well as practice scores.
The pieces that are in the Violin Book 1 were handpicked by Suzuki because of their teaching ability. They help the student to hone their skills.
The book is well laid out and easy to use and it is an important part of any student's instruction so keeping it on hand is an important step in the process.
The book will quickly become more than a reference tool. It will become your families practice guide, instructional guide and support when you feel like you need it the most.
Supporting the Budding Musician
The Suzuki Violin Book 1 can help you to put into practice the lessons that are offered through the Suzuki method at home. The book has the basics for violin that need to be practiced away from formal class time.
Having the book handy can help you to support your child at home as repetition is a key tenet of the Suzuki method. Purchasing this first book in the series is a step in the right direction when it comes to supporting your violin student.
Consider that your child may be using this book for well over a year and the small investment suddenly seems miniscule.
Watching your child excel at an instrument like the violin is one of the proudest moments you will have as a parent especially when you have partnered in their learning. Affording your child, the opportunity to excel at music is actually one of the greatest gifts you can give them.
Children that play an instrument, according to recent research actually do better academically as well. Partnering with your child in their music education by providing them with all the tools that they need like the Suzuki Violin Book 1 will help to prepare them for a successful future not only in music but in life as well.
Some of your child's fondest memories will revolve around them realizing the success during their music lessons.
Emerging yourself in your child's music education as you have emerged yourself in teaching them to communicate in your native tongue will help your child to realize success with music quickly.
Having the book on hand to follow along with the lessons will help you tremendously in your understanding of what your child should be doing at each stage of the lessons.
Without a Music Background There is Still Help
Suzuki recommended that at least one of the parents attended lessons alongside their child and practiced at home as well, while it may not be possible for you to be present at ever lesson because of work or other commitments you can easily practice at home with your child using the Suzuki Violin Book 1.
Once you have the basics down and you commit yourself to practicing with your child every day you will be able to help your child to succeed.
Even if you have zero musical instruction history having that book on hand will help you to learn as you go with your child.
It is imperative for the Suzuki method to be successful that you are fully engaged in the process. Consider how long it took for your child to utter their first full sentence, how many times they had to witness you speaking to others and speaking to them to pick up language. Music according to the Suzuki method requires the same amount of attention.
For you to be an effective teacher for your child you have to at the very least understand the basics. Imagine trying to teach your child to speak French if you could only speak English, that is exactly what it is you would be trying to do if you have no music background and no access to this helpful book.
It is okay if you have no musical background and you want to make sure that your child has the exposure that you never had but you do have to understands at the very least the basics of what they are trying to learn so that you can step in and help to provide accurate direction to them.
Purchasing the Suzuki Violin Book 1 will help you to provide accurate instruction to your child during practice sessions at home AND it can help you to learn how to play as well.
If you want your child to succeed at playing the violin then you need to have this book on hand, it is really that simple.