Being a beginner violinist is challenging.
You have to maintain correct positioning, proper playing form, execution, and sound quality at the same time.
Aside from these points to consider, if you are not skilled in sight reading, playing music on the violin gets even more harder.
If you are just new to playing, chances are, you find some song difficult to play.
In this article we take a look at some of the best violin songs that are pretty easy to learn and play, even for a beginner.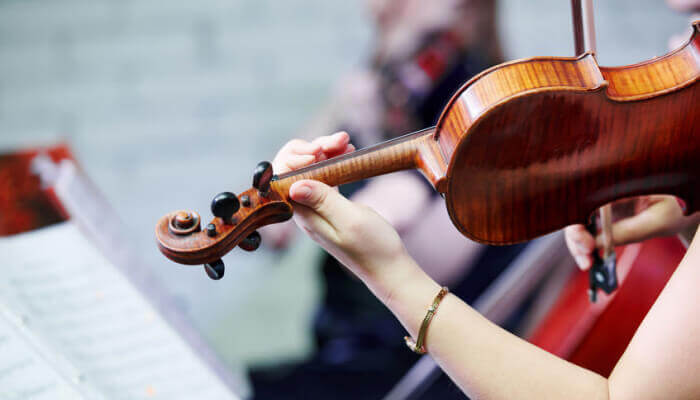 Most of the time, it feels like it takes forever before you can actually play a good-sounding piece and show off with your new instrument.
But hey, don't feel upset or discouraged!
Learning how to play the violin (or any kind of instrument) takes time and a lot of practice!
Until then, you may find these songs listed below useful, and fun to practice with.
Like other skills, we believe that one day, you'll look back at this and smile because once in your life, you started playing easy songs to play on your new violin.
Classics
1. Ode to Joy
Classical music can be very difficult.
However, this song by Beethoven is an easy song to play that will demonstrate your classical prowess and your newly acquired technique in fingering and bowing skills.
You can even play up to the first eight bars and show off with the simple arpeggio using quarter and half notes.
If you want to show off a little bit more, practice the next eight measures and create a more complete classical piece of music with a couple of eight notes in the bridge.
2. William Tell Overture
Another well known classic composed by Rossini.
This song is a rousing song that includes a theme of toe-tapping, upbeat kind of music that can make people smile and feel like dancing.
You might find this fun to play with but, beware, because the bowings are tricky.
If you master this piece, with all those eights and ties, you'll definitely sound incredible!
3. Au Clair De La Lune
A song written in D major, Au Claire De La Lune is a classic composition that needs relatively little skill to be played on the violin.
This is usually taught by some violin instructors to improve simple key changes and at the same time encourage a new learner to start with non-demanding, popular songs to play.
Folk Songs
1. La Bamba
This a Mexican folk song arranged by Christian Morris.
It has a lively, upbeat tune that features tuplet groupings and tenuto (dramatic emphasis) that will allow you to improve your technique and show off your violin playing skill!
2. Wabash Cannonball
This is a traditional folk song by Johnny Cash.
It is written to describe a fictional train and is one of the easy violin songs that you may be able to play with your violin.
Try to master this piece and sound like a pro!
3. The Midnight Special
The Midnight Special is a popular violin song which rose to fame after being recorded by Creedence Clearwater Revival.
It is a folk song that is easy to play on the violin and it can be beautifully played with a fellow beginner violinist.
Christian
1. Amazing Grace
If you are looking for an easy violin song to play for a church gathering or service, this is the perfect piece for you!
This song is composed by an English poet, by the name of John Newton, in 1779.
Although it started as a poem which was developed to a song after 70 years, it is a lovely tune.
It is also the most popular violin song among Christians and is beloved by many.
The tune, on the other hand is quite tougher that other songs in this list but once you have mastered to play this song in G major, you will sound terrific!
2. When the Saints Go Marching
This is a Christian jazz composition, and a traditional gospel music.
It features half and quarter notes and will really maximize your bowing skills.
Its tempo can be adjusted to any level without affecting the song's meaning.
If you can play 'Amazing Grace', try to learn this piece as well, because you may be asked by the church members for an encore.
Wedding Songs
1. All of Me
This is a popular song by American singer John Legend.
It became a number 1 hit and peaked on top at the Billboard Hot 100 on May 2014.
It is a power ballad written in in the key of A♭ major with a tempo of 63 beats per minute.
If you want to play on a wedding gig or wants to learn one of the best modern violin song, start practicing this now!
2. Wedding March
What to play for a wedding? Of course, the best would be the Wedding March!
Sounds obvious right? But seriously speaking, this is an easy song to play on the violin.
Played with only two sharps, this composition by Mendelssohn is a good addition to your repertoire!
Nursery Rhymes and Disney Songs
1. For He's a Jolly Good Fellow
If you are looking for a famous violin song that is appropriate for kids, you should try to learn this song written in D major.
It features a lively tune that is very good to practice and learn.
You can even let your listeners sing along while you play!
2. Twinkle Twinkle Little Star
You might find it funny, but this bedtime favorite is played in a lot of music schools around the world.
If you buy a Suzuki book, you'll find it there in different variations.
You can choose to play it with an accompaniment or play solo in your room.
3. A Whole New World
This song may be confusing and very challenging to play at first due to the syncopated and triplet note rhythms.
But, if you try to play it along with the original song with lyrics through your speakers, you may be able to master and recognize how the rhythms are played.
Blue Grass
1. Li'l Liza Jane
A cool violin song for those who want to excel in the bluegrass genre.
This music is great for beginner violinists as it gives an excellent part to play upon.
Many artists, such as Bill Monroe and Joe Stuart were made popular by playing this all-time excellent song.
2. Summertime
Jazz violin music isn't complete without George Gershwin's 'Summertime'.
Written in 1934 for an opera entitled "Porgy and Bess", Summertime became the most recorded jazz standard.
It is one of the finest songs that mixes the elements of jazz and song styles of Americans in the early 20th century.
Currently, there are over 25,000 recordings of this song all over the world.
Christmas Songs
1. Jingle Bells
This is no doubt, the most sung Christmas carol around the world.
It is composed in 1857 and was written by James Lord Pierpont.
At first, it might seem challenging to play but after a couple of practice, you'll laugh all the way and make your listener's spirits bright!
2. Silent Night
Declared as an intangible cultural heritage in March 2011 by the UNESCO, the song "Stille Nacht heilige Nacht", German for 'Silent Night Holy Night', is a popular Christmas song.
It is composed by Franz Xaver Gruber and is written in D major by Joseph Mohr in the town of Obendorf bei Salzburg, Austria.
Movie Themes and Film Music
1. Game of Thrones Theme
Well, who doesn't know this popular tune?
Maybe there are some but, almost every living creature on the planet who watches TV series know this music!
The Game of Thrones Theme is one of the most played, most loved, and covered song in the violin on YouTube and everywhere on the internet.
It is a cool, inspiring music to learn and to encourage you a bit more, did you know that you only need G and D strings of your violin to play this?
Yes, you can!
So, if you don't want to try other popular songs that need an awful-lot-of-left-hand-finger-gymnastics, play this!
2. Star Wars Theme
"Duuh Duuh da da da Duuh Duuh da da da Duuh Duuh dun-dun-dun-duuuuh".
Ooops, sorry but it kinda stuck on my head.
Call me weird but this theme is the most hummed, most played, most popular, and most loved by sci-fi people all over the world.
Believe it or not, this is one of the songs that can be learnt by beginner violinists.
It is quite repetitive and fun to play.
Once you've mastered this piece, maybe you can drive to John William's lawn and play it there like the two musicians who stood and played on his front yard.
You'll never know but maybe, just maybe, he'll open the door and hum it while you play!
---
Aside from showing off, it is kind of cool and beneficial to play songs such as listed above because playing something you like may help in solidifying your desire to practice and master violin playing.
Regardless of your age, ability, technique, and level in violin playing, these songs will surely delight you and your listeners.
Remember, it is never too late to learn the violin!