Many student violins come with introductory music, to get beginners started. Teachers and music schools also give out sheet music and books, that will best suit the abilities of those new to the violin.
Quite often, music for beginners is simple and easy to play, often with either no sharps, or just one or two sharps. The majority of songs will be recognizable to students, very melodic and are mostly played in C, D or G major.
1.'Twinkle Twinkle Little Star'
This childhood favorite may seem a bit of a silly choice but this nursery rhyme is played in music schools all over the world.
Popular nursery rhymes are songs that we already know by ear, connecting with the tune and knowing where we go wrong, if we hit the wrong note.
Twinkle Twinkle is a song has a simple construction that can be played using the easiest notes to play on the violin.
2. 'Au Clair De La Lune'
Au Clair De La Lune is another simply contracted song, that can be played in D major, which requires relatively little skill on the player's part.
It allows beginners to get the hang of following simple key changes and is not too demanding, so as to demoralize a young learner.
This is also a great song to delight new audiences; even those who are not fans of violin music, enjoy the melodic tone of Au Clair De La Lune.
3. 'The ABCs of Violin for the Absolute Beginner, Book 1'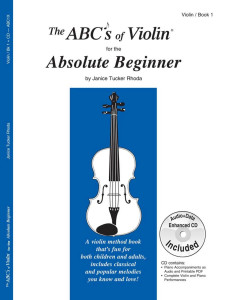 If you are looking for a varied collection of violin music for students, the 'The ABCs of Violin for the Absolute Beginner, Book 1' is a perfect accompaniment to a new violin.
The collection features music from many genres, including folk and jazz, all of which have recognizable melodies, that are easy fro beginners to grasp.
The book also includes handy warm-up exercises and short tests, to check on progress.
4. 'Let it Go' (Kristen Anderson Lopez&Robert Lopez)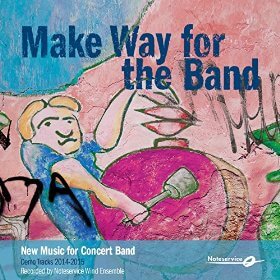 You may snigger at the thought of using a Disney theme song to learn to play violin, but using popular songs is a great way to engage young children, when teaching them to play.
If you take a look at the most downloaded sheet music, you will see a list of music from popular TV shows and movies.
This is not to be frowned on, as the melodies in popular music allow learners to pick up patterns and learn through repetition.
There is plenty of time to move on to more highbrow music, once students are into the swing of things.
5. '50+ Easy Classical Solos for Violin (Hal Leonard Corp)'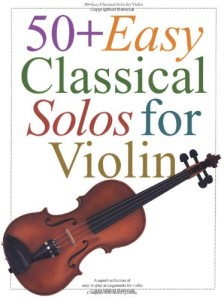 This collection, put together by Corp, feature easy to play sheet music, with each sing featuring chord symbols in concert pitch.
Beginners can start from the beginning of the book and work their way through from easiest to hardest, or they can set themselves challenges by jumping ahead, if they see fit.
There is lots of variety in this collection, which is great for giving children options, rather than making them play music that does not interest them.
6. Easy Classical Violin Solos: Featuring music of Bach, Mozart, Beethoven, Vivaldi and other composers (Javier Marcó )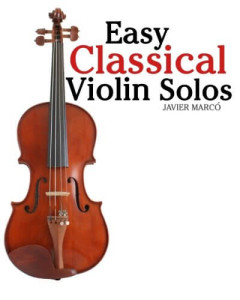 This is another great collection of classical music, that is great for violin students.
If your child/student has mastered the easy pop songs and lullabies and they are is looking to stretch themselves, this collection of music is the next step up.
Featuring some of the more basic classics by famous musicians, the songs will make students feel a sense of achievement as they finally begin to learn more traditional violin music.
The majority of the music featured have fingerings, to guide students in their learning and it also includes the handy warm ups, to prepare students for their session.
7. 'The Wedding March'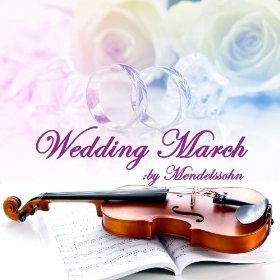 Once students begin to feel confident, they will want to impress friends and family, by showing off their skills and serenading them with a popular tune.
Felix's Mendelssohn's 'The Wedding March' is the perfect song for showing off too.
Experienced students can quickly learn this well known tune and can probably play off by heart, after one or two plays.
Who knows, they may even get to play it at the next family wedding.
8. Essential Elements for Strings: Book 1 with EEi (Michael Allen)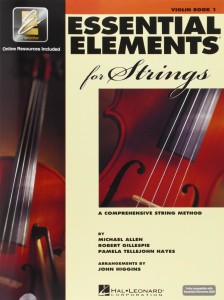 This book has a great collection of music, to be played on any stringed instrument, with a second book specifically for the violin.
The pairing of the two, allows students to have a good knowledge of the process and formation of notes and music.
The song choices in the book, that challenge a student bow and fingering action to improve technique.
The book also contains great exercises for varying scales and arpeggios and comes with accompanying CD's.
9. Suzuki Violin School: Violin Part, Vol. 1 (Dr. Shinichi Suzuki)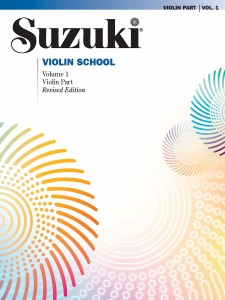 Many violin teachers use the Suzuki method of teaching, making it a good choice if you are looking to buy your child a book to accompany their first violin.
We like this book as it can be used for absolute beginners, with music like 'Song of the Wind' and 'O, Come, Little Children' right through to early violin grade level, with the likes of 'Minuet 2, Minuet, BWV Anh. II 116' from Notebook for Anna Magdalena Bach.
10. Beethoven – Symphony No.5
Once a student starts to gain confidence in his/her playing ability, they may want to get a feel for being part of an orchestra.
Of course, there are still plenty of hours of tuition ahead, before joining an established orchestra, but playing 'Symphony No.5'  as a solo, will give students a great sense of accomplishment.
The piece is performed as part of an orchestra but there is no harm in improvising an orchestra in your living room.
There are literally thousands of pieces of sheet music, for students to find in books and online, so you will be spoilt for choice when it comes to great violin music for beginners. As ever, when in doubt, your violin teacher will offer support and recommendations.