Once again Yamaha has enlightened the world of music with the newly released Arius YDP -184.
This digital piano is made with some of the best technology to produce a beautiful and a more realistic sound.
The entire instrument has been examined and redesigned to ensure that it is the finest in terms of technology and craftsmanship hence making it the best in the Arius digital piano Series.
In this Yamaha YDP-184 review, we are going to cover some of the things that make it outstanding from its predecessors and help you decide whether it is worth spending your money on.
Yamaha Arius YDP-184 Review
Before we get into that, let's first take a look at some of the ideal uses of the piano.
The digital piano has an upright design making it perfect for living room, classroom, recital halls and centre of worship.
It offers great features like the Yamaha 88 key technology and acoustic-like resonance. Therefore students and musicians will greatly benefit from it.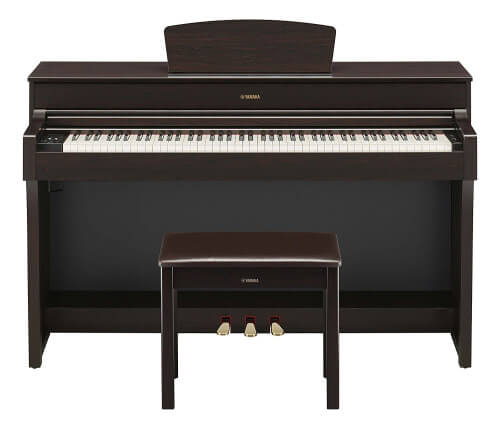 One thing that makes this piano perfect for beginners is that they give a better understanding of how acoustic piano responds to touch and intention.
This is because the YDP brings the realism of a real piano at a more considerable price compared to an acoustic piano.
In addition, the Arius YDP-184 will be great for any concert because of its size, sound, and design.
It is great because it fits anyone both beginner or experienced and offers excellent features for all.
Here are some of the things that make it an excellent contender on the market.
Design
Design may not be the first thing you look for when it comes to a good digital piano, but is worth considering.
The YDP-184 comes with the traditional design of a rich rosewood finish cabinet appearance that looks like an acoustic piano.
It has three pedals that are positioned as they would in an acoustic.
It also comes with a matching padded bench and a sheet music stand which you can lay flat when you are not using it.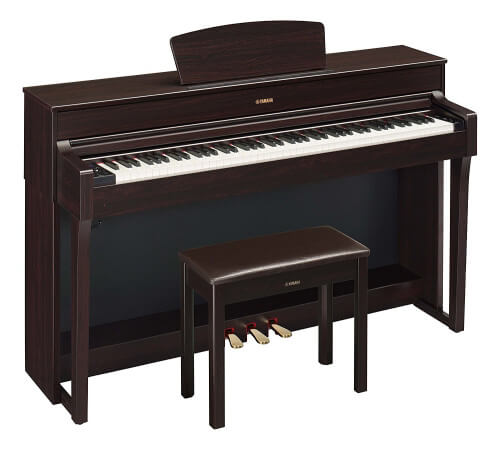 The pianos 88 keys are fully functional, and its user interface is and control panel sets on the left and left sides to ease the access during the performance and also not visible to the audience to avoid distraction.
The YDP-184 uses non-slip ebony and ivory keys for better handling. This helps especially if you have sweaty fingers or when you are speeding through the keys.
Generally, the instrument gives you a beautiful look for your home and can blend well with many interior decors.
Sound
Yamaha has done a lot to improve the technical qualities of the YPD-184 piano sound.
It uses some of the best Yamaha technology to create the realistic acoustic sounds in the digital piano.
It has its sound sampling from Yamaha CFX9 concert grand piano and comes with a 256-note polyphony giving realism in resonance, multiple key velocity samples, and pedal effect.
The Digital piano has a virtual resonance modelling (VRM) that enhances the creation of a more realistic soundboard.
The VRM calculates the various states of the string as well as the resonance in the upper octaves and the resonance of soundboard, frame, and the rim.
With this, there is the creation of rich musical experience including different factors in performance.
The YDP-184 comes with a GH3 hammer action that can match any player's skill level as well as allow them to reach the intended authenticity of each played piece.
It also comes with 24 instrument sounds that you can easily choose from.
Some of them include the acoustic piano sounds, guitar, stereo, choirs, symphony strings, electric pianos, and organs.
The piano has an exquisite half damper control that allows subtle nuisance of play when playing different songs and styles.
This gives a more realistic sound, therefore, achieving the determination aim of the YDP-184.
With the great sounds produced, you can listen using two sufficient speakers that use 60 watts of the stereo power.
You can also use headphones or connect it to external speakers for a more amplified sound.
Connectivity
Connectivity is an important consideration when purchasing any instrument. How flexible an instrument is in connectivity determines how much you can get from it.
The YDP-184 is quite flexible as it comes with some of the major connectivity features like MIDI, AUX in (stereo), AUX out (L+R), USB port and AC adapter.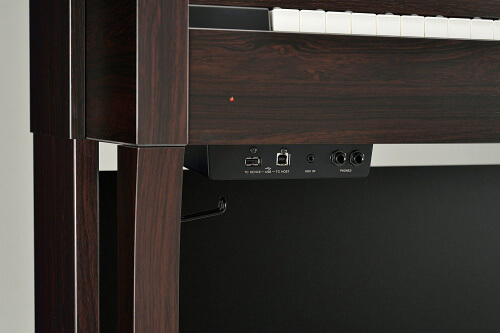 It also comes with two standard stereo jack for headphones if you need a more realistic experience.
You can connect IOS devices to the YDP-184 using the lightning camera adapter or Yamaha Bluetooth MIDI adapter.
You can also use it to interact with different music making applications or use it as a music controller.
Feel and Playability
As mentioned earlier in this YDP-184 review, the piano has a graded hammer three key action that is made of synthetic ebony and ivory key tops, which absorbs moisture and emits less noise.
It also has weighted keys that are heavy from the lower register and light from the high octaves.
The Yamaha Arius YDP-184 digital piano features three-sensor configuration that senses its actions to give the grand piano feel and response.
Before we conclude this Yamaha YDP-184 review, here are some of the additional features that you can expect from it:
Premium grand piano voice
LCD
Key-off samples
Dou mode
1/8 AUX input
Stereophonic Optimizer
virtual resonance modelling
The Pros and Cons of The YDP-184
The YDP is quite easy to use. When delivered all you need to do is connect it to a power source, turn it on and enjoy the immediate production of your musical efforts.
It has great features that fit both beginners and experienced.
It has excellent design and sound that you cannot compare from other products in the range
The digital piano can be a bit expensive to some people
The YDP has fewer features compared to high-end digital pianos like the CLP-635
Final Thoughts
Now it's time to wrap things up and here is my conclusion.
I believe this digital piano is worth investing on for both experts and beginners.
Considering that many things have improved from its successor, the YPD-184 will remain for a long time to be one of the best in the market.
Keeping in mind that the market of the digital piano more competitive than ever, and more instruments are being released each day, Yamaha has worked quite well to improving their instrument.
There are still other leading brands like Roland, Kawai, and Casio who are working to improve their technology, therefore, creating a heavy competition.
However, even though the YDP-184 can still be replaced in future, I will confidently say that it has a potential to be among the best for quite a long time.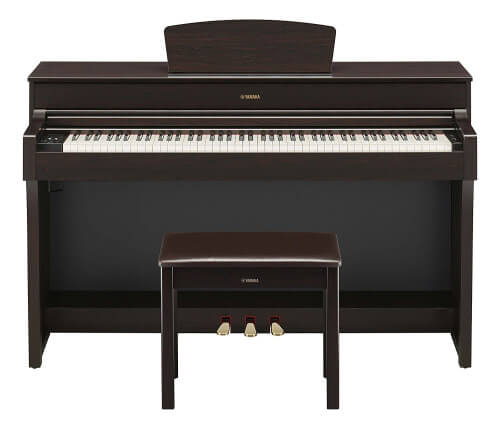 Its solid construction and quality make it a reliable instrument worth investing, which will serve you and your family for years.
Although the piano can be a bit expensive, Yamaha has improved it to make sure that it fits its price tag.
As I conclude, if you are a fan of Yamaha and you are looking for a digital piano with some of its best topline features trimmed down and made in a midrange instrument, then you must go for the YDP -184.
This piano will be a perfect fit for your home, classroom or recital hall.