We see the Arturia DrumBrute as one of the best-quality drum machines available. In this review, we are going to take an in-depth look at what makes it such good value for money. We will talk about the sequencer, the Steiner-Parker filter, the fully analog sounds, and more. Make sure you check out our video demo, too.
Arturia
Arturia was primarily known for MIDI controllers and software development for some time. They created virtual instruments based on iconic analog gear, and they are very good at it, too. Arturia stepped into the hardware synth world with the introduction of the well-received MiniBrute.
The MiniBrute is a monophonic analog synthesizer that was surprisingly successful for the first venture into hardware synths. Its release did two things; it indicated Arturia's intentions, and it raised a lot of questions from musicians/producers who had their thoughts on how Arturia would put together a hardware drum machine.
These questions were answered in the shape of the DrumBrute, Arturia's monster of an affordable drum machine.
What is the Arturia DrumBrute?
The Arturia DrumBrute is an analog drum synthesizer with 17 fully analog drum and percussion instruments. It has a highly intuitive sequencer that is equally useful in real-time or step programming.
The DrumBrute has an impressive 12 dB twin-mode Steiner-Parker filter, which is one of the highlights. It comes with a user-friendly, well laid out panel with an abundance of rotary knobs that offer vast sound-shaping capabilities.
Arturia has capped all of this off with more connectivity than you'd expect in a machine of this size.
That's the simple answer, so let's go a bit deeper.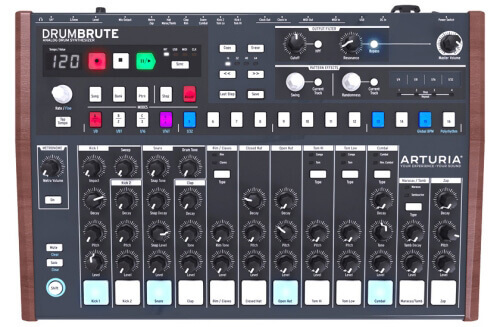 Image credit: Arturia
Check Price on Amazon
Check Price on Sweetwater
DrumBrute Sequencer
The sequencer is often thought of as the heart of any high-quality drum machine, so that's where we shall start. When you think about drum sounds, you naturally want to tap or hit something. Adding 12 velocity-sensitive drum pads was Arturia's way to make programming feel more natural, and it worked. If hitting the pads isn't your thing, simple X0X-style programming is there.
At its core, the sequencer is four banks of 16 patterns that can last up to four bars each. When using the sequencer in step-mode, a row of 16 dedicated buttons display active steps and accents.
We champion the DrumBrute as an excellent unit for live performance, and small touches like the metronome back our opinion; the metronome is handy when getting started, but Arturia has gone a step further by adding a dedicated output and level control.
In real-time mode, it's just as straightforward. The velocity-sensitive pads are responsive and do make it easy to play complex rhythms in real-time. However, the sounds are not recorded to your pattern with a full velocity range.
What we mean by this is that while the DrumBrute accepts a full range of velocities when you hit the pad, the sounds are triggered with just two velocity values. Any velocity beneath the specified threshold is triggered as regular velocity, and anything above is triggered as accented.
One possible downside to the sequencer is that it cannot record automation, such as filter sweeps, etc. The reason for this is that the rotary knobs do not transmit any MIDI data. Spicing up your pattern on the fly is also very easy to do, and never more than a few buttons away. Patterns can be played in half or double-time, and the feel can be changed to triplets, etc.
Another way to spice up your pattern is the step-repeat feature, found in the pattern effects section. It's as easy as timing the step you want to catch and pressing the desired button for quarter notes, 8th notes, and so on.
There is a randomness knob, to take it a step further, which is helpful for random fills. When you are ready to move on, release the step-repeat button.
If there is a negative to the note-repeat function, it's that it only works in real-time record mode. When you use note repeat, it records to your pattern, which means the same fill will keep coming around. You can modify the note-repeat/fill when it comes back around, but you cannot remove it entirely unless you delete the track info.
Polyrhythms with the Arturia DrumBrute
The most exciting aspect of the sequencer, in our opinion, is the possibility of creating polyrhythms. Every track in the sequencer can have a different length between one and 64 steps. What this means is you can place odd lengths against even to create friction.
If you are a fan of funk music or anything similar, you might have heard people say that a groove needs friction to funk. This saying suggests that when everything fits nice and cleanly, it's not funky enough. Now, with the DrumBrute, you can create that friction, opening up unlimited new uses for your drum machine.
For any users who are Hip-Hop based, this feature is something you will love, especially if you are a fan of the late, great, J Dilla, or lo-fi Hip-Hop.
The DrumBrute's 17 Fully Analog Instruments
The main reason any analog loving muso wants analog over digital is for the sounds, so let's check them out. Here are the 17 fully analog instruments, and the rotary controls available on their channels.
Kick 1

– Level, Pitch, Decay, Impact, and Sweep

The first is a punchy 909 inspired kick that's unapologetic and hard-hitting. It doesn't quite reach the lows that you will sometimes want from your kick drum, despite the pitch sweep control. But, it's kick 1 of 2, so it doesn't need to cover everything on its own. The impact control adds some subtle definition, and the other controls offer plenty of sound shaping.
Kick 2

– Level, Pitch, and Decay

Kick 2 is more 808-like, it lacks the punch of Kick 1 but has much more depth. This kick is ideal when you want it to feel the kick as much as you hear it.

In a classic four-to-the-floor pattern, it has all the qualities of a vintage 808. It also has a broader range than a genuine 808 kick, making it more versatile. So versatile that it goes deeper than you'd ever need, but at that point, it becomes more of a sound effect than a kick, and you end up finding ways to use it.
Snare

– Snap Level, Snap Decay, Snap Tone, and Drum Tone

The snare is one of the sounds that most people will love before you even start to tweak it. You might hear some shades of 808 in there, but this snare is very much an Arturia exclusive. By utilizing all of the snap control available, the snare can be clean and crisp, deep and dirty, and everything in-between.
Clap

– Level, Tone, and Decay

The clap sound is another example of Arturia wanting to make sure the DrumBrute has a unique character. It's common for drum machines to emulate the 808, 909, or TR Roland model claps, they are tried, tested, and well-loved. Utilizing the tone knob brings in a band-pass style filter sweep. It can be perfect for adding a little something extra to your snare hits.
Rim and Claves

– Level, Rim, and Tone

We have put the rim shots and claves together as they share the same channel. The rimshot isn't one of our favorite sounds on the DrumBrute. It's handy as click that adds some texture to your pattern, but it's not a showstopper.

The claves are more distinctive, and again, Arturia has chosen not to follow the Roland emulator path here, which is lovely. Sounds/Instruments that share the same channel can be programmed separately, although they share the level control.
Closed and Open Hi-Hats

– Level, Pitch, and Decay

The closed and open Hi-Hats are split into two channels, allowing them to be tuned individually – nice touch!

Both closed and open Hi-Hats can be very nice, but require some more tweaking than other sounds. For our taste, they are a little too aggressive right off the bat. If you prefer a smoother tone rather than a crunching tone, you will need to fiddle with the pitch knob a little.

It's not a significant problem, but it's worth mentioning. Making use of the high-pass mode in the onboard filter is a useful idea here.
Toms and Congas

– Level and Pitch

These sounds are split into high and low toms and high and low congas. The four sounds are spread across two channels with the low sounds together and high sounds together.

If you are familiar with drum machines already, you might expect to see some decay control with these sounds, but no such luck. However, both the toms and congas sound believable and close to the Roland 808 sound. So, these aren't the most individual sounds on the DrumBrute, but they do their job.

The congas, in particular, are beautiful when emphasized a touch, and used more like a feature sound than purely texture/filler.
Cymbal

– Level, Tone, and Decay

The cymbal does share some qualities with the Hi-Hats, so it won't be to everyone's taste. It has that same metallic crunch, although it's not quite as harsh as the Hi-Hats.

The tone knob is an excellent way to get a deeper ringing sound and less aggressive sound overall. Of course, if you want aggression, you can make it as dirty as you like. It also doubles as a replacement Hi-Hat by utilizing the shortest decay time, should the other ones not suit you.
Reversed Cymbal

– Level, Tone, and Decay

The reversed cymbal shares the same channel as the forward cymbal, but we kept it separate because it's an unusual addition to an analog drum machine. This cymbal is lovely, and it's one more thing that gives the DrumBrute something different over the competition.

A reversed cymbal is often used with a long decay, and here lies the problem with the shared channel. A short decay on your forward cymbal means a short decay on your reversed cymbal. The shared decay can be a minor issue when using them together, but given the fact that most analog drum machines won't have this sound, it's nothing but a positive.
Maracas and Tambourine

– Level and Tambourine Decay

These sounds are almost just as you'd expect, in any drum machine, they can sound a little cheesy. The maracas offer no surprises and could be the least used sound on the DrumBrute.

The tambourine, however, is another story. The variable decay offers up a wide range of tones from short snaps with a little rattle, to more extended swooshing tones. Very nice, indeed!
Zap

– Level, Pitch, and Decay

What can we say about the zap sound? It's another sound that can be very cheesy if not used properly. As a blip-style minimal techno sound, it's not quite there. A better way to use it here is by dropping the pitch right down and layering it with your kick for something a little different.

Overall, the sound quality is top-notch. The choices made by Arturia in selecting/shaping the instruments are very impressive. Now that we've spoken a little about the sounds, let's hear them in action.
Steiner-Parker Output Filter
We picked this filter out as one of the highlights of the DrumBrute, and that might raise a few eyebrows. The Steiner-Parker filter wasn't a huge success commercially, and its appeal now is mostly based on its rarity. So, what makes it the right choice for Arturia?
It's a 12 dB/octave dual-mode filter that can be set to high-pass mode, low-pass mode or bypassed. The 12 dB/octave relationship works like this: let's say in low-pass mode you set the cutoff to 220 Hz, the filter will attenuate a signal at 440 Hz (one octave above cutoff) by 12 dB. It will, in turn, attenuate a signal at 880 Hz (another octave higher) by 2 x 12 dB (24 dB), and so on. Like any other low-pass filter, everything beneath the cutoff will pass untouched.
What you get from this kind of filter is something that can be smooth or dirty, but not overly aggressive when you least want it to be. It gives you a massive scope to shape your sound with absolute control. This kind of control is particularly useful for live performance and confidently animating your sound.
Arturia put a lot of emphasis on maintaining a good workflow, a filter like this provides maximum sonic possibilities with minimal physical controls. In other words, it's simple yet effective.
The upside of the Steiner-Parker filter not being a huge commercial success on its own is that it's very under-utilized. That means the DrumBrute has a sound you won't hear in other similar drum machines.
DrumBrute Workflow
Workflow is always a significant concern for Arturia, and it should be for you too. No equipment is worth anything if you have a hard time using it, and it slows your productivity.
Starting with the DrumBrute's panel layout, it's relatively busy, but it's well thought out. There isn't any wasted space to speak of on the front panel.
Basic transport controls (Rec, stop, play, pause) are next to a simple but clear digital display showing the tempo/value. Everything from there on seems to follow suit, keeping is very user-friendly. As mentioned, 16 clear buttons indicate which steps in the sequencer are active. Even for beginners, selecting steps, and understanding your sequence will come easy.
Giving some additional visual feedback to the step-sequencer are the velocity-sensitive pads, the pads illuminate when that particular sound is triggered in your pattern. It's an easy way to keep track of exactly what's going on.
One of our favorite things about the DrumBrute's layout is that none of the rotary knobs have secondary functions. Some people might see that as a missed opportunity for extra features, but the reality is that you don't need to be menu-diving when you are in your groove. The DrumBrute offers plenty of tweaking and shaping, what you see is what you get, and that's important, especially in live performance.
Both the pattern effects section and the output filter only have two rotary knobs. Again, this may look visually limited, but it makes the choice of the Steiner-Parker filter even more valid. Arturia is getting the most out of very minimal controls.
Using the sequencer couldn't be easier either, the 12 velocity-sensitive pads make playing sounds in real-time or programming steps a breeze.
One possible flaw in the DrumBrute's workflow is the save process. You can only save a pattern to its current location, and you must revert to pattern selection mode first. If you want to save a pattern elsewhere, then you need to copy it, which seems like a convoluted step in the process.
While the rotary knobs have no secondary function, the step buttons do, and you have to make sure the correct function is in use when saving to avoid losing work. In all honesty, it's a process that takes very little getting used to, once you've got it, that's it. We had to bring it up because everything else is so good.
That covers the main areas of the front panel, everything else, like adding swing or accent, is clear and straightforward to understand. Arturia has made the most of the space available, and done so in a well thought out, intuitive way.
Connectivity
The DrumBrute offers outstanding connectivity, making it easy to integrate with almost any set-up. There are 12 instrument outputs that allow you to record multi-track audio or process each sound individually. The DrumBrute also has fantastic MIDI, clock, and USB integration to sync up with your DAW or other analog/modular gear.
Conclusion
We named the Arturia DrumBrute as the best value for money in our best drum machines round-up. This opinion is one that we stand behind with confidence. It's everything you could wish for in an affordable drum machine, and much more!
If you look hard enough, you will find flaws in any piece of equipment, because every user has different priorities. The DrumBrute is one of those rare cases where you have to look pretty hard to find any flaws.
So, let's start with the flaws we did find: the sequencer cannot record automation, the note-repeat isn't as spot-on as an MPC, and the save process is slightly more tedious than it needs to be. Are these flaws enough to drive you crazy or put you off purchasing? Not in our opinion.
With the DrumBrute, the good far outweighs the bad, it's not even close. The sounds, the filter, the polyrhythms, the list of excellent features goes on and on.
Arturia seems to have taken everything they learned about workflow when creating MIDI controllers and software, and applied it to this gorgeous analog instrument.
The DrumBrute will always be one of our top-rated drum machines, and unless someone releases something crazy, it will always be our best value for money drum machine, too.