Musicians and producers have different ways of making music, some start with rhythm, others begin with harmony or melody. So, for many, a top-quality drum machine is the most vital part of their workflow. With lots of drum machines available, we are looking for the best drum machines money can buy.
We wanted to find not only the best overall, but the best for beginners, the best value for money, and so on. So, here are our top picks and drum machine reviews for our favorites.
Here are the best drum machines 2023:
1. AKAI Professional MPC X
The best drum machine you can buy
The MPC has a history in music production like no other drum machine or groovebox. The MPC X is the biggest and best so far, and it's much more than just a groovebox.
Like all MPC units, it comes with 16 pressure-sensitive drum pads. The pads are used for finger-drumming, triggering samples, or as a step-sequencer.
The sounds come from samples that you upload yourself or from MPC Expansion Packs. Expansion Packs are collections of production-ready drums, loops, hits, vocals, and more.
The MPC X isn't just a groovebox, it is also a high-quality audio/MIDI interface. You can plug your guitar/bass, microphone straight into the unit and record full tracks (or cut them into smaller samples).
Other than the iconic pads, the most noticeable thing is the 10.1-inch adjustable multi-touch screen. The super responsive multi-touch screen controls most of the main editing functions.
AKAI's MPC 2.0 DAW is the heart of the MPC X and works either standalone mode or controller mode. There are advantages and disadvantages to both modes, for example, in standalone mode, you are limited to 8 stereo tracks of audio.
However, when in standalone mode, you don't need a computer and work entirely from the MPC X. In controller mode, you work with a computer but have a more extensive functionality within the MPC DAW.
The best of the physical controls (other than the pads) are the 16 Q-Link knobs with individual OLED displays for visual feedback. Each knob is fully assignable, making it easy to edit parameters on the fly accurately.
Image credit: AKAI Professional Check Price on Sweetwater

Most responsive drum pads available.
Standalone or MIDI controller.
Audio/MIDI interface.
Q-link knobs.
Massive connectivity.

Expensive.
Steep learning curve.
The MPC X is far from just a drum machine, and for that reason, it might be more than some users need. But, it had to be our top pick because it offers so much, and can easily be the centerpiece of any studio.
If you are looking for something to build your studio around and you have the budget, this is the one for you. There is no other unit that can do so much, it's basically a portable recording setup and live performance powerhouse.
We never touched on the CV connectivity for modular gear in our overview, or how well it integrates with popular DAWs. We mentioned there is a steep learning curve, but that's just because it does so much, it's genuinely user-friendly.
Overall, it's the best drum machine you can add to your studio. It's also one of the best drum machines for live performance.
2. Novation Circuit
The best drum machine for beginners
Novation is renowned for making user-friendly gear, and people sometimes mistake that for purely beginner gear or low-quality, which is not the case.
The Novation Circuit is a standalone groovebox, consisting of two six-note polyphonic synths, and one four-part sampler. It has 32 responsive drum pads that can be used to trigger hits, loops, or as steps in a step sequencer. Eight assignable rotary knobs are convenient for automation and adjusting parameters.
Since its original release, Novation has updated the Circuit significantly (via their Components app). It's gone from a simple drum machine that played back a small-ish library of stock sounds to a fully expansive groovebox. Users can load new sample libraries through the Components app, so it now offers something for musicians of all styles.
The Circuit is far more powerful than it looks, thanks to its two digital synthesizers. As well as putting your drums down, you can also sequence full tracks, making the Circuit a tremendous portable production hub.
The sequencer is far more sophisticated than you'd expect from a unit at this price, with deep editing capabilities. Everything is clear and easy to use; it encourages creativity rather than hindering it with complicated controls.
Image credit: Novation Check Price on Sweetwater

Fairly budget-friendly.
Responsive drum pads.
Standalone or MIDI controller.
Transport controls for DAW.
Eight assignable rotary knobs.

Limited sample manipulation.
The Novation Circuit is the best drum machine for beginners, but we suggest that advanced musicians/producers check it out too. There is a lack of sample manipulation options that might bother some users. But, the depth of the sequencer along with the full range of sounds now available make amends for this.
The fact is, whether you're a beginner or a pro, you can put together complete, ready-to-go, tracks, entirely from the Novation Circuit. When you can do that with something that doesn't cost an absolute fortune, it's always a good thing. When you can do it quickly with such a user-friendly interface, it's even better. We consider it to be one of the best grooveboxes on our list.
3. Teenage Engineering PO-32 Tonic
The best portable drum machine
Teenage Engineering has been making noise in the world of modular gear with their playful/fun approach. Don't be fooled by the quirky image, they are making some serious gear.
The cheapest units on offer from Teenage Engineering are their Pocket Operators, and we are looking at the most versatile one, the PO-32 Tonic. It may look more like a calculator, but the PO-32 Tonic has 16 sounds, 16 effects, and a 16-step sequencer.
The reason the PO-32 Tonic is the most versatile Pocket Operator is that you aren't limited to pre-programmed sounds. You can upload new sounds directly from the Sonic MicroTonic drum synth plugin.
The way you add new sounds is every bit as quirky as you'd expect from Teenage Engineering. The PO-32 Tonic has a tiny microphone that records new sounds that you can save when held next to a speaker or another Pocket Operator. This method may seem a bit old-school, but it's a fun way to share libraries with other PO-32 Tonic owners.
MicroTonic isn't a new plugin, it's been around for a while, but the sounds are excellent. It has plenty of deep booming kicks, cutting hi-hats, and snappy snares (and much more). Even heard through the built-in speakers, these sounds are very good indeed.
Image credit: Teenage Engineering Check Price on Amazon

Portable.
Cheap.
Can be used in collaboration with other Pocket Operators.

Very little connectivity.
The PO-32 Tonic will never be the complete package in terms of a studio drum machine, but it's not meant to be. It's a cheap drum machine, it's small, quirky, lots of fun, and it sounds great. If you are someone who likes to create music whenever and wherever the mood takes you, it's perfect for you.
As far as portable drum machines go, it doesn't get much more portable than the PO-32 Tonic, which is almost credit card size. The drawback of its small size is that it's a bit fidgety to get used to, but practice makes perfect. This little drum machine is different, cheap, and fun; you can't go wrong.
4. Roland TR-08
Th best digital drum machine
The TR-08 Rhythm Composer is a digital reimagining of a much-loved analog classic, the Roland TR-808, which is, without a doubt, one of, if not the most, iconic drum machines of all time. It's also a much more affordably priced alternative to the TR-808.
Roland's TR-08 looks like a vintage drum machine, the retro styling of the unit is lovely. The main concern here is the sound quality, and if it would live up to standards or not.
The sounds are based on the TR-808, and those classic 808 kicks that were the backbone of countless hit records are here and very convincing. So, in terms of sound, it's the closest you will get to an original TR-808 in a digital drum machine.
Each sound (kick, snare, clap, etc.) has a dedicated channel with rotary knobs for level, tone, and relative effects, like decay. The dedicated channels give you much broader sound-shaping possibilities because you can zone in on the smallest details.
The TR-08 steps into its own with some modern features like it's 12-step sequencer. The 12-step sequencer has an additional 4 steps for intros and fills, you can also add sub-step beats or create random patterns when creativity isn't quite flowing. These features are ideal if you aren't interested in finger-drumming and just want an excellent rhythm machine.
Connectivity is good for its size with trigger out, mix in, USB, and two 3.5mm analog outs (headphones).
Image credit: Roland Check Price on Sweetwater

Portable.
Fairly budget-friendly.
Classic sounds with modern features.

Editing/shaping capabilities should go deeper.
The TR-08 will inherently be seen as a lesser TR-808, but that's a little unfair. If you look at it on its merit, it's a top-quality drum machine.
If you are buying it because you are a TR-808 fan, it's the closest you can get, so there are no real complaints. Being a digital machine, it does have some features that the original TR-808 doesn't have, and that makes it more accessible to a broader range of musician.
The TR-08 is a top-quality drum machine with a mix of classic and modern features at an affordable price.
5. Elektron Analog Rytm MkII
The best high-end drum machine
Elektron's Analog Rytm MkII is a very high-end drum machine, in both function and price. It shares some core features with its predecessor, like the analog/digital, 8-voice sound engine. Another feature it shares is the 13-track sequencer with simple track selection buttons.
The Analog Rytm MkII has upgraded velocity-sensitive drum pads, they are now larger and far more responsive. The new drum pads make the MkII much more suitable for finger-drumming.
The way the MkII works is by assigning a machine/synth engine to each pad/track; there are 9 unique machines available. Each machine can build a specific drum sound, which is then further tweaked when assigned to a pad/track.
The sound quality picks up where the MkI left off and improves upon it. There's more than enough low-end, nice clean, punchy mids, and highs that cut through perfectly. The most impressive thing is the clarity in the mid-range, many drum machines tend to get lost in a mix in this area, the Analog Rytm MkII is a step above most.
It isn't the most complicated front panel, but there is a learning curve that may be too steep for beginners. Like most high-end machines, it comes with CV connectivity, so it can integrate with other modular gear.
Image credit: Elektron Check Price on Sweetwater

Amazing sound quality.
Very expressive drum pads.
CV connectivity.

Expensive.
Not suitable for beginners.
The Analog Rytm MkII is an absolute monster, it takes everything good about the MkI and goes much further. The verdict on this is straightforward, if you are a beginner, this isn't for you, if you are an intermediate to advanced, and have the budget, the Analog Rytm MkII is a fantastic investment.
We named this the best high-end drum machine, despite not being the most expensive drum machine on our list. The reason for that is that we consider this to be more of a pure drum machine and the MPC X a much more expansive device.
6. Arturia DrumBrute
The best value drum machine for the money
Arturia has been around for a long time, and they still seem slightly underappreciated. They churn out some of the best MIDI controllers, synths, and drum machines available year after year.
The Arturia DrumBrute is a fully analog 12-track drum machine with 17 drum/percussion sounds. Each of the 12 tracks has a velocity-sensitive pad for triggering sounds, which are ideal for producers who have experience using an MPC or Maschine unit. Every track also has up to four assignable parameter knobs for shaping the sound exactly as you want it.
Arturia are known for creating instruments that give the musician superior control, the DrumBrute is no exception. The combination of the 12 pads and abundance of parameter knobs makes it feel more like playing an instrument rather than just programming. The pads are also very responsive, you can play 16th note hi-hats, and more complex rhythms comfortably.
It's a very hands-on unit, and that lets you get deeper into a performance feel rather than just programming. One of the standout features is a beautifully smooth Steiner Parker filter, unexpected on a machine under $400.
There are no built-in speakers here, but there are a headphone jack and a host of other outputs along with USB MIDI connectivity.
Image credit: Arturia Check Price on Sweetwater

Powerful sequencer.
Value for money.
Fantastic low-end kicks.

Can't automate parameters.
The DrumBrute is a steal at under $400 and our best-rated in value for money. Workflow is so essential, and Arturia seems to keep that at the forefront when designing new machines.
Not being able to automate parameters is an issue that will frustrate some users, but it makes up for it elsewhere. The detail in which you can shape your sound is impressive, and the hands-on, performance-like workflow of the DrumBrute makes it a joy to use.
Read the full Arturia DrumBrute review
7. Korg Volca Beats
The best drum machine for EDM/techno
The Korg Volca Beats has been very popular with EDM/techno producers for a long time. It makes our list because its appeal doesn't seem to be fading anytime soon. This machine will be one of the top-rated in any drum machine reviews you can find.
The Volca Beats is built on an analog/PCM sound engine, but it utilizes digital control to record automation into the sequencer. What we mean by that is that if you have a loop running, you can dial in and out a specific parameter, like pitch, and that pitch shift will be recorded.
The sound-bank splits into 6 analog sounds and 4 PCM sounds. The analog sounds are the kicks, snare, hi-hats, and toms. Claves, agogo, clap, and crash cymbal are the PCM sounds.
Analog and PCM sounds can be layered, for example, you could layer a snare with a clap to get a snappier sound. The analog kick sound can be fat/deep or clicky/glitchy. So as popular as it is with the EDM crowd, it's also great for Hip-Hop, and other genres.
The layout is simple, each analog sound has an effects channel including pitch, decay, and other parameter knobs. The multi-touch pads trigger sounds, you can manually play a sequence or program the step-sequencer. The step-sequencer has a beautiful stutter-step feature that most drum machines don't have.
The Volca Beats can be battery-powered, which is fantastic for making beats anywhere through the built-in speakers or headphones.
Image credit: Korg Check Price on Sweetwater

Quality sounds.
Robust construction.
Portable.
Fairly budget-friendly.
Korg is flying the flag somewhat in a resurgence of old school drum machines. The Volca Beats is the best that Korg offer, in our opinion. Not just for its sound, but it's user-friendly, and brilliant value for money.
Despite being small, it's a solid unit, and a few bumps won't break it. It's a great addition to your studio or live performance gear. The Volca Beats is best for EDM and techno, but it's suitable for many different styles.
Read the full Korg Volca Beats review
8. IK Multimedia UNO Drum
The best new analog drum machine
IK Multimedia has been around for a long time, but they are newcomers when it comes to analog gear. The UNO Drum is one of the latest drum machines on our list. It's a small analog/PCM unit with an impressive mono-synth engine.
The first thing potential buyers will query is the fact it's made entirely of plastic, and not the chunkiest plastic. Its plastic body makes it very lightweight, but also makes it feel a little more vulnerable to the knocks of a musicians life.
The UNO Drum has 6 true analog drum sounds that are extremely warm and rich. These sounds include kicks, snares, claps, and hi-hats. As for PCM sounds, you have 54 samples to choose from, including toms, rims, cowbells, etc. You can use a total of 12 elements between analog and digital sounds with 11 voice polyphony.
For drum sequencer newbies, it comes with 100 preset drum kits that can be edited or used as is. You can also create, save, and access your own custom kits easily.
The layout is very nice, there are 7 clearly labeled rotary knobs along the top. Under those are different effect types and some basic transport controls. Next, there are 10 large buttons for selecting/playing the desired percussion sound.
Beside those buttons, you have 2 smaller ones marked stutter and roll, which are a lovely touch to stutter a specific step in whatever way you choose, or just add some fills to spice things up. Lastly, you have 16 step-selection buttons for the sequencer.
Image credit: IK Multimedia Check Price on Sweetwater

Simple features like stutter/roll make complex sequencing easy.
Equally good for live performance and studio work.
Fairly budget-friendly.
Portable.
Easy to use.

Poorish battery life.
Not as robustly made as others on our list.
Let's start with the build quality, it's not fantastic, and there's no denying that. If you buy one, you will undoubtedly feel that you have to be extra careful with it in comparison to other gear.
However, you shouldn't let that fool you because the drum synth inside the UNO Drum is far more impressive than its exterior. It's a very powerful sequencer, portable, and a lot of fun to play. The buttons are not as responsive as pads, but if you are looking to finger-drum, you won't buy this.
The UNO Drum is a remarkable entry into the world of analog gear from IK Multimedia.
Conclusion
If you are new to drum machines, it's easy to assume they are all very complicated, but they don't have to be. We always aim to make our choices based on a combination of high-quality sound, workflow, and how user-friendly it is. With that in mind, we feel our list has something to offer everyone, beginners, or a pro's.
Choosing the best drum machine for you is like we always say, use our list as a guide, but cross-match that with your requirements. Think about what you can spend, what the main functions you require are, do that, and you won't go wrong.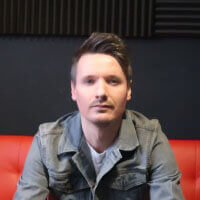 James is a USA-based writer and musician with a passion for audio production. Growing up he was surrounded by talented musicians and different forms of music, which set the path for both his personal and private life. He played several instruments during his childhood, dipping his toes into all sorts of musical genres, but once grown-up he discovered that his true calling is music production, rather than creation.
Strong roots in the music industry
Being in the studio for hours on end has was never an issue for James, and having a degree in Audio Production, as well as years of experience in the wider music industry, he is perfectly equipped to help both the young and inexperienced, as well as strongly established musicians, to get the best out of their skills and to create the music that they envisioned.
His personal musical interests include jazz, funk, hip hop, blues, and rock, but professionally he worked on a lot of different projects and with all sorts of genres, proving that he is a true professional and dedicated to getting the best out of every production he is involved in.
Sharing knowledge as a career
Apart from having strong roots in the music industry, James is also a talented writer and takes great joy in sharing his knowledge through this hobby. All his articles and reviews are always meticulously researched and presented in a way that is easily understood while being packed with useful information. In addition to that, he is also a lover of all things tech, especially the latest keyboards, synths, DAW's, virtual instruments, and effects plugins – so ofcourse he is our go-to guy for these types of reviews.
James is a truly versatile, and reliable artist who over the years has learned how to express himself in a variety of ways. Be it through his work with musicians, or through his writing, it is easy to see the thread that runs through all of his work – the need to help and to share knowledge.