In this article we will look at some of the best options when looking to purchase the best condenser microphone under $100.
Condenser microphones are typically more expensive than their dynamic counterparts. This is largely due to the fact that they have more components. Condenser microphones work with a power source such as a battery or phantom power, whereas dynamic microphones are passive in nature.
Even when looking for the best cheap condenser mic you should consider a number of elements. Build quality, versatility, connectivity, responsiveness and price are just a few. Let's crack on with the article.
Here are the best cheap condenser mics under $100 budget:
Audio-Technica AT2020 – Best Cheap Microphone for Low Sounds
Japanese company Audio-Technica are well regarded as manufacturers of high-quality audio equipment. With the AT2020 they have produced one of the best cheap condenser microphones on the market today.
The Audio-Technica AT2020 is an impressive mic which handles low output surprisingly well. With some cheap condenser mics low output sources results in a lack of richness and tone. Not so with the AT2020. This mic has a low-mass diaphragm which is why it excels in this area.
It has a cardioid polar pattern so is ideally suited to one speaker which would be perfect for either podcasting or singing vocal takes in the studio.
The AT2020 also comes with a few extras such as a soft carry case and a pivoting mic stand mount which makes it super easy to position the microphone whatever the use you have in mind.
Handles low sound sources well.
Nice pivoting stand mount.
This is an inexpensive solution for many home studio enthusiasts on a small budget. The AT2020 gives any other condenser mic in the sub $100 category a proper run for its money. It's well built and feels sturdy to handle. The AT2020 takes our top spot in the best budget condenser microphones available under $100.
Behringer B-1 – Most Versatile Cheap Microphone
In second place in our list of the best condenser mics under $100, is the Behringer B-1. This mic is a versatile condenser mic which can be used in a host of recording situations from spoken word to string quartets.
Behringer have created the B-1 with a large diaphragm and also a roll-off switch. This switch allows the B-1 to alter the low frequencies by -10dB.
Like the Audio-Technica AT2020, the Behringer B-1 has been designed with a standard cardioid polar pattern. The mic has been constructed with a nickel-plated brass body for extra durability.
Versatile in the studio.
Low-end roll-off switch.
German company Behringer have an impressive range of cheap condenser mics under $100. The B-1 is priced in or around $99 so it's pretty much the top-end of their offerings in this price range.
Blue Yeti Nano – Cheap Microphone With Adjustable Stand
The Blue Yeti Nano is one of the most popular condenser mics on the market today. This microphone is a firm favorite among podcasts the world over. And it's no real surprise to find out why.
The Yeti Nano offers high-quality recording at 24bit and 48Hz which is not always available in mics of this price. Speaking of price, the Blue Yeti Nano retails at around $100 but take note that this price does not include additional shipping fees.
24Bit/48kHz.
Switchable polar patterns.
Available in a range of colors.
Headphone monitoring on front panel.

No XLR connection.
Excels as a podcast/radio microphone mainly.
The Yeti Nano comes with an input port for use with headphones and easy monitoring. This mic is a podcaster's dream and even comes in various colors, should that interest you.
The Blue Yeti Nano is mounted on a sleek adjustable stand which is perfect for desktops. You can tilt the mic to suit your position and there is a large knob on the front of the mic which allows you to adjust your headphone monitoring level.
Samson C01U Pro – Best Cheap USB Microphone
The Samson C01U Pro is the second USB condenser microphone to make our list. This microphone has a frequency range of 20Hz to 20kHz. The pickup pattern is a supercardioid which makes this mic ideal for interviewing.
There is minimal spill from surrounding sound sources in most directions, apart from directly opposite the mic. This is typical of most supercardioid patterns.
This mic will suit any small computer based recording setup. Being USB compatible means you can plug directly into your computer or audio interface and begin recording right away.
Convenient headphone output for monitoring.
Controllable by remote.

Your setup must be USB compatible.
The C01U Pro is a sensitive microphone with a 19mm diaphragm. The results are impressive and installation is plug and play in most cases. It's compatible with Mac or PC and pretty much all modern DAWs.
The C01U Pro is equipped with a mini-jack output on the front of the device. This allows you to easily plug a set of headphones in to hear and monitor your source directly. Advantages of this output are a zero-latency response. The C01U is a great USB condenser mic and one of the best in its class.
Blue Snowball – Most Attractively Designed Cheap Microphone
The Blue Snowball is also a USB condenser. First impressions of the Blue Snowball are largely about its unique design. It's almost perfectly spherical and has its own short base stand built-in.
This mic is ideally suited to a desktop setup i.e. podcasting, radio or something similar. It's also remarkable light, weighing in at no more than 460g.
Tidy and space friendly.
Switchable polar patterns.

Limited frequency response of 40Hz to 18kHz.
The Blue Snowball is a great little condenser mic for around $70. It has two polar pickup settings, cardioid or omnidirectional, which add to the versatility of this mic.
While cardioid works well for most single source recording situations, omnidirectional is great for group settings, such as band interviews or even musical performances where you want to capture the music and the crowd too.
It also has the added benefit of being available in a host of different color finishes. You can choose from black, silver, white, blue and neon green.
Behringer C-1U – Best Cheap Computer Microphone
This is a USB cardioid condenser mic with computer users in mind. The Behringer C-1U captures with impressively low latency and offers decent low noise audio results.
The audio response from the C-1U is quite flat leading it to be versatile enough to be used on not only human voice, but acoustic instruments as well. The mic is plug and play with PC or Mac and installation is a breeze.
Great value.
Plug and Play.
The Behringer C-1U is one of the cheapest Behringer condenser mics on the market. This mic retails at around $60, which is staggeringly low and will be music to the ears of musicians and podcasters on a tight budget.
Audio-Technica AT2010 – Best Cheap Microphone for Live Singing
The Audio-Technica AT2010 is a close cousin of the aforementioned AT2020. This mic has some things in common with the AT2020 and a few things that mark it out as different.
The selling point of this microphone is that it is designed to be handheld. The AT2020 is a great condenser but is better suited to stationary recording situations such as recording studios. On the other hand, the AT2010 is better suited to live situations and interviews on the move.
Versatile for live work and OB.
Good vocal mic.

Not as versatile as the AT2020.
This microphone is a good cheap condenser vocal microphone. It's sensitive yet robust enough for life on the road. There's a nice low-end response from the AT2010 which will suit certain vocal types remarkably well.
Also the grille on the AT2010 is much better at handling plosives than the AT2020. If you're a singer in a band and looking for a low cost condenser microphone, the AT2010 certainly deserves some consideration.
Tonor Q9 – Best Cheap Microphone for Podcasts
Tonor are a relatively unknown brand when it comes to audio hardware. Their Q9 USB condenser microphone has a 16mm diaphragm which offers 'a perfect combination of clarity, warmth, extendable dynamic range and high SPL capability.
This Q9 mic is suited to podcasting, gaming and recording in home studios, whether that be vocals, guitar, piano or other.
Suitable for podcasting and singing in the studio.
Lots of extras.

Just the one polar pickup pattern – cardioid.
Tonor have included a lot of extras in the deal. For your money you get, along with the Q9 USB condenser microphone, a scissor arm mic stand. This stand can be adjusted to suit either sitting or standing performers.
There's also a table mounted clamp, a metal shock mount, a pop filter, an anti-wind foam cap and a USB cable included in the pack, which makes this one of the best value microphone starter packs available.
Fifine K669 – Best Cheap Condenser Microphone
The Fifine K669 USB condenser microphone is certainly one of the most affordable condenser mics out there. It's a typical USB setup, compatible with Mac and PC, and fitted with its own adjustable stand.
A cheap, low budget condenser microphone.
Plug and play.

Stand is not the most robust.
Not very sensitive at low sound source levels.
This is a good cheap mic if you are looking for something low budget. It's ideally suited to gaming, YouTube streaming or even podcasting. The sound quality is not on par with more expensive options, such as the Blue Yeti Nano but it's great value at under $50.
The build quality of the stand and mount is not great and questionable as to its durability but if you look after the Fifine it should last.
Choosing a Condenser Microphone
A major factor surrounding condenser microphones is connectivity. Do you intent on using XLR connections or USB?
Most home setups which revolve around a computer DAW will be compatible with USB. On the other hand, recording desks and many audio interfaces use XLR as the standard. For this reason, bear the connectivity of your setup in mind.
XLR cables range in length but usually they are longer than 8 ft. Conversely USB cables can be quite short which may be an issue if you need to position your mic away from noisy desktop fans or the like.
XLR cables can be joined together to create longer cables too. This is often used in studio and live situations where the cable is not long enough to reach from the microphone to the mixing desk.
Also when selecting a condenser microphone it's wise to have a good idea about how you intend on using it. If you're a podcaster, maybe a typical USB condenser microphone will work for you.
USB condenser mics are built with convenience in mind and most setups involve just one USB cable and the mic itself on a stand. Nobody wants to be working at a cluttered desktop workspace.
The likes of the AT2020 and the Blue Yeti Nano here are great options. A lot of the decision making should come down to which mic will best suit your current setup.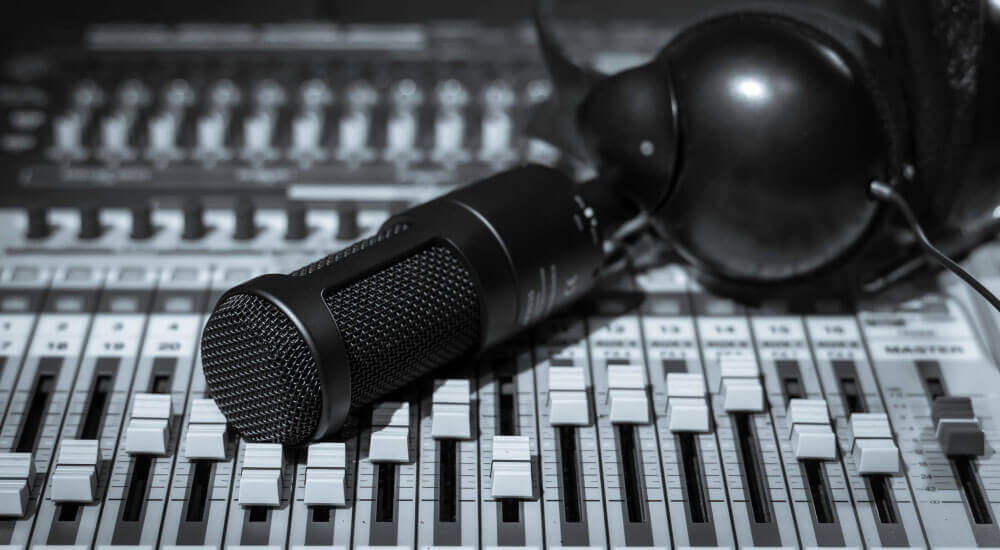 If on the other hand you are intending on using your condenser mic for recording at home or in the studio, then perhaps those podcast-specific mics will not suit perfectly.
In most home recording setups, engineers like to work with XLR connections as this is one of the standard connections when working with recording console and audio interfaces.
USB is great for plugging to laptops in tight spaces, but when it comes to engineering and working with preamps, in most cases you'll find that XLR is the required connection.
In this case, there are several options. With condenser mics, they need additional power which is usually supplied through the connecting cable or internally, by way of a battery. Make sure your desk can supply phantom power if this is the only way the mic will function.
All of the condensers discussed have one or more polar patterns. Polar patterns are how the mic responds to surrounding sounds. A cardioid pattern or supercardioid pattern is great for one speaker.
Omni directional can be used to capture more than one source or to pick up room atmosphere. Depending on your requirements you may be happy with just the one polar setting or need a selection to choose from.
Finally if you see yourself flitting between gaming, podcasting and home studio recording, then likewise choose a mic which will suit. In this case both the Audio-Technica AT2020 and the Behringer B-1 are good options.
You'll find that these mics hold up in most recording situations and deliver quality and richness, especially when working with the human voice.
Condenser microphones are usually a lot larger than most standard dynamic microphones, so this means that they need suitable stands and mounts. Some of the microphones discussed come with mic stands and their own mounts but others do not.
It's important to be aware that you will need to harness the mic in a stationary and stable position in order to record cleanly and clearly. A good mic stand should have the strength and flexibility to position the mic in any desired position without any annoying lateral movement.
Take note whether the mic you are interested in will need a specially fitting mount or mounting adapter to fit your current mic stands.
Final Thoughts
All in all, searching for the best budget condenser microphone is largely down to your preferences and what you require in a mic. Pay attention to the specs and have a read of some of the reviews.
Some reviews are extremely helpful and even come with unboxing videos and/or pictures detailing the product you are viewing. Others give some insight into problems you may encounter with the mic in question.
Take your time, do the research and you'll find the best condenser microphone for your own situation.