Ukuleles are an exceptionally fun instrument to start playing. If you are an absolute musical beginner, they are an affordable and portable way to start your journey to being able to play your favorite songs. In this article, we're reviewing the best cheap ukuleles which come in under the $100 mark.
With many instruments such as keyboards or electric guitars, $100 is a very tight budget. You are unlikely to find any good options in these categories at this price point.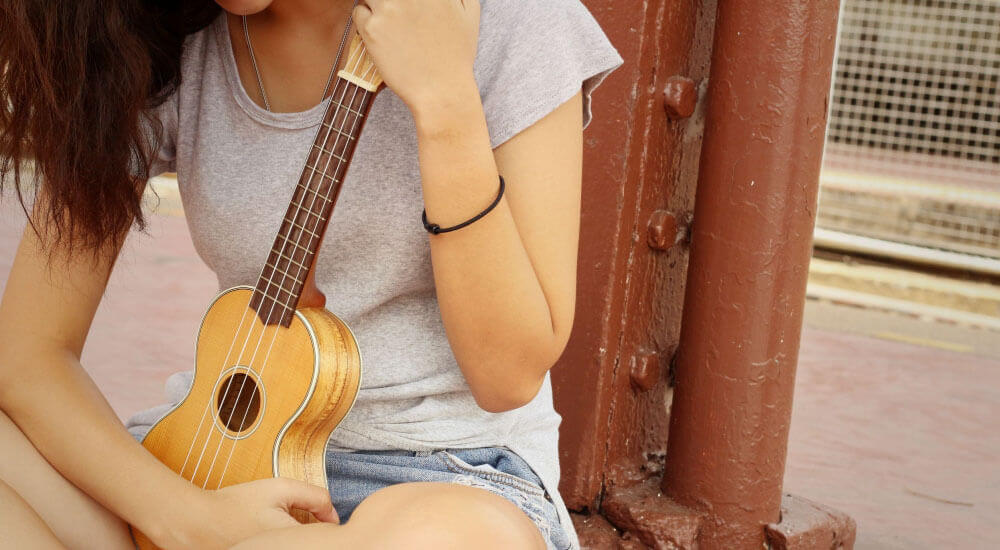 Inexpensive ukuleles, however, can actually be pretty good. They're cheaper to make, and acceptable quality or even good quality can be found under $100. Sometimes, good models can even cost under $50! We explore some of the top options below.
Top 9 Best Cheap Ukuleles Under $100 and $50
Here are the best cheap ukuleles under $100:
1.

Kala Learn to Play Ukulele Starter Kit

As well as including an excellent model of uke, this kit has everything you need to get started on your journey to learn the instrument. It comes in well under $100 and has had some incredible reviews considering the price.

It is a soprano ukulele, very popular for those just getting started, and is well-built in spite of the cheap price. Kala is a very prolific brand when it comes to creating ukulele options.
Small and compact, this is the smallest size of ukulele.
As well as including the instrument itself, this kit comes with a bag, tuning app and a quick start guide to help you learn the basics of ukulele.
Comes complete with high-quality and reliable Aquila strings already installed on the instrument.
Very good build-quality for the price. The nut and fretboard, in particular, are very well made and reliable, outperforming some ukuleles which are far more expensive.
Access to online ukulele lessons is included to allow you to advance your skills.

The free items included are decent, but not amazing quality. You may wish to upgrade your bag or case over time as the included one isn't padded.
The app used for tuning isn't as reliable as some other tuning apps or a clip-on tuner.
For those who are looking for one of the top brands of ukuleles, who they know they can rely on, the Kala could be a very good option. The price of this starter kit is a big plus point, and the build quality at this price is unrivaled. It's the best ukulele starter kit under $100.
2.

Hola! Music HM-121BU+ Soprano Ukulele Bundle

The Hola! Music HM-121BU+ is similar in some ways to the Kala Ukulele Starter Kit. The two both offer accessories, meaning everything you need is shipped with the product. You don't have to go around the music store asking the clerk which accessories will be needed!

In a direct comparison between the two, the Hola! Music offering has a slightly lower quality of ukulele, but has better accessories.
Comes with loads of quality accessories included a padded bag, strap and plectrums.
Already has Italian Aquila Nylgut strings installed.
Available in lots of different finishes and colors, you can choose the one you like best.
Quality mahogany body and walnut fingerboard.

The nut and fingerboard aren't as well made as some of the alternatives out there.
The finish of the ukulele is also not perfect, leaving a little to be desired, especially if you want a luxurious wood finish.
Has been known to splinter around the sound hole.
With so many great accessories included, it is perhaps true that the manufacturer has saved money somewhat on the craftsmanship. It isn't as well-built as some of the others. That said, the sound is more than acceptable and the accessories make the Hola! Music HM-121BU+ a good option under $100.
3.

Caramel CT103 Acoustic-Electric Ukulele Bundle

If you are looking for a slightly larger design in a tenor ukulele and are also keen to get electric functionality included then the Caramel CT103 could be a great choice for you. It has pickups included so you can quickly and easily plug into a sound system, amp or even an audio interface for recording.
Comes with an included chromatic tuner complete with an LCD display.
Three-band EQ gives more control when this is being amplified.
Unusual but high-quality zebrawood design.
In spite of being acoustic-electric, it sounds very good when played just as an acoustic option so it doesn't always need to be amplified.
Accessories included such as a gig bag, strap and a cable for hooking up to an amp.

Accessories aren't all the highest quality. The cable, for instance, could be much better.
Keep in mind that you might need to buy an amplifier if you are looking to play this as an electric ukulele.
Overall, for a lot of functionality and loads of accessories at a very reasonable price, this ukulele could be a reasonable option. The workmanship and actual build of this instrument could be a little better, but for the price it is perhaps to be expected.
4.

Fender Seaside Soprano Ukulele

Fender is a brand name which is bound to get the attention of music lovers everywhere! They manufacture some of the best guitars in the world and have also moved into other instruments.

The Seaside soprano ukulele is a good option for those who want the Fender brand, and improved build quality when compared to a lot of the other ukuleles on this list.

The ukulele isn't perfect, but getting a Fender instrument at this price is almost unheard of.
No-tie bridge means that when the time comes to change strings, this is easier than ever.
A slim neck profile which is easy for moving up and down the frets.
Mahogany design gives a lush and warm tone to this ukulele.
The build quality is a big upgrade on many of the cheap ukuleles out there.

Fender hasn't used Aquilar strings when designing this, and many people upgrade to these better quality nylon strings when buying this model.
No accessories are included, you are just buying the instrument itself.
The materials used to make this ukulele and the mahogany design means that for such an inexpensive ukulele, it has a rich sound and professional feel. Though you may have to replace the strings and add your own accessories to get the most out of it, the quality is extremely reasonable for the price.
5.

Hricane Cutaway Tenor Ukulele

If you are looking for an affordable ukulele which still has a lot of style then the Hricane Cutaway tenor uke could be ideal for you. Also, the fact that it is longer (27-inch tenor style design) and has this cutaway section means it could be good for soloing. If you want to play higher up the fretboard and play more complex melodies this could be a good choice.
Exceptionally slimline design at just 43mm. This looks a bit like a 'telecoustic' guitar. This design makes it easy to store and carry from one location to another.
A spruce top included for improved tone, this is the style many acoustic top-rated instruments opt for.
Aquila nylon strings are already installed on this ukulele.
A quirky look, with a snowflake pattern on the fretboard.

Slimline design can impact the projection of the instrument. It may not sound as good from a distance.
Some users have reported some issues keeping this in tune.
For a sleek and stylish option which is well-built, and doesn't compromise much on sound, the Hricane Cutaway tenor ukulele could be a good choice. If you want to solo and play complex melodies, it will make life far easier. This is also a very convenient ukulele.
6.

Kala KA-15S Soprano Ukulele

The Kala KA-15S mahogany soprano model is quite similar to that in the beginner's kit also made by the brand. It does have a few differences, the main one being the look of the ukulele.

On top of this, the ukulele is slightly better constructed with more of a focus on how it is made, and how it sounds, rather than the accessories and beginner functions.
Made out of rich mahogany for a gorgeous look and good quality sound. The tone is full-bodied and the projection is good, especially for a soprano ukulele.
The satin finish protects the wood. Also, it is made to have a worn look, so don't worry if it looks like someone has already played this uke.

No other accessories besides the gig bag, and this bag doesn't have any padding to protect your instrument.
The sound is good, but not quite up there with the very best affordable ukuleles which cost closer to the $100 budget.
We'd give the sound quality 7/10, which is more than enough for most beginners or just casual ukulele players. The Kala KA-15S can be a good option on a budget, and it is available at well below the $100 budget we outlined.
7.

Hola! Music HM-21BU Soprano Ukulele Bundle

The second ukulele from the Hola! Music brand on our list. The HM-21BU soprano ukulele bundle is a very cheap ukulele bundle which isn't just under $100 but under $50 in price. This is perfect if you are on a budget and still want to get everything you need to get started in one simple package.

Taking the price into consideration, you shouldn't expect the earth from this ukulele, but its features certainly outperform the price.
Extremely affordable, especially considering the fact you get accessories.
It comes with a carrying bag, strap and plectrums.
In spite of being cheap, the materials used to make this are pretty good. The fingerboard and the bridge of this ukulele are made of rosewood while the body is made of a quality maple.
Available in multiple colors, particularly appealing to children.

The bag that it comes with won't offer much at all in the way of protection, and is just for convenience.
The sound quality is not as good as the products between $50 and $100, which is to be expected.
May not last as long as some of the better-built ukes.
Okay, so it isn't going to be used on stage at any huge music festivals, but this instrument is still worth considering for beginners and children.
Paying under $50 for a whole bundle is incredible value, and the quality really isn't that much of a downgrade from some of the more expensive options. Plus, you can choose from lots of different colors. Bonus!
8.

Enya Pineapple Soprano Ukulele Kit

Koa wood is often used in the traditional design of a ukulele, and gives an excellent sound we associate with Hawaii and the west coast of the USA. The pineapple design also gives something a little different, with plenty of projection.

Enya manufactures cheap ukuleles in a variety of different designs but the pineapple design jumps out as one of their best, and the sound quality and build quality back this up.
Koa wood gives a signature ukulele sound but is also good at resisting warp over time.
Comes bundled with lots of accessories including strap and case.
Lifetime free string replacement offered by the brand, something that is very unusual!
Other than Koa for the top and sides, quality mahogany wood is used for the rest of the design.

The strings included are Enya Carbon Strings. These are decent quality but not quite as good as industry-standard Aquila.
Some people prefer not to play pineapple designs as it can be harder to hold them.
There's an awful lot to like about this model of ukulele, and the materials used are very good for an inexpensive ukulele under $100. If the pineapple design jumps out as something you're a fan of, then the Enya Pineapple soprano ukulele is worth considering as a realistic option.
9.

Kala KA-S Soprano Ukulele

If you're a musician on a budget, but you want something that sounds like it could be far more professional than many of these options, we strongly recommend the Kala KA-S soprano ukulele. Kala features heavily on our list, and this option is definitely a step up from their beginner choices.

The KA-S has left many people wondering what constitutes a beginner uke! This has the price tag, but far better sound and build quality than many traditional "beginner" options under $100.
Great craftsmanship and excellent sound quality. This could easily be confused with a far more expenssive, boutique ukulele.
Quality components used along with the mahogany wood include Graphtec NuBone nut, Chrome Tuners and excellent Aquila Super Nylgut strings.
Beautiful finish with white binding.

Doesn't ship with any accessories. These will need to be bought separately.
Stunning to look at with a brilliant sound. Though there are some brilliant bundles on the list, if you are looking for great all-round sound and a ukulele which serves as more than just a cheap ukulele for beginners, it's worth considering the Kala.
Conclusion
There are some brilliant options on this list. Some are perfect for beginners who are in need of a full package including accessories, others are great for those who are just prioritizing sound quality.
You need to consider which stage of your musical journey you are on. For those who want a step up from a cheap beginner model, the Kala KS-S might be best. If you need a cheap bundle which includes a case, the Hola! Music HM-121BU+ soprano ukulele might be for you.
Take a little time to research before buying for the best possible results.