DJing is an important position in the music industry that many people might not immediately think of, and the best DJ headphones are not really a topic talked about often, especially in 2023.
This article will detail the top 10 best DJ headphone reviews for models available in 2023, so that you can pick a great model if you plan to do your own DJing.
Here are the best DJ headphones 2023:
1. Pioneer DJ HDJ-X10
A professional standard for DJing
Pioneer Electronics is a very popular brand among those who need audio solutions for DJing, producing music, car audio, and more. From their Pioneer DJ line comes the Pioneer HDJ-X10, a professional flagship headphone model for your DJing needs.
The HDJ-X10 professional DJ headphones are a closed-back over the ear model. During the production process, Pioneer got feedback about these headphones from various pro DJs to help refine the headphones into a pair that any DJ, beginner or pro, will be happy to wear.
The HDJ-X10s were made to change the way you experience music. With the HDJ-X10, you're getting high-quality audio thanks to a large driver made for DJing. The frequency response range of the X10s is 5 Hz to 40 kHz, so you'll get the full experience of listening to clear, clean, and bright audio that isn't lacking in detail or top-quality.
The left and right channels are very separated, as are the rich bass, full mids, and bright highs, so you'll get the full frequency spectrum but also get an accurate image of the stereo sound stage.
The HDJ-X10s are designed to be very flexible and comfortable enough to wear for long periods of time. The ear cups swivel to allow for maximum comfort no matter how you're wearing them or how much you're taking them on or off. The ear pads and headband are made from leather and the headband is cushioned really well. Both are supposedly resistant to deterioration due to a special coating that allows you to easily wipe off sweat and dirt.
These headphones are also wicked durable. Pioneer had them cleared through the US Military Standard Shock test, so you know they're really not going to break if you drop them or worse while on tour.
Image credit: Pioneer DJ Check Price on Amazon

Extremely durable, even passes the US Military Standard Shock test.
Flexible with ear cups that swivel freely.
Clear and accurate sound and stereo image.

A bit bulky due to the special folding and swiveling mechanisms on the headband.
In the mid to higher price range for DJ headphones.
The Pioneer DJ HDJ-X10 headphones are a top choice for DJs whether you are seasoned pro or a complete beginner. They are a bit of a higher priced option, mainly because they are so durable, but they would be a valuable asset to your DJing rig.
2. Sennheiser HD 25
An industry standard for DJs
The Sennheiser HD 25 headphones are considered to be an industry standard for DJs around the world. The HD 25 is a pair of on-ear headphones, which is a type of headphone that isn't as common as over-ear headphones. Many DJs like on-ear headphones as they aren't as bulky as over-ear headphones.
The HD 25s can perform especially well in loud environments which makes them perfect for DJing with. They are a top choice due to their light weight and ease of use when you need to listen with only one ear. Being an on-ear pair, they're also closed-back and cancel out background noise pretty well.
They are very well built, with lightweight aluminum voice coils for high sensitivity to reproduce every sonic detail with utmost accuracy. They are also very durable, enough, so that you can travel with them and treat them roughly and they will still be good to go.
The HD 25s have ear cups that swivel quite easily, they aren't too stiff or loose, and they're also very comfortable and don't irritate the skin after long periods of use. They're a great 'working headphone', meaning that they fit and perform well in environments like music studios, live stage performances, and many other louder environments.
They sound really good, with a frequency response range of 16 Hz to 22 kHz, which is generous enough to capture an adequate amount of detail within the range of human hearing. The headphones have a more pleasurable frequency curve and are tuned to sound more enjoyable in the bass range rather than accurate, but overall the HD 25s are quite accurate from what I've found.
Image credit: Sennheiser Check Price on Amazon

Less bulky due to being on ear headphones.
An industry choice for DJs worldwide.
Blocks out background noise well.

Some may not like the on ear cups if they are used to over ear cups.
Splayed headband can sometimes be a bit difficult to deal with.
If you care less about the accuracy of audio and more about being able to hear it, the Sennheiser HD 25 headphones are a good choice for you. For under $200 they are a steal, and I strongly recommend these top-rated headphones. They seem to be best for beginners and those who have smaller ears due to the ear cups, but really it comes down to personal preference.
3. AIAIAI TMA-2 DJ
Headphones you can upgrade
AIAIAI Audio is not a well-known name compared to Sennheiser or Audio-Technica, but their headphones for DJing are trusted by DJs worldwide because they were made by DJs, for DJs.
The TMA-2 DJ headphones are modular DJ headphones, meaning you can build, upgrade and replace its parts as well as choose which parts it has. The TMA-2 DJs are on-ear headphones that were developed by professionals for use on stages while DJing.
The drivers in the TMA-2 DJs are titanium coated for a punchy sound with little to no distortion. An internal vent helps to keep your ears and headphones from getting too warm, and also helps add an extra thump to the low-end. It has a frequency response range of 20 Hz to 20 kHz, which is plenty wide for capturing detail and an accurate soundstage.
Sound isn't the only great quality of these high-end headphones – they are also super comfortable. They have a durable nylon headband, memory foam cushions, leather ear pads that provide you with an extremely comfortable and sturdy headphone that also helps keep background noise out, making them great for live performances, especially with bass heavy music.
The headband is very easy to clean as it has a silicone grip to keep it on your head, and the ear cushions are great for producing some intense sound representation.
If you're not pleased with the TMA-2 DJ's base specifications, you can start out with different variations of the base model to purchase, or you can build your own model from scratch and keep the sound elements. Being ultra-customizable, these are some amazing DJ-quality headphones.
Image credit: AIAIAI Check Price on Amazon

Modular, you can build them from scratch with the parts of your choice or choose a base model to buy.
Very easy to clean and maintain.
Sounds especially punchy in the low-end range.

Cable is especially short for being DJ headphones.
Accentuates the bass frequencies and is tuned to be less accurate, more pleasurable.
The AIAIAI TMA-2 DJ headphones are a fantastic option if many of the DJ headphone models out there don't seem to fit you. With the TMA-2 DJs, you can get exactly what you want, whether it's more noise cancellation or something else. I recommend these headphones for those with smaller heads or who like to be in control of the product they're getting with different customization options.
4. Sony MDR-7506
The best DJing headphones for the money
The Sony MDR-7506 headphones are a cheap, best-rated solution for DJing without sacrificing audio quality. The MDR-7506s are a closed-back, over-ear pair of headphones and have been a more popular option for a budget pair as they do well both in the studio and on the stage.
They're great for DJing and I'd definitely say they are the headphones with the best value on this list. Sony takes a lot of pride in creating audio products that sound amazing, and the MDR-7506 headphones are a balanced, accurate sounding pair with quite a large frequency response range of 10 Hz to 20 kHz. Their fantastic sound is thanks to large drivers and a copper cord.
The headphones overall are pretty durable, with a fairly flexible headband and extremely thick ear cups that keep audio isolated from escaping and prevent background noise from coming in. The headband and ear cups are generously cushioned, so it's easy to wear the MDR-7506s for an extended period of time without them bothering your skin. The ear cups swivel pretty fluidly, so if you need to do some one ear listening you'll be able to manage that with these headphones and not have any problems.
Because the headphones swivel and fold up, they are ideal for traveling with, and while they aren't the most lightweight pair around, they do have a very long cable that makes them perfect if you have to move around a lot on stage during a set.
Image credit: Sony Check Price on Amazon

Large ear cup cushions keep audio sealed in and prevent background noise from becoming an issue.
Slightly flexible, so as not to break with a bit of rough use.
Durable build with top-end audio components.

Cable that comes with it is very long (almost 10 feet) and a bit heavy which can make it a little more difficult to travel with.
The Sony MDR-7506 headphones are a really nice option for a middle ground DJ headphone. If you're in need of something affordable that still sounds really great, these ones will be a nice fit for you.
They definitely are some of the best headphones for the money, and many DJs will be beyond satisfied with the build quality and audio these headphones provide. I recommend them mainly for beginners and intermediate DJs who need a good set for the road.
5. Beyerdynamic DT 770 PRO
The best DJ headphones on the market under $200
The Beyerdynamic DT 770 PRO headphones are a jack of all trades type of headphone, but they especially shine in environments where critical listening is necessary, making them another suitable choice for DJing.
While the DT 770 Pro is a bit of a bulkier model more suited for the studio than the stage, it does an excellent job of being a top-end DJ headphone under $200. If you want a super accurate sound, the 770 PROs will give you that. They are a closed-back, over the ear model with a frequency range of 5 Hz to 35 kHz, which is a really suitable range for critical listening applications.
They have a bass reflex system that prevents false bass frequencies from being created as sound pressure builds up in the headphones over time, and they also are EQ'd to meet many different monitoring requirements.
The DT 770 PROs are quite durable, with a spring steel headband and thick, velour covered ear pads that isolate your audio and keep background noise away from your ears. Both the ear cups and headband are well-cushioned for long monitoring sessions, DJing included. The headphones can get a little warm, but the ear pads' material helps to absorb sweat.
Finally, focusing on the sound, the 770 PROs are transparent, balanced, and overall sound very natural without any major enhancements to the frequency curve they're tuned to. If you are a DJ who prefers accuracy when listening to audio rather than a listening experience tailored to the headphone user, the DT 770 PROs will give you that.
Image credit: Beyerdynamic Check Price on Amazon

Designed for critical listening, making them largely suitable for DJing.
Sturdy and made from materials that don't irritate the skin and instead help soak up sweat if you get too warm.
Very natural and accurate sounding as opposed to more pleasurable.

A bit bulky compared to other models.
Can get a bit warm from the velour material.
The Beyerdynamic DT 770 PRO headphones are another high-end option if you prefer to have accuracy over a more bass tailored listening experience. They provide clear audio that sounds natural and the headphones themselves are easy to wear for a long time.
I recommend them to people who are going from production or audio engineering and starting to get into DJing. These are also an excellent choice for a cheaper option if you want something under $200.
6. Behringer HPX4000
The best budget DJ headphones under $50
Behringer is known for coming out with really nice products that have a lower price tag, and the Behringer HPX4000 DJ headphones are some of the best budget DJ headphones if you need a really cheap pair for less than $50. The HPX4000s are a high-definition pair great for taking with you to anywhere that a DJing gig might bring you.
The HPX4000s are made with cobalt capsules for a wide frequency response and huge dynamic range, allowing for punchy bass and transparent, clean highs. They have a frequency response range of 20 Hz to 20 kHz, which is standard for most headphones.
These headphones are durable and very comfortable. They have oval shaped ear cups to add to the comfort factor of things and a padded headband that allows you to wear the HPX4000s for several hours at a time if you need to do so. The ear cups rotate and are reversible, so if you need to do some one ear listening, these headphones will allow it with extreme ease.
While they are very durable for their cost, due to their price tag I would say that these would be a good pair to get as a backup or to get multiple pairs in case they break or you need something in a pinch.
The sound of these headphones is decent for the price; you definitely won't be getting an extremely high-quality audio response and reproduction, but they really do sound pretty good for the price. To me it seems like they are more tuned for a pleasurable listening experience (accentuated bass and highs) which should be fine for DJing if you aren't having to do any EQing.
Image credit: Behringer Check Price on Amazon

Extremely budget friendly, enough to buy multiple pairs.
Oval shaped ear cups allow a more precise and enjoyable listening experience and extra comfort.
Good for traveling with.

Headband is a bit too tight for those with bigger heads.
Design can cause your ears to become fatigued if you're monitoring at higher volumes.
The Behringer HPX4000 headphones are a suitable choice for those of you who may need multiple pairs of headphones while DJing. With them being good for travel, they would be ideal for touring with, as long as you have shorter sets since the headband is a bit tight. With their cheap price, you would be foolish not to at least check these headphones out.
7. Pioneer DJ HDJ-X5BT
The best wireless Bluetooth DJ headphones
A lot of headphones out there, especially more modern headphone series, have a normal wired model and a wireless model that uses Bluetooth to connect to your devices. The HDJ-X5BT is Pioneer's Bluetooth compatible model good enough to DJ with. It is an over the ear, closed-back headphones.
The HDJ-X5BT pairs easily with your smartphone or computer, making it perfect for monitoring your DJ rig's audio without being limited by cables. The battery life of the HDJ-X5BT is 20 hours per 3 hour full charge. You may think this is not very much time, but for a DJ headphone that produces more bass, a 20-hour battery life is quite good. Bluetooth connection happens fast and pairing is simple.
The headphones have some advanced drivers that give you quite accurate audio reproduction, although be sure to keep in mind that there are some extended, accentuated bass frequencies. These headphones sound really good and they are very clear even with these accentuated bass frequencies. The frequency response range of these headphones is 5 Hz to 30 kHz, plenty generous for hearing all the details in your DJ mixes, especially when you need to make critical mixing decisions.
Like all of Pioneer's headphones, the HDJ-X5BT is extremely durable and rugged, especially made with the struggles of touring in mind. If you drop, crush, or bump these, they will be fine, as they've been put through the US military's standard shock test.
Otherwise in terms of design, they look awesome and are very comfortable, enough so to wear them for quite a long time. The ear cups are cushioned nicely as is the headband, and the ear cups swivel with ease if you need to do some one ear monitoring.
Image credit: Pioneer DJ Check Price on Amazon

Bluetooth keeps your movement from being limited by headphone cables.
Exceptionally tough and rugged, passes the US military's shock test.
Large frequency response.

Slightly accentuated bass frequencies.
Ear cups are a little big.
The Pioneer DJ HDJ-X5BT headphones are an ideal choice if you enjoy having freedom of movement while DJing. They are some of the highest-rated DJ headphones from Pioneer and they would make a great addition to your DJ rig or they could even be a good pair of everyday headphones for you to use for casual listening, podcasting, or gaming. I would recommend these awesome headphones to anyone.
8. LyxPro HAS-30
The best DJ headphones under $100
The LyxPro HAS-30 headphones are pretty similar to Audio-Technica's M series headphones but are much cheaper. The LyxPro HAS-30 headphones are an over the ear, closed-back pair.
They have pretty big, high-quality Neodymium drivers that will pump out plenty of good sounding music and the ear cups are constructed from hard plastic. The frequency response range of these HAS-30 headphones is pretty decent, coming in at 15 Hz to 26 kHz. It'll definitely be enough of a range for DJing.
They sound great for the price, although there are a lot of extra bass frequencies, either caused by being a closed-back headphone, or because they are cheaper and more suitable for casual listening rather than critical monitoring. That being said, they're a very solid set of headphones.
They are made out of hard plastic that is durable enough to withstand drops and they have a heavily padded headband and ear cups. The ear cups swivel very smoothly if you need to use just one for monitoring, and the headphones also fold up for travel and storage purposes, another reason why they are great for DJing.
A cool, handy feature of the LyxPro HAS-30 headphones is that they have replaceable parts; the ear cups and cable can be taken off and replaced, so that you can expand the life of these headphones. Included in the box when you buy them is a carrying pouch and two detachable cables, one straight and one coiled, for you to choose from if you prefer a certain cable style.
Image credit: LyxPro Check Price on Amazon

Replaceable ear cups and cables for improving the headphones' life.
Two different headphone cables are included for you to choose from.
Very portable and easy to store.

Cables included tend to wear out easily.
Produces extra and accentuated bass frequencies.
If you don't have very much money and want to spend under $100 on a pair of headphones, the LyxPro HAS-30 headphones are a solid choice for DJing.
If you do any type of EQing while DJing, you will probably want to use a different pair of headphones. I wouldn't use them for mixing and mastering as they pump out a lot of bass which will make your final mixed audio lack bass frequencies, but they are a great choice for DJing with as well as casual listening. I definitely recommend them considering their price.
9. Audio-Technica ATH-M70x
A reliable, accurate option for professional DJs
Audio-Technica's M series headphones are some very good closed-back, over the ear headphones that I am quite familiar with after working with them over the years. The ATH-M70x model is one of the latest, higher end ones they offer and it would be a great option for professional DJs who want lots of accuracy.
The ATH-M70X headphones' drivers are made with rare earth magnets and copper clad, aluminum wire voice coils, making them ultra high quality. They have incredible sound isolation, so they are great for DJing at extra loud clubs, bars, or concerts.
They have an extremely wide frequency response range of 5 Hz to 40 kHz, so you will be able to hear all the details and nuances in your music while DJing. Overall, the sound of these headphones can be described as being clear, natural, and accurate. There are no accentuated bass frequencies and it is tuned to have a flat frequency response curve rather than being accentuated in areas to make it more pleasurable sounding.
The ATH-M70x headphones sound great and feel great, too. They are generously padded on the headband area and the ear cups are cushioned which helps the sound isolation and makes them very comfortable.
The M70x's are also quite durable due to the hard plastic design and will stand up to use on the road, although you should definitely store it in its included carrying case. The ear cups swivel 90 degrees and the headphones also fold up for easy storage and travel. Included with them are three detachable cables, one coiled and two straight.
Image credit: Audio-Technica Check Price on Amazon

Comes with multiple cables (at different lengths) for replacing or using the one you prefer.
Lightweight but durable enough to stand up to life on the road.
Super accurate with a large frequency response range.

Can create some false bass frequencies with bass heavy music.
More suitable for people with smaller or medium sized heads.
The Audio-Technica ATH-M70x headphones are a perfect option for DJing. Being some of the most expensive on the list, they are some of the most accurate in terms of sound.
If you want something more high-end, these are a good pair to get, especially if you're a professional DJ. They're definitely worth purchasing and I highly recommend them to both DJs and music producers based on my own personal use with them.
10. Shure SRH750DJ
Extra loud and built to last
If you need an especially durable pair of DJ headphones (or any headphones), Shure is always a good brand to check out, as they make some of the longest lasting products.
The Shure SRH750DJ headphones are a closed-back, over the ear, high-impedance headphone. High-impedance means that the headphones require more power in order to produce louder audio. That being said, you'll definitely need a headphone amplifier for the SRH750DJs to make sure they're loud enough. Shure has a headphone amplifier that will pair nicely with these headphones. Because of this high-impedance, the SRH750DJs are ideal for DJing in especially loud environments.
They have a pretty big, powerful Neodymium magnet driver that keeps audio reproduction fairly accurate. The low-end frequencies of your music will be largely accentuated, so they're not 100% accurate or flat, but that will come in handy during live sets. The frequency response range of the SRH750DJ headphones is 5 Hz to 30 kHz which is pretty wide for DJing headphones. The mids and highs of these headphones sound full and clear and the bass is rather punchy.
As for the design, the headband is not very flexible and has little padding, thus resulting in it being a bit uncomfortable after long uses. Otherwise, it is sturdy and ultra-durable due to very thick plastic; the SRH750DJ has been known to last for years.
The ear cups swivel 90 degrees for one ear listening and are very heavily padded to keep audio in and noise out. Adding to their durability, the ear pads and detachable cable are both replaceable, so if they break or start to wear out you won't have to get another pair of them, just the replacement parts. The SRH750DJ headphones also fold up really small for quick and easy storage.
Image credit: Shure Check Price on Amazon

Extreme durability, will last for years.
Replaceable ear pads and detachable cable.
High-impedance makes them great for use in extra loud environments.

Headband is not flexible and can cause unpleasant pressure on the top of the head.
Accentuated bass frequencies.
The Shure SRH750DJ headphones are the optimal choice for you if you mainly care about durability, as they will last extremely long due to their rugged construction. They sound great and I would call them a 'true DJ headphone' as they really work best for one ear monitoring. I highly recommend that you check them out!
Conclusion
Hopefully these DJ headphone reviews have shed some light on the situation and have provided you with adequate information for purchasing DJ headphones in 2023. Be sure to check out our other top 10 articles on DJ controllers and other music gear for more valuable information!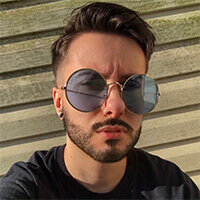 Jordan is not only a professional content creator and writer but also an audio engineer, music producer, and session musician himself. He is an experienced guitarist and enjoys listening to and playing many different genres of music. Apart from that he also (in his own words) loves to educate people in ways that are easy for everyone to understand.
Having a nose for music gear
His past work experience mainly focuses on sound engineering, music, and technology. He has over 4 years of experience as a live sound engineer. While mixing live audio, troubleshooting gear, and working with a team to produce the best possible sound for the given occasion, Jordan has come in contact with a variety of musical instruments and equipment and thus knows what differentiates the good from the bad.
The experience in that field is what got him into content writing. Combining these two great passions of his, he's been writing articles, reviews, tutorials, and guides on music production gear for over 3 years, helping beginners and experts alike to pick the right equipment for their specific needs.
Compelling content
The content Jordan writes is not only well-researched and compelling but also easy to read. He prides himself in providing content that is easy to understand, while still being highly informative and relevant in order to help everyone – even complete beginners – understand the given topic in-depth, thus enabling them to make informed decisions on their purchases.