The saxophone is a brass instrument that has risen in popularity since it was made in 1842. It was designed after the bass clarinet by Adolphe Sax. It was an incredible instrument then as it is now. Through the years, people have made all sorts of kids of saxophones.
The 4 major saxophones, and the most popular you'll find in any band, are the alto, soprano, tenor, and baritone sax.
There are others that aren't as popular for one reason or another, which are the C-melody, bass, C-soprano, F-baritone, and the F mezzo soprano.
Surely, among experts in the saxophone, they probably have trained in most of these, and choose the ones they like or can play the best.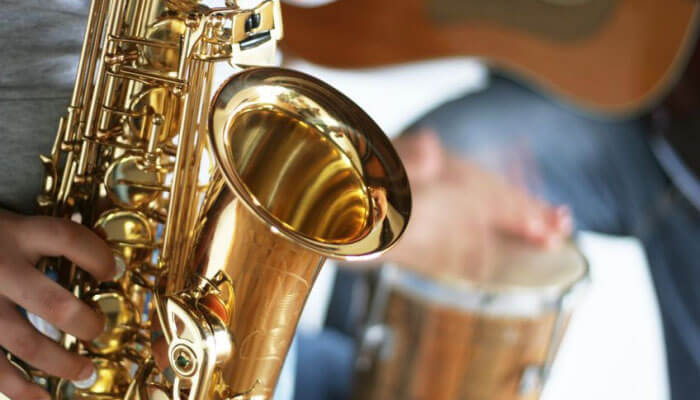 They all have similarities, but because of their size and key features, they all have their own octave scales.
The major 4 saxes are used likely out of necessity to coincide with the music that is written.
However, if you are a writer, or composer, you have a wealth of options for your piece, which having that with the smooth sound of the saxophone makes the job all the better.
If you are just learning how to play the saxophone, don't worry, there is a lot to learn, but you don't need to learn it all in a day.
Rome wasn't built in a day, and neither will your expert saxophone skills, which is completely normal.
However, knowing more about the instrument will lead you towards the path to success.
If you intend to make a career being a musician, then this information is a must, as you will need it for the foundation of your studies.
Cool Songs to Play on Saxophones for Beginners
If you choose the tenor sax as your instrument, you will find that there are plenty of incredible ballads and pieces that will improve your skills as a new artist, or will solidify the skills you already have.
In 1939, Coleman Hawkins wrote a ballad for the saxophone called "Body and Soul".
This song composed for the tenor sax, leaves the artist plenty of room to go off sheet for a solo or note changes. It is a smooth, jazzy tune that will impress anyone who hears it.
Another great song for the tenor sax is "St. Thomas" by Sonny Rollins.
This song helped brand the standard in jazz music during the 1950's and 1960's. Learning this song is a must for any saxophonist.
"I Love You", by Cole Porter is also great for beginners. The original song wasn't nearly as popular as the remake that John Coltrane did on his album, "Lush Life".
John Klenner wrote "Just Friends", along with Sam Lewis' lyrics, and is possibly the most popular among saxophonists.
It became famous because Charlie Parker recorded the tune on Charlie Parker with Strings, which is still popular today.
All of these songs are the backbone to good saxophone skills. Learning them will bring you up to the level of the greats in jazz, rhythm, and blues.
The saxophone has a lot of talent stretched across multiple genres.
Catchy Saxophone Songs
Some of the most famous saxophone songs are those that are catchy and memorable and many times these are pop songs that include this jazzy instrument.
Some of the best saxophone songs are those that can blend or push the genre boundaries and playing pop songs on a sax is a great way to learn or advance your skills from playing beginning saxophone sheet music.
Born to Run by Bruce Springsteen features some excellent saxophone playing by Clarence Clemons.
This song is very recognizable with a saxophone melody that is easy to pick out and lots of solos to show off your talent.
The Boss never disappoints with his pop rock songs that include saxophone.
A more contemporary artist that features saxophone in her band is Lady GaGa.
The controversial pop singer is known for being able to play multiple instruments and having her band members join her front and center on stage.
"Edge of Glory" is a pop anthem that also features Clarence Clemons on Sax.
If you are a rock or alternative fan, Beastie Boys have a song called "Brass Monkey" that has a sample saxophone track.
"We don't Need Another Hero" by Tina Turner, "Problem" by Ariana Grande and "Get Right" by Jennifer Lopez are other great pop songs that are popular for saxophone and have been featured in the Top 40 Billboard Charts.
Easy Saxophone Songs
Whether you are a beginner player or just want to practice reading sheet music, playing an easy song for saxophone, or just want to explore multiple genres, there are many easy saxophone songs.
Many of these songs are holiday songs and children's songs, however, they are all recognizable and the best way to really get to know your instrument.
"My Bonnie" by H.J. Fuller is very easy to play sheet music for the Alto saxophone.
The Star Wars Anthem, The Legend of Zelda theme song, and What a Wonderful World are all very recognizable songs that are easy to read, and because you already know the melody by heart, you can improvise and feel the rhythm much easier than you could if you were attempting a song you were not familiar with.
Christmas Carols such as Joy to the World, Silent Night, Amazing Grace, Jingle Bells and Deck the Halls are great songs to learn for beginners.
If you are interested in getting to know easy contemporary songs or pop songs, House of the Rising Sun and Moon River are popular songs with smooth jazz saxophone.
The temp in Moon River Is faster than you will find in House of the Rising Sun, but both songs are easy to play and have easy transitions.
Famous Saxophone Jazz Songs
Saxophone is most associated with jazz and blues music. Every good saxophonist should have a repertoire of jazz ballads that they know and can perform for friends and family.
"Body and Soul" is a ballad that most people learn to play on saxophone as well as piano. This ballad is simple in a 32 bar AABA form that most tenor sax players are comfortable with.
Colman Hawkins, John Coltrane, and Joe Lovano all have recorded versions of this song.
Duke Ellington's "In A Sentimental Mood" has a simple 6-note pick up that allows for saxophonists to express themselves through simple harmonies.
A bluesy ballad that is common for many saxophonists is also a pop song composed by Victor Young–"My Foolish Heart".
If you are interested in practicing chord movement and minor to major shifts, "Round Midnight" provides many bars of ingenious harmony that is complex and melodic. There is even a movie named after this beautiful blues ballad.
"I can't get Started" is another song written by Vernon Duke that features interesting chord progression, especially in the third and fourth bars.
Duke Ellington, Lee Konitz, Charlie Parker, Joe Lovano, Zoot Sims, Lester Young, John Coltrane and Sonny Rollins are all famous jazz sax players that should be listened to and studied by saxophonists that are trying to learn the best songs to play on saxophone or famous jazz saxophone songs.
Best Songs for Alto Saxophone
Many people don't realize that many Disney Songs feature the Alto Saxophone in their composition.
"Be Our Guest" from Beauty and the Beast, "The Bells of Notre Dame" From The Hunchback of Notre Dame, Can You Feel the Love Tonight" and "I Just Can't Wait to Be King" from Lion King, "Colors of the Wind" From Pocahontas, and "Friend Like Me" from Aladdin are some of the most recognized compositions from Disney Movies that feature the Alto Saxophone.
Broadway hits on Alto saxophone are also very fun to play and learn. " I Dreamed A Dream" from Les Miserables, "Tomorrow" from Annie, "Memory" from Cats, "The Music Of The Night" from Phantom Of The Opera and "If I Were A Rich Man" from Fiddler On The Roof are some average difficulty songs to play on Alto Sax.
Sheet music is also available for Alto Saxophones from motion pictures. Hal Leonard has a book of sheet music available at intermediate difficulty that includes alto saxophone scores from major motion pictures such as Footloose, Frozen, Forrest Gump, Breakfast at Tiffany's, Titanic, Dances with Wolves, Saturday Night Fever, Moulin Rouge, Rocky III, Flashdance, and Grease among others.
Most of these movies are recognizable by the general population and the songs you learn will easily impress any listener.
Alto sax players can also find sheet music from the Beatles, pop music, classical standards, and jazz all online through retailers such as Amazon and Barnes N Noble.
Alto Saxophones are the most common that students in school bands play and those who learn to play on this instrument have an easier time learning the other saxophones.
Eb Alto Saxophones are also the most likely to be in Classical Orchestra's so learning songs for this instrument will be very beneficial if you plan on making a career out of playing or composing for the Alto sax.
Best Saxophone Songs
Most composers will agree that the classical compositions are the best songs to play on saxophone because the instrument is rather young compared to other instruments classically featured in orchestras and symphonies.
Ibert, Villa-Lobos, Glazunov, and Debussy all wrote classical pieces for saxophone. Denisov also wrote a saxophone concerto and Kabalevsky features a saxophone solo in his Cello Concerto II.
American Composer Ross Lee Finney wrote a concerto for the alto-saxophone wind orchestra in 1974 if you are looking for a more contemporary piece to learn.
Some of the most advanced music for saxophones can be found in classical music as well.
The Flight of the Bumblebee by Rimsky-Korsakov, Prelude from Suite no. 1 for unaccompanied Cello by Bach, and Nola by Felix Arndt are complicated pieces that are also extremely popular.
Ava Maria and Wedding March are two of the best saxophone love songs because they are frequently played at weddings.
Other love songs that are great for saxophone include Forever in Love by Kenny G., The One You Love by Glenn Frey, and Always on My Mind by Elvis Presley.
Saxophones are most commonly featured in the jazz genre, but this list has proven that the saxophone can be popular across any genre include pop songs for saxophones.
Saxes allow their players to express their creativity through flexible sounds and varying dynamics that convey stories and emotions from song.
Learning to play the saxophone also teaches and reinforces literary and math skills, is a sociable activity, and instills patience, perseverance and improves memory.
The saxophone is a versatile instrument that can often be the first step in learning others.
This wind instrument can be learned and played by anyone!